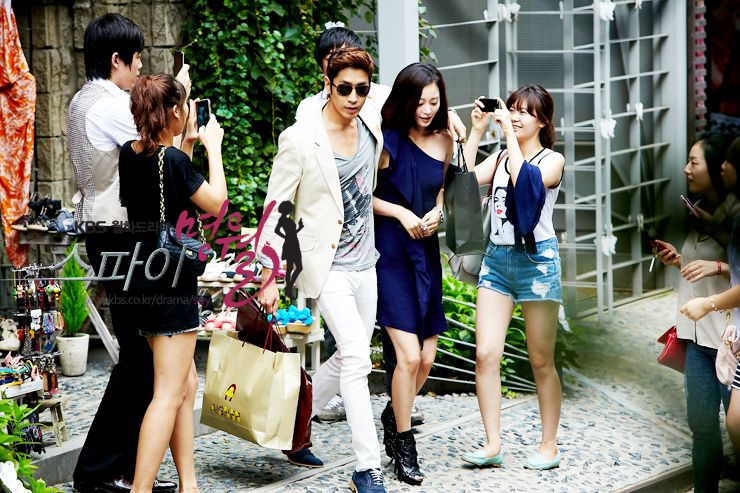 Man, Spy Myung Wol has gone off the deep end. Even more than I thought possible or ought to. I feel like in the rush towards building up melodrama plot developments to set up an intense ending, thereby completely shucking the original tone and tenor of the drama (wacky spy antics with a cute rom-com core), the story is making the characters behave in ways I have a hard time reconciling to their initial construct. I guess I ought to throw in my 2 cents on the "bed scene" as well – it's not rape (of any form, shape, or even allusion thereto), but it's the behavior of a really shitty boyfriend with tons of mistrust and anger drunkenly telling his girlfriend to prove her love for him via the most primitive way. She easily could have said no, he had no power over her, but for a threat to withhold his affection.
But that in and of itself was just the very type of relationship shit I hate to watch characters in dramas pull. It's not a man thing, because a woman could easily have made the same ultimatum. I just don't appreciate the drama going there because it really taints the couple's relationship. I think Myung Wol slept with Kang Woo because she wanted to and she loved him. But now he'll never know, because once he finds out she's a spy from North Korea here to marry him, he'll always wonder if she slept with him because of her mission. Sigh, drama, that was one stupid and unnecessary plot development. And an FYI for SPW-fans, this drama is ending at episode 18, which will be shown back-to-back with episode 17.
Written preview for episode 14:
Kang Woo has Myung Wol's personal background fully investigated, and is completely disillusioned once he discovered her manufactured resume. He distances himself from her. Choi Ryu has stolen the real Four Book from Kang Woo, and hands it to Hee Bok and Ok Soon for safekeeping. Chairman Yoo threatens Choi Ryu to bring him the real Four Book.
Kang Woo and Myung Wol must pretend to be lovers in the public eye at the request of their agency. Choi Ryu asks to meet with Kang Woo, telling Kang Woo that he has discovered a lead to the Goblin, who holds the key to solving the mystery of the death of Kang Woo's father…..
[Credit: written preview released by KBS, translated into Chinese by Baidu Spy Myung Wol bar, translated into English by me]