Man of Honor is officially dead to me. This is my last anything related to it. The writer for this drama must never be allowed to write again. This isn't aiming high and then failing to reach it. This is just plain incompetence. There is stupid but loveable, and there is plain dreadful and moronic. This drama would be the latter, especially now the only shining quality about it (the adorable interactions of the OTP) has been shelved for the sake of increasingly bizarre plot points.
Luckily I enjoyed the beginning well enough for the delightful chemistry between Park Min Young and Chun Jung Myung, and some LOL moments courtesy of the biggest over-acting performance of the year in Son Chang Min. Now it's time to move on and say adieu. I'll be happy for MOH if it reins in the suckitude for the final four episodes even if I won't be around to see it. And if the writer actually did get a brain lobotomy and has In Woo and Jae In end up together, this drama will surely be the trainwreck standard all future dramas will be held to.
Episode 20 baby recap:
Young Kwang asks what Mr, Hwang means for him to use his future as a guarantee? Mr. Hwang explains that Young Kwang will have to do whatever he says for the rest of his life if he can't repay the money, such as shining shoes or becoming a loan shark. Seeing PIE dressed like a pimp loan shark was the highlight of this episode. Young Kwang thinks about his beloved Jae In and accepts the offer so Jae In can have the money she needs. Mr. Hwang says In Woo's dad is coming by tomorrow morning so Jae In must also arrive on time. He will decide then whether to loan her the money.
Young Do informs Jae In that In Woo's dad is urgently seeking to borrow money from famed loan shark Mr. Hwang, so Jae In needs to go tomorrow morning and get in line. Young Do leaves and acknowledges Young Kwang, who is hiding around the corner. Turns out Young Do was sent by Young Kwang to deliver the message about meeting Mr. Hwang. Young Kwang sneaks away before Jae In can see him.
In Woo's dad leaves home and purposely ignores In Woo. Mom is upset In Woo has betrayed them, but he loves Jae In and doesn't want to see his parents hurt someone as weak as her. Jae In is leaving the house to meet Mr. Hwang, but In Woo is all happy to see her. He asks if today is a better day since he confessed his feelings to her and they kissed last night. She considers that teasing from him, but he confirms that he's serious. In Woo adopts a joking attitude to cheer Jae In up, and reminds her that he's on her side. She flicks his head away and tells him not to bother her. He teases that they are so affectionate already.
Jae In rushes to Mr. Hwang's estate and arrives to the surprise of In Woo's dad. Jae In presents her proposal to borrow money and repay it. In Woo's dad hilariously tells her to shut up when elders are talking. Jae In asks Mr. Hwang to help her, to protect what her father built. Mr. Hwang informs Jae In that he already has a guarantee for her loan, the life of Kim Young Kwang. Jae In and In Woo's dad are stunned to learn this. Mr. Hwang apologizes to In Woo's dad, but this deal he's doing with Jae In.
Jae In finds Young Kwang at work and kicks him in the shin, yelling that he just signed his life away. Young Kwang considered it carefully and knows what pressure Jae In is under. All he has is himself, and that is all he can do for Jae In. She calls him an idiot, but he's an idiot for her. She asks if he has considered that she might use the money for her revenge but then not pay it back, leaving Young Kwang holding the ball.
Young Kwang doesn't care, as long as she can do what she wants. She asks what he wants from her, and all he wants is for her to smile brilliantly like she used to and live the life she wants. Jae In tells him not to regret it, and he promises he won't.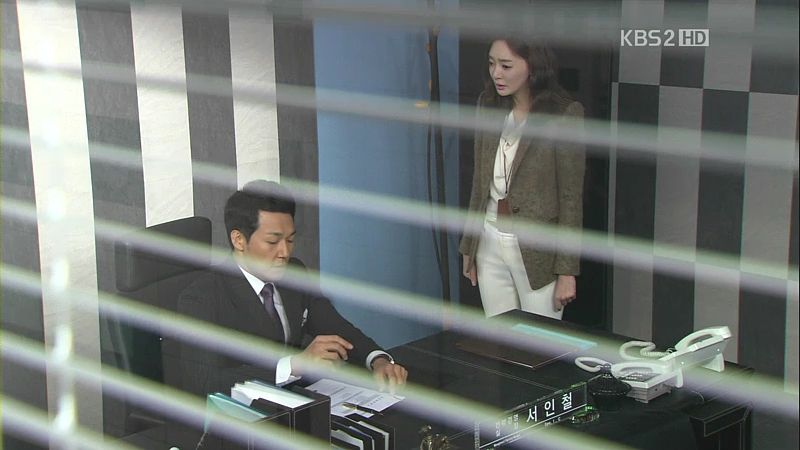 In Woo's dad and his cronies watch this scene from the second floor, and In Woo's dad orders Young Kwang to be beaten to a pulp. Oh rilly? My head, it hurts. He will not let a single person oppose him. Kyung Joo confronts In Chul about what he's going to do to her brother, but In Chul brushes her off. We see that he still has Young Kwang's dad's cellphone in his drawer, the one he picked up the day of the accident.
Kyung Joo begs Jae In to stop what she is doing, because otherwise Young Kwang and even others will be hurt. Team Young Do is informed that the order they just filled for a customer was missing two pieces from the boxes Young Kwang was responsible for, and he orders them to correct it. Young Kwang is told to clean the warehouse alone as punishment. Gangster lackey discusses with In Woo his suspicion that someone on the team is sabotaging Young Kwang. No shit, Sherlock.
In Woo asks In Chul who the mole is on Team Young Do but In Chul won't say. In Woo warns In Chul to stop stirring things up between his dad and Jae In. In Chul tells In Woo to stop challenging him, and the two cousins have a staredown. After In Woo walks away, In Chul vows to show him what he can do. In Woo finds Young Kwang down in the warehouse, coming to check on him so Jae In doesn't get worried. Young Kwang confirms In Woo is serious about Jae In.
Suddenly they hear a noise and discover they are locked in and someone set off smoke bombs. What is this shit?! Everyone in the building is evacuated. Jae In finds out Young Kwang is in the warehouse and she rushes to find him. In Woo suddenly finds himself face to face with the man who abducted him as a child. He starts twitching and the dude beats him up.
Young Kwang runs around and is confronted with gangster lackey holding a stick and appearing to attack him. But Young Kwang turns around and punches the real culprit who was standing behind him. Gangster lackey is pleased Young Kwang trusted him.
They look down and see the fallen man as Gil Dong, the chubby dude on the team. Young Do, Dae Sung, and Hong Joo arrive and confirm that Gil Dong was the mole all along. Jae In runs down to the basement and passes by the dude who beat In Woo up, who she recognizes as the same man who abducted her early on in the drama. She finds beaten up In Woo.
In Woo is taken to the hospital where his dad is pissed someone dared to do this to his sonny boy. He orders surveillance camera footage of the warehouse. In Chul smirks. Team Young Do is told this smoke bomb incident is being deemed a mishap. Gil Dong cries to Young Do and apologizes, explaining that he never wanted to betray the team. He just says that he has family and refuses to explain any more. Young Do fires Gil Dong from the team.
In Chul gets Gil Dong to take all the blame, and is here to get Young Kwang fired for beating up In Woo down in the basement which was captured on CCTV. Gil Dong speaks up and says it can't be Young Kwang because he had Young Kwang under surveillance the entire time. Young Kwang asks to see the tapes, but In Chul says this concerns the future of Team Young Do. If Young Kwang is dismissed, then everything will be fine. Young Do refuses to do as he's told.
Hong Joo meets with Jae In and bitches out In Chul. Young Do informs Young Kwang that he cannot be eliminated. Young Kwang doesn't want to risk the team, but Young Do reminds him that he dared to stand up to In Woo's dad in the past. Where did that Young Kwang go? Probably where all the sanity in this drama went. In the crapper. Young Do schools Young Kwang on the art of endurance, saying it will get easier. He wants Young Kwang to face his obstacles head on rather than run away. I would love for Young Kwang to run away, such as running away with me, which is what I'm doing right after I write the last word for this recap.
Jae In goes to see In Woo at the hospital. As she is getting up to leave, he grabs her hand and asks her to stay awhile longer. He's really hurting right now. Jae In stands there allowing him to hold her hand. She thinks back to everything happening around her.
She goes to Geodae and looks through the shrubs for her discarded key necklace. A nice security guard found it and gives it back to Jae In. She finds out he's worked for the company for 20 years, and hears that her dad treated the employees so well. Young Kwang's mom finds Grandma outside waiting for the kids, but Grandma appears to have gone a little daft because she's waiting for Jae In, talking as if Jae In still lives with them. This alarms Mom. I'm too numb to be alarmed anymore.
Kwang tells In Chul that he won't quit the team. He doesn't believe the team that increased sales by 30% for this company will be eliminated. Young Kwang informs In Chul that someone saw him at the scene of his father's accident. He vows to show In Chul what retribution is like. Kyung Joo watches this confrontation and smiles at her brother, while looking worriedly at In Chul.
Jae In goes to see Mr. Hwang and rejects his loan that is predicated on Young Kwang's life. If she bets on his life, she might never be able to smile again. She asks that Young Kwang's life be returned to him. Mr. Hwang laughs. Jae In stands before Young Do and confirms she has decided and will have no regrets. They go inside a broadcast booth. Team Young Do reads the statement Jae In is preparing to read today.
Young Kwang wonders why she is doing this, but Hong Joo says this is her way rather than borrowing money based on someone's life. Jae In starts her speech, which stops In Woo's dad in his tracks. Jae In announces that she is giving her 50% share in the company to all the employees of Geodae. Young Do smiles to hear this. Young Kwang rushes into the broadcast booth, standing there and stares at Jae In.