I'm trying to figure out if this is a sign that I need to pick back up my Black & White recaps. In the heated Summer of 2012, one co-star after another in B&W have either gone public in relationships or been caught out with new loves in pretty hard to refute photographic evidence. First came Mark Chao, now confirmed to be dating Gao Yuan Yuan. Next came Vic Zhou, who didn't need to go far and is likely dating another B&W alum Reen Yu. Finally comes Janine Chang, whose rumors of a real life relationship with Ring Ring Bell co-star Peter Ho added another layer of proof this week. This leaves Ivy Chen the lone B&W alum single, having recently ended her long time relationship with Kun Da. Luckily for Ivy, she's not lonely because Janine and Peter have apparently been using her as the perfect decoy. This week Peter dined with Janine and her mom and sister in Shanghai (all caught by the paps on camera), and Ivy was brought along as a shield, which didn't fly with anyone. When contacted about the dinner date and whether rumors that Peter and Janine had secretly gotten engaged were true, Peter's manager merely said the two were not engaged. Good one, manager dude, way to not fan the flames. Suffice to say, Janine-Peter shippers, you can pop the champagne now. This one looks legit, especially after Janine revealed that Peter bought her a watch as a birthday present, the very same one she expressed liking recently. She then giggled and said "Who wouldn't love a guy like that!"
Ivy posted these pictures on her Weibo showing her goofing around with Janine and Peter, taken when Janine visited the set of Tiny Time in Shanghai. Nothing says "we're just friends" like visiting each other's filming sets. You know, just because one happens to be in town.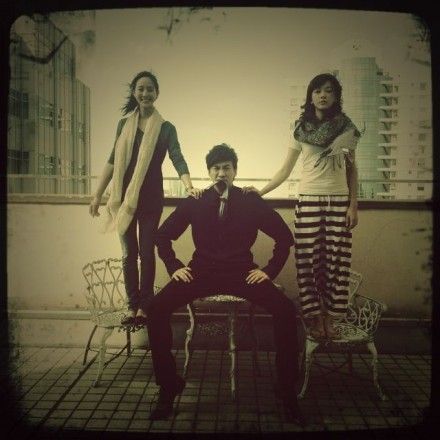 Here's the infamous dinner date with Janine's mom. First picture is Peter sitting next to Ivy, next picture is Janine, followed up Janine's mom and sister, and finally the last picture is taken outside the restaurant and the paparazzi helpfully put faces to show us who is where. LOL. This is so amusing to follow along, and now I'm taking bets as to when they will confirm it to the media. My guess is pretty soon, since neither is being terribly hidey about their interactions.