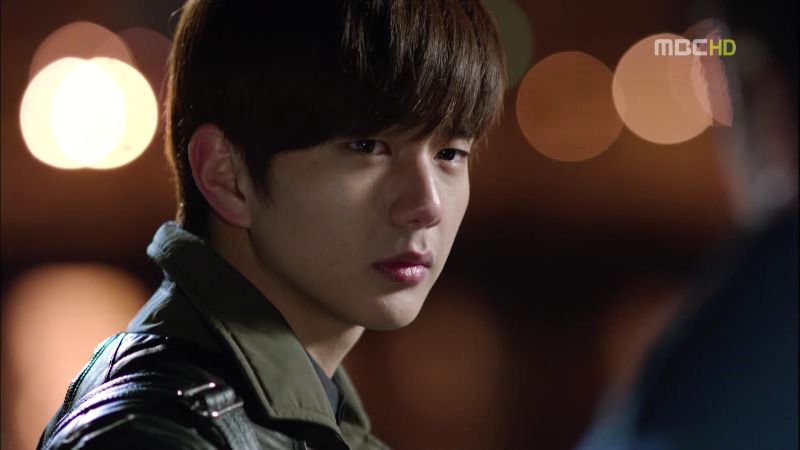 Okay, that's just a really gorgeous shot of Hyung Joon so I had to lead with it, especially since I couldn't find much in this episode to keep my interest. I'm finding myself emotionally and mentally checking out of Missing You. Nothing really happens in this drama. It's just a series of extremely improbable bad things continuously happening to good people, and then the good people are all hurting and suffering while warily circling each other. Then the writer tosses in the kitchen sink of crimes – kidnapping, rape, murder, death by drowning – to add a dash of mystery and create some narrative momentum, but that doesn't work either because it's done so haphazardly and slipshod. This was the first episode where I thought the PD was terrible at the helm, his directing discordant and flat. Did MBC switch PDs because I want the old one back. Visually the drama is also losing its melancholy dreaminess, devolving into a sullen moroseness, much like the mood of most of the characters in this drama.
What couldn't be solved if everyone was shoved into one room with a crack therapist and forced to talk about their feelings and issues, and then return to the real world to do something with their issues rather than playing dodge and feint. I have patience for Soo Yeon's pain and understand her desire to forget her past, I have empathy for Jung Woo's youthful cowardice and understanding of his clinging to guilt, and I have compassion for Hyung Joon's woefully childhood woes and his need for vengeance. But these three are testing my limits by mostly being so damn static in the face of all this rushing convergence of past and present. A tiny bit of good did trickle out of this episode – Hyung Joon candidly told Soo Yeon he was jealous of her feelings with respect to Jung Woo, and Jung Woo finally put himself in Soo Yeon's shoes and realized why she would want to avoid him and her past. Now will this story get a move on soon?
Episode 11 recap:
Jung Woo is tasered by cleaning ahjumma, who checks his cell phone and sees frantic texts from Jung Woo's partner about the cleaning ahjumma's background (something happened to her daughter Bora 5 years ago) and warning him to be careful around her. Oops, too late buddy. Ahjumma looks down at the unconscious Jung Woo and says that she warned him to be careful.
Back at the police station, everyone is frantic when they can't reach Jung Woo. They head to Soo Yeon's mom's place to see if he went home. They set up a wire tap at the house where Eun Joo makes her obligatory 3 second appearance to comfort the worried Mom.
The cops track down Jung Woo's cell signal to a landfill but can't find him. They hear his phone ringing and find it in the trash pile. On the phone is the hand scribbled note "My daughter is dead." Jung Woo's partner starts freaking out but the captain says they need to keep looking for clues. I was really amused in this scene when the taillights of the cars are the same bright hot pink color as Soo Yeon (and sometimes the male leads) lipstick has been in this drama. Maybe it's the camera colors amplifying that particular bright shade?
Jung Woo wakes up bound and gagged by the ahjumma, who walks into the room wearing the baseball cap and puffer jacket we saw the killer of the rapist wearing from the peephole.
Ahjumma grabs a bottle of pills and goes over to Jung Woo, saying that he could have lived if he just stayed quiet and not investigate. She reveals that her daughter is dead and she can't see her anymore. She asks if Jung Woo's investigation is all for that woman's sake? She reminds him that he claimed to be content if he could just see Lee Soo Yeon again.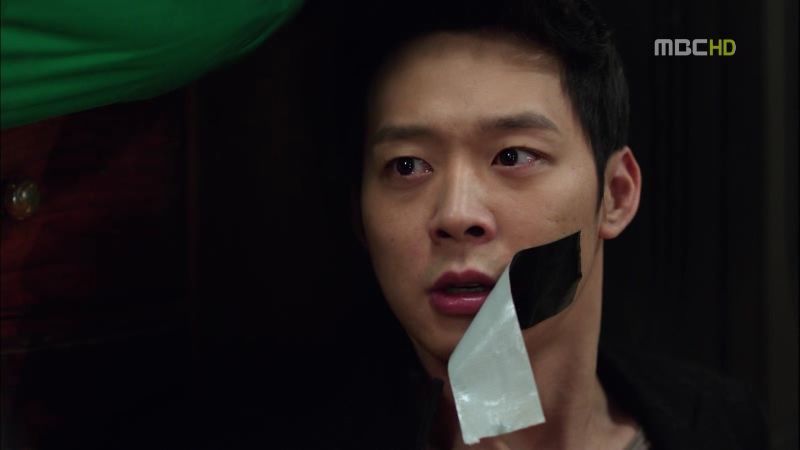 Ahjumma takes off Jung Woo's tape on his mouth and he begs her to let him hear Soo Yeon's voice just one more time. He apologizes for not being able to be her son-in-law and begs for her help. Ahjumma gives him the sleeping pills and says she needs to go kill "that person" now, her Bora told her that person was dirty and scary.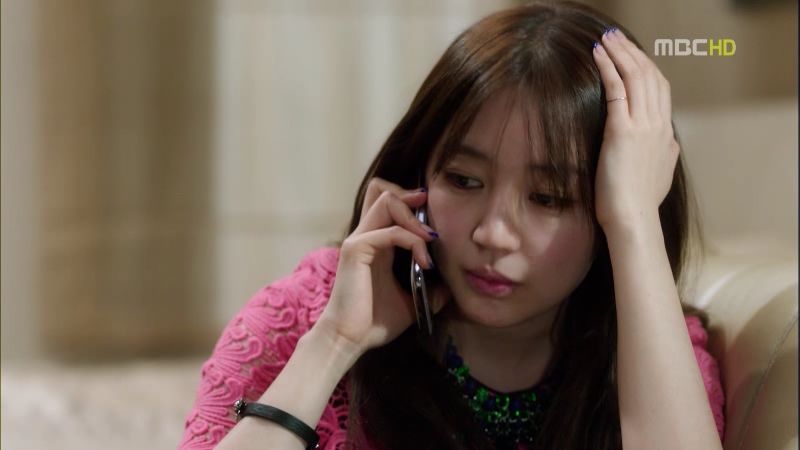 Hyung Joon is still waiting outside Soo Yeon's door for her to open it. Soo Yeon answers her phone and hears Jung Woo's weak voice on the other line asking if she knows how many steps it is from Soo Yeon's front door to the street lamp. He tells her that he misses her. Jung Woo faints during the call and when Soo Yeon tries to call back there is no answer. She calls Jung Woo's partner.
Soo Yeon reveals that Jung Woo called her and his partner says Jung Woo has been kidnapped. Hyung Joon walks into the room and asks Soo Yeon what is happening. Soo Yeon mutters to herself that it's 280 steps from her house to the street lamp and Jung Woo seems to have forgotten.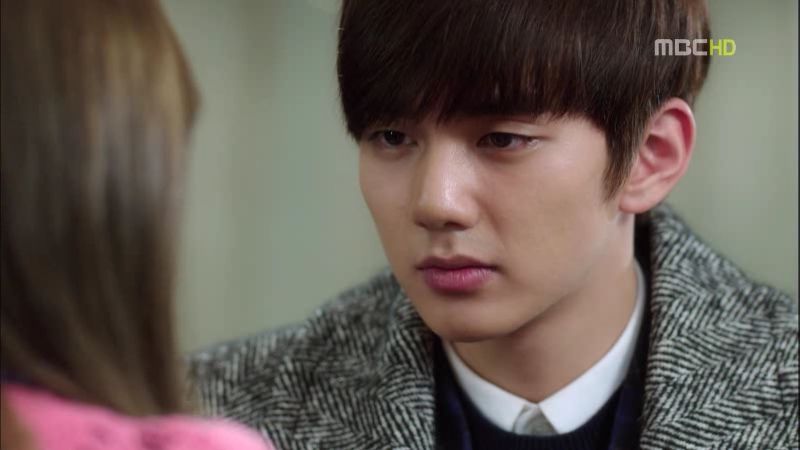 Hyung Joon can see Soo Yeon is really affected because of Jung Woo. He offers to take her to look for Jung Woo, asking if she's that worried about his situation. Soo Yeon remembers her own kidnapping and asks how Hyung Joon can tell. He grabs her hand and says he will help her this one last time. He says she's not 15 anymore and she needs to let it go. He goes to get the car and tells her to put on a coat and meet him outside.
Han Tae Joon is meeting with Secretary Nam and the other secretary is handed an USB drive. Ah Reum barges into the study begging her dad for help because Jung Woo oppa has been kidnapped by the person who killed the rapist. Han Tae Joon says the moment Jung Woo became a cop, he's been dead to him. After everyone leaves, he sits in the study looking at files but appears worried about Jung Woo. Btw, Han Jin Hee's performance here is just dreadful, absolutely a caricature. But he's killing it over in Cheongdamdong Alice right now as the pompous and petty dad of male lead Cha Seung Jo. I luff him!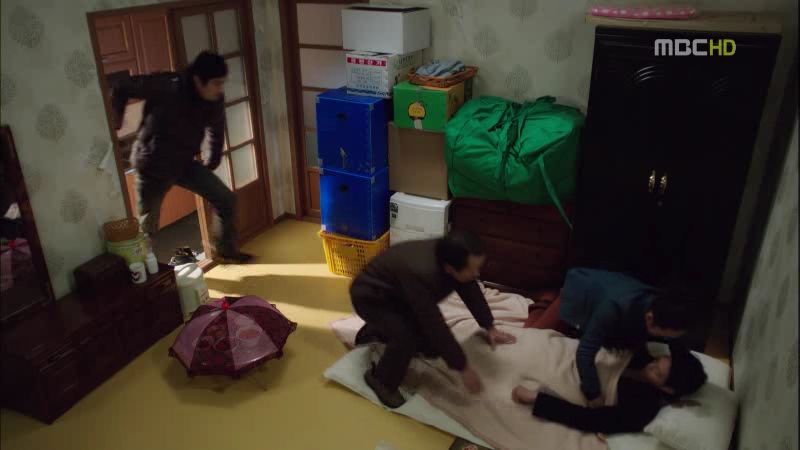 The cops find out where Jung Woo is being stashed and they find him passed out in the room, under a blanket and the cleaning ahjumma left food for him along with a letter. You know, Jung Woo is damn lucky the cleaning ahjumma didn't intend to kill him because his detective skills are so poor in this instance he pretty much served himself up to her on a platter for her to nab him.
Hyung Joon drives Soo Yeon to the scene and they arrive just as Jung Woo is carried out in a stretcher to the ambulance. He knows Soo Yeon is scared and tells her to endure it, because he's also enduring it. Huyng Joon gets out of the car and asks her to wait inside.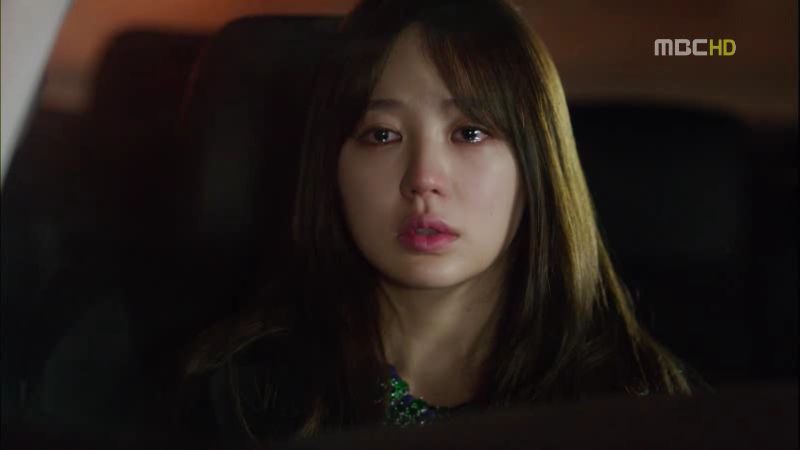 Soo Yeon remembers Jung Woo promising to catch the real killer. Hyung Joon walks up to the police and asks if they can be of any help. Jung Woo's partner is so worried about him.
Hyung Joon turns around and sees Soo Yeon's worried look in the car and he grips his cane tightly. Dude, stop being so passive-aggressively jealous, which you have a right to be since Soo Yeon is currently your girlfriend. But she has a right to go back to Jung Woo if she wants to, only it's just bad for her to be waffling between you two. So ask her straight up "Do you want to go back to Han Jung Woo? If you do, then you can go. Otherwise stop it with all these looks of longing and worry and anxiety because of him and around him. Doing that is not right and not fair to me, your current boyfriend. And the person who has been with you for the last 14 years. Either end it with me and move to Jung Woo, or cut it out. Because it's killing me inside to watch you like this." I don't know why people don't talk more in this drama, other than to prolong the angst.
Soo Yeon and Hyung Joon follow the cops to the hospital. Soo Yeon waits outside Jung Woo's hospital room and finally walks inside. Jung Woo walks out of the bathroom while he's putting on a shirt and Soo Yeon and his partner both quickly avert their eyes and it makes everyone laugh. Hyung Joon walks in and tells Jung Woo that he needs to rest for a few days. Jung Woo thanks them for their assistance.
Jung Woo and Hyung Joon are alone in the room and have a man-to-man chat. Hyung Joon says again that Zoe is not Soo Yeon, and then asks what Jung Woo will do if he finds Soo Yeon and she hates him? Jung Woo still intends to look for her, and wonders if hating him is what Soo Yeon really feels, or Hyung Joon hopes she feels?
Hyung Joon says that he would never do what Jung Woo did. No matter what happened, he would never leave his woman behind. He lost his most beloved mother when he was young so he knows what it's like to lose someone important. He tells Jung Woo to ask Lee Soo Yeon when he sees her if she is willing to forgive him. Jung Woo knows forgiveness will be hard so he intends to stay by her side waiting for her to forgive him. Jung Woo remembers that last time he missed a drinking invite from Hyung Joon and promises to go drinking with him once the killer of the rapist is captured.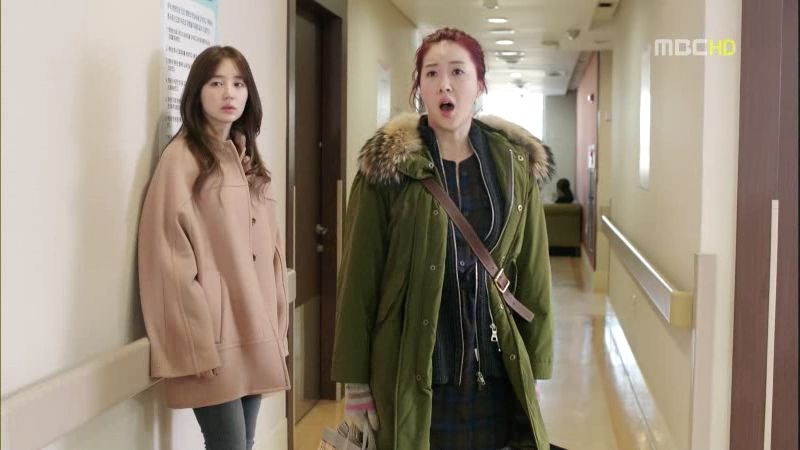 Out in the corridor, Soo Yeon is chatting with Jung Woo's partner when Eun Joo arrives with food for Jung Woo (and to make her second obligatory 3 second appearance). She sees him dressed and leaving the hospital and yells after him that he still hasn't eaten the food Mom made for him. He says he's going home to see Mom. Soo Yeon looks confused to hear that.
She thinks back to Jung Woo at the street lamp that day and realizes that he lives in the neighborhood with her Mom. Hyung Joon walks out of the hospital room and sees Soo Yeon staring at the departing Jung Woo. Stop it with the looks of constipated jealousy, dude. I don't like it when Jung Woo does it, and I don't like it when you do it.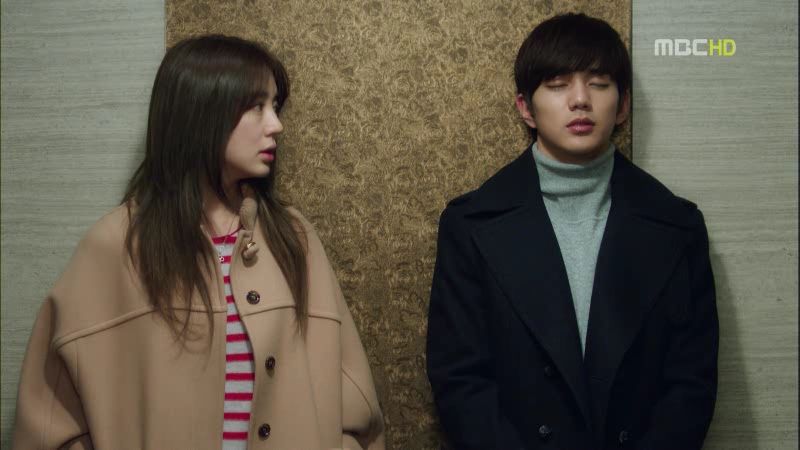 When they get home, Soo Yeon wants to talk in the elevator but Hyung Joon cuts her off. He asks for some time to clear his mind. He doesn't want their first real argument in 14 years to be about Han Jung Woo. He doesn't like this feeling and goes to rest.
When Hyung Joon goes to his secret lair, he is flustered and calls Secretary Nam about getting the secret account ledger. He then IMs his "friend" and asks where he/she is? Friend knows Hyung Joon is very angry right now and asks for more time when Hyung Joon wants things sped up so he can leave for Paris as soon as possible with Soo Yeon.
Jung Woo and his partner arrive at work the next day and discuss finding the person who killed Bora. They get a tip and are off.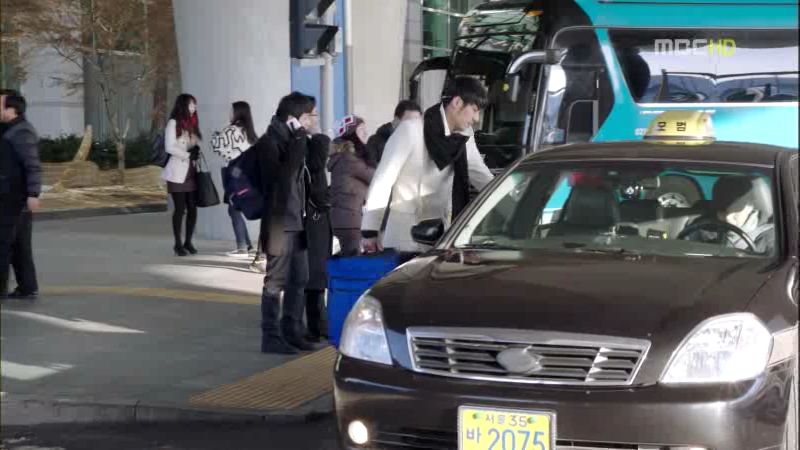 A man walks out of the airport and gets into a taxi. He's on the phone and calls the driver, who is the cleaning ahjumma, to take him to Cheongdamdong. We learn he's the person responsible for Bora's death.
As he's being driven, he realizes something is off when the car doesn't head towards Cheongdamdong. The ahjumma locks the door and the man starts freaking out. Suddenly cop cars surround the taxi and the ahjumma is forced to pull over when she's driven off the road.
The man is passed out after hitting his head and Jung Woo rushes to the taxi. The door is locked and he screams at the ahjumma not to do it, but she grabs a gun and turns toward the guy and we see Jung Woo freaking out.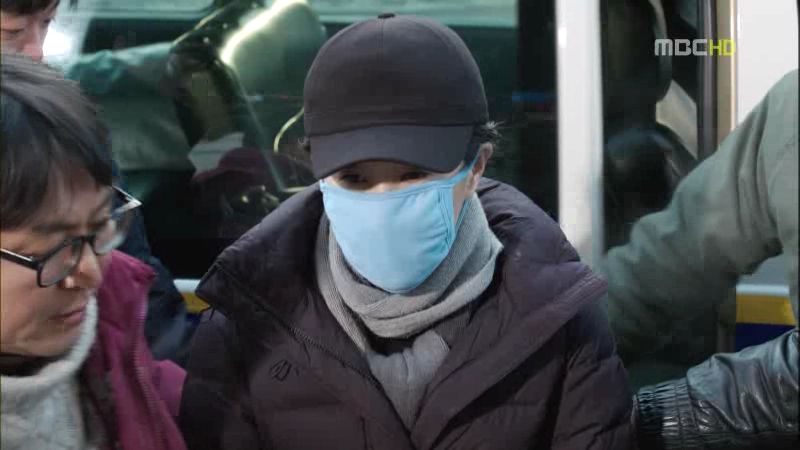 The ahjumma has been arrested and she's driven to the police station with the media waiting there. Ahjumma says her daughter Bora was raped and murdered. She thinks about Bora and we see Jung Woo reading a letter written by Bora. The voiceover for Bora is done by Kim Sae Ron in a voice cameo.
Bora apologizes to her mother for leaving her behind. She is sorry that she didn't listen to her mom, for dirtying her uniform and for not coming straight home from school. They say its like a traffic accident and a person can get over it, but that's not true. After she's gone, the people will stop asking all the time if she's alright. Because of her screaming nightmares, her mother can't even sleep well. She is so very sorry, and she says goodbye to her mom. When Jung Woo reads the letter, we see Soo Yeon laying in bed watching the news about the ahjumma's capture. The ahjumma says her daughter is dead – it wasn't just a rape, they caused her death so it was murder.
Soo Yeon gets up to read a text from Jung Woo telling her that the killer has been captured. But his heart hurts, though he is thankful she is alive and thankful he can still wait for her. Soo Yeon cries to read this. We see Soo Yeon's mom at home packing up Jung Woo's things into a box.
Hyung Joon knocks and walks in, noticing that Soo Yeon is still wearing the same clothes as before and looks unkempt. She lies about having taken a short nap and Hyung Joon pats her on the head. Hyung Joon says he needs to go to work but seeing Soo Yeon like this, he's doesn't know what to do for her.
Hyung Joon sits down next to Soo Yeon and she asks if he wants to say something to her? Hyung Joon admits that he was angry at her but that was because he was clouded by jealousy. He feels embarrassed by his outburst. He knows that she does the memory erasing gesture because she learned it from Jung Woo. He asks her to forget any memories she has of his bad attitude, even if its just a little. Every day Hyung Joon realizes that he cannot be without her.
Soo Yeon gets a call from Jung Woo's stepmother who arrives bearing homemade kimchee and other food for them. Soo Yeon tries to get rid of her but she barges right in. Hyung Joon is leaving and asks if Soo Yeon is fine being home alone? She tells him to go do what he needs to do.
Soo Yeon talks with Stepmother who talks about how much she loves money that that reminds Soo Yeon of her own mom and she smiles. Stepmother suddenly brings up Jung Woo and asks if she knows he's the son of their family? She reveals he left home 14 years ago because he went crazy for a girl. She tells Soo Yeon to keep this a secret from Hyung Joon. Soo Yeon dismisses her quickly saying she has something to do.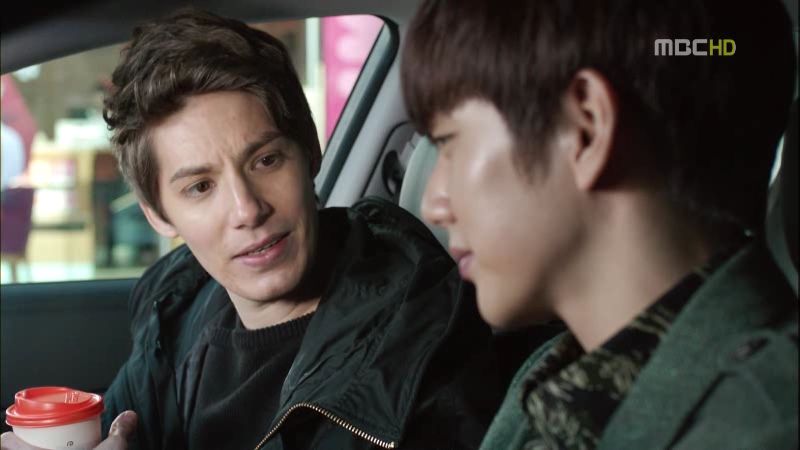 Hyung Joon goes to meet with his French lawyer who helped bail Soo Yeon out. The guy hands Hyung Joon an envelope of money. Ah Reum is home and spots Secretary Nam leaving her dad's study looking all shady. She calls her dad and he orders Secretary Nam to be captured. When he gets home, he discovers the secret accounting ledger missing. He now knows Secretary Nam was just a chess piece.
Secretary Nam meets with Hyung Joon at the Han River and hands over the secret account ledger. I have no idea why gimpy Hyung Joon feels the need to ride his bike in the Winter snow for his secret meeting. Hyung Joon hands him the cash and warns him to be careful not to be caught by Han Tae Joon. Secretary Nam smirks and asks if Soo Yeon knows the reason she and Jung Woo were kidnapped was on Hyung Joon's mother's orders to keep Han Tae Joon away from Hyung Joon and the inheritance? Hyung Joon warns him never to reveal that to Soo Yeon. After Hyung Joon bikes away, Secretary Nam texts a file to Jung Woo and says that by the time he receives this, Secretary Nam will be out of the country already.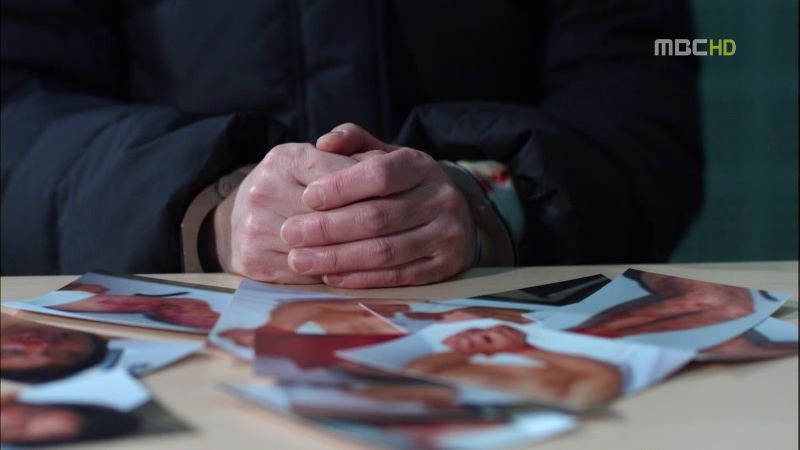 The captain interrogates the cleaning ahjumma about why she killed Soo Yeon's rapist. She asks to speak with her son-in-law (i.e. Jung Woo).
Jung Woo waits outside the police station for Soo Yeon's mom who brings over a meal and he helps her carry in a box. She's in a bad mood and Jung Woo chases after her, trying to placate her under the assumption that she's mad about him being in danger yesterday. We see Soo Yeon in a car outside and confirms that Jung Woo and her Mom are indeed very close. Soo Yeon's mom tells Jung Woo to go home now, he's done enough to atone for leaving Soo Yeon in that warehouse.
Jung Woo refuses, saying he can't live without her. He promises not to do anything to worry her in the future. Soo Yeon's mom asks that he let her breath at ease for once and leave. If she sees him, she will always remember what happened. She wants to forget about her daughter. Jung Woo refuses, he will keep waiting for Soo Yeon to come back.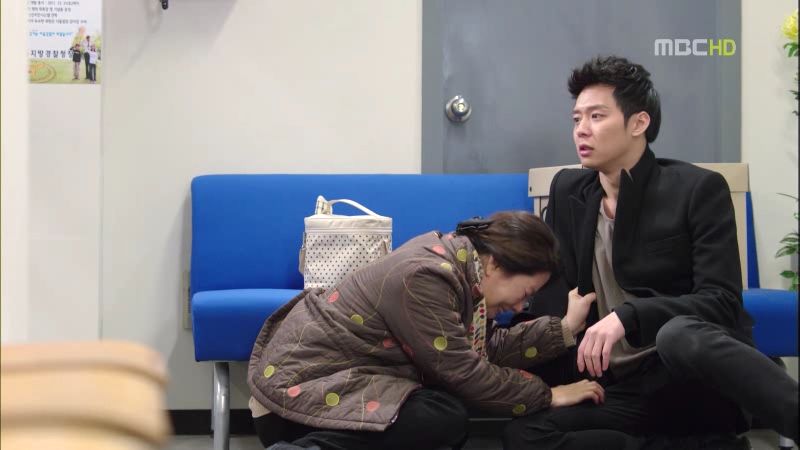 Jung Woo says he's a crazy person, he's a crazy man. A man needs to wait. He tells Soo Yeon's mom to forget Soo Yeon if she wants, to hate him if she wants, to remember the past if she wants. But all those bad memories were made by him and he will shoulder that burden. He asks that she not make him leave. Soo Yeon's mom screams that Soo Yeon doesn't want to be Soo Yeon. Mom is just happy Soo Yeon is alive and living well, so Jung Woo needs to let go and send her away. Soo Yeon is hiding behind a wall and cries as she sees and hears this entire exchange.
When Hyung Joon comes home, he doesn't see Soo Yeon anyone. He sighs thinking she went to the pojanmacha and says they agreed to go together.
The captain allows Soo Yeon's mom to meet with the cleaning ahumma and she brings her food. Soo Yeon's mom grabs the ahjumma's hand and thanks her through tears (for killing the rapist). She is grateful even though she feels like she is very sorry to her. The cleaning ahjumma says she feels oddly at peace.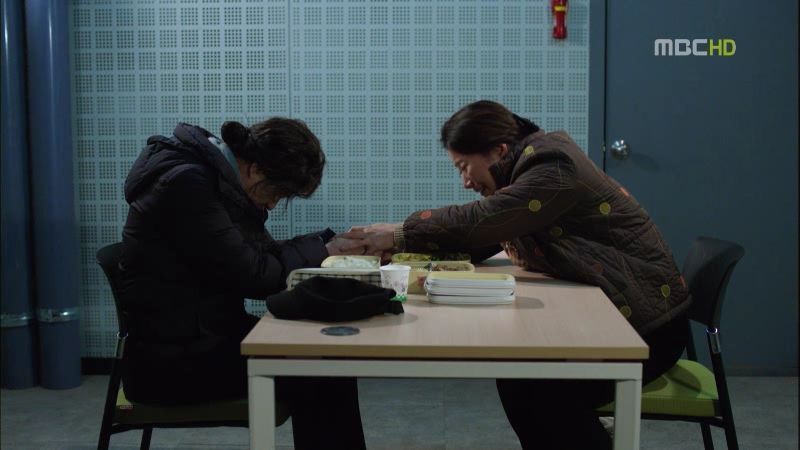 The two mothers bend over holding hands and crying over being unable to protect their own daughters.
Jung Woo sits out in the hallway looking through his box of items Soo Yeon's mother brought. He sees pictures, the yellow umbrella, and his and Soo Yeon's high school name tags. Soo Yeon hides in the corner and watches them. They both think about their childhood selves.
Soo Yeon's phone alarm goes off since its 7 pm and the song is the one she and Jung Woo listened to. He hears it and sees her shoes peeking out from the corner. She runs off and he chases her outside.
Jung Woo stops Soo Yeon and asks if she really hates him that much? She doesn't answer and is just teary. Jung Woo pulls Soo Yeon into his arms and asks if she really hates herself that much? He asks if he really doesn't need to wait for her anymore? He tells her not to cry because it hurts his heart. He calls her Soo Yeon-ah.
Thoughts of Mine:
Watching MY is such an odd experience for me. I feel like a detached outsider peering in – kinda like that Twilight Zone episode where a man lives his entire life until the final minute when the camera pulls back and we see that he's living inside a constructed world by a greater being viewing him as an object of entertainment. I feel like that otherworldly being, when really drama watching works best if I feel like I'm part of the world as constructed by the drama. I don't mean feeling like I'm a character in the drama, but only that I am in the world observing in close proximity hence I care about the characters and their lives, rather than as a far removed outsider. I watch each episode feeling like the characters are tiny toy pieces and the writer moves them as she sees fit hence it doesn't feel organic. There are moments of real gut sincerity but its so few and far between the bits of manufactured plot I'm left flailing for an anchor to keep me rooted in what is otherwise just a conflict that can be resolved with lots of communication and therapy.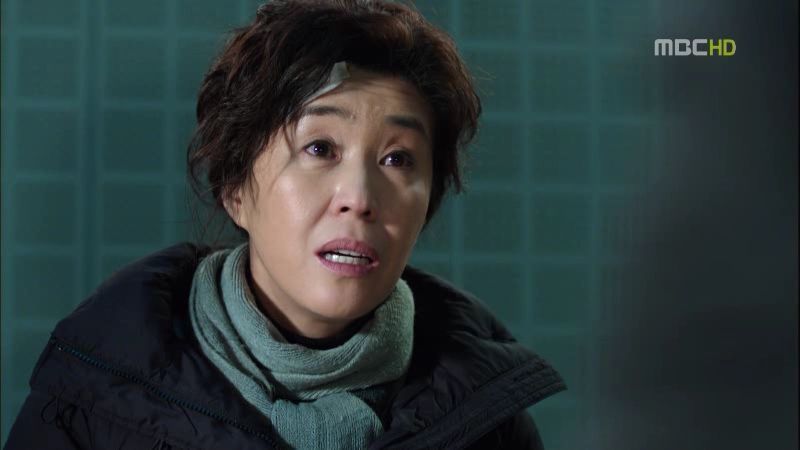 The reveal of the cleaning ahjumma's involvement in the rapist's death and her own sad dead daughter back story wasn't a shock since I was guessing it for a few episodes now. Forget about it being even remote plausible, the only part that worked was Soo Yeon's mom's conversation with her in the interrogation room. Watching the two mom's bond over having daughters that were similar crime victims was really sad. It's funny how Soo Yeon's mom started off in the drama as an easy person to hate, the way she let her daughter get beaten up so she didn't have to, and the way she just emotionally and physically battered Soo Yeon as an outlet for her own pain. Who knew 11 episodes later she would be my favorite character in this drama, a woman who sincerely and thoughfully deals with her own pain and tragedy while having empathy for others. She is weak, she was a bad mother, but she owns up to her own failings and when faced with the unexpected return of her daughter she goes through the gamut of honest feelings all leading to doing what is best for Soo Yeon. She's not perfect, but she tries so hard to make amends the right way. Song Ok Seok is also delivering an exceptional acting performance that just makes me feel for her sadness and guilt.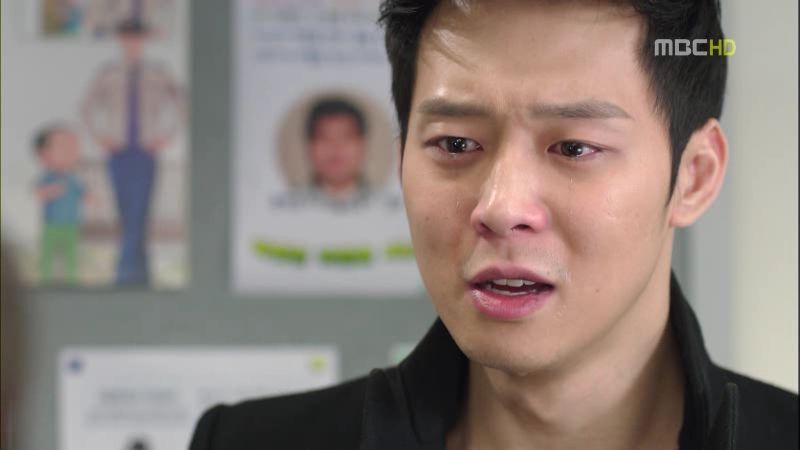 Acting wise everyone is still doing just fine, though nothing to write home about. I'm a little spoiled since I just finished watching Nice Guy where the three leads in that drama went turbo on their acting performances. I can see Yoochun, Yoon Eun Hye, and Yoo Seung Ho putting in their all, and maybe their all is merely this level. So it's no diss on them because as a race car they are going as fast as they can and are in control of their character, but I am just wanting to pull more out of them because it is an incredible visual experience when the actors just kick it up a notch. There are moments Yoochun and Yoon Eun Hye do show a glimmer of more depth and sheer emotional honesty, but sadly it's never with each other. Yoochun continues to impress me when he's doing scenes with the elders, like Song Ok Song or Kim Mi Kyung, he's so much more relaxed and less thinking-as-he-acts. I've noticed this about him in his previous dramas, but I chalked it up in Sungkyungkwan Scandal as him being a newbie. Now I wonder if he's the type of actor that rises to the occasion when he's facing a sunbae that just radiates intensity? Now I'm curious if the screen will explode if Yoochun was cast as Kim Gab Soo's son in some thriller? That needs to happen just to whet my appetite and prove my theory.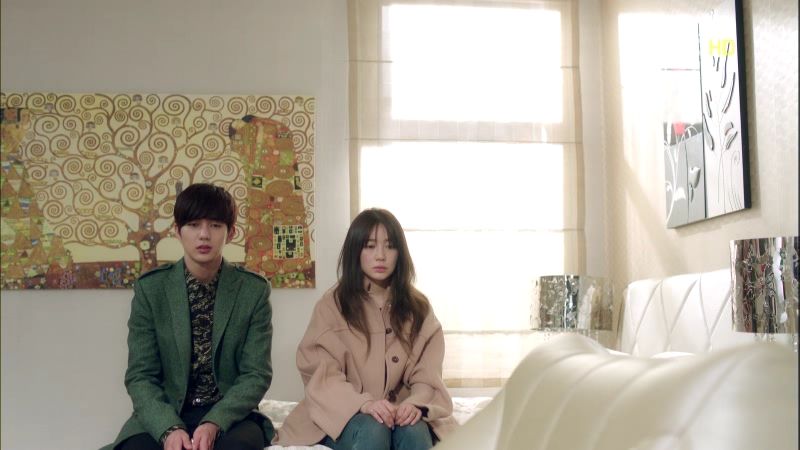 I'm not even holding out hope the drama will handle the Soo Yeon-Hyung Joon 14 year relationship with anything resembling a proper and satisfying resolution before she goes back to Jung Woo. I really wish the drama would let them hash it out the way they appeared to have been communicating the last 14 years and then work through their current predicament. Soo Yeon's character has been so reactive and passive for too many episodes now. I liked her fire when she tried to torment Jung Woo but all she does now is cry and cry and mope and cry. That's in line with old Soo Yeon's personality, which makes me sad because its coming back more and more and she's losing the fire that was Zoe, the girl who slapped the other designer in Jeju and gave Jung Woo a piece of her mind. I want Soo Yeon to acknowledge her past, though I've always wanted her to do it on her own terms and at her own pace. But now it appears like she keeps doing things because she learns more about how Jung Woo and her Mom lived without her. Is that a good enough reason for her to forgive Jung Woo and also return to being Soo Yeon? I don't know, that's for her to decide. But the drama is putting everyone else in the driver's seat with respect to Soo Yeon, including Hyung Joon's need for her and constant emotional reminders that he's all she has, so I feel sorry for her but can't really root for her until she steps up and starts making decisions on her own. I hope that happens soon.
Click here to watch Missing You.