MBC is a really odd-duck of a channel. It has had the biggest ratings hits in the last few years not based on quality but more on inexplicable forces colliding such as The Moon Embraces the Sun. Conversely it also produces the crappiest turd like Time Slip Dr. Jin and May Queen. This network is all over the place and I wonder if the executives just throw darts at a board of potential dramas and pick the one it lands on. Last year around this time the network hit sageuk gold with MoonSun, but this year its offerings have been the snooze inducing Lee Byung Hoon by-the-books saguek Horse Doctor and the increasingly bizarre and incredible narrative collapse going on in the Missing You, which remains hovering in the low teen ratings. I still think it's not a bad idea for Yoon Eun Hye and Yoo Seung Ho to try out a trendy melodrama (Yoochun already did Miss Ripley so this isn't a new experience for him) to challenge themselves, but recently I caught up with MY after taking a few weeks from it while I was on vacation and good golly what the heck is going on with the story?
I was supremely jet lagged when I returned and instead of starting a new drama I was missing Yoon Eun Hye and Yoo Seung Ho so went ahead and marathon the latest episodes. By the end of episode 17 I was stuck in a state akin in A Clockwork Orange shocked disbelief. I had quibbles with the narrative throughout (the ridiculous murder investigations, the focus on Jung Woo's first love purity, the marginalization of Soo Yeon's character as a reactive presence, and Hyung Joon waffling between sniggering villain and clingy boyfriend) but at no time did I think the drama was insane. I do now. DA FUQ DID I JUST WATCH? I don't even know where to start, but I can for certain that Yoo Seung Ho mentioning a few weeks ago that he was having trouble playing Hyung Joon because he didn't understand his character was the biggest understatement of the year. At this point I pity every actor associated with this drama and pray to god neither of the three leads harm their eyes from the sure to be excessive amounts of crying to come. Because its so not worth it. I think MY's complete and total narrative insanity rivals Man of Honor's descent into madness as well as May Queen's mess of a plot.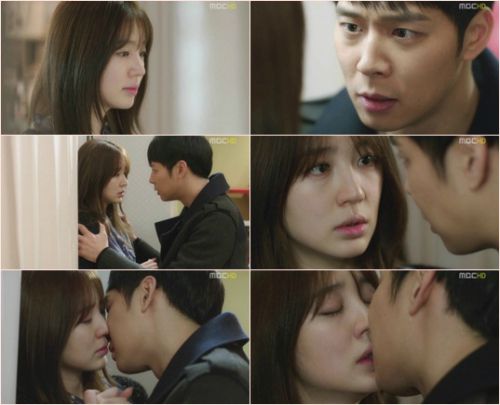 So the story lately in a nutshell – Jung Woo kisses Soo Yeon and they pretend to date for a day but she says she needs to return to Hyung Joon because he took care of her for the last 15 years. Whatever. Either pick the guy you kissed and break the other one's heart, or don't go kissing guys when you don't intend to break up with the other one. Hyung Joon doesn't take kindly to Soo Yeon even showing any concern and emotional ties with Jung Woo and starts to get all physical with her. Cleaning ahjumma comes clean with Jung Woo that she didn't snuff the rapist out, she was hiding in the closet when a second person entered and that was the real killer (she just tortured the guy with dry ice). She didn't want to say anything because she suspects its Soo Yeon based on the sound of her high heels matching the sound she heard. Soo Yeon finds out that Detective Kim died when trying to look for her and she vows to get to the bottom of his death. Soo Yeon starts to spend more time with her mom and Jung Woo and Eun Joo at home, leaving Hyung Joon even more crazed with worry he will lose her. Jung Woo finds out Hyung Joon's real identity, and Hyung Joon learns his mother is alive (but crazy) and Han Tae Joon is using her as bait to lure him out. Hyung Joon's secret online friend turns out to be Han Tae Joon's other young secretary (no surprise here) who is the real Harry Borrison.
No comes the great kicker – at the end of episode 17, Hyung Joon meets with Jung Woo's stepmother who wants money in exchange for handing over Hyung Joon's mom. Soo Yeon finds Hyung Joon's secret lair and hides there and sees this exchange on CCTV. Hyung Joon poisons her, and reveals he poisoned Nurse Hye Mi the same way. He leaves and Soo Yeon staggers out and zombie walks over to the dead body and tries to shake her awake and comes away with blood on her hands. She is about the call the cops when suddenly the notebook computer on the table starts ringing. She opens the notebook and there is a video message from Hyung Joon stating that she is no longer the daughter of a murderer, she is a murderer. He has framed her for the murder of stepmother, as well as the rapist who Hyung Joon also killed. This is her punishment for never loving him. He also knew that Detective Kim was looking for her, because he magically had ESP or whatever because how he knew that man I have no idea, when he decided to jam the coke can on his brake. Jung Woo finds out that evidence is pointing to Soo Yeon and he rushes over to rescue her.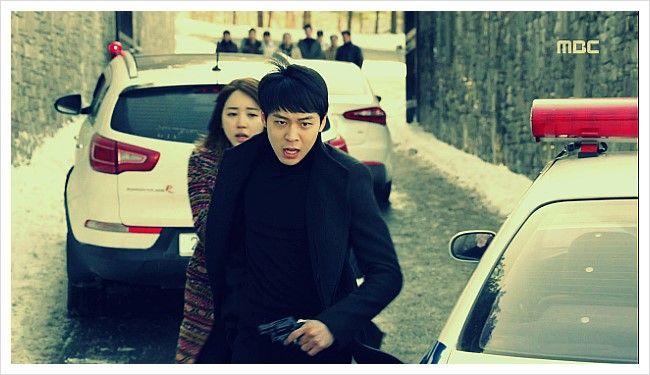 Jung Woo finds Soo Yeon and tries to take her away when his cop buddies, about a dozen of them, arrive and train their guns on them. Jung Woo draws his gun and points it at his fellow cops and screams that Soo Yeon is innocent and she is being framed. His partner tells him to let Soo Yeon come to the police station to sort it out but Jung Woo refuses since its akin to forcing a confession out of her. He cries that he is never going to let her get hurt again. He tells Soo Yeon to not let go of his hand this time, no matter what. Jung Woo and Soo Yeon walk through the police, who just part like the Red Sea to let them through, and then they proceed to run away. Run away down the driveway of Hyung Joon's home while about a dozen cops stand there and watch them leave. The end of the episode.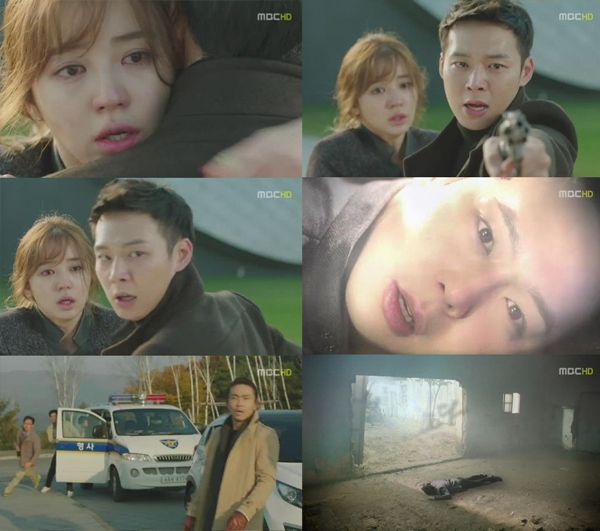 Somewhere in the universe a decent scriptwriter's brain just exploded after watching this crap unfold. So Hyung Joon turns out to be a genuine serial killer, but not a thoughtful one with purpose and planning but one who is all over the place in terms of motive. I wish I could force this writer to watch Mawang before she is allowed to even embark on trying to create a dark character like Hyung Joon. Is he killing to avenge the wrongs done to him and his mother? To avenge wrongs done to Soo Yeon? To punish Soo Yeon? I don't know because I'm sure he doesn't have a clue either. The writer is just pulling shit out of her ass. Jung Woo has turned out to be not just an incompetent detective, he is now a criminal and a dumbass one at that. Pointing a gun at his fellow cops? Alleging Soo Yeon is innocent and then running away with her? AGAIN, DA FUQ DOES HE THINK HE IS DOING? What does that accomplish. Where the hell is he going to run to. What does becoming a fugitive himself, and making her one, help clear her innocence? Don't even get me started on Soo Yeon – she is just one giant receptacle of woe that is constantly having bad shit happen to her while she cannot for the life of her make a decision about her own life. Stay with Hyung Joon? Go back to Jung Woo? I don't know why she played musical chairs between the two of them for the last few episodes when she could have just told Hyung Joon "dude, I don't love you, I love Jung Woo, let's stay friends, thnxbai." She also faints, gets pushed around, and cries buckets and buckets of tears all the time.
The direction MY has taken as it heads into its finale validates my gripe that the writer is writing her story around reaching an ending and it doesn't matter that she doesn't lay the foundation well she's just going to bulldoze right through it. The final scene in episode 17, with Jung Woo running away with Soo Yeon, was the very scene shown in the long trailer, except it was the same action sequence but the two leads were wearing different clothes and hair and it was set in a park rather than Hyung Joon's driveway. So what was the purpose of the scenes shown in the trailer? It was a metaphorical stand in for the real scene to come in episode 17? Some alterna-universe version? I do not get. At this point none of the characters even remotely resemble human beings in their train of thought and actions so I won't even critique OTP issues. What is there is discuss anyway, clearly Soo Yeon should NOT end up with Hyung Joon, who isn't just a controlling boyfriend but a bona fide sociopath and murder. How the guy who bantered with Soo Yeon in episode 5 turned into this creep I can't even fathom. Plus he cries. A lot. When he's not plotting evil through his nose, he's sobbing and begging Soo Yeon not to leave him. He's also a terrible villain – leaving her a Dr. Evil-esque recording on a laptop (does it explode after playing because otherwise his big ploy to frame her is out the door) detailing all his crimes and pining it on her is so stupid I have no words.
When I stopped recapping MY I had no inking the drama would take a turn into wacko-land. I really was just disappointed the writer skirting the substantive issues and focusing on the trivial ones, rendering the drama so shallow to me that I didn't want to waste time on recapping it. The impetus to write this update was hanging out with my drama chingus, who I had dinner with last weekend, all insisting they wanted to hear my thoughts. Honestly, I think they were all just too lazy to watch the latest episodes of MY and wanted my cliff notes version instead. Not that I blame them. To oblige for feeding me a lot of shellfish (my fingers still smell like seafood by the way, I veto that restaurant next time!) this is the latest going on in MY in a snapshot.
Clearly this is not the worst K-drama out there, and I did enjoy parts of the earlier episodes in the potential it had for throwing the heroine into a truly dark place and showing us her strength and resilience in creating a life beyond her painful past. Along the way she would have a successful fashion career. Love a young man who has been by her side for the last 15 years. Reunite with her estranged mom and undergo some positive bonding sessions. Forgive her first love who let her down and slowly fall in love again with his adult self, leading her to realize that her heart was always going to be attracted to this man and he was the one she wanted to be with despite their shared painful history. The other guy gets his revenge and wishes her well, letting go of his past pain and disappointments in order to live life independently.
Sadly the story I just wrote never materialized and was instead eaten by the monster that is the current insanity going on. What a shame. I've enjoyed plenty of crappy dramas but it never feels good to see a drama derail in the second half. I thought about the drama having a flaming death ending for all the leads (not that anyone would miss Eun Joo since she barely existed anyway), but I'm now rooting for a happy ending for Jung Woo and Soo Yeon (even though the way they got back together – as if the last 15 years never happened and one kiss and a few mopey scenes and poof they magically lifted the veil of love – made no sense to me). If possible end the machinations early by giving Hyung Joon a death whereby he trips on his cane and falls into a protruding five inch nail on the ground which pierces his heart and he expires face down on the spot. I don't even need to see Yoo Seung Ho's pretty face to properly bid this character farewell. Then have the final episodes be about showing us Jung Woo and Soo Yeon getting to know each other again over time and maybe having pretty babies and we can all pretend this drama wasn't a bag-o-crazy just to get these two poor kids together.