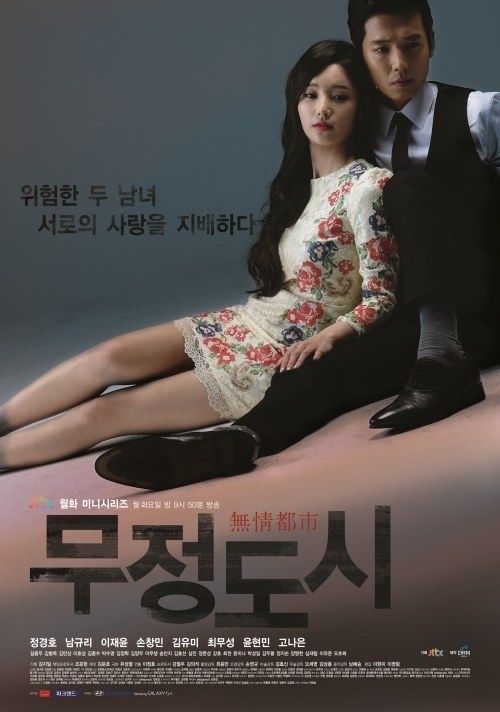 I can sum up the entirety of this post in eight words – This. Is. The. Best. Drama. Airing. Right. Now. Three months ago I wrote that the first quarter of 2013 was by and large a disappointment. I wondered then if the new dramas premiering in the Spring would end the quality drought and herald a return to addicting and memorable K-dramas I've grown accustomed to on a consistent basis. There needn't be a lot, but there has to at least be a few each season worth spending time on. I hate to write a blog about dramas and then have no actual good dramas to talk about! Oh the irony. So far this year I've liked a handful of K-dramas and all of them are on cable networks. tvN's Flower Boy Next Door was unexpectedly melancholy and low key and right now its Cyrano Dating Agency is breezy and charming. Mnet's high school music drama Monstar brings forth all those great feelings of caring about a cast of characters and enjoying their journey towards discovery and growth. That's all good and fine, but I was feeling a bit unsatisfied without at least one substantive product to gnaw on. Never fear, once again cable comes to the rescue.
jTBC's dark and gritty crime drama Cruel City (Heartless City) has flat out knocked me off my feet and gobsmacked me with its visceral unflinching tightly controlled power. If this drama stays true to its narrative integrity and doesn't suddenly throw in a Disney-fied transformation, it has the potential to be the best K-drama this year and all newcomers will be playing catch up. It took me three weeks to get in the mood to check it out and mid-way during episode 1 I felt the need to go scream hallelujah or something similar (okay, I went to tweet my love for it, which is kinda like standing on a roof and screaming in this day and age). Starring Jung Kyung Ho, Lee Jae Yoon, and Nam Gyu Ri, this is the first K-drama that digs into the seedy underbelly of crime culture in Korea with the same nerve and energy usually reserved for K-movies. By the end of episode 1 you'll meet the Doctor's son and you'll never look at Jung Kyung Ho the same way again. I always knew you had it in you guy, and I am honored to take this cruel journey with the most fascinating anti-hero lead in K-drama lore.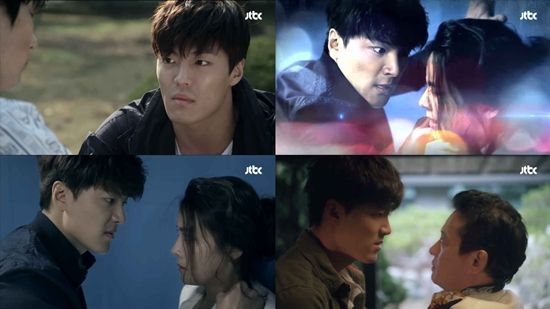 I love that this drama never panders to lowest viewer common denominator, always remaining assured and restrained in its storytelling. The details about all the characters connections, background, not to mention the twists and turns, are doled out expertly so that by the end of episode 6 is maybe when the audience finally thinks it has seen the bigger picture. There are no villains and heroes, but there are police and criminals. People have an identity but that doesn't mean they are doing good things, and in the end you are so swept up into the world created that the nuance will slowly seep into you until right and wrong is really a matter of perspective.
The original title of this drama was called Undercover, and after watching 6-episodes I am SOOOOO glad the network changed it, because that is about the biggest title spoiler ever. Cruel City is a mix of Infernal Affairs with some Old Boy stylishness thrown in, but tempered by a still clinging sense of hope. I am already girding myself for a rocks fall down ending, but that doesn't mean this drama feels bleak or nihilistic. It feels cruel and heartless like the title suggests, watching as people pay for their choices in life whether it's a price they willingly accept or unwittingly step into, but there is still the possibility of redemption and/or salvation.
The drama centers around the Police Special Investigative Team's effort to bring down a huge drug cartel in South Korea. The Team is lead by young and brash Ji Hyun Min (Lee Jae Yoon), the son of the top prosecutor in Seoul, a man who derides his father's path of judicial malaise and chooses a different method to apprehend the criminals. In the same team is police detective Lee Kyung Mi (Ko Na Eun, who bears a striking resemblance to Han Ga In but can actually act), who is dating Hyun Min but refuses to take on desk duty to reassure him of her safety in the line of duty. Kyung Mi grew up in an orphanage and has taken under her wing and care another younger girl orphan Yoon Soo Min (Nam Gyu Ri), who wants to become a cop like her unni.
The Team has set its eyes on bringing down a Seoul drug kingpin nicknamed "The Scale", but his organization is about to be shaken up by a coup led by the young, brilliant, and mysterious "The Doctor's Son" (Jung Kyung Ho), a woman he calls "Auntie" by the name of Lee Jin Sook (Kim Yoo Mi) and his right hand man Soo (Yoon Hyun Min). A quick explanation of the nickname – it's not really Doctor's son though colloquially it works, more accurately its "PhD's son" ("paksa" means someone with a doctorate degree, not necessarily a doctor). Unbeknownst to the Team, "The Scale" is really small fish to fry compared to a thug from Busan nicknamed "Slant-eyes" (Choi Moo Sung, who is so scary here I will have nightmares until I rewatch his cuddly plastic surgeon character in I Live in Cheongdamdong), who clearly reports to an even bigger power in Busan that controls the source of all drugs in South Korea.
To say anymore about the plot is ruining all the wonderfully gripping narrative reveals about this drama, but I will say one spoiler that I'll attempt to put into code – at the end of episode 1, I called it that S*i *y*n was an *n**rc*v**, but I did not expect his backstory to dovetail with *y*n* M* and definitely not in that tear-inducing way where I was literally sobbing my guts out at the beginning of episode 4. I appreciate that characters think on the fly, make bad decisions, get out of jams sometimes due to luck, so in the end nothing feels artificially constructed to happen just to propel the plot along. In the first 6 episodes alone, you better have a steely stomach for beatings (fists, golf clubs, bats, belts, whatever is handy), knifings, sniper bullets, attempted rapes, attempted murders, copious amounts of blood, and tension so thick you can slice it with a spoon.
So far the acting is wonderful, everyone is in character and the PD doesn't film anyone with star-like absorption so the focus remains on the story rather than the usual drama idoltry of its big-name famous faces. Jung Kyung Ho is absolutely the stand out here, wisely choosing this gritty drama as his first small-screen come back project since military service and he delivers above and beyond where he left off in his acting repertoire when he enlisted two years ago. Nam Gyu Ri doesn't take the stage fully as the leading lady until episode 5 but this is the first time I'm able to look past her circle lenses and foundation-caked face and see the actress trying hard behind the pretty façade. She's improving, and picking this project also shows me she's not some brainless wannabe actress. Now if only she can get rid of those circle lenses some day, hopefully soon. She doesn't need it, she actually has acting potential deep down in there.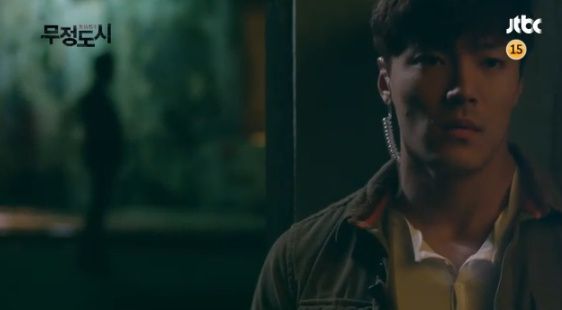 Son Chang Min is finally paying me back after I endured his most crazy-eyed acting EVER in Man of Honor, here he plays Police Bureau Chief Min and he's every bit the man on a mission and filled with lots of unspoken information. If I had to pick a weak link, I would say second male lead Lee Jae Yoon is relying too much on his physicality and on brooding to convey nuanced emotion, he's coming off more like hot-tempered lunkhead more than cop with conviction and worries. The supporting cast from Kim Yoo Mi's Auntie to Yoon Hyun Min's lady-killer Soo to Choi Moo Sung's Slant-eyes are all excellent and you never once think of them as anything other than their characters. PD Lee Jyung Ho did I Need Romance 2012 and Auction House, while newbie scriptwriter Yoo Sung Yul doesn't any prior works on his resume but whatta way to make a first impression. The music is fantastic and mood-setting, so definitely this is a drama to watch more than it is to just read the recaps.

I worry that the "romance" element once its thrown in might disrupt the tenor of the narrative, but then again so far what bits of emotional narrative introduced have been of the unsyrupy variety so I shall remain hopeful the writer continues with the unsentimental storytelling. I am DYING for the OTP to meet properly, one that doesn't involve him sporting some injury or another and buying medical supplies from her at the convenience store. Of course, the complete and utter incorrect assumption she holds of him is going to tear me to pieces once they start falling for each other, which is why I say this drama will not end will rainbows and unicorns and kisses in the rain. The cat and mouse game here is but bait for even bigger fish to fry, and I can't wait to see who is the ultimate Big Bad, but I rather have this bleak view that none of it is going to matter in the end. Justice is always just a drop in the hat and when one organization dies ten more spring up to take over like a hydra. If we're lucky one person may come out alive, but everyone will pay the ultimate price in the ongoing struggle for power and money.