The final scene of episode 11 of Goddess of Fire ends with Tae Do's devastatingly romantic voice over: "Death, it is not something that worries me. If she dies, then what meaning is there for me to keep on living. Gwanghaegun, you live for the entire world. I only live for Jung Ah." Guh, somebody please fan me because I think I'm melting right here. Check out the latest batch of the most adorable stills of my OTP from this drama. These two are trending so high right now in both the Korean and Chinese sites for this drama. If the writer had a brain, which I can safely say is highly unlikely, then the only way to salvage the ratings would be to keep on riding this incredible chemistry. What's that you say? I'm sorry but I can't hear you above the Kim Bum scorching HOTNESS. Oh my god this boy is soooooo gorgeous in Goddess of Fire it should be illegal to slay noonas even more than he normally slays them all. GoF can't figure out its tone at all, going from slapstick to pathos in the most laughably jarring way. I can't be faulted for not paying more attention to the details because the dialogue is at times so stupid I need to FF to not die of laughter. I can safely say that its not my love for Tae Do but honest to god his character gets all the best lines either said to him or coming from him. In my summary of episode 11 I failed to go into some cute and swoony details.
Jung Yi's pottery master is very leery of letting her travel alone with Tae Do since his face is clearly intended to make legions of women shed tears. LOL. He even tells Jung Yi that if Tae Do wants to drink, to not drink with him, and if there is only one room left in the inn, to make Tae Do sleep in the barn. Double LOL. Then Tae Do takes Jung Yi to go look for the white dirt and they stay at a government official's residence with the official calling Tae Do his martial arts master. The guy asks what Jung Yi's relationship is with Tae Do and he admits she's a girl dressed like a boy. The guy can tell Tae Do likes her though Tae Do sighs that she calls him orabeoni. He gives our straightforward Tae Do some romance advice and sends him out to buy a ring and arranges a private dinner so Tae Do can confess his feelings. And then, of course the Joseon version of the unwelcome guest from Hell shows up in the guise of Gwanghaegun. Grrrrr. Jung Yi takes up the offer to go to the Ming dynasty to learn pottery unaware that she's being sent as a sacrifice. At which point I'm flashing to Indiana Jones and the Temple of Doom. So Jung Yi gets trussed up in girl's attire to be sent to the Ming until Tae Do learns the truth that she's not going to learn no pottery. After he asks Gwanghaegun to save Jung Yi, he says definitively that if Gwanghaegun can't or won't then he will do it himself. That's my boy! The episode ends with Tae Do and Gwanghaegun rushing to save Jung Yi, along with Tae Do most awesome voice over EVER. We all need an orabeoni like him. Seriously. Bonus points if the dude looks like Kim Bum.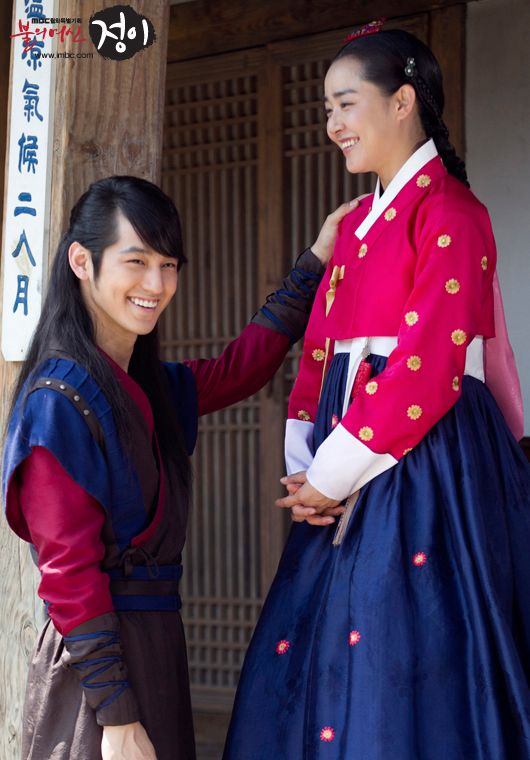 I think somebody has a crush on noona……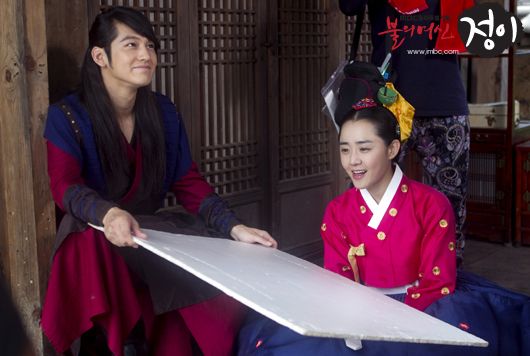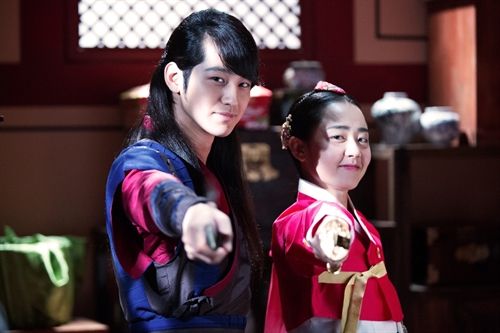 Kim Bum wrote "Jung Ah" in the sand by his feet. I have no words left. Words fail me at how cute he is.