Gah, why am I writing about The Drama Which Shall Henceforth Never Be Mentioned. Oh yes, because MBC just released the most apropos and hilariously adorable picture of Kim Bum about to commit seppuku on the set of GoF. My first thought was (1) you're too beautiful to die so young!, and my second thought was (2) oh, but at least you'll be put out of your misery of acting in this shiteous drama. Ottoke, whichever option shall I root for? Probably the first, sigh, because he really is the only reason I cannot help but check out this drama every Mon-Tues like clockwork orange. So what happened in the last two episodes? Everyone finds out Tae Pyung is really Jung Yi, she's kicked out and then allowed back, her kiln is sabotaged when she's trying to make a birthday vase for the Consort and in the explosion she goes blind, Tae Do takes her away because that place is just wack, Gwanghaegun yells at everyone (the potters for not protecting Jung Yi, Tae Do for not getting out of his way so he can storm to confront Jung Yi, and Jung Yi for daring to go blind and leaving his sight – seriously, DA FUCK IS THIS ASSHOLE'S PROBLEM?). In the end, blind Jung Yi makes a simple vase for the Consort but loses out to Yook Do's more ornate one, and as promised she leaves the pottery department. Oh thank god, for however long this lasts. She does decide that pottery is her love and calling, and she's not doing this for her dead dad anymore. The most fascinating developments in this episode involve Jung Yi going blind and suddenly developing a modicum of maturity so I don't want to slap her upside the head, and the fact that Tae Do takes care of her and she tells her orabeoni that her vow to him is that if he's ever injured, she will always take care of him and be by his side. Clearly this was a Very Important Statement because of the way the drama framed it in beautiful colors of sunset, and because I know that Jung Yi picks Tae Do in the end so obviously my boy is going to get maimed or some shit like that and ergo Jung Yi finally realizes her orabeoni needs and wants only her and she chooses him over the moron who yells all the time because he can. Read on for some pretty pretty pictures of Tae Do, and perhaps join in in the snark, because it's more fun to do it with kindred spirits.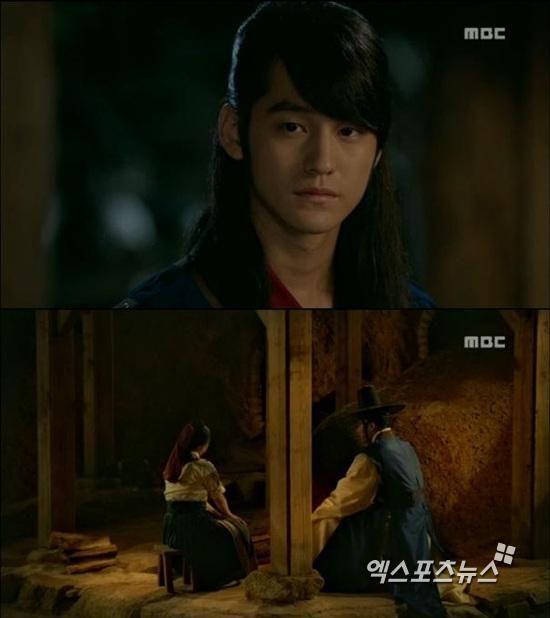 Did anyone cheer as loud as me when Jung Yi got blinded? Because I was hooting and hollering and praying that meant the end of her so-called pottery career. Because she is a terribly myopic human being and needs to first learn to live in society before trying to accomplish a life long goal of some sort. But then orabeoni was so sad she was hurt, so that made me sad. A little.
I have to voice an observation that has been bothering me for episodes now. Moon Geun Young has a very slight cross-eye that has never bothered me before and she actually doesn't show when she acts. From Painter of the Wind to Cinderella Unni to Mary Stayed Out All Night, it was completely unobtrusive. It popped up here and there very rarely in Cheongdamdong Alice, but here in GoF its something that is totally distracting. She's an amazing actress IMO and I wonder what the heck the PD is telling her to do, because she constantly looks constipated like she's trying too hard and thinking too much. I blame the lame PD and the horribly written character, because in the hands of a lesser actress this show would be cut short and put out of its misery already. Let's not even talk about Lee Sang Yoon playing a character that is just a giant douchebag. And while Kim Bum flits in and out of the scenes because he barely has any and doesn't even show the intensity he did in his early episodes when he probably still had hope the drama might be good, at least his character remains sane, consistent, and totally the sole mature human being in this story.
Don't look so thwarted, Gwanghaegun. You have a country you could be angling to run, i.e. you have better things to do with your time then constantly dawdling around Jung Yi. I could totally get why Lee Soon (i.e. King Sukjong) in Jang Ok Jung, Live in Love, was madly crazy utterly in love with Jang Ok Jung. "The sky has fallen for you." Ugh, so romantic and intense (and such a painful memory because the first 8 episodes of that drama was complete and utter PERFECTION before it went insane). The moment Lee Soon laid eyes on Ok Jung it was over for him – early in that drama Ok Jung was amazing, beautiful beyond compare, whip smart, and totally funny and clever. Here? Jung Yi is about as attractive and interesting as a piece of turd left behind by a particularly overfed rhino. I think its Tae Do's burden to love Jung Yi, kinda like he owes her. But Gwanghaegun? I. Do. Not. Get. Move on, dude.
Tae Do-Jung Yi-Gwanghaegun cut from Episode 18:
This moment? Best cockblock EVER. Here I thought Tae Do was just going to be the silent wallflower protector orabeoni. Thank god he shows a measure of passion. I can watch this gif over and over again. LOVE.