The written preview for the final episode 20 of Dr. Stranger is out. I thought SBS would not release one and keep whetting the appetite for whatever crazy its cooking up. Alas it looks straightforward wrap up time, and all of the final conflict to come is easily expected. The President turns out to be no better than PM Jang and immediately welshes on his promise to Hoon to ensure the safety of his loved ones. This drama has always postulated that both Hoon and his dad Park Chul were forever wedged between a rock and a hard place which is just the same shit as a rock. South Korea keeps on betraying them, and North Korea never tries to hide its ruthlessness in milking them both for their medical expertise. I never found either Jae Hee or Soo Hyun was a good option for Hoon if he wanted to truly get away, Jae Hee brings the baggage from the North and Soo Hyun is closely tied to the powerful medical establishment of her dad's Myung Woo Hospital and all its dirty dealings.
As a character, Hoon's only escape really is to run to some dinky countryside to open a little clinic, and his dad did in North Korea, and he did in South Korea to raise money to bring Jae Hee down. To walk with the powerful is to forever be used and discarded in this drama. It's nasty and brutish, just like the undead Comrade Cha with his one-track mind. The network appended a thank you note to the end of the written preview by writing "thank you all very much who loved Dr. Stranger during this time", and I also want to thank all the readers who watched, read my recaps, vented in the comments section, and generally made it more entertaining for me to keep watching this drama when the sane viewers called it quits long ago. I don't regret it since at times it was so bad it was amusing, and the mere passion generated by its badness makes for critiques that call forth feeling rather than indifference. I hate feeling indifferent the most because then the drama might as well not exist.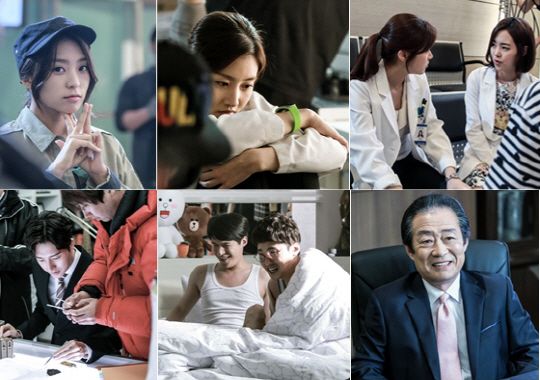 The network also released a collage of the happy cast taking cute pictures together (post-topping still) and each pic brings a smile to my face. Especially seeing Jin Se Yeon and her unni Kang Sora being so close and chummy in real life, while their fans were fighting they were just doing their jobs and bonding through the shared experience.
Written preview for episode 20:
The President doesn't follow through on his promise to ensure Hoon and Jae Hee's safety which leaves Hoon and Jae Hee distraught and anxious. On the other hand, because of Comrade Cha, not only is PM Jang threatened but Hoon and Jae Hee also find themselves in danger again……..