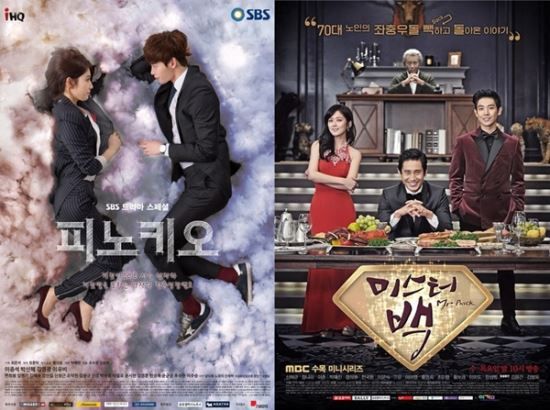 There's finally some good news on the domestic K-drama ratings front that spreads the love around. Last week MBC premiered Mr. Back (Mr. Baek) to the best ratings start of any prime time K-drama of 2014 despite it being in the mid-teens in ratings. It's like winning the Olympic gold in the 100 meter sprint but having a time slower than all previous Olympic gold medal winners in the same category. SBS finally ushered off the huge disappointment that was My Lovely Girl and premiered the highly anticipated Pinocchio this week.
Episode 1 of Pinocchio was nothing to write home about in terms of ratings with a 7.8% AGB while Mr. Back dropped from last week but still led the night with 11.6%. Episode 2 of Pinocchio would point the way up or down and in good news for both MBC and SBS, Thursday night's ratings for both Mr. Back and Pinocchio rose nearly 2 points for both dramas. I just love it when good ratings for one drama doesn't come at the expense of another but rather that the respective quality brings more eyes to the table. Blade Man (Iron Man) ended today on KBS with the final episode getting 3.2% which is about what it's been getting for the last few weeks.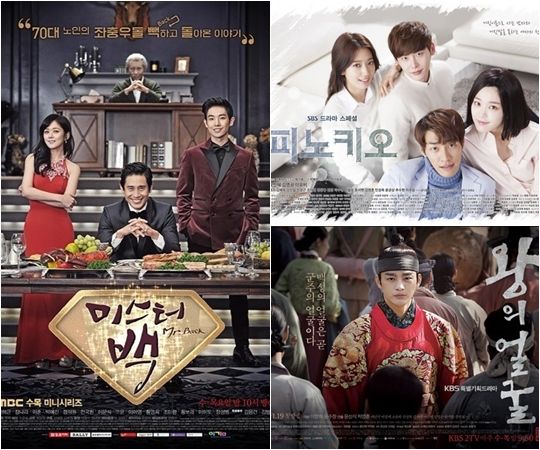 Episode 4 of Mr.Back got an AGB 13.3% which is a 1.7 point increase while episode 2 of Pinocchio got an 9.8% and a 2 point increase from the previous episode. Both are also increasing in tandem on TNmS ratings with Mr. Back increasing 1.3 points to 12.1% while Pinocchio doubled that and increased 2.8 points to 10.6%. Next week comes the new KBS sageuk The King's Face (maybe a remake of the movie The Face Reader, or maybe not) to take over for Blade Man and after that those three dramas will be set for the next two months or so.
I've written nothing about The King's Face which is a sure sign that I have zero interest in this drama. Both the subject matter and the leads (Seo In Guk and Jo Yoon Hee) bore me to death. Wake me up next February 2015 to check back in with KBS in that time slot when Unkind Women arrive. As for the next week's ratings battle, with MB and Pinocchio both doing decent with an upward trajectory on ratings, not to mention sageuks no longer a sure thing with the domestic audience since Secret Door is a disastrous flop over on SBS Mon-Tues, it'll be interesting to see how The King's Face fares coming in a few steps behind the competition.