When the J-dorama gods giveth they are oh so generous. And a bit piling on with so much coming at the same time. I've been following two J-doramas this season, both packed with some of my favorite actors and actresses wrapped in great storytelling. One of them is Nobunaga Concerto with Oguri Shun, Shibasaki Kou, Mukai Osamu, and Fujiki Naohito. It's a manga adaptation with a high school student thrown back in time to the thrilling and dangerous era of the Nobunaga shogunate and Oguri Shun as the title character is pulling double duty and having a blast doing so.
Shun is seriously working nonstop these days, despite being a new dad, as last season his Border was the only dorama I loved. He won't have any break once NC ends as he's already signed on to costar with Ikuta Toma for the upcoming big-budget corrupt cops and gangsters TBS dorama Ouroboros. The cast was completed this weekend and rockets up another notch on the must-watch meter with the addition of Ueno Juri as the leading lady. She plays a fellow detective alongside Toma's character while Shun trades his police badge in and plays the dark dangerous gangster for a change.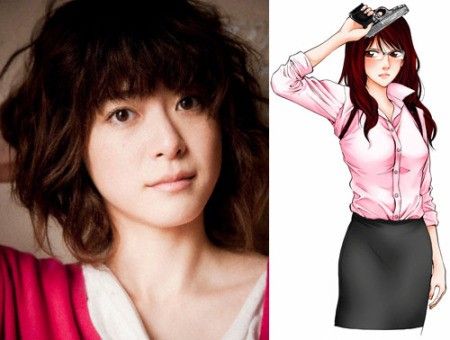 Juri's character is described as a no-nonsense detective who graduated from Tokyo University. I haven't read the manga so don't know if there's a love line between her with either of the male lead characters but I'll be fine if there is or isn't. Border shows once again that Japan can do fantastic police procedurals without needing to resort to romance as an additional lure.
Ouroboros is the Greek symbol of a serpent eating its own tail. The manga uses that imagery for the story revolving around two orphans who grow up to be a cop and a gangster, respectively, in order to investigate and avenge the murder and cover up of their beloved mentor. One works from inside and the other from the outside to take down the corruption within the police system. Ouroboros starts filming in mid-December for a January 2015 premiere. I can't wait!