2017 may seem so far away except it's already June and halfway through 2016 already, like it or not. Which makes upcoming fantasy wuxia movie Three Lives Three Worlds, Ten Miles Peach Blossoms seem ephemerally attainable now that it's set a next year cinematic airing date. It's also gotten an English title of Once Upon a Time, and maybe Disney wants to have a word with the production, but then so would every fairy tale from the dawn of time until now.
Based on the popular Tang Qi Gong Zi (Tang Dynasty 7th Scholar) novel of the same name, the story centers around ancient Chinese gods and goddesses, and in particular the three lives love affair and mess between Heavenly Prince Ye Hua and Qing Qiu fox demon tribe Princess Bai Qian. The movie pairs together visual perfects in establied C-actress Crystal Liu fast rising actor Yang Yang, making it a lock to be one of the prettiest C-movies in existence once it actually arrives. Judging from the first official movie still of the two leads in a scene, hyperboles may be warranted.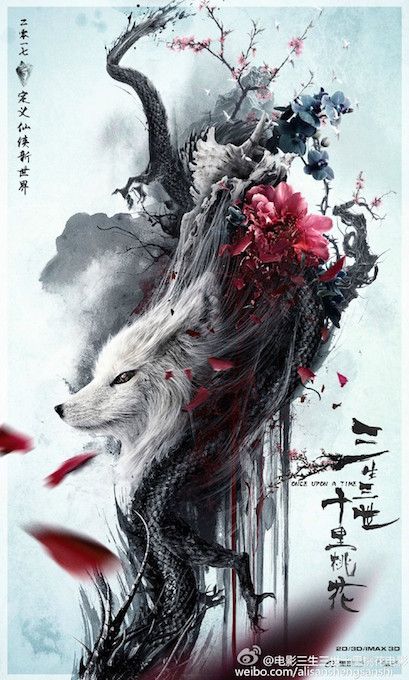 The first conceptual movie poster is also out, showing Ye Hua's mystical form of the black dragon with Bai Qian's white fox, and behind them is the ten miles of peach blossoms which is their romance spot. It's gorgeous and continues the trend of C-movies really making an effort with poster design.