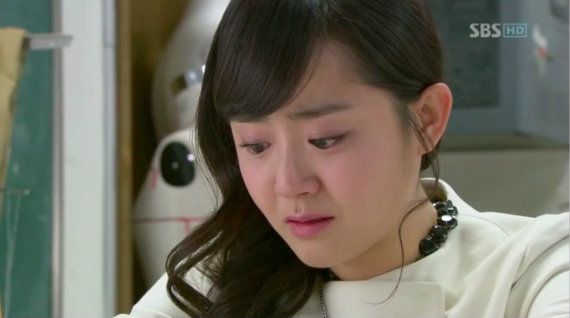 This was the first episode of Cheongdamdong Alice since the uneven episode 1 that I didn't like. I don't hate it, but some of the characterizations really annoyed me even if the seeds were sprinkled earlier on. I guess what stood out for me in this episode was all the weaknesses in the narrative that were highlighted because finally the shit hits the fan and Se Kyung finds out who Seung Jo really is. After the heart pumping elevator door opening scene in episode 7, all of episode 8 felt like a balloon with all the tension and air let out. Se Kyung spent the episode moping and deciding to do the wrong thing even if it means following through with her original plan, and Seung Jo freaked out so badly all over the place I wondered how he's holding down a real life CEO job, or how he's not committed yet. What I loved about his off-the-wall behavior really rankled me in this episode, because he really needs to get a grip on his emotional sanity otherwise he will be destroyed once he finds out all the secrets everyone has been hiding. Yes, he has his own secret, but in the grand scheme of things his is probably the least devastating.
What I still love about CA is how complicated all the interconnected threads are. We have Tommy working to bring Royal and GN together through marriage, and finally he's stepped up as a second male lead in becoming the only person aside from Ah Jung who knows the whole truth and nothing but the truth. Sadly he'll be working to break up Se Kyung and Seung Jo, and I can't say I'm not all for that. Much as I like Se Kyung has every right to be a golddigger, she is fooling herself and setting up Seung Jo for a world of hurt once he realizes Se Kyung is a Candy-not Candy-pretending to be a Candy. Or something like that. I wish she would come clean with him because she has so far done nothing wrong to him. Even if she intended to use President Cha as her White Rabbit, and fell in love with Secretary Kim in the interim, no harm no foul. But deciding to make President Cha her target and thinking its going to be a win-win on the love and business front leaves me sick to my stomach with worry. There is going to be so much pain to go around soon we might need a support group to watch upcoming episodes. Speaking of which, next weekend's episodes are preempted for SBS end of year award shows so episode 9 won't air until January 5th.
Episode 8 recap:
Seung Jo hears from Secretary Moon that Se Kyung likes Secretary Kim. Se Kyung reads Ah Jung's text that reveals Secretary Kim is actually President Jean Thierry Cha of Artemis. The elevator doors open and they stand facing each other. Se Kyung immediately averts her face and ducks into the corner of her elevator. Apparently Seung Jo is either blind or stunned by what he just heard that he is in a daze and doesn't see Se Kyung.
Seung Jo is welcomed as the President to the party and Se Kyung hears this confirmation of his identity. She also sees him wearing the bracelet she gave the President. Seung Jo steps out of the elevator and Secretary Moon comes to greet him. Seung Jo repeatedly asks like a broken record "if it's true" and "is it's really, really true" over and over again like a little kid hearing that there is no Santa Clause. Se Kyung stands in the elevator trying to process this shock
Seung Jo is in the waiting room and he finally smiles and presses his hands on his face because Se Kyung likes him. Dong Wook arrives and wonders why he's like this? Seung Jo asks what he should do.
Se Kyung flashes back to all her previous interactions with Seung Jo and starts to connect the dots and notice all the odd moments. Seung Jo grabs poor Dong Wook for a bear hug and also pats him on the butt as he excitedly shares that Se Kyung likes him. Dong Wook wonders when that happened and Seung Jo doesn't know but he's pretty excited nonetheless. Se Kyung arrives at the party.
Dong Wook tells Seung Jo to confess his real identity to Se Kyung today and confess how he feels. She will definitely be shocked at his real identity. Seung Jo suddenly realizes that Se Kyung likes "Secretary Kim." Se Kyung enters the party and is escorted to her seat. She notices Jean Thierry Cha's name plate at a seat.
Seung Jo is freaking out because he's not Secretary Kim, he's Jean Thierry Cha. Dong Wook tells him the calm the heck down – he's not Secretary Kim or Jean Thierry Cha, which is an identity he wears like a fashionable outfit. He's Cha Seung Jo! Today Cha Seung Jo is merely telling the woman he likes that he likes her. Se Kyung sits at her seat and gulps down an entire glass of water. She looks into the empty glass and sees Seung Jo's smiling and waving face.
Dong Wook and Seung Jo hide behind the curtains looking into the party to see if Se Kyung is there. Seung Jo freaks out and runs away, right past Tommy Hong who is just arriving. Poor Dong Wook chases after him. Tommy enters the party and sees Se Kyung sitting there and he remembers Se Kyung saying the President finding out will mean things are over.
President Nam confirms Yoon Joo is the daughter-in-law to GN Fashion. She gets on her knees and begs him to keep her secret (about her previous relationship with Seung Jo). President Nam says of course the secret must be kept so that the marriage between Seung Jo and In Hwa will happen. Both of them need to keep this secret to their graves. Yoon Joo begs him that this marriage cannot happen. President Nam reminds her that she said it was all a business, that was what he liked about her. She was all business and knew how to cut a deal. He leaves and Yoon Joo cries kneeling there. President Nam thinks to himself that Seung Jo already knew about GN wanting a marriage alliance with him, and he sighs calling his son a poor kid.
Yoon Joo leaves the building crying. She gets a call from her brother that she doesn't answer. She gets into a cab asks the driver to just drive. She passes by the Artemis building and she looks up sadly. Se Kyung is nervous while Tommy continues to observe her. Min Hyuk and In Hwa arrive and greet Tommy, with In Hwa and Tommy exchanging a sly look. Min Hyuk notices Se Kyung and In Hwa walks over to ask why she is here? Se Kyung admits she was invited by the President as a guest. In Hwa asks if they know each other? Se Kyung is about to explain before the MC calls all the guests to be seated. The first speaker begins while Seung Jo continues his freak out back stage.
Secretary Moon comes to get Seung Jo to prepare but he is seriously having a meltdown. Secretary Moon gets annoys and yells at him to be serious and live his life! Secretary Moon amends that to say Seung Jo needs to be honest towards the person he loves. Dong Wook agrees that Seung Jo needs to be honest with Se Kyung today. Seung Jo agrees on the honesty part.
Seung Jo is introduced and he steels himself before walking out. As he walks out, he wonders if Se Kyung is looking at him right now and is shocked. He introduces the Bouche de Noel and wonders if Se Kyung remembers. This is how people make a wish during Christmas time.
Seung Jo reads a poem called "The Real Woman" about hopes for things that haven't happened yet. There are many stories to be told in the future, and he thinks to himself that his story with Se Kyung still needs to be told. There are wonderful times to be spent together, and thinks to himself that he has many wonderful times to be spent with Se Kyung. There are voyages to be taken, and thinks to himself that he and Se Kyung will have many voyages to be taken together. He blows out the candle and makes a wish for the future, this is his most sincere and honest wish.
After the lights come back on, Seung Jo looks around and his face falls when he can't see Se Kyung in the audience. He meets Dong Wook's eyes and Dong Wook mouths back and he doesn't know where she went. Seung Jo has to toast the guests and he raises his glass for a joyful Christmas. Tommy drinks and smirks as he remembers how Se Kyung darted out of the party right before Seung Jo got on stage. And she left her cell phone behind and he took it. OH NO YOU DIDN'T ASSHOLE!
Seung Jo has to mingle with the guests and whispers to Dong Wook about where Se Kyung went. Dong Wook says it has nothing to do with his real identity since she left before he was introduced on stage.
Se Kyung meets with Ah Jung who tells her to cheer up, the poor dude turned out to be a prince! Not to mention the prince likes her and she likes the prince back. Ah Jung remembers even more about what she said to Secretary Moon that night, she told him that Se Kyung likes Secretary Kim. Ah Jung says the President likes Se Kyung because of her real life Candy personality. Since he doesn't know that she knows his real identity, they will need to pretend this never happened and Se Kyung needs to go back to being a Candy.
Se Kyung needs to be a hard working Candy who doesn't know Secretary Kim's real identity and likes him back. Se Kyung doesn't look happy AT ALL during this conversation with Ah Jung and she notices and tells Se Kyung to cheer up. Se Kyung asks if she's really lucky and won the grand prize? Ah Jung says yes but Se Kyung continues to not smile and instead starts to cry. She wipes away her tears and says she's happy and musters up a small smile.
Min Hyuk is talking with another guest who recognizes Jean Thierry Cha as Cha Seung Jo, the son of President Cha Il Nam of Royal Group. Min Hyuk looks at Seung Jo and then sees his sister In Hwa approach him. In Hwa tells Seung Jo he did well on stage and confirms the poem is "The Real Woman". Seung Jo gets a text and he's distracted. In Hwa asks if she's waiting for someone and Seung Jo says no. He suddenly notices Tommy and excuses himself to go talk with him. In Hwa turns around and sees her brother looking at her and averts her eyes.
Seung Jo approaches Tommy saying he wasn't invited. Tommy says he is here to apologize for before. Seung Jo asks if Tommy saw Se Kyung here. Tommy says he saw her but she left before Seung Jo entered. Tommy didn't have a chance to apologize to her yet. Seung Jo says the best way to apologize is to never show his face in front of Se Kyung or himself. Seung Jo walks away and Tommy sighs before taking out Se Kyung's cell phone.
Se Kyung walks down Cheongdamdong and heads back to her college design room. She sits down and starts to write. 1. Jean Thierry Cha is the President. 2. He likes Candy Han Se Kyung. 3. But I am not a Candy anymore. 4. The President doesn't know I have changed. 5. The result is that the President likes the me from before I changed. 6. I have to pretend to be the me before I changed.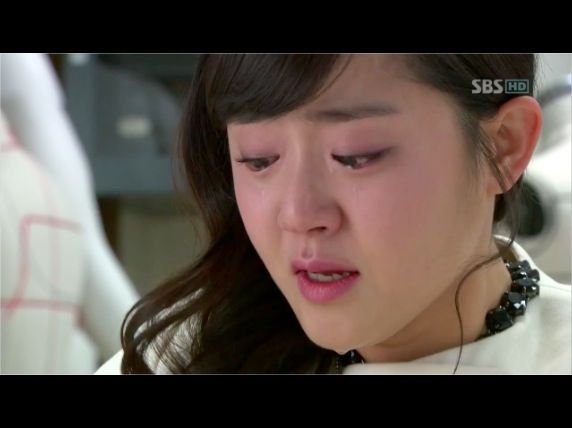 Se Kyung starts to cry now as she writes. 7. I like Secretary Kim. 8. But, the person I need to conquer is not Secretary Kim, its President Jean Thierry Cha. 9. Because this is a lucky thing, because this is winning the grand prize. 10. So I have to pretend to be the Han Se Kyung I used to be. Se Kyung cries and cries as she reads out loud what she is writing.
Se Kyung walks to Seung Jo's house and stands outside looking up into his unit. He's back at home and looking perplexed. Se Kyung stands outside and thinks to herself that she has to pretend to be the old her. Seung Jo grabs a content emoticon rabbit and sits down looking at it before hugging it close to his chest. Se Kyung sits outside her own house wiping away tears before standing up and saying that from now on, she's going to be the her from before.
Ah Jung reads a letter Se Kyung wrote to Seung Jo, Se Kyung remembering that Secretary Kim said the President was touched by the letter she wrote on behalf of In Chan oppa. Ah Jung says Se Kyung is so unlucky and Se Kyung agrees that this is the first time she's gotten lucky. Ah Jung cries that Se Kyung is returning all the presents she got from Seung Jo, but its necessary since a Candy has to be poor and plucky. Dad walks in and asks why Se Kyung isn't answering her phone. Se Kyung looks around and realizes her cell phone is missing. Dad says a friend is outside waiting for Se Kyung. She walks out and sees Yoon Joo who is crying.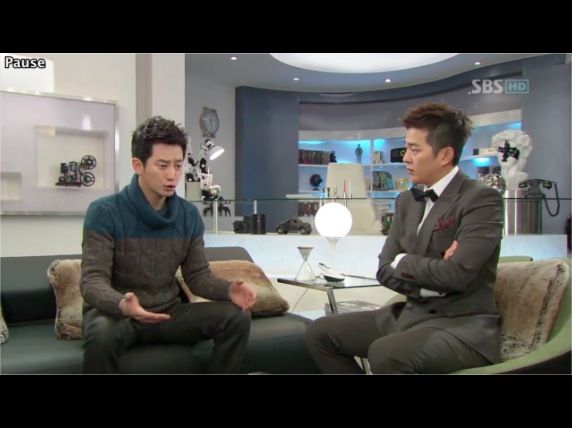 Seung Jo sits with Dong Wook and doesn't know why Se Kyung would leave since she wanted to see the President wearing the outfit and she's really thorough. Also why isn't she answering her phone. Why is she pushing him away when she likes him? Dong Wook laughs and says Seung Jo is going crazy because he likes her so much. Seung Jo admits that he likes her and wants to see her as soon as possible and tell her the truth. He wants to tell her everything.
Yoon Joo brings Se Kyung to a fancy hotel room where she saw girls partying when she was a personal shopper. She vowed to herself that she would spend her next Christmas here. Now to rent this room is peanuts for her and asks if Se Kyung envies her? She asks if Se Kyung still wants to go down this road? Se Kyung hates people who ask that after they've walked the road. They have done it and are encouraging others not to go down the same path.
Yoon Joo agrees because she felt the same way and asks how things are going? Se Kyung says it wasn't a danger after all. The secretary of the man Se Kyung wanted to be her White Rabbit is in fact her White Rabbit. Yoon Joo asks if Se Kyung was deceived and she nods. Se Kyung says he likes her as well and now she thinks perhaps she can mix love with business. Yoon Joo looks at her and says Se Kyung is so similar to her.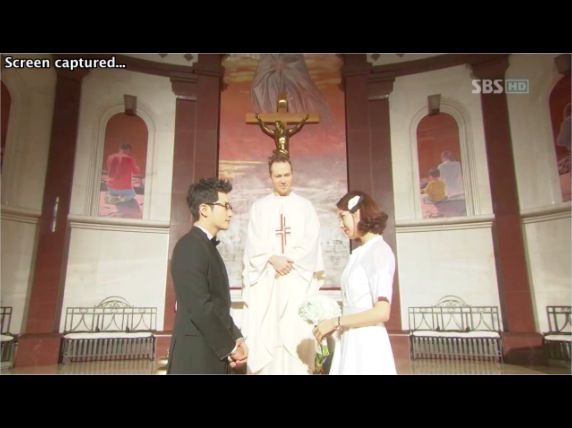 Flashback to Paris and Seung Jo and Yoon Joo's unofficial wedding ceremony. Yoon Joo admits that she loved him a lot, asking if that is amusing since Yoon Joo is all business. She admits that she loved him before knowing that he was a chaebol heir. To her love was everything back then. But he gave up everything to be with her, his parents and his inheritance. So she ended the relationship – she loved him when she didn't know he was rich and loved everything about him. But if it was for business, then all she needs to love is money.
Se Kyung says that if people can have both love and money, it will make them greedy. Yoon Joo says that is right, and right now Se Kyung won't listen to whatever Yoon Joo has to say. Yoon Joo tells Se Kyung to do well. Se Kyung asks if something happened to Yoon Joo, who admits she wanted to say something but thinking about it she is not that close to Se Kyung. She wishes Se Kyung well and tells her to succeed.
Seung Jo arrives outside Se Kyung's house and sees her room is dark. He thinks about calling her but doesn't. Se Kyung stands in that hotel room deep in thought.
Seung Jo arrives at work the next morning and Secretary Moon shows him all the presents Se Kyung returned along with a letter for him. Tommy hears from his assistant that Artemis sued Se Kyung's ex-boyfriend for the grey market goods so Se Kyung asked Seung Jo for help and he agreed. Tommy says Seung Jo fell for Se Kyung because she was a Candy. But then Tommy has a revelation that Se Kyung isn't a Candy anymore, but then why is Se Kyung trying to worm her way into Cheongdamdong through Tommy instead of the President of Artemis? He looks through Se Kyung's phone.
Seung Jo reads Se Kyung's letter which is addressed to President Jean Thierry Cha – she cannot work for him anymore because she has fallen for Secretary Kim. To her, loving someone is very precious but she is afraid of how to love when she has nothing. She thanks the President for everything he did for her, but right now she can't afford to fall in love so she can't be around Secretary Kim anymore.
Seung Jo rushes out and heads to GN Fashion. Outside the building he calls Se Kyung, which is when Tommy looks through her cell phone and sees a call coming in from Secretary Kim. He answers and hears Jean Thierry Cha's voice calling out for Se Kyung. He hangs up and checks her text messages and sees Ah Jung's message revealing that Secretary Kim is Jean Thierry Cha. Driver Kim runs out and say Se Kyung has taken a few days off because she's sick. In Hwa also hears that and thinks back to seeing Se Kyung at the party.
Seung Jo arrives at Se Kyung's place that night and runs into her sister and mom. They say Se Kyung took a few days off and went out. Mom wonders what is wrong with Se Kyung because she's acting weird. Se Jin offers to pass word for him if he's looking for Se Kyung but Seung Jo declines. He calls Se Kyung's phone again and goes straight to voicemail. He asks her to call him back, he has something to say to her.
Se Jin watches Seung Jo outside and calls Ah Jung who tells her that she did well. Ah Jung and Se Kyung are at a jjimjalbang and she hears that Seung Jo just came by. Ah Jung tells her that this is necessary to grab Seung Jo's heart tightly. Se Kyung nods but doesn't look happy. They discuss her missing cell which shows its within Cheongdamdong but can't pinpoint the exact location. Ah Jung says to stop service on the phone first. Seung Jo arrives at Se Kyung's college design room and notices her sketches of the emoticon rabbits on her desk.
Tommy tells his assistant that Se Kyung is now undercover because she's starting to use Cha Seung Jo now. Tommy tells his assistant to find out where Se Kyung is right now, it might be very easy to end this immediately.
Min Hyuk sits with his mother and reveals that Jean Thierry Cha is the son of Royal Group and now he knows why In Hwa is so interested in this marriage alliance. Mom is happy with it as well because if In Hwa takes over Royal Group then the siblings don't need to compete anymore at GN Fashion. Min Hyuk says he needs to investigate Jean Thierry Cha now. Yoon Joo hears this and she is secretly freaking out. She vows to find a solution, she can't fold like this.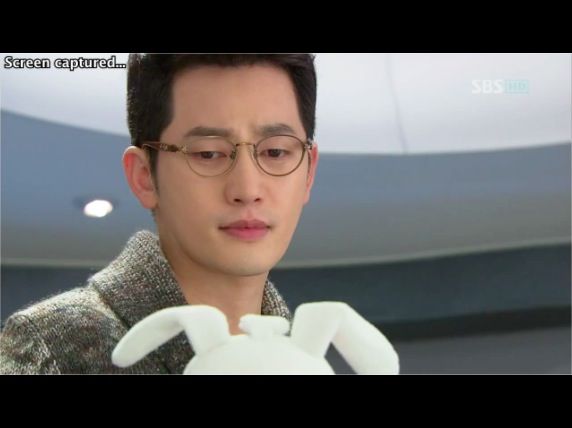 Seung Jo is at home dancing around a roomba and asking Dong Wook what to do? He reminds her that Se Kyung is probably avoiding the situation just like Seung Jo tried ti. Dong Wook asks why Seung Jo didn't come clean earlier with Se Kyung? Seung Jo says he didn't trust her, there is a corner of his heart that is afraid Se Kyung is just like all the other women out there. He grabs a sad crying emoticon rabbit and hugs it close. He was scared so he wanted to wait until he knew her true feelings before telling who he is.
Se Kyung sits in the jjimjalbang reading Yoon Joo's diary and sighing. Seung Jo says he was so into his own feelings that he didn't take into consideration how she might feel. He calls himself an idiot, desperate to see her as soon as possible now to tell her the truth. Dong Wook gives him a sad pitying look.
Dong Wook goes to Se Kyung's house and runs into Se Jin, who is wowed by him being a doctor and gets him to buy 7 pairs of glasses from her work place before telling him where Se Kyung is.
Seung Jo is in a meeting and tells the team to set the price again, it must be higher or lower not some middle tier where anyone can afford it. He gets a text from Dong Wook to Se Kyung's location. Se Jin calls Ah Jung to tell her that she revealed Se Kyung's location to Dong Wook, Seung Jo's good friend. Ah Jung calls the jjimjalbang and warn Se Kyung. Seung Jo leaves the office and Tommy's spy reports back to Tommy where Seung Jo is headed.
Se Kyung gets Ah Jung's warning call and prepares to leave the jjimjalbang. She runs out in the parking lot and Seung Jo spies her and gets out of the car. Tommy also arrives and chases after them. Se Kyung runs into the rooftop parking lot and hides behind a car.
Seung Jo looks around frantically for her. Oh god my heart hurts for this earnest puppy. He runs around and calls her repeatedly but she continues to stay hidden. He screams out that he has something to tell her. Tommy stands to the side and stares over at the unfolding situation.
Seung Jo decides to give his confession now and reveals that there was something he didn't tell Se Kyung. She wonders what she should do. Seung Jo admits that he is….., and as he's trying to confess you can see Se Kyung's anguish so she walks out from her hiding place and faces Seung Jo. They just stare at each other.
Se Kyung calls him Secretary Kim and he says he needs to apologize to her. If after she hears all this she doesn't want to see him again, there is nothing he can do. But he needs to apologize to her for being President Jean Thierry Cha. Se Kyung tells herself to do well and act surprised when she hears this. Once she hears it, her eyes widen and she wonders to herself if she did well?
Thoughts of Mine:
I hate what Se Kyung is doing to Seung Jo, but damn if the drama doesn't have the balls to go for it. It showed us Se Kyung choosing this path and she's not suddenly going to abandon this path just because something so unexpected happened. But part of her clearly hopes she can have both love and money, plus she can't tell Seung Jo the truth without risking losing everything. Oh what a tangled web they weave. Seung Jo needs to calm the heck down and get some inner confidence and peace first, just like Yoon Joo told him, in order to even have a chance of succeeding with Se Kyung in the face of the upcoming tsunami of plotting all around him. I have no clue how the second half of the drama will develop but I hope the tears are kept to a minimum and we gets tons of substantive twists to keep the story churning. Perhaps next week's hiatus is a good thing, to whet our appetites and keep us on our toes.