These adorable snapshots come to us courtesy of the wrap party for Playful Kiss. You gotta have a wrap party, even if the drama continues on with the 9 Youtube episodes.
I love peeking at wrap party pictures – you can always tell if the OTP really have chemistry in real life based on how much fun they are having with each other after the drama has wrapped.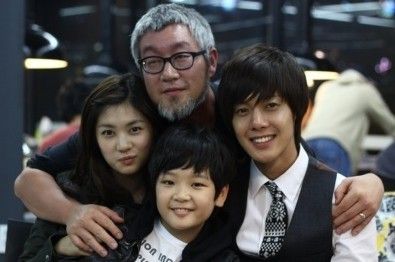 It definitely looks like everyone is having fun, and our OTP are as comfortable with each other as it comes across on camera. But please, someone, anyone, can you tranquilize Kim Hyun Joong? That boy needs to sleep for at least a good week, undisturbed. It pains me to see how exhausted he looks. Poor boy, he really needs more rest.
As adorable as they look below, it makes me sad we never got to see our Seung Jo and Ha Ni have their first baby. I'm hoping we get to see some happy expanded family scenes in the Youtube episodes.
[Credit: pictures from Baidu Playful Kiss bar]