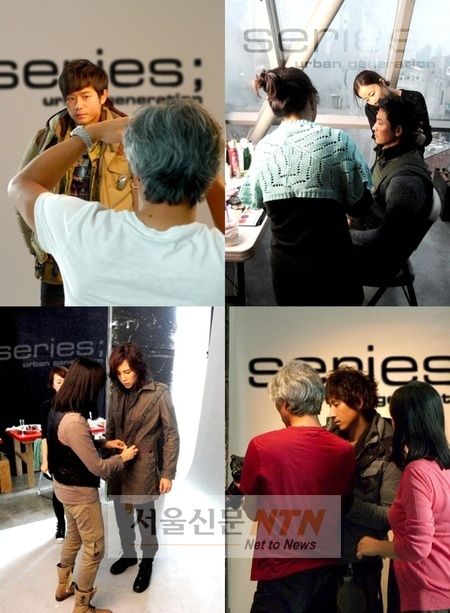 I've been meaning to do a full post about the four-guys-in-combat-gear photoshoot for Nuovo Down, but in the insanity that was M3-addiction, I totally got side-tracked. Better late than never, I say. I did post when it was announced that Chun Jung Myung (PIE), Lee Seon Kyun, Lee Jung Jin, and Jang Geun Seok would be teaming up to model menswear for a sports collection called Nuovo Down. See initial post here, which had some, but not all the pictures since it wasn't all released back then. I've now collected all the pictures for this post.
Turns out the theme of the pictorial was called "Into the Battlefield" (ROFLMHF – I didn't know puffer jackets doubled as military gear – does the down repel bullets now?). The theme is ridiculously silly, but the pictures are across-the-board fantastic. In fact, the more I look at them all, the more I am certain my favorite pics are from Jang Geun Seok. No bias on my part – I think it's the gritty androgynous aura he gives off that is so appealing. I like dichotomies.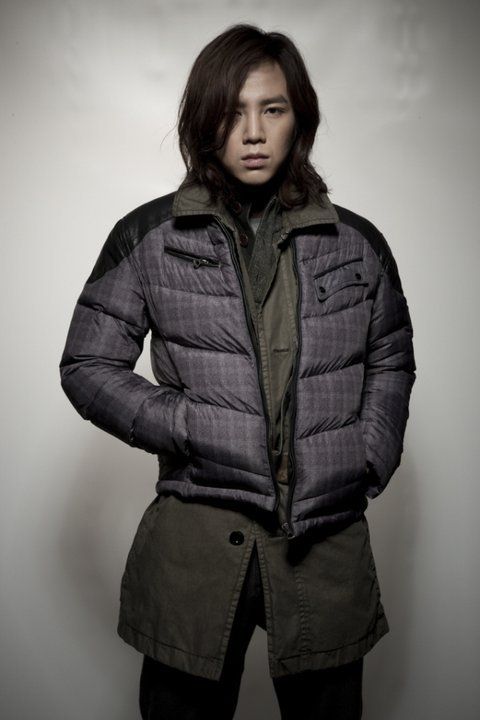 Here is a behind-the-scenes look at the photo shoot.
I have to say that PIE looks exceedingly dour in his pictures, which is why I'm not squeeing over his pictures the way I normally would. I much prefer his photoshoot with his hyung Jang Hyuk for Eider.
I love Lee Seon Kyun's pictures. No other K-actor can smirk quite like him. A few come close, but coupled with his rumble, The Voice wins the smirktastic crown.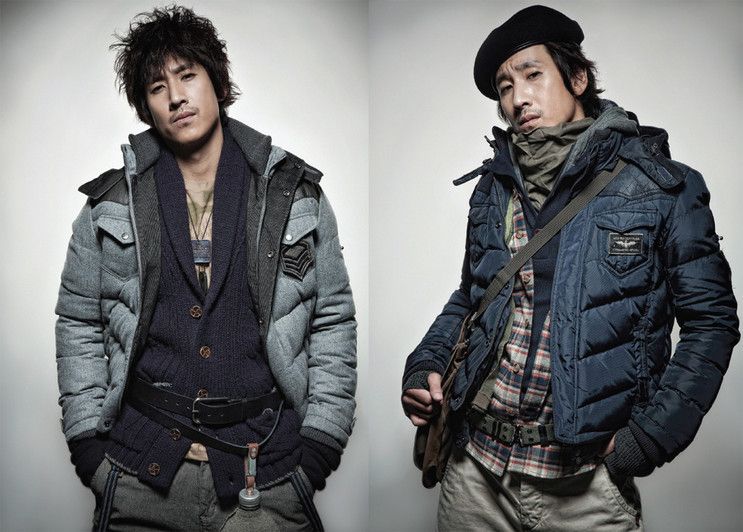 Lee Jung Jin's pictures are rather middle-of-the-pack for me. It doesn't make me want to run out and buy the clothes off his back, is what I'm saying. Though my desire to buy the clothes off the other guys' back is likely for very different reasons aside from wanting to own said clothes.
These pictures were all featured in High Cut magazine, which probably explains the attempt to be highbrow. I really do like this pictorial as a whole, because its less saccharine sweet poses, and more a man-is-manly concept. Which is fine with me. I like my men manly. Unless his name is Jang Geun Seok, at which point I just let that boy be whatever incarnation he wants to be.
I just have to point out – while it looks like Lee Jung Jin was literally rolled in mud, PIE looks like he slept in a dumpster for a night, and Lee Seon Kyun appeared to have wandered in from a wilderness trek, Jang Geun Seok was barely tinted with the black stuff. His face looks vaguely like he had a thin smear of black blusher put on. I can LOL all I want, it suits him perfectly. These four guys are all so varying degrees of hot and pretty rolled into one. 😀
[Credit: all pictures as labeled and/or from the Nuovo Down catalogue]