I've been watching Secret Garden for the past 9 weeks. It's been both the best of dramas, and now, the worst of dramas. It's taken me this long to write about this drama again because it's been that aggravating to watch. One minute I'm consumed by the raw emotion, the next minute I am underwhelmed by the verbal showmanship. I don't care if Kim Eun Sook thinks SG is her piece de resistance, this drama was a giant step backward from her depth and range in City Hall.
How did a drama I anticipated to such a degree piss me off in the end? Let me count the ways. Perhaps my rant is motivated by Koalas living in forests with eucalyptus trees, and secret gardens aren't our natural habitats. Or really it's just because the drama tries so damn hard to be cool, and in the end forgot that a memorable drama needs to tell a heartfelt story.
To the screenwriter who wrote my favorite drama of all time, you confirmed for me why it's okay for me to be bipolar about your dramas. While I love City Hall and like On Air, I absolutely hated all three Lovers dramas. SG will probably rank right in the middle, and that is fine with me. Unlike City Hall and On Air, I find that SG has no purpose or motivation. It's an exercise in futility masked by dexterous verbal jousting and completely bolstered by Kim Eun Sook landing a sizzling cast of actors.
Unlike the Lovers dramas, this story isn't so much about a pair of lovers as it's about a highly choreographed mating dance that would never work if Hyun Bin and Ha Ji Won weren't such natural stars and exhibited such potent chemistry. If I imagine any actor I didn't much care for (and didn't have the acting range and gravitas) in the roles of Joo Won and Ra Im, immediately all the cracks and flaws shine through. Let me put it this way, in City Hall and On Air, prior to watching those dramas, I didn't love the actors in the former, and had merely liked some of the actors in the latter. After watching those dramas, I ended up loving and connecting with all the leads characters in those two drama, and all the actors concurrently therewith.
I think I am jumping ahead here, so let me take a step back and parse SG from the very beginning. From the outset, I accepted its fantasy premise and whimsical touches. I loved the first 4 episodes. Truly madly loved how it all started. I immediately felt the chemistry between Binnie and Ha Ji Won, and I found their characters quirkily amusing and fascinating. A Kim Eun Sook classic touch – she really does her preparation in constructing lead character prototypes.
I was smitten upon first watch, mainly due to my love for the three lead actors, and partially due to my residual affection for Kim Eun Sook after City Hall. Then the body-switch happened, and I found the shenanigans funny and the premise adroitly executed. I even loved all the magic veil unswitching that allowed us to see their original bodies reacting in a certain scene. Suffice to say, I really did genuine adore this drama and didn't care much to parse too deeply into the things that certain of my drama friends found unsatisfactory with SG at that point. I enjoyed it, that was enough for me.
And then it crept up on me, like a rash that started off a tiny little bump and then gradually spreading until the itch became impossible to ignore. When SG hit episode 10, after the last scene rolled, I sat there thinking: this drama is halfway done, but what was the point of all that transpired up til now? I, with an infinite ability to justify shit that I love, couldn't find a single purpose for this story. That is the moment where I couldn't find my honest emotional connection with this drama anymore.
I took a break after that, jumping back into SG after a few weeks had passed, watching it with fresh eyes and an open mind. Perhaps Kim Eun Sook needed such a long step up period, and the latter half of the drama would show hand masterfully and everything would click into place. My optimism was misplaced. While Kim Eun Sook did lay all the clues from the first episode onward for the big-melodramatic-life-or-death-choice to come, she ultimately shot herself in the foot.
In electing to create such a fantasy premise, which I accepted without overanalyzing, she was unable to stay within even her own scattered mythology. While I loved that Joo Won made a selfish and selfless decision for the woman he loved, it was all negated not half an episode later by complete and utter WTF-kery that didn't even make sense within the SG fantasy context. How the fuck did dead-daddy switch their souls in the dream world, when they've been switching based on drinking the flower wine and the rain in the real world. Where is the consistency, woman!
Furthermore, where are the STAKES in this damn drama? I wondered what the point of SG was, and I'm still looking for that. But adding fuel to the fire is that I am now looking for stakes, and find none. Joo Won's big grand sacrifice was reversed by magic hoodoo that doesn't even make sense within the magic jibber-jabber of SG. All the tears and amazing acting of Hyun Bin was just to emotionally pillage my sympathy for his character, only to turn around and mock me for falling for such superficial plot progress that is immediately reversed.
I don't want SG to have a sad ending, so it's not the happy resolution of the big life-and-death choice that pisses me off. It's how easy and meaningless it all becomes only you wave the wand of dead-daddy's all-powerful magic shower of roses over the OTP. It's the very definition of deux et machina if ever there was a plot device constructed as such. Who cares how they got switched back (AND Ra Im woke up from her coma, natch!), it's magic, yo! *excuse me while I headdesk over here for a few minutes*
I find SG very shallow because of its very elaborately constructed pretentions of grandeur. It ambitiously tries so hard to be clever, to be edgy, to be subversive, and fails at all of that because Kim Eun Sook simply didn't have the solid story construct down to accomplish all. For example, in episode 13-14, Ra Im suddenly went from her usual no-no-I-don't-want-to-be-with-you to an about face and runs off to be with Joo Won at the party. I would have done a facepalm if I weren't so enamored by the subsequent sexiness at the party and the woo-hoo kissing that happened thereafter.
Which gets me to the crux of my quibbles with SG – ultimately I find the drama a pointless showcase for Kim Eun Sook's penchant for quippy dialogue and flashy constructs. An empty piece of entertainment, made fascinating to the viewers (myself initially included) because of a great cast, good execution, and a fresh new hook with the body-swap premise. If I take Kim Eun Sook's dialogue out of context, it's gibberish. If I take the characters out of the drama, they are two-dimensional and frankly quite unpalatable.
This is not to say that SG is not heads and tails a better drama than most of the romantic comedies and melodramas out there. The last two cute little dramas I enjoyed, Playful Kiss and Mary Stayed Out All Night, are comparatively written by grade schoolers if I were to stack them against SG (and the M3 script was written by a pair of grade schoolers who take the short bus, if I may be so blunt). The problem is that SG is written by a self-aware high school student who thinks her screenplay stacks up against NYU theater department graduate dissertations. It doesn't, because the depth is missing, and that is where the disconnect occurs for me.
PK and M3 may objectively suck, but at least it doesn't try to parade itself around like the Emperor's new clothing. This is the first time I really felt that Kim Eun Sook wasn't trying to tell a story that she connected with and believed in, but was instead presenting some sort of look-how-witty-I-am drama production. Unlike in City Hall (and to a lesser extent, On Air), I didn't feel her genuine heart was in this drama, leaving the end result a soulless experience for me to watch.
I don't fall into the I-hate-everything-Kim-Eun-Sook writes category of drama watchers, and SG is hardly going to tip me into that side either. She was always hit or miss with me, and SG is neither a grand failure on par with the Lovers trilogy for me, nor did it evince her maturity with City Hall and On Air. I did enjoy so many moments in SG, and even with the paucity of heart in the writing, the actors sold me on their parts.
None more so than Yoon Sang Hyun as Oska, our resident dim but warm-hearted little over-the-hill Hallyu star. I've been a Yoon Sang Hyun fan since he stole the drama in Queen of Housewives (literally, the man stole an entire drama from the rest of the cast, and thank goodness he did), and his performance in SG makes me thankful that he got such a plum role to showcase his comedic timing and thrumming emotional depth.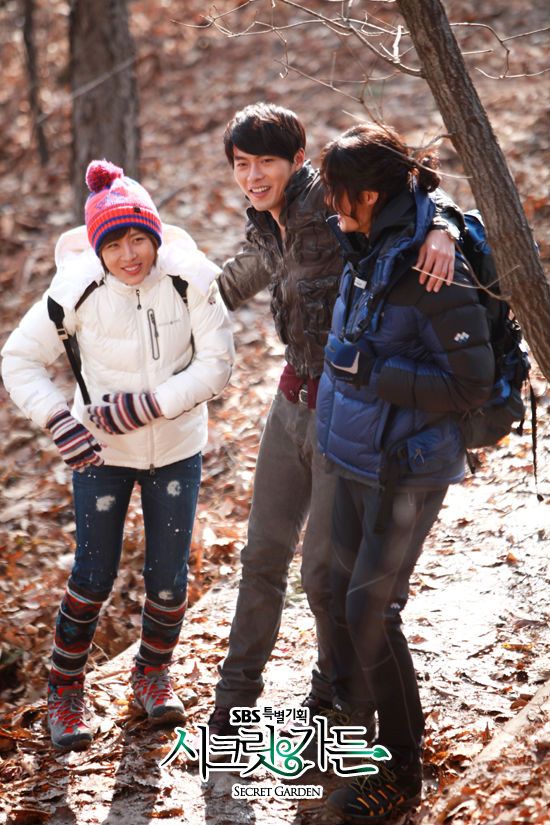 Kim Sa Rang was also another shining star for me. This is the first time I've ever seen her act, and not only is the woman unbelievably statuesque and gorgeous, she really dug into her role as scorned haughty princess with a broken heart Yoon Seul. I adored her bitchiness, and I melted for her sadness. She made a great secondary OTP with Oska, and sometimes was just so much more fun to watch onscreen when she sparred and parried with Yoon Sang Hyun.
But I can't say enough accolades for Hyun Bin's performance as Kim Joo Won, stunted little man-boy with neuroses and a reality-disconnect greater than the Grand Canyon. It's not Binnie's best performance, but he was always spot-on, even when his character was written more for show than depth. He made Joo Won more complex and three-dimensional than on paper, and that is solely attributed to his acting prowess. I literally could not breathe during the elevator claustrophobia scene, and his final drive into the storm had me sobbing even while I raged at Kim Eun Sook's contrivance.
Ha Ji Won's Gil Ra Im was the sole weak link for me in this drama. Her character was the least fleshed out, and she was so reactive most of the time that it became a cake-walk for Ha Ji Won to play her. I felt like half the time Ha Ji Won was mailing in her performance (the crying, the angry, the distressed – she's done it elsewhere and done it so much better than in SG), or she was trying something new that didn't quite work (her performance as Joo Won was unconvincing to say the least). Not to say Ha Ji Won's performance wasn't good, but when I know she's capable of great, I'm just sad the drama didn't stretch her talents more.
I don't think SG was a waste of time to watch, because when it was entertaining and riveting, it kept me glued to the screen and clapping my hands like a trained seal. It was only when the cracks were impossible to ignore, and I took a hard honest look at the entire production, did the enjoyment become clouded by an overarching sense of disappointment.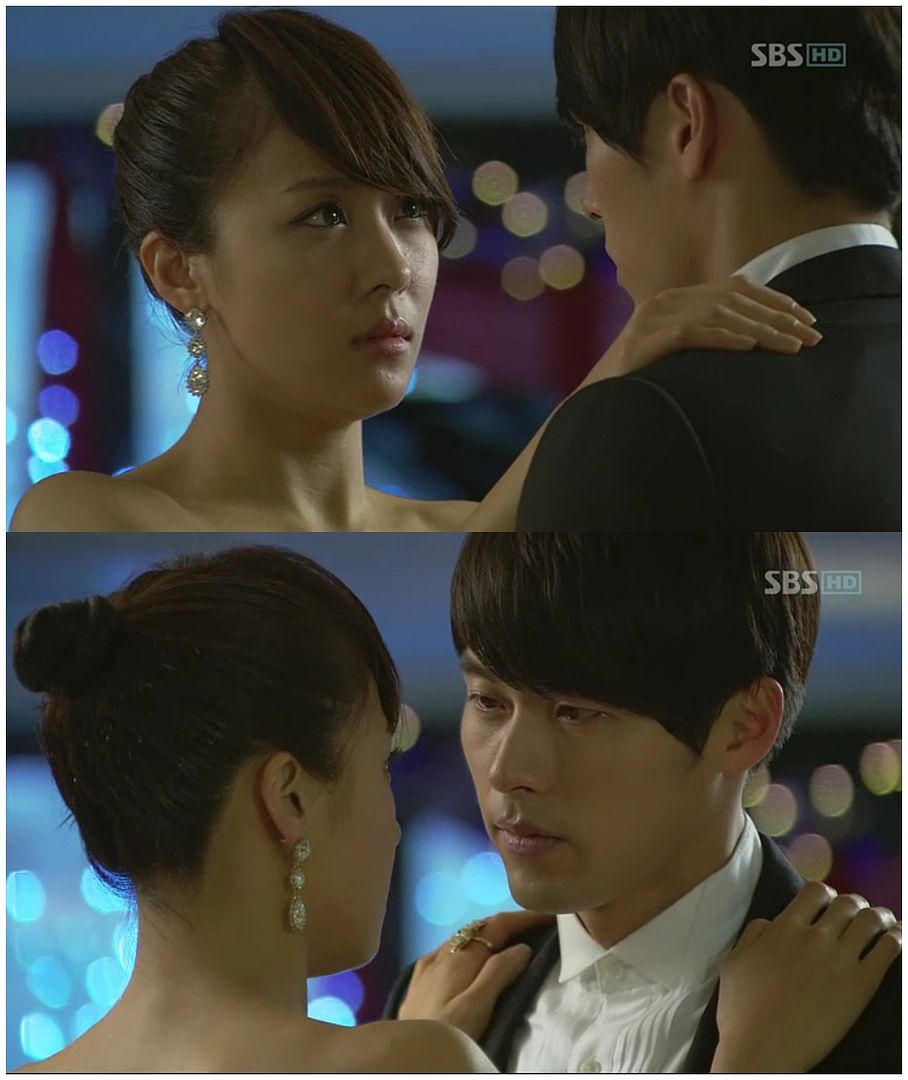 Kim Eun Sook is capable of telling a tightly plotted story, and grounding in a meaningful purpose, whether to talk about the state of K-drama production or a look at municipal Korean politics. In SG, she neither created a love story so wholly about love itself that a plot-driven background is not needed, nor did she construct a story solidly that it can balance a gimmicky Cinderella story with a greater narrative.
I don't need a magic eight ball to tell you that SG will have a magically happy ending. Maybe some more tears first, but ultimately it'll all be set right, and maybe a few more coincidences and happenstance moments will be unearthed to make us believe that Fate always intended for Joo Won and Ra Im to be together. I'm fine with that, and will happily watch the last two episodes this weekend.
I wished my feelings going into the finale were akin to that of Joo Won as he drove into that storm, unconscious Ra Im by his side, his heart on his sleeve. That type of raw feelings with respect to a drama should have been here (I watched the last two episodes of City Hall with my gut in my throat), but Kim Eun Sook went for easy solutions to complicated actions that appear to have no consequences, so how can I genuinely care about what happens to Ra In and Joo Won?
In the end, I am happy that all the lead actors chose to do SG. Binnie needs a huge hit before he leaves for MS, and I'm not such a project snob that I need my fave actors to eschew mainstream fare for indie credibility. Ha Ji Won proves once again that she is a ratings queen, and has a very savvy eye to selecting projects. I think SG will be the biggest boon to Yoon Sang Hyun's career, with his endearingly adorable character and pitch-perfect performance a solid stepping stone in taking his name-recognition to another level.
While I don't regret watching SG, that doesn't negate my critique that the drama had ambition and drive, but no heart and soul. It's akin to watching a race car doing stunts on a track, and discovering that it was robot controlled, as opposed to a real driver inside using his talents and putting his life on the line for that daredevil performance. The former leaves me appreciating an empty show of skill, the latter leaves me breathless with awe and emotionally engaged in the spectacle, because there is a beating heart behind the wheel, and he's going for broke right before my eyes. SG had moments of emotional clarity, but as a whole never achieved raw story-propelled honesty for me.