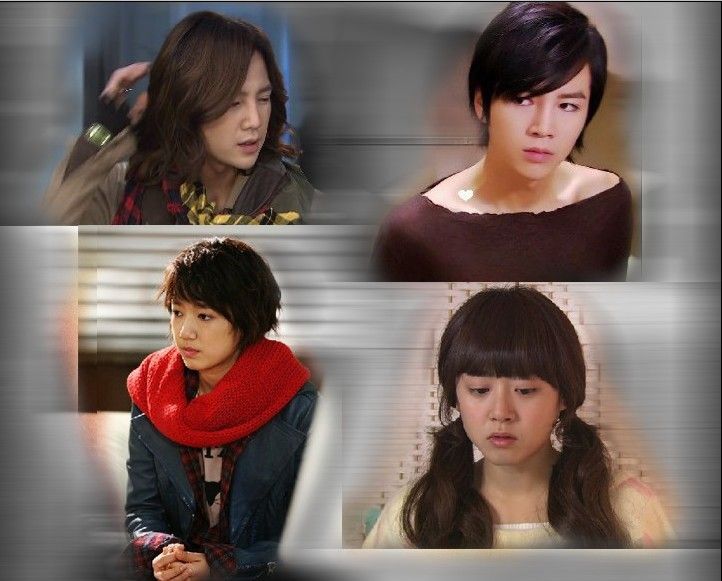 SO. ADORABLE. I spent this afternoon reading, with the world's silliest grin on my face, a fan-fiction done by a Baidu netizen called Xiao Mao, who postulated what would happen if Kang Mu Gyul were to meet Hwang Tae Kyung and write songs for him to sing. Yup, the what-if story is pretty much as cute as the concept – with the boys not liking each other at first (so arrogant, each thinks of the other), reluctantly accepting each other's musical talent, moving in with each other to produce an album while poor Mi Nyeo moves in with Mae Ri temporarily, and both couples becoming friends and learning from each other.
The reason I even came across this fan fiction, which Xiao Mao narrated using pictures from both You're Beautiful and Mary Stayed Out All Night, as well as BTS pictures from both drama, was because my SIL just watched YB after the entire world has pretty much watched it.
She wanted to chat about it with me, so in talking about YB, I realized that I really did love this drama so much until the last few episodes which let me down. But with time, I only remember the wonderful times spent with A.N.Jell.
My love for M3 remained strong from beginning to end. I hope that for those who felt let down by M3's crazy second half, perhaps time will also temper your disappointment and you will only leave with the sweetest of memories from watching Mu Gyul and Mae Ri's love story.
Click below if you want to check out the story thread: http://tieba.baidu.com/f?kz=982103808
[Credit: picture from Baidu Jang Geun Seok bar]