The cast of The Thorn Birds had their press conference today, and the first thought in my mind was "already?", which made me realize that President was ending this week. Aish, I took a break a few weeks ago from President so I could concentrate and marathon it in sitting, and whoosh time just flies right on by. Luckily, I'm curious enough about The Thorn Birds to follow its news, and I must say this was one of the more interesting press conferences this year, fashion-wise and fun-wise.
Now don't go pretending that drama press conferences are anything other than dog and pony shows strictly serving two purposes – to suss out whether the lead actors appear to have any chemistry together, and to have a fun discussion about what everyone wore. As such, TB wins two distinctions today, have the best dressed and worst dressed leads at any press conference I've seen in 2011. Any guesses?
Kim Min Jung wins the award for best dressed person at any press conference (so far) this year, understanding the need to pop on stage (love the red), select a dress that shows off her figure (short and perfectly fitted, not too tight or too loose), and pick something edgy and different (the Issey Miyake-esqe pleats criss-crossing in various directions somehow come together perfectly rather than seem too busy). My eyes immediately went to her when I looked at the group picture, and stayed there for a good long while. Her dress turns her into a red present you want to unwrap.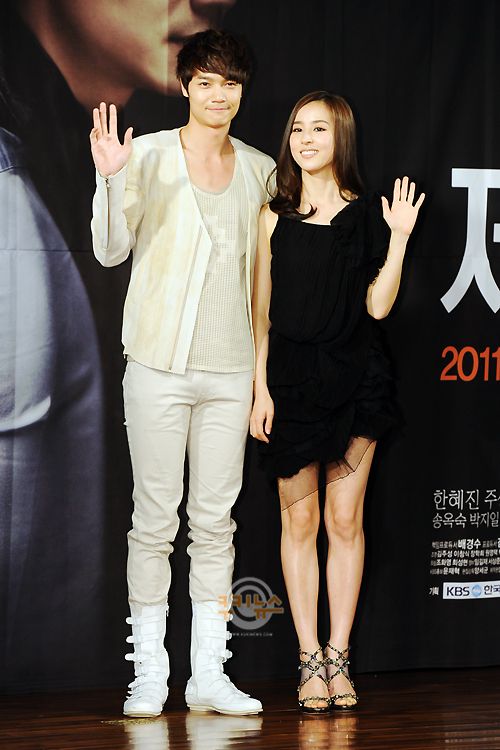 Sadly, her co-star Seo Do Yong must've woken up this morning from an interplanetary wake-up call, because he was dressed like a cadet from Star Fleet Academy. There is so much wrong with his entire outfit, from head to toe, that it almost hurts me to critique it because I think he either doesn't given a flying fug, or he doesn't get it. Either way, my condolences to his good-looking form, for being swathed in that abomination.
Strangely, the two leads, Joo Sang Wook and Han Hye Jin, fell somewhere in between looks good and looks weird. Joo Sang Wook is one fine looking man, and his suit is properly cut and fitted to his body. But he went for a head-to-toe plaid patterned suit which makes him look more like an ahjusshi than a hot in-his-prime man.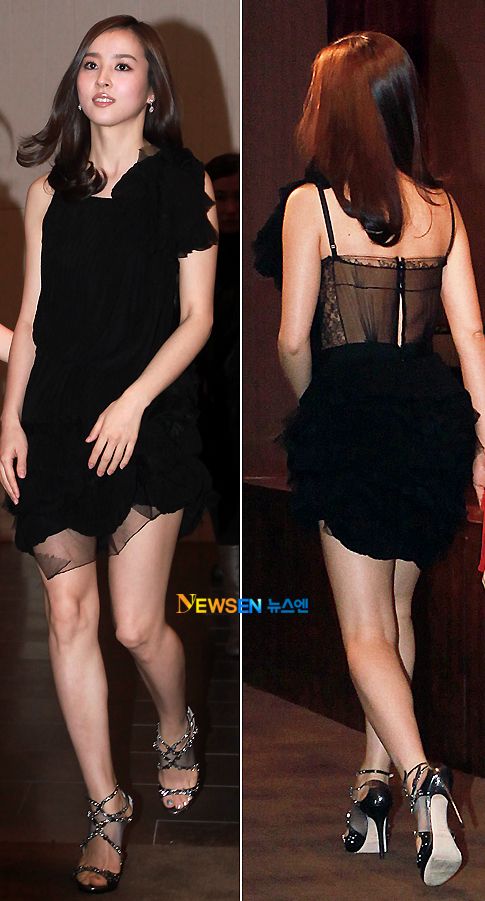 Han Hye Jin's dress is bi-polar, and the more I dissect it the less I like it. At first blush it looks fine, albeit a tad boring with the all black. But then I realized the front has asymmetrical drapes and slashes, and the back is bisected lace!
I concluded that the dress fits the very definition of "too busy", with too many style influences in one garment, leaving the impression that it's all-over-the-place. I never realized that an LBT (little black dress) could look so cluttered. But her hair and make up are perfectly done, in contrast with Kim Min Jung's rather limp locks and relatively bare face.
With one yay, one WTF, and two mehs, when these four get put together, somehow it all works! Don't ask me how, but just like the cast of Midas did zero coordination and looked collectively ugh together, the cast of TB feels like they purposely went for primary colors presenting in very different ways.
Joo Sang Wook opted for traditional gray, Seo Do Young went for futuristic in white, Han Hye Jin tried sexy in black, and Kim Min Jung achieved seductive in red. Collectively, I declare this bunch of crazy kids a win in my book, because it make me notice, laugh, and ooh and ahhh at them.
The Thorn Birds premieres next Wednesday on KBS, which is also the same day Royal Family with Ji Sung premieres on MBC.
This press conference did confirm one thing for me – this cast has great chemistry with each other. Especially lead Joo Sang Wook with both his leading ladies. The entire group gives off a very charming, comfortable, teasing vibe, which almost always translates to better onscreen chemistry. I mean, just look at the ridiculously adorable faces Joo Sang Wook was making when sandwiched between his leading ladies!
For supposedly such a heavy melodrama, the vibe at the press conference seemed so cheerful, goofy, and high-energy. This really does bode well for expectations, since if the actors are happy, that means they are content so far with what they are doing. With that said, I'll be checking out episode one and see where it goes from there.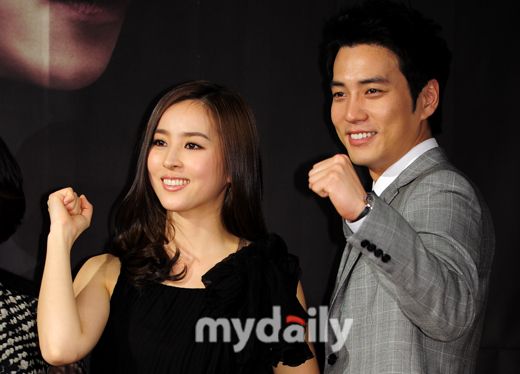 If you're curious, here's the preview:
http://www.tudou.com/programs/view/_Fj2ngw1_EQ/
[Credit: all pictures as of the respective news agencies as identified]