Ji Sung's unfortunate hairstyle in Protect the Boss is just that – unfortunate. What's worse is that it's completely unnecessary. Does that hairstyle actually enhance his character's unique personality traits? Of course not. Ji Sung is owning the role of Cha Ji Heon by his performance skills alone, and actually doing a battle to make sure his broccoli hair doesn't torpedo his character. I hate it when characters are uglified for no good reason. So share with me some unfortunately stylings that have offended and/or annoyed you over the years. Here are some of mine.
1. Rain's wardrobe in Full House. UGH. Just barftastic. The stylist for that drama must have been blind. And on acid.
2. Lee Dong Wook's fur collar coats in My Girl. One reason I could never take his character seriously. Runner up was Jo In Sung's fur collar coats in What Happened in Bali, which made sense since we were not supposed to take his character seriously.
3. Lee Seung Gi's hairstyle in Brilliant Legacy/Shining Inheritance. What in the Heavenly father's hell was that on his head? A nest for pregnant birds?
4. The mushroom cap hairstyle on a female lead – Hwang Jung Eum in Can You Hear my Heart, Gu Hye Sun in Boys Before Flowers, Song Hye Kyo in World's Within.
5. Ankle length pants paired with loafers without socks. Prime offender was Lee Min Ho in Personal Taste, but plenty of male leads have adopted this offensive trend since then. It. Must. Die. [Just to be clear, ladies can feel free to adopt this trend]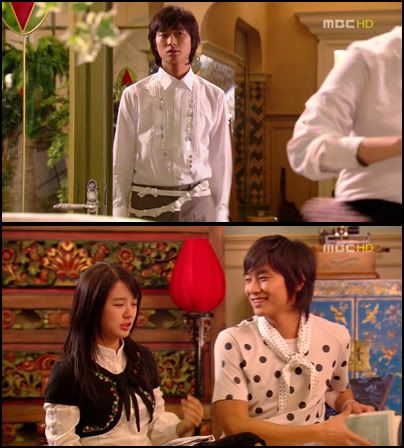 6. Prince Lee Shin (Joo Ji Hoon) and his lacy, flouncy, and very pastel attire in Goong. No prince in any fictional or real kingdom would be caught dead wearing any of what he wore in that drama, aside from his school uniform and formalwear.