OMG whut? Seriously drama, you want to go there? Someone give me some blood pressure medicine. What happened to the rich emotional drama with tons of conversations and loads of understanding? Suddenly we're dealing with lawsuits and a near complete breakdown of trust. Episode 12 of Me Too, Flower! was a hard episode to watch. Hard because I really feel so bad for Bong Sun even as I understand why Jae Hee is so frustrated all around. He's stuck between a rock and a hard place (so he thinks) and can't make one clean break to pursue a future he so desperately wants.
Because Jae Hee can't dump Hwa Young into the nearest landfill, she's free to continue scheming and plotting to destroy Bong Sun. And that is what she's out to do, destroy Bong Sun emotionally and professionally for daring to reach for her Jae Hee (and being the woman Jae Hee loves). What's good about M2F is that everyone knows Hwa Young's off her rocker, what's bad is that no one is stepping in and sending her to the loony bin. I say enough is enough. If she's not muzzled soon, I'm buying a ticket to Korea to slap me a bitch.
Episode 12 recap:
Bong Sun calls Dal's cellphone but is unaware that the man answering on the other end is her boyfriend Jae Hee. Oh boy, this is not going to be good. Both Jae Hee and Bong Sun look curiously at their respective phones, an inkling that the voice on the other end sounded familiar, but not drawing the final conclusion. Hwa Young walks over to Jae Hee, and I'd be remiss in not pointing out how horrific she looks with her hair in tight corkscrew curls. She's like the Queen pretending to be Snow White while dressed as a tranny. Hwa Young points out that Jae Hee's friend is here, and he scoffs at the rich guys he used hang out with. Hwa Young wants Jae Hee to get close with those guys and in with the rich daughter of this bakery enterprise family.
After Jae Hee walks away, Dal returns and asks Hwa Young why she's pushing Jae Hee towards that rich daughter when Dal is around? Hwa Young matter of factly says Dal is not the right material and is just temporary anyways. The woman by Jae Hee's side at the end will not be Dal or the woman he's dating right now, it will be someone like that rich daughter. Now she's taken to pimping out Jae Hee! What the fuck is wrong with this crazy bitch? Dal mutters that the girl merely got lucky to be born into a rich family, what's so good about that?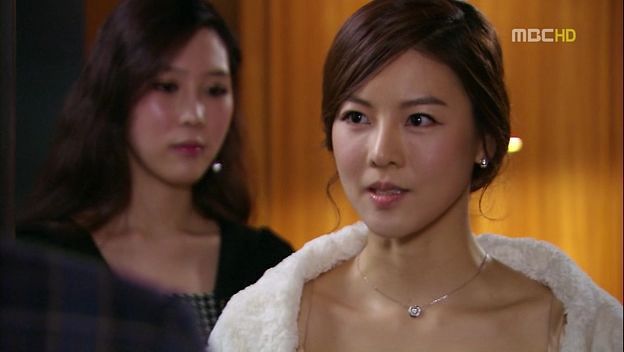 Dr. Park tells the rich daughter that these new fancy bakeries lack the sensory allure of a family owned joint and suggests the kitchen exhaust be pointed towards the street to lure customers in with the scent of baking bread. Jae Hee ribs his rich friend for failing at another business, which makes everyone there uncomfortable. Hwa Young comes by to introduce Dal, who gets a name card from the rich guy. When the rich daughter asks for Jae Hee's name card, he says he doesn't have one. Hwa Young tries to smooth things over but he just walks away.
Suddenly Dal ex-boyfriend arrives and proceeds to start belittling Dal. She tries to pretend she doesn't know him but he reveals all her lies when she was trying to land him. Dr. Park steps in and asks him to stop because this is not the place for such a conversation. The douchebag insinuates that Dal is trying to hook Dr. Park, which is when Dal tries to leave. Too bad she runs into the server carrying drinks. Apparently there is a law in K-dramas that a woman in distress suddenly goes blind, because the guy was in plain sight and hard to miss what with his giant tray he was carrying. But oh well, Dal continues to be embarrassed. This is me so not feeling sorry for her.
Dal picks herself up and runs outside to try to hail a cab. Jae Hee sees her all flustered and feels sorry enough to give her a ride. Hwa Young asks Dr. Park why he stepped in back there. He's a decent human who doesn't feel right watching a person get shamed. Hwa Young thinks Dal is that type of shameful person. Her words are so condescending that even Dr. Park is stunned, asking why she thinks like that? Because she is batshit insane, Dr. Park. You're the shrink. You ought to be able to diagnose her. Hwa Young gets a call from work that the handbag theft story is back online.
On the drive home, Jae Hee tells Dal to keep living with pride and her head held high. He answers a call from Bong Sun and tenderly says he's on his way. She's cooked an entire dinner for him and asks how much longer. He says soon if there is no traffic, and he's looking forward to eating her good food. Dal asks if that was his girlfriend and he says yes. She notes that he's like a different person with her, very affectionate. Dal looks painfully jealous.
Bong Sun sees that she is out of eggs but Jae Hee wants to eat an egg roll so she heads out to buy more at the neighborhood market. Jae Hee pulls up outside the market to drop Dal off. Dal asks Jae Hee to talk to her with the same affectionate tone, confessing that she intends to steal him away. Jae Hee laughs it off, thinking she's just being flip. Bong Sun walks out of the market and sees Jae Hee by his car. She's happy and walks towards him when suddenly she sees Dal getting out of the car.
Jae Hee tells Dal to get out and when she does, she pulls him in for a forced kiss. Are your muscles just for show, Jae Hee, and you can't even push a slip of a girl off you? Even after he pushes her off him, she steals yet another kiss. Again, Jae Hee, please keep your mouth secure from repeat attacks. After Jae Hee pushes her off one more time, he turns around and sees Bong Sun standing right there having seen everything.
A stunned Bong Sun collapses on the street and drops her eggs. Dal calls her unni, which is when Jae Hee and Dal finally realize who Bong Sun is to the other person.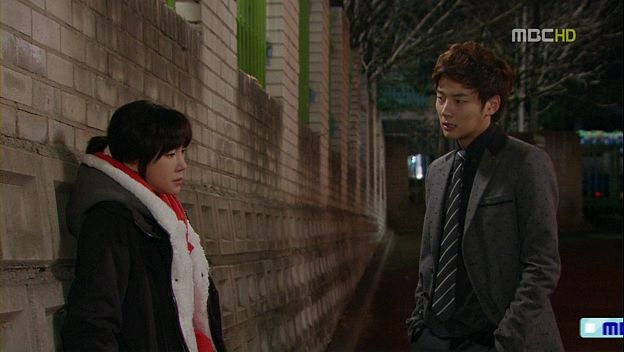 Jae Hee and Bong Sun go off to talk. He tries to explain that he was just driving Dal home after the party, and Dal's interest in him is purely one-sided. Bong Sun says Dal is her non-blood related sister. When Jae Hee asks why she's never mentioned a sister before, Bong Sun quietly replies that Jae Hee never mentioned before that he lived with Hwa Young. Touche. Jae Hee explains again that he never intended to do anything with Dal and he was just taking her home.
Bong Sun asks if Jae Hee was the one who answered the phone earlier, and whether he's taken Dal back to his place which is why Dal wore one of his shirts home? Oh fuck, this does not look good. Even I would draw the same conclusions as Bong Sun. Jae Hee says nothing happened, he just took her home to change. Bong Sun tells him to be quiet, she's finally making all the connections now. This is clearly not the first time he's taken Dal home, plus he must be the person who bought her an expensive bag.
Jae Hee tells Bong Sun to just trust him. LOL, Jae Hee, sweetie, this is Cha Bong Sun we are talking about here. This woman wouldn't trust Mother Theresa unless she first proved herself. Bong Sun quietly answers she doesn't trust him. These misunderstandings and concealed truths have been happening too many times now, too many instances where she's discovering something shocking about Jae Hee. His job, Hwa Young, and now this. Why does it keep happening? Is there anything else out there?
Bong Sun insults Jae Hee as one of those despicable rich guys on TV who attend parties with models on their arms. Jae Hee, who we can see is increasingly unable to handle this line of attack from Bong Sun, warns her that if she continues talking this way, he's not going to take it. Bong Sun asks what other women are out there he's dallying with? Like Hwa Young said, Bong Sun really doesn't know Jae Hee that well. Jae Hee asks if Bong Sun would rather trust others than his word? If she doesn't believe him, then who will believe him?
Pushed to the limit, Jae Hee angrily declares that if his woman doesn't trust him, then he doesn't need this woman. He tells Bong Sun to do whatever she wants. Bong Sun pushes him before walking away, with an added bonus of calling him a despicable bastard. Wow, when these two volatile and strong-willed people fight, the sparks are so hot it can burn if you get too close. Jae Hee stands there completely frustrated, which is when Hwa Young calls Jae Hee back to the office to handle the now widespread news about the bag theft.
Dal is packing when she thinks back to the note that she picked up addressed to Bong Sun signed J. Bong Sun walks in and wants Dal out right now. She asks Dal when she started meeting Jae Hee? Dal says before she moved into this house. When asked what she did at Jae Hee's place, Dal says they slept together, but Bong Sun doesn't believe her, still trusting Jae Hee despite what she said to him. Dal calls Bong Sun the hypocrite for disdaining Dal's candid ambition to land a rich man when Bong Sun is doing the same thing.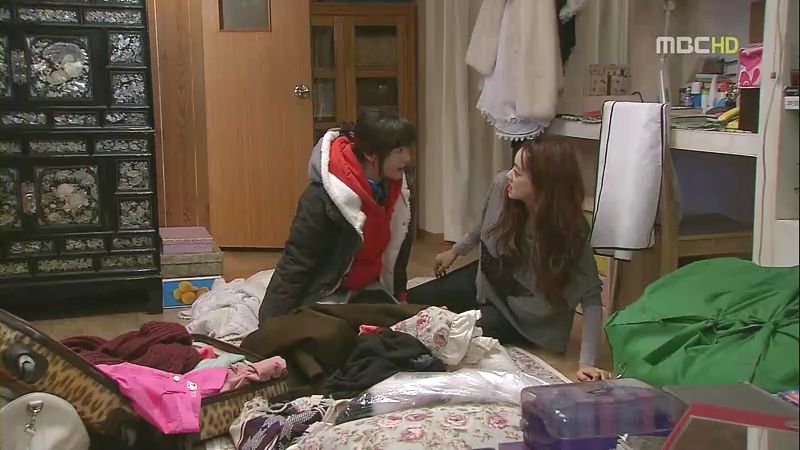 Dal insults Bong Sun, saying Jae Hee won't like her much longer after he meets more rich women. They start tussling, with Dal saying it's Bong Sun's fault for not having control over her own man, while Bong Sun accuses Dal of being the interloper. Dal says Jae Hee came onto her first but Bong Sun doesn't believe her because Jae Hee says otherwise. Why don't you shut your trap, Dal. Bong Sun tells Dal to enjoy that asshole because she's done with him. Dal confirms she can take Jae Hee now and Bong Sun says good riddance to them both.
Bong Sun goes back to her room and starts to cry. OMG, my heart, it's breaking for her. This is so wrong. She wanted none of this, she didn't ask for Jae Hee to come disrupt her life. Hwa Young should burn in hell for being so evil and selfish. Dal keeps packing and vows that she won't let Bong Sun beat her.
Jae Hee informs Hwa Young that he has a plan on how to deal with the bag theft scandal – admit and apologize. She refuses but he tells her that denial will only blow things up more. She refuses because she's worked so hard to build this company up. Jae Hee says they will deal with this together, but Hwa Young asks for one day to think of a different solution. After Jae Hee leaves, Hwa Young appears to get an idea and she calls her lawyer.
Jae Hee goes to Bong Sun's house and runs into Dal at the front gate since Dal is leaving. He ignores her but she stops him to ask if he really likes Bong Sun that much. Even that rich daughter is a better match than someone like Bong Sun. Dal asks if she doesn't have a chance with him. Jae Hee just glares at her and shakes her hand off. Dal leaves, muttering to herself about Bong Sun, that at least she's loved.
Jae Hee sees Bong Sun throwing all the food away and asks her to talk. He calmly repeats that nothing happened with Dal, he doesn't have any feelings for her, and he didn't know she was Bong Sun's sister. Bong Sun doesn't need to hear anymore. Jae Hee keeps asking if she really doesn't want to know more? He warns her that if she dares to say they are broken up one more time, then it really is over between them. Bong Sun is tired and wants to sleep. Jae Hee says he trusted Bong Sun and covered for her, why can't she do the same for him?
Bong Sun looks confused but Jae Hee says he covered for Bong Sun revealing to the reporter about how the company orchestrated the bag theft. Bong Sun says she never told any reporter. But she's sick and tired of Jae Hee entangled with Hwa Young. Jae Hee screams that there is nothing going on with Hwa Young! Bong Sun tells Jae Hee to do whatever he wants and she leaves. He shouts back the same angry words and leaves.
Jae Hee goes to see Bae ahjusshi and asks if all women are like that? Bong Sun continues to throw food in the trash. Dal sits in a jjimjalbang eating eggs and thinking back to Hwa Young's request for her to break up Jae Hee and the woman he likes. She finally realizes that the secret weapon Hwa Young mentioned was the fact that she and Bong Sun are sisters. Bong Sun is at the shooting range with her fellow officers. She can't concentrate so she misses all her shots. She thinks back to Jae Hee telling her to do whatever she wants, he doesn't need a woman who doesn't trust him.
The officers are at the police health center doing exercises. Bong Sun finds out Maru's excellent shooting came from being born into a police family. Bong Sun asks if he will use his sharpshooting skills to off someone for her? Maru is upset her relationship is so dramatic, waffling between hate and love all the time. Bong Sun eats lunch by herself in the lunchroom and picks at her food. She's glad it's over because it was too good to be true. She tells herself that nothing is more important than food and starts devouring her lunch the way she used to.
Dal storms into Hwa Young's office as she's meeting with her lawyer. Dal confirms Hwa Young already knew about her relationship with Bong Sun. Too bad because Dal considers Bong Sun like a stranger to her. But what she can't forgive is Hwa Young setting her up. One day she will reveal everything to the world. Hwa Young tells her to go ahead, but then she wants the car keys back then, and the modeling contract is also over. Sensing Dal is still under her grasp, Hwa Young wants Dal to continue until everything is completely over between Bong Sun and Jae Hee.
Dal goes to see Dr. Park and asks for his professional opinion, but first reluctantly thanks him for sticking up for her yesterday. Dal shares a story about a hungry beggar girl and the biscuit selling ahjumma who tempts her with food. But she purposely throws the food on the ground first even though she can give the beggar a clean one. Dr. Park says the choice depends on the beggar girl's beliefs. Will she refuse to eat, or not care about the dirty food and eat it to stave off hunger. Dal asks how she should choose? Dr. Park says she needs to figure out what her principles are instead of asking others. Dal gets up and wheels her luggage inside, telling Dr. Park to watch it for her.
Maru and Bong Sun are at the convenience store and she notices him staring at the girl working behind the counter. On the drive back, Maru is in a super happy mood, whistling and smiling. Bong Sun wonders how Maru is in love so soon. He says not yet since he hasn't even spoke to her. Bong Sun tells him to turn the car around and she'll help him. Maru declines and wonders if Bong Sun is fighting with Jae Hee recently? Bong Sun says love is just too complicated.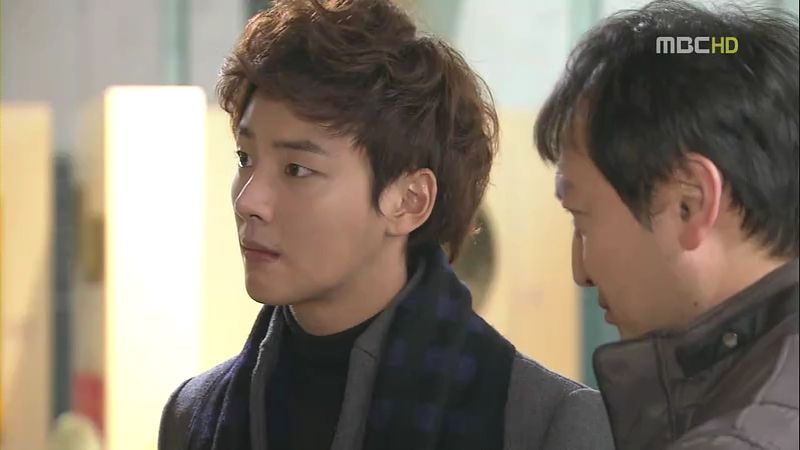 Bong Sun and Maru pull up outside of Perche where protesters are waving signs decrying the company's behavior in hoodwinking it's customers. Bong Sun suddenly realizes that the reporter at the party managed to set a trap and get her to reveal the truth about the bag theft. Bong Sun realizes she did in fact reveal the truth, albeit unknowingly. Jae Hee arrives at the office where the employees are all gossiping about the scandal. He finds out that the arriving vehicles have dropped by half in one day.
Dal looks at a poster of herself and thinks back to what Hwa Young said. An employee comes up asking Dal to sign, which surprises her but she quickly signs. She reminds herself that this is a great opportunity and she won't let it pass her by. She runs into Bong Sun, who asks where Dal is staying now. Dal lies that it's a good place but Bong Sun knows it's at the jjimjalbang. She tells Dal not to eat too many eggs since she's prone to farting.
Bong Sun goes to see Jae Hee, who is stunned to see her. He starts first and apologizes to her for the other day. Bong Sun says she made a mistake in front of the reporter, who pretended to be an employee of the company and got the information from Bong Sun. He says it's no big deal now, he'll handle the aftermath. Bong Sun leaves but gets a call from her superior that Perche has filed a lawsuit against her for spreading false rumors about their company.
Bong Sun storms back into Jae Hee's office and asks if he's the one who filed suit against her? If not, then it's Hwa Young. So this is what Jae Hee meant when he said he would take care of matters. Jae Hee asks what lawsuit but Bong Sun tells him to ask Hwa Young and leaves. Jae Hee can't reach Hwa Young in person or on the phone. Dal is meeting with Hwa Young and says Bong Sun considers the relationship over. But Jae Hee appears to be head over heels for Bong Sun so it's going to be hard on him.
Dal correctly notes that Hwa Young's plot to split up Bong Sun and Jae Hee stem from her being unable to have Jae Hee so she won't let anyone else have him. Hwa Young tosses a cup of water in Dal's face and then calmly hands her a napkin to dry herself. Dal won't do anything more to Bong Sun and Jae Hee, but she wants her modeling contract to continue otherwise she will go tell Jae Hee. Hwa Young tells Dal to tell Jae Hee, but she'll end up losing her modeling contract in the end. Dal is now on the same boat as Hwa Young.
Bong Sun reads in the papers about the Perche lawsuit. She tells her superior that she did nothing wrong, but he says to let the courts decide. But she might end up being fired in the worst case scenario. He asks if she can settle with the company. Jae Hee runs back home but still can't find the Wicked Witch anywhere. Bong Sun returns to her precinct and sees her daddy waiting for her. He's furious and starts raging at Bong Sun while her captain restrains him. Captain wonders what's gotten into that Perche boy, suing his own girlfriend. The captain says Bong Sun's dad was his sunbae when he first joined the department.
Bong Sun's suggests that her dad is not worried about her, but worried about her tainting his legacy. Bong Sun wonders why he's so disappointed in her when she came from him. She's been an adult for the past 13 years and doesn't need him lecturing her now. She leaves him there and walks away. Bong Sun comes home to find her mom cleaning. Mom wonders where Dal went but Bong Sun doesn't have the energy to explain, only saying Dal is staying with friends now.
Bong Sun goes out and ignores a call from Jae Hee. He wants to schedule a press conference for tomorrow. Dal goes back to Dr. Park's office and tries to brazen her way in to spend the night, but he kicks her out. She sits outside in the cold and he predictably softens and lets her back in. Both of them spend the night in his office since his apartment under renovation. She warns him not to drool over her and he says he can't possibly be interested in her immature ways.
Jae Hee goes to the precinct and finds out Bong Sun has left. The precinct chief asks to have tea with Jae Hee and confesses that he doesn't like Jae Hee. Since he's shown up, it worries him when he sees Jae Hee and Bong Sun together. They are from such different worlds. Jae Hee says he will work hard, but the chief asks what type of working hard entails filing suit. Jae Hee promises to dismiss the lawsuit. The chief knows that Bong Sun isn't the type of person to spread rumors. Now word has spread all over the police ranks and Bong Sun might even be suspended or fired. He asks Jae Hee to consider what he is doing and how his actions affect Bong Sun.
Jae Hee finally gets a call from Hwa Young and he looks pissed. They plan to meet back at the office. Bong Sun goes to see Hwa Young and barges past the employees into her office. Bong Sun never knew Hwa Young would go so far, she's not even a human being anymore. Jae Hee still trusts her now, shouldn't she be grateful. Hwa Young is fine with sacrificing Bong Sun for the sake of the company. She suggest Bong Sun confess to save time and money. The company is Jae Hee's life's work, shouldn't she be fine sacrificing herself for him.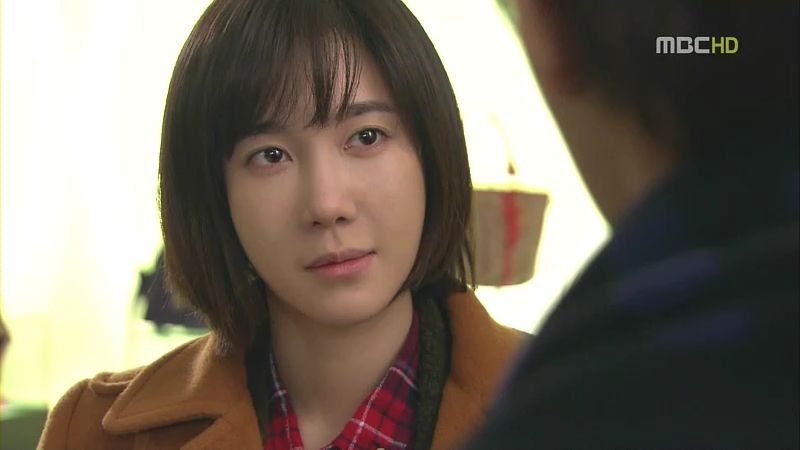 Jae Hee storms in and yells at Hwa Young for daring to suggest such a thing. He turns and asks Bong Sun to leave. She's not back down, asking how dare they treat her like this. She'll walk to the end with them, and see how they turn her into a guilty person. Bong Sun walks past Jae Hee and says they are completely over now. Jae Hee asks to talk later but Bong Sun has nothing else to say to him and leaves.
Jae Hee wants Hwa Young to dismiss the lawsuit. She refuses despite the fact that she perpetrated the fraud in the first place. Hwa Young will only dismiss the lawsuit if Jae Hee breaks up with Bong Sun. If he breaks up with Bong Sun, she will dismiss the lawsuit under the pretense that she is forgiving Bong Sun. Jae Hee refuses because this still makes Bong Sun seem culpable. Hwa Young says this way Bong Sun still keeps her job. Jae Hee looks at Hwa Young and says he will break up (with Bong Sun).
Thoughts of Mine:
Grrrrrr. I can end my commentary with just that, because my growl channels the rage, frustration, and anxiety we must all be feeling. Hwa Young pretty much went off the deep end in this episode, shedding any pretense that she was a decent human being. Even Dr. Park wondered if she was becoming a monster (answer: yes, and it's too late for her to transform back). I do wonder if the writer is making her so batshit evil to give Jae Hee a good reason to cut ties with her by the end of the drama. If she was just this disapproving and controlling figure in his life, he's still be weighed down by his guilt towards mother-son that he can't ever have a clean start with Bong Sun. And those two cannot sustain a relationship with Hwa Young hovering around, even if she weren't actively plotting against them. She's like that creepy mother-in-law with an Oedipal complex towards her own son and resents the daughter-in-law for being able to marry her child. Ewwww.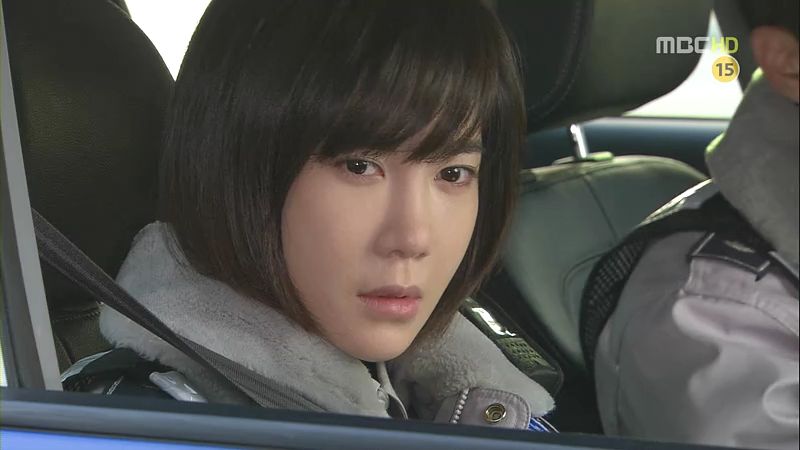 My heart and my logic was 100% with Bong Sun on this one, and I was pleased that she wasn't completely distrusting of Jae Hee. She's rightfully confused and hurt (who wouldn't be) watching Dal kiss him, and that only adds to a steady stream of secrets and lies she's encountered with him. We the viewer know Jae Hee is sincere and not at fault with Dal, but to Bong Sun he's just the guy who's waltzed into her life and stole her heart in a very dangerous way. Their argument after Bong Sun saw the kiss was amazingly real. Her hurt and distrust, his anger and impatience. Aren't those the personality traits that have dogged those two their adult life and form the crux of their emotional problems? The writer brilliantly shows that the couple's fight falls into their emotional hang ups.
Dal pisses me off even though I think the drama wants to redeem her in the end, and maybe even give her a love line with Dr. Park. Right now she's pond scum to me, a woman who will sell her soul, pride, and compassion to achieve her materialistic dreams. Dal's anecdote about the beggar girl was all wrong. That girl was starving. Dal is like an average girl who doesn't have the money to buy an expensive coat. One is a necessity, the other a luxury. Selling out her sister's happiness at the expense of her own selfish dreams makes her a piece of trash in my view. Hwa Young may be the mastermind, but Dal is now a willing accomplice. While she does display glimpses of hesitation, in the end she still chooses the path that inflicts pain on others. I hate people like that.
It's funny how Bong Sun and Jae Hee, who are suffering in different ways from their childhood traumas, never hurt anyone purposefully. They go out of their way to treat people right. They are good people who deserve happiness, which is why Hwa Young's actions tear me to pieces. I can't believe she would argue that she would sue Bong Sun over spreading false rumors, despite the fact that she perpetrated the fraud in the first place. Her logic escapes me, and I'm glad Jae Hee is starting to see her for what she has become. He can't possibly continue to make excuses for her anymore. It frustrates me that Jae Hee won't just step forward and announce and take responsibility for the bag theft and absolve Bong Sun of any guilt. Who cares whether Hwa Young agrees or not. He's also part owner of the company, and she's gone behind his back and done plenty of things without his approval. But that would require their partnership and friendship to be irrevocably damaged, and he might not be ready to do so yet.
I said before that the plot devices in M2F hold no interest for me, and the Great Bag Theft of 2011 is like the undead plot device that just won't go away. I'm fascinated watching Bong Sun react to one bombshell revelation after another, and seeing Jae Hee man up to protect his woman. This drama has the good kind of angst, one that may be dramatic but flows true from the personality of the characters and makes me care about what might happen to them if the situation is not resolved. I firmly believe that Jae Hee and Bong Sun can solve any and all misunderstandings with more kissy kissy and less talky talky. Bring back the kissy, writer-nim, and stop making Bong Sun cry and Jae Hee all stressed out.