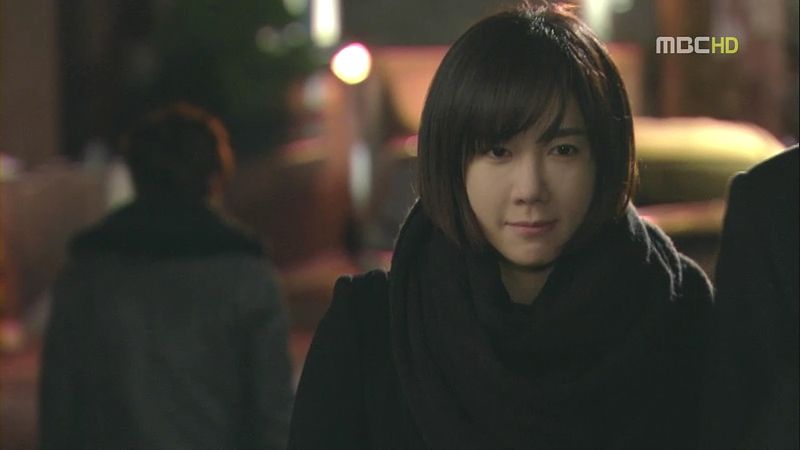 This episode of Me Too, Flower! left me strangely unmoved. The interesting writing, great acting, and lovely directing was still all there, but I felt a bit like I was being manipulated to feel something that didn't need to be felt. With Jae Hee pulling the rug out from under Hwa Young and then smacking her upside the head with his declaration about his future with Perche, I felt like the remaining emotional angst was all self-inflicted and rather devoid of any tension. I watched this episode with a sure realization that the OTP will get together, and it just required them to push through their issues and make it happen.
Once again Bong Sun is gun shy about a future with Jae Hee, while he turned into a "I'll respect her wishes" kind of bystander boyfriend. I appreciate how the story continues to resolve misunderstandings while focusing on the more pertinent problems. In this case, it's taking two steps back because Jae Hee and Bong Sun had gotten to the point where they realized how broken they are individually and the strength and completeness they gather from being together. I still enjoy the drama greatly, but I think the writing ought to eschew the forced separation and spend more time on watching the healing process unfold.
Episode 13 recap:
Jae Hee accepts Hwa Young's unreasonable demand that he break up with Bong Sun before dismissing the lawsuit. His ready agreement leaves her asking if he's sure? He's sure, but the requirement is that he wants to hold the press conference. Hwa Young calls for a lawyer to come tomorrow. Jae Hee leaves Hwa Young with a reminder of what she promised to do.
Jae Hee and Hwa Young arrive at the press conference, with Jae Hee alone walking up to the front and sitting down. He looks tense, and Hwa Young remembers Dr. Park diagnosing him as having a fear of people. Jae Hee remembers that as well, but he also recalls Dr. Park encouraging him to step outside his comfort zone. He remembers his promise to Bong Sun on his video conference earlier, the memory leaving him even more upset. But he steels himself and starts the press conference, introducing himself as the co-owner of Perche.
Jae Hee goes straight to the fake robbery allegations, which is when the parking lot manager lures Hwa Young away claiming that a crying Ah In is here to find her. Hwa Young worriedly rushes off, ending with her locked in a storage room. Manager apologizes but he was under orders from Jae Hee to keep her diverted from the press conference.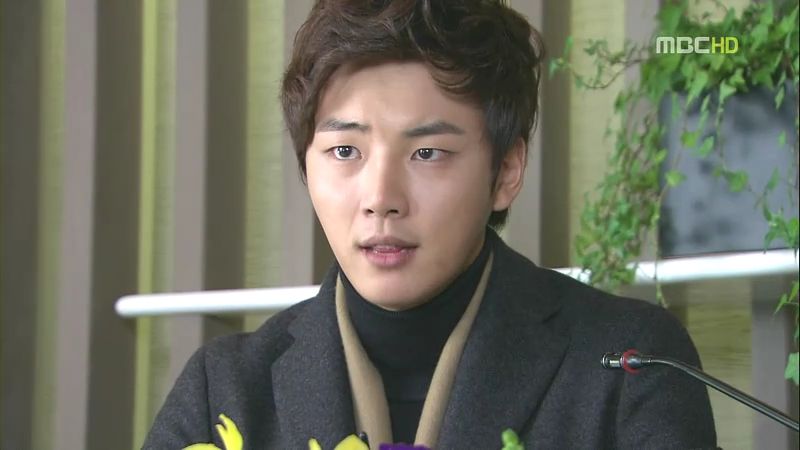 Jae Hee tells the media that the bag was indeed stolen, but he was the culprit. He did it to increase media coverage of the event, but he didn't realize it would cause such outrage. He gets up and bows in deep apology while the reporters get in a tizzy with this new bombshell. To atone for his mistake, Jae Hee will henceforth quit his co-owner position at Perche. He will also use his personal wealth to cultivate the next great fashion designer. Hwa Young throws shit inside the storage room, seething that her evil plans have been totally thwarted.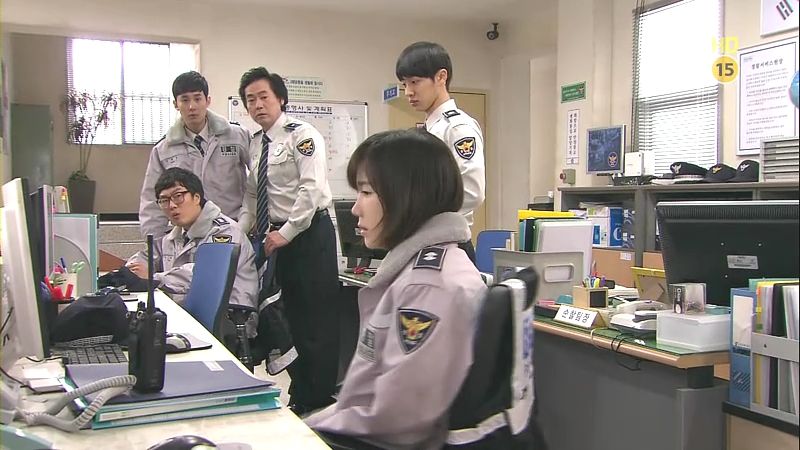 Bong Sun is zoned out while at work. Suddenly another officer calls everyone over to read the news report that Jae Hee orchestrated the robbery himself. Her colleagues are upset at Jae Hee, but Bong Sun speaks up for him, explaining he didn't do it.
Hwa Young has been released from the storage room and she confronts Jae Hee about what he did. She claims that she can't forgive him, but he can't forgive her. When the company gets back on track, he wants them to go their separate ways. Their destiny ends right here. Hwa Young screams at a departing Jae Hee, demanding to know how he can do this? She bitterly asks how he can do this to her? Easy. He just did it.
Jae Hee goes to wait for Bong Sun outside the precinct. He looks peaceful and calm. When Bong Sun walks out, Jae Hee asks her to get in the car, using the news report to win some sympathy points from her. On the drive home, Jae Hee slowly breaks the ice when he sees her looking at the interior of the car, explaining that it's too cold to ride a motorcycle today and he wanted her to be warm when he drove her home. She compliments the luxury car, but declines his offer to drive her in the future in it. Outside Bong Sun's house, he asks her one more time whether it can work if he disposes of all his trappings that she can't handle?
Bong Sun doesn't answer, only suggesting that it's hard for him just discard what he worked so hard to achieve. Jae Hee wryly teases that he's turned silly because his girlfriend is silly. Money, power, that woman, Bong Sun asks if he can really throw it all away. He can, what he throws away he can just build up again. Except for Bong Sun. She is his one and only. Bong Sun isn't moved, because if he asked her the same question, she wouldn't be able to throw away what she has. Being a police officer isn't just a job that puts food on the table. It's become something as important to her as nourishment. On the surface she bitches that she's burned out, but in truth it's something she can no longer live without.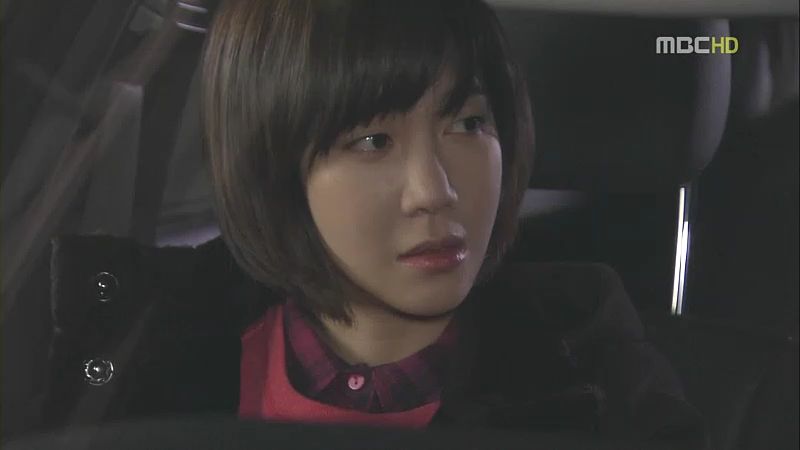 She likes being good at her job, and earning the approval of older officers in her dad's generation. She can't give up her job. She wants to become an officer of a higher rank than her father before she retires. If she can't give up her job, she can't ask Jae Hee to do the same. Jae Hee explains that he's fine with it. But Bong Sun is cynical and thinks Jae Hee will grow to resent her. Jae Hee may claim he can fill up his life again, but even Bong Sun knows that it's not as easy as he's making it out to be.
Bong Sun moves to get out of the car but Jae Hee grabs her arm. She tells him to let go. She's tired, and sick of it all. Bong Sun pushes his hand off and gets out. Before going inside, she compliments him on being so cool in front of the reporters today. Thank god he's still the Jae Hee she knows. Jae Hee sits outside and look like he's holding back a river of tears. Bong Sun, on the other hand, goes inside and starts sobbing.
Dr. Park starts his employee counseling session and finds out Bong Sun's friend is pretty happy these days without those rude customers around. Dr. Park flirts with her, confirming that he's still single. Afterwards he goes to see Jae Hee and ribs him about pulling this stunt, thought he thinks this might do Jae Hee good in the long run. However, he can't compliment Jae Hee on doing well in terms of taking the blame for Hwa Young. This was a prime opportunity for Hwa Young to own up to her actions. If this happens earlier, she can deal with it better. Jae Hee confirms that he's planning to split the partnership with Hwa Young when the company gets stronger. He wonders if Hwa Young will be fine. Dr. Park laughs and says Hwa Young doesn't need Jae Hee to worry about her.
Dr. Park goes back to his office and finds Dal doing jazzercise inside and all her clothes are strewn around. She complains that his snores kept her up, while he complains that she farted all night. Dr. Park grabs the vacuum and tells her to clean, so she starts by trying to vacuum his scarf. He grabs a designer pump and uses it to threaten to her. She calls him on his bluff so he bends it in half. Dal reluctantly cleans while Dr. Park holds a pair of Louboutins hostage.
Maru and Bong Sun go to investigate a series of petty tire thefts along a row of bicycles. Bong Sun decides to stay out all night keeping surveillance of the bike rack. Maru arrives to keep her company, worried that she's pushing her physical limit by working so hard. Bong Sun finds out Maru and his crush is still slowly developing their affection for each other. Maru tells Bong Sun not to worry, he'll make the move when the time is right. Bong Sun resumes her surveillance and the bitter cold leads her to remember when Jae Hee brought her heat packs and made her laugh. Her nose starts to bleed, always a sign a heroine is exhausted.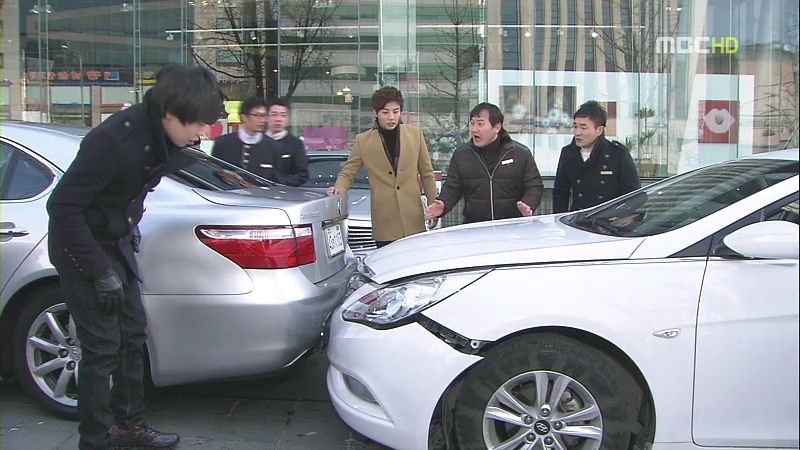 Jae Hee is at the office and does his rounds to see how business is. He hears from the parking lot manager that the number of cars are slowly increasing day by day. Suddenly there is a small fender bender right in the parking lot, which involves rich baker's daughter getting rear ended by the drunken crying chick from episode 1, who is clearly drunk. Bong Sun and Maru are called out to Perche to handle this drunk driving accident. Jae Hee stands awkwardly to the side while Bong Sun goes to handle the situation.
Rich baker's daughter calls Hwa Young and then turns to give Bong Sun her statement. Bong Sun asks her to come to the precinct with them to complete the report. She doesn't look comfortable so Jae Hee reluctantly offers to go with her. At the precinct, Bong Sun measures drunk crying chick's blood alcohol level at 0.092 and books her. Bong Sun thanks rich baker's daughter for her cooperation and allows her to leave. Rich baker's daughter walks up to Bong Sun and hands her a box of chocolates for her hard work on such a cold day.
When Maru asks Jae Hee to stay and give his witness statement, Jae Hee retorts that he didn't actually witness the accident. Maru is annoyed and asks why he came along then? Jae He turns towards Bong Sun and tells her to take care of herself in such cold weather. That is what he came here to say. Jae Hee deposits rich baker daughter with Hwa Young and moves to leave. Hwa Young asks him to walk around the shopping floor with the lady but Jae Hee curtly declines and heads to his meeting with the lawyer. Turns out the public wasn't hurt by the deception so no one is filing suit. The lawyer hands Jae Hee a file, confirming he's prepared what Jae Hee asked him to do.
Hwa Young goes to see Jae Hee and asks why the lawyer was here? Could it be that Jae Hee is looking to transfer his shares? Hwa Young informs Jae Hee that she intends to change their model to a professional one to raise the brand image and resurrect the company. Hwa Young cuts to the chase and wants Jae Hee to consider getting the help of rich baker's daughter, whose daddy is loaded and she clearly likes Jae Hee.
Bong Sun and Maru are at the convenience store when Maru remembers he saw rich baker's daughter in the newspaper before. Bong Sun thinks Jae Hee is a good match for that lady in looks, wealth, and breeding. Maru goes to pay for an item and wonders why the cashier never says anything. When Maru turns to leave, the cashier suddenly talks, pointing out that Bong Sun has collapsed on the ground. Dal is leaving Dr. Park's office since she's sick of being his cleaning lady. Maru calls Dal, who actually looks worried to hear that Bong Sun has collapsed.
Dal helps Bong Sun home, the entire time Bong Sun just keeps calling her a bad woman. Dal puts Bong Sun in bed and goes to make food. The rice cooker is empty which surprises Dal since Bong Sun is such a rice-a-holic. Maru goes to see Jae Hee and tells him that Bong Sun fainted from dehydration and malnutrition. He wants Jae Hee to go see Bong Sun, but Jae Hee refuses since Bong Sun has no connection with him anymore. Maru is pissed, but Jae Hee just invites him out to drink.
Jae Hee asks about Maru's family and hears that the puppy became a cop to follow his father and brothers footsteps. Jae Hee asks Maru what he would do if someone threatened his family? Maru would go into battle with his family. Jae Hee sees that Bong Sun is currently struggling with outside forces butting up against the things she holds dear. He wants to respect Bong Sun's battle. Maru thinks Jae Hee ought to be what is most important to Bong Sun. Jae Hee laments that his sway over her is limited to the tossing of a lovingly prepared meal. Jae Hee doesn't want this, but if he continues, she will only be more exhausted in this constant battle. Maru scoffs at how complicated Jae Hee is making all of this, reminding him that love is love. Jae Hee smiles wryly and continues drinking with Maru.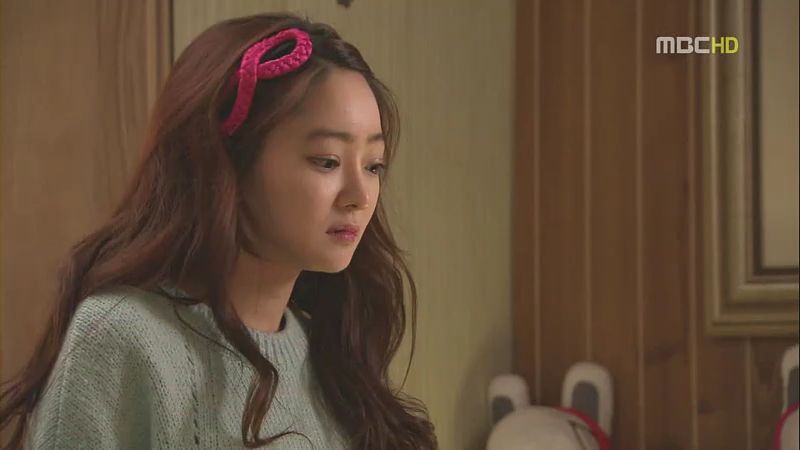 Dal cooks rice and prepares a simple meal for Bong Sun. She puts it all on a tray and takes it up to her room. Bong Sun refuses to eat, so Dal has to force her up to eat. Bong Sun reluctantly gets up but asks Dal if she poisoned the food. Dal retorts that she poisoned it. Bong Sun eats despite every item being overcooked or badly cooked. Dal gets a call from their mom and reveals Bong Sun's health scare.
Jae Hee stands outside Bong Sun's house but makes no move to knock. Bong Sun's mom arrives and asks Jae Hee who he is. She introduces herself as Bong Sun and Dal's mom and asks which girl he's here to see? She notices he looks worried so invites him in to see Bong Sun. Jae Hee excuses himself politely, but calls Bong Sun's mom "Mom" before leaving.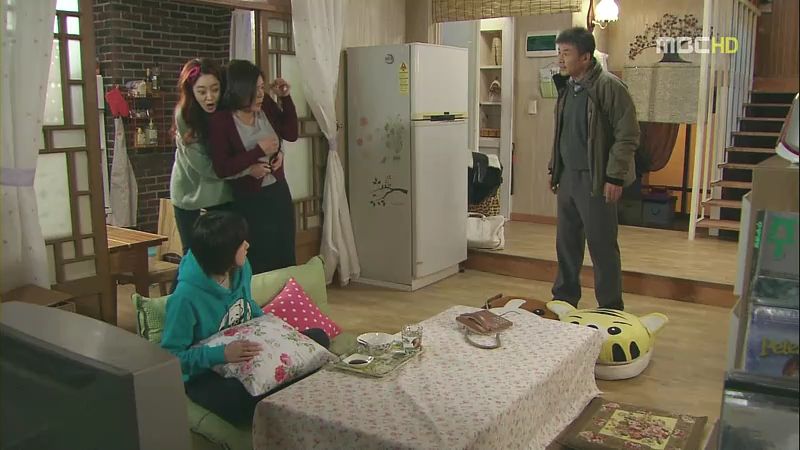 Mom cooks a delicious jook for Bong Sun and holds up a spoon to feed her, wondering why Bong Sun got herself into this state. Mom reveals that "that guy" was outside just now, and called her "Mom" before leaving. Dal pouts while Mom is pleased Bong Sun has such a great guy. Bong Sun confesses that they broke up, and tells Mom to ask Dal the reason. Mom asks but Dal refuses to tell. Suddenly Bong Sun's dad arrives and immediately launches into a rage to discover that Dal was the step-daughter.
Dal hides behind Mom, who takes full responsibility. Dad starts to drag Mom outside while the two daughters cling to the parents and tearfully asks why they have to be like this. The room full of wailing women finally calms Dad down, and he sits with the two daughters. Dad asks Bong Sun why she allowed outsiders to live in his house. Bong Sun says this is her house, because she's protected it since she was young. The reason she didn't leave with her mom was because she was worried about leaving her dad all alone.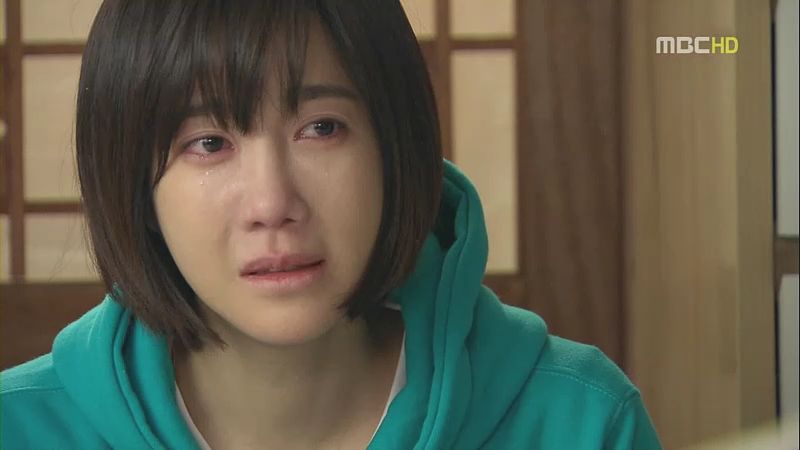 When Dad remarried, she didn't follow him because she was afraid her mom would come back. But if her mom came back and couldn't find her, she might leave again. Mom cries to hear this, quietly pounding her chest in agony. To Bong Sun, this is her house and home because she protected it. Dad leaves, laughing while he gets in the car at Bong Sun worrying about other people when she can barely take care of herself.
Bong Sun allows Dal to stay until she's used up the money she paid Bong Sun, though Bong Sun grouches that she's keeping Dal under her supervision so Dal can't go outside and do anything bad. Bong Sun allows her mom to stay the night, and gives her encouragement to make some ban chan for her. Dal goes to Bong Sun and reveals that nothing happened between her and Jae Hee, and the only woman in Jae Hee's heart is Bong Sun.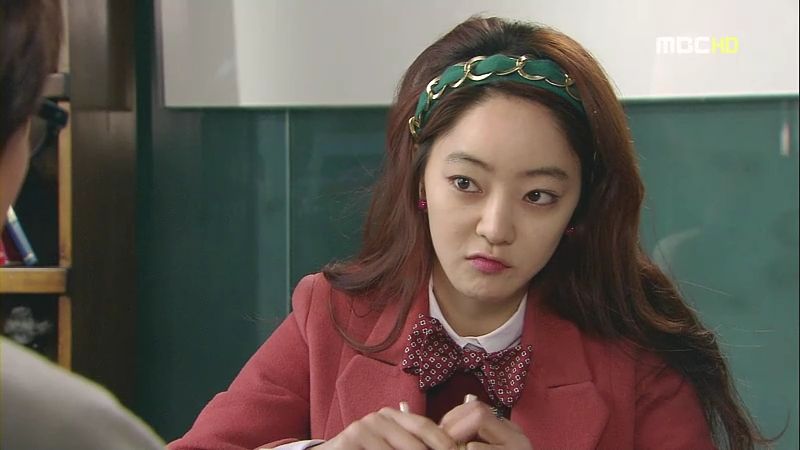 Dr. Park is at the office when he hears Dal's voice, which he chalks up to a hallucination. But when she calls him again, he looks up to see Dal standing in from to him, offering to keep him company for lunch. They dig into jjajangmyung, with Dal wondering if a person born with a golden spoon like Dr. Park eats food like this. Dr. Park says the golden spoon is quite heavy and a big portion of his patients are people who are under heavy pressure to maintain the spoon. When Dal pries into Dr. Park's private life, he refuses to divulge his past, which leads Dal to storm out since she thinks he's not interested in finding out more about her either.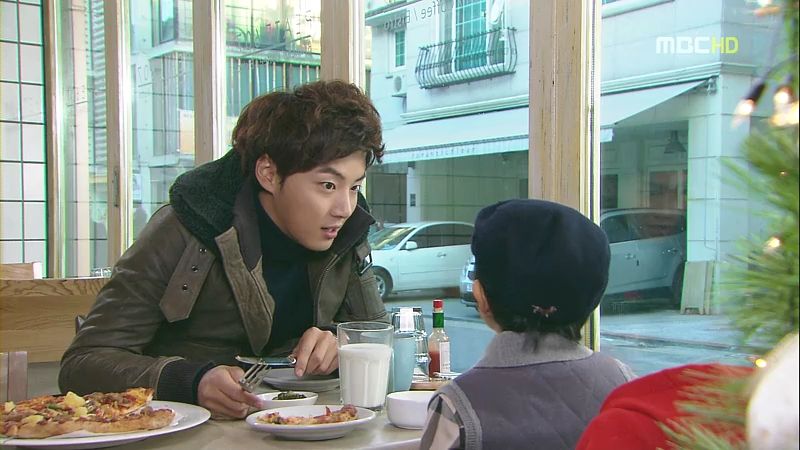 Jae Hee takes Ah In out to eat and they play a game of "the pretty noona", where Ah In finds a pretty girl and Jae Hee sketches her as inspiration. He gives Ah In a test to find at least 10. When Ah In finds the ladies too quickly, Jae Hee grabs his camera to take a picture since he can't sketch that fast. Which is when Ah In spies pretty noona Bong Sun walking down the street. Jae Hee freezes when he sees her. Even Ah In recognizes Bong Sun as that police officer noona who came to their house the other day.
Jae Hee takes a picture of Bong Sun, who really is looking quite fetching. Bong Sun walks into the cafe across the street and joins a man who is already sitting inside waiting for her. Jae Hee watches this matseon date from his perch across the street. Bong Sun's date politely introduces himself and asks what she would like to order. Bong Sun says curtly that she wants beer, so the date orders beer with her. He compliments her on being really beautiful, to which Bong Sun replies that she knows that already.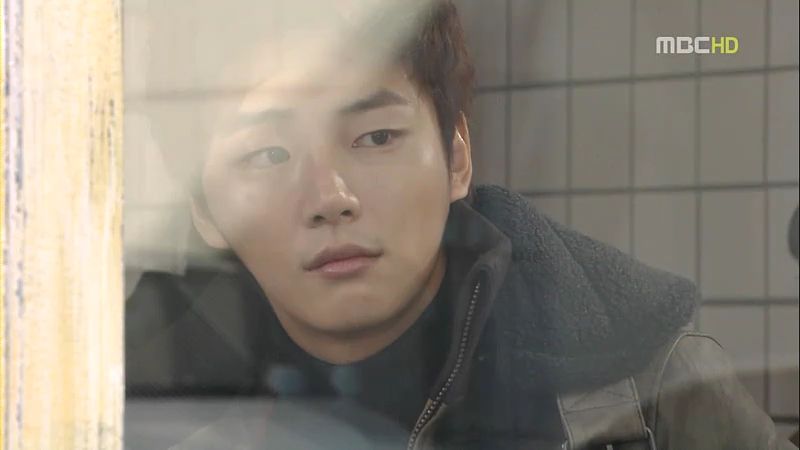 Jae Hee watches Bong Sun down her beer, muttering that a woman on a matseon date shouldn't drink so much. Bong Sun asks her date if he already knows about her parents being divorced and then remarried. He doesn't answer and she takes it as he's ready to bail. He's not, and tells Bong Sun it's not a big deal if she doesn't think it's a big deal. He has a good impression of her, especially since she can hold her beer. Jae Hee watches as Bong Sun and her date drink and appear to be getting along. Bong Sun leaves the cafe with her date and Jae Hee can only watch her walk away.
Jae Hee is back at the bag factory and he goes through his camera until he gets to pictures of Bong Sun. Poor Bae ahjusshi is coughing from catching a cold. Jae Hee offers to head out and buy him some medicine. As Jae Hee walks down the alley, he suddenly sees Bong Sun and her date walking home together. Jae Hee's first reaction is to hide, but he turns back and walks right past Bong Sun. Which is when Bong Sun's date tentatively reaches for her hand, and then holds it tightly in his. Jae Hee and Bong Sun pass each other, the former looking pained and the latter looking determined.
Thoughts of Mine:
I'm glad Dal returned to the good side and told Bong Sun the truth that nothing happened between her and Jae Hee. I loved seeing Hwa Young so thwarted and having to deal with her well laid plans going off the rails. I adored Jae Hee for standing up for Bong Sun and for doing the right thing. But I was really uncertain as to the source of the conflict between Jae Hee and Bong Sun. Likely some mistrust, some class considerations, and a whole lotta self-inflicted misery. I'm not sure if Jae Hee agreed to break up with Bong Sun at her request or to placate Hwa Young (probably the former but used to his advantage with the latter), but I find their breakup devoid of suspense and instead just feels like a place holder to create some separation anxiety. What I did love were the family breakthroughs that happened, with Bong Sun finally telling both her parents what she's been hiding away all these years. Still love this drama, but it's not looking to be a perfectly smooth landing. We'll get our happy ending, but the final stretch might be rather rocky with flying debris.