On my list of top mangas of all time (around 30 or so currently reside on said list) is Rurouni Kenshin: Meiji Swordsman Romantic Story (るろうに剣心 -明治剣客浪漫譚). It's one of the rare shonen mangas that I love without reservation, with great storytelling, illustrations, and a gut wrenching story at the core of all the battles and lighthearted moments. Kenshin is about a fictional assassin named Himura Kenshin, who was the most dangerous and deadly fighter during the Bakumatsu period. After the end of the samurai ways, in the early Meiji period Kenshin becomes a wanderer to protect the people of Japan.
The story straddles Kenshin's former life of death and destruction with his current choice to live a peaceful existence atoning for his sins. The manga has finally been adapted into a live-action movie set for release this August, and the first still of lead Sato Takeru has been released. I've been drooling ever since I saw it. He doesn't have Kenshin's perpetual baby face, but he's got the smolder that makes me all googly-eyed. The first teaser trailer is similarly wonderful, giving glimpses of all the characters with some fabulous action sequences.
Playing leading lady Kamiya Kaoru will be Takei Emi. Aoi Yu will be Takani Megumi and Aoki Munetaka will be playing Sagara Sanosuke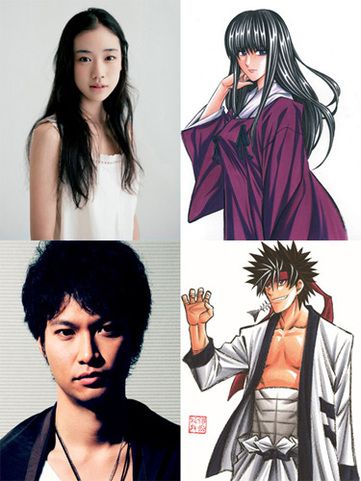 Below are more heavyweights of this tale. Eguchi Yosuke is Saitou Hajime, former Shinsengumi Captain and current Tokyo police officer. Kagawa Teruyuki gets the chance to go all-out-evil as opium dealer Takeda Kanryuu. And lastly Kikkawa Kouji will play damaged-goods assassin Udou Jine.
I love love love the first teaser for this movie. It's dark and serious, just like I hoped the movie would be. This isn't an easy story, but one that rewards the patient and is truly memorable. Fingers crossed the movie turns out awesome.
First teaser for Rurouni Kenshin Live Action Movie:
http://www.youtube.com/watch?v=rLHC_RFumqE