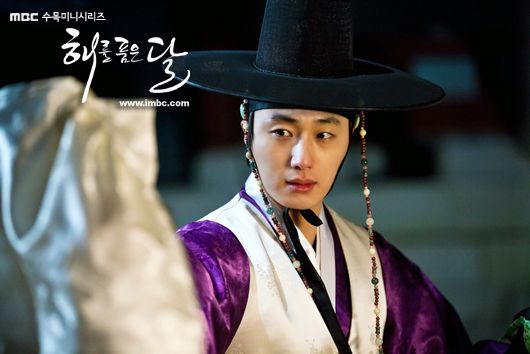 Another week arrives, and with it two more new episodes of The Moon that Embraces the Sun. With no confirmation from MBC on the rumored extension, this means the drama is now in the second half of its run. I expect the story is start kicking into high gear, and the actors to all step it up a notch or ten as necessary. I want Wol to regain her memory soon, because dragging out her memory loss is a waste of perfectly good story left to tell after she figures out who she is and what happened to her. Same goes for the brothers Lee, with Hwon needing to stop being so passive-aggressive with Wol, and Yang Myung deciding to live his life with courageous conviction in fighting for what he wants instead of taking the high road and then moping for years about it afterwards.
Written preview for episode 11:
Wol still has no memory of her past. No matter how Hwon questions her, Wol can only answer that she does not know. Hwon continues to miss Yeon Woo. He takes out her final letter to him and reads again about how she is waiting for her father to bring her medicine which will make the pain go away and she will never see him again. Hwon starts to suspect the circumstances of Yeon Woo's death and launches an investigation. He discovers that Yeon Woo's grave has been touched, and her corpse is no longer in the coffin.
Bo Kyung has grown jealous and hateful towards Wol. Under dire circumstances, Wol is pushed out of the Palace and sent to live in the Infirmary (care house for contagious diseases and homeless patients). Yang Myung finds out through his source the infirmary where Wol is residing. Hwon is curious about Wol's life after she is thrown out of the Palace. He disguises himself and leaves the Palace to check on her. He sees Yang Myung together with Wol, making him so angry that he summons Wol back to the Palace.