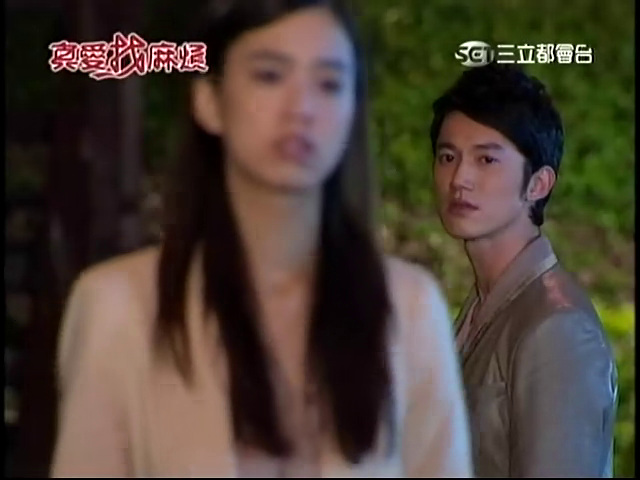 I'm still watching the daily drama Inborn Pair (literal title True Love Looks for Trouble), a breezy and sweet contract marriage confection with warm family moments and a great steady pace. While I'm not interested in the secondary characters beyond the delightful OTP played by Annie Chen as Song Yi Jie and Chris Wang as Ke Wei Xiang, the gradually developing relationship between the two leads remains believable and sincere. There is no sudden falling in love, but rather the honest trajectory of two people who got off on the wrong foot with a series of misunderstandings slowly getting to know each other. So far I'm entertained but not emotionally invested. Until this week.
Unbeknownst to me, one of my biggest Taiwanese actor biases showed up in an extended cameo role as Yi Jie's ex-boyfriend. It's none other than Chris Wu (of Autumn's Concerto and Zhong Wu Yen fame), and his presence immediately ups the emotional stakes. Sadly for the OTP shippers, he smokes Chris Wang's chemistry with Annie. There are suddenly some stakes and sizzle in this drama, and I couldn't be happier. I actually cried in one of his scenes with Yi Jie, he brought so much bubbling intensity and longing in just a few looks. Swooning here.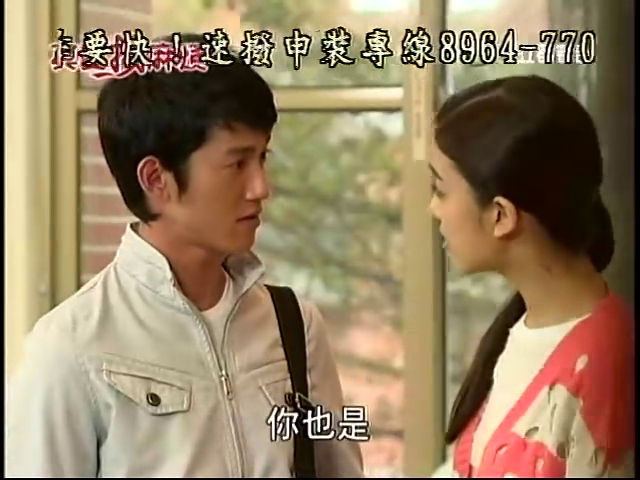 Yi Jie and her college law department elder Chao Dong Yang meet cute in the library, where they separately see a male student feeling up a female student and both launch into action. I love how their sense of justice leads to immediate mutual camaraderie.
Doesn't hurt that Dong Yang is insanely hot. Yi Jie is immediately smitten. Exposition in earlier episodes tells us that Dong Yang, who Yi Jie now refers to insultingly as Zhu To (pig head) to everyone around her, suddenly disappeared six years ago without any explanation, leaving Yi Jie heartbroken and confused. It was during her bar exam period so she ended up failing it then. We all know Yi Jie's attempt to take the bar recently also tanked because of her leaving the test badge in Wei Xiang's car.
They see each other for the first time when they are representing opposite sides of a case where a customer to a bakery claims to have bit into a bun with a screw in it and now wants NT 2 million dollars in compensation.
Clearly Yi Jie is not happy to see Dong Yang again, whereas he seems shocked and tentative around her. But not unhappy to see her.
He's surprised she's representing a big corporation now. Didn't she always believe big corporations were evil and greedy?
She tells him that people change, and her old beliefs were simply the ignorance of a young person talking. Dong Yang doesn't think time changes everything. Emotions perhaps doesn' change, only accumulating more with time. Yi Jie snarks that he's still as glib as ever. But wasn't the person who changed the most, and the fastest, him?
Dong Yang is about to explain something when his eyes light on the wedding ring on Yi Jie's hand. His face just freezes.
Dong Yang asks Yi Jie if she's married? Yi Jie smiles and holds up her wedding ring and announces that she is married, to none other than the President of the corporation that is involved with this injury lawsuit, Ke Wei Xiang.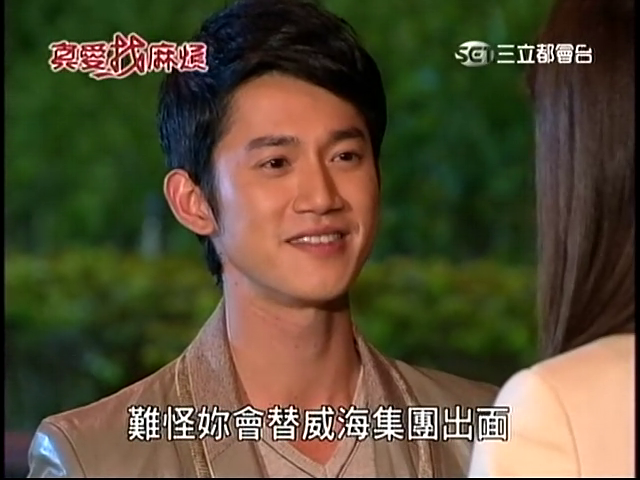 Dong Yang smiles ruefully, congratulating Yi Jie on marrying into a rich family, and becoming a pampered wife.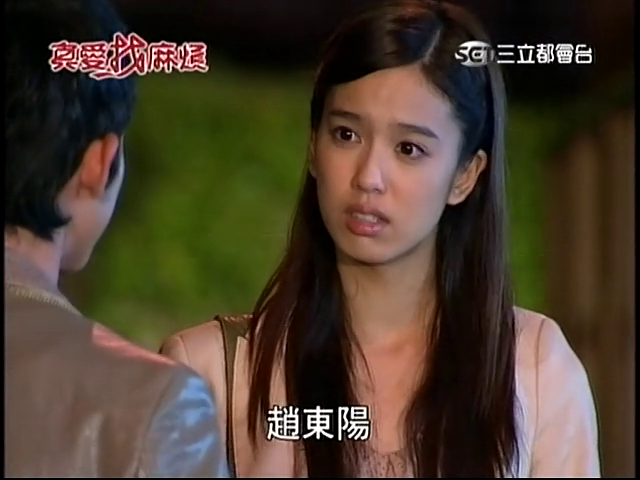 Yi Jie reminds him that people do change with time.
As Yi Jie turns to walk away, Dong Yang grabs her, wanting to explain about six years ago. But Yi Jie cuts him off, asking him to let her go since she's married, and no longer in interested in hearing any explanation.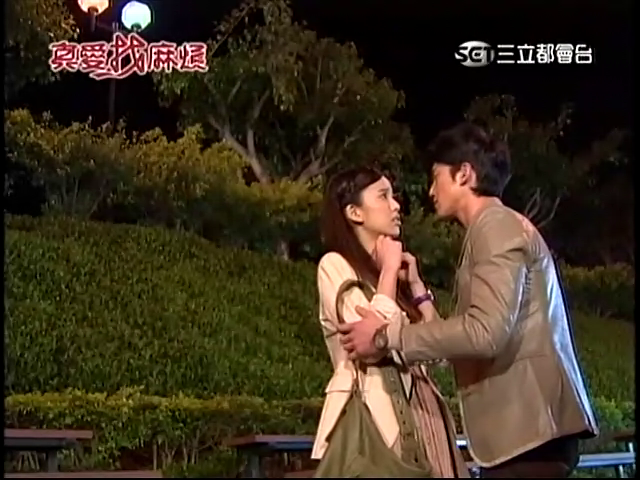 In my opinion, these two are about three seconds away from making out. But alas, Dong Yang respects Yi Jie's wish and releases her.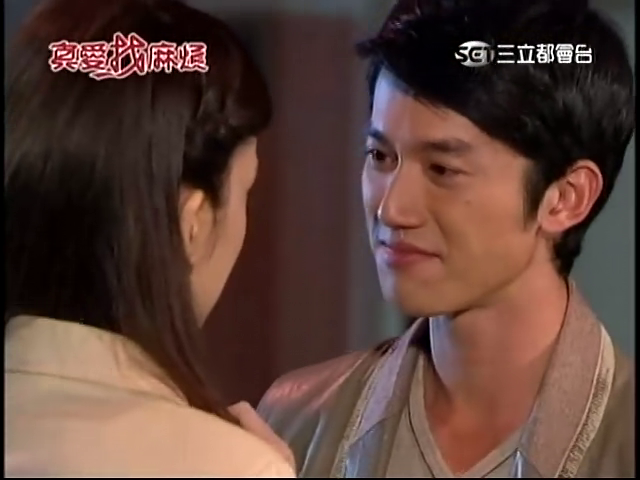 His sad smile just breaks my heart. My gut feeling tells me their situation was a redux of the My Name is Kim Sam Soon storyline, with Dong Yang leaving Yi Jie because he was sick, and needed to go abroad for medical treatment and he didn't want her to worry. There have been hints that he's just recovered from something.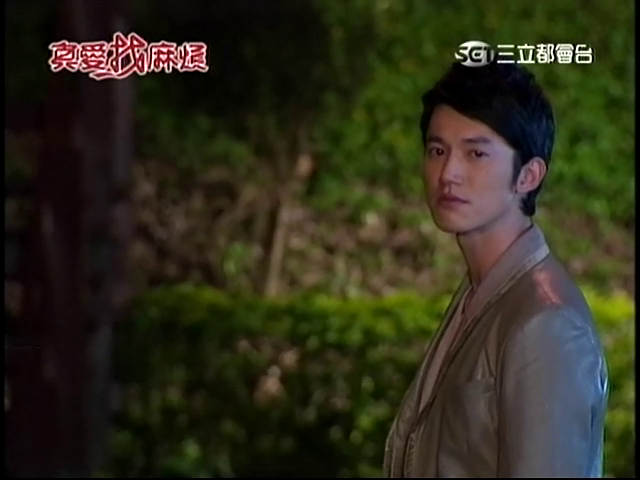 Dong Yang can only watch Yi Jie walk away, unable to say anything because it's already too late.
I just want to comfort his sad sad gorgeous profile.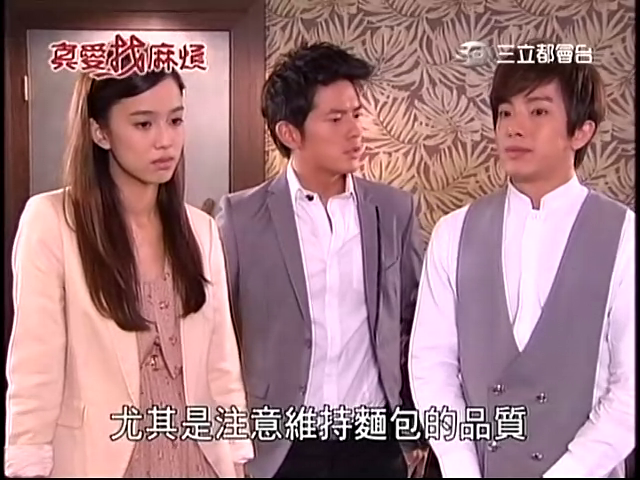 Let's not forget the OTP. Still as cute as ever, and getting along marvelously now that their fake marriage is on track and chugging merrily forward.
Wei Xiang, who has met Dong Yang simply as the lawyer representing the plaintiff suing his company, hilariously notes that he has this odd feeling that the lawyer dude seems to have been born solely to be his opponent. Yi Jie has no response to that observation, which is accurate in more ways than one.
Annie is a lucky gal indeed, to be able to act with adorable playful Chris and now hottie emo Chris. Inborn Pair was always just good, but now I'm fairly salivating for each new episode. Not sure how long Chris Wu's cameo run will last, but with the ratings for the episodes jumping since he joined, it might be as long as they can drag out his storyline with Annie. I think there are tons of material to run with his character, and I wouldn't mind seeing Yi Jie give it another go with him and this time end it properly when she realizes that it's not meant to be and she actually loves Wei Xiang,