So close, but not quite there. The King 2 Hearts won't make my top-10 favorites list, but it wasn't for lack of trying. Ultimately enough hiccups here and there accumulated that it weighed down the story in parts and stretched credulity in others. But that is the only rub in an otherwise magnificent drama watching experienced. I laughed, I cried, I seethed, I swooned, and in the end, I smiled in sad contentment to see TK2H sign off with such satisfying sweetness. The story wasn't about love or fairness, instead reminding us that love doesn't conquer all and life can indeed be really (REALLY) unfair.
Its topic of national sovereignty and political divisions is built on the premise that relationships between countries isn't fair. It's about power, which comes from using wealth to accumulate strength, and that power isn't based on which country is more right and more honorable. In the end, the love of a partner and the love from a family that our King Lee Jae Ha found, that doesn't make his job easier or magically resolve the decades long separation of one ethnicity into two countries. All it does is make him stronger, and that is a strength that will help him walk each step of an always precarious journey. This drama might have been fantasy, but ultimately delivered a meaningful and sincere conclusion.
Episode 20 recap:
Hang Ah pleads with her father to let her stay, she doesn't want to be apart from Jae Ha. Her father reminds her that the last time the Koreas were at war, families were separated and remained that way for decades. He's getting old and he doesn't want to be separated from his only daughter. But he lets her decide, and she chooses to leave with him.
Jae Ha calls Hang Ah, and her dad doesn't want her to answer since the South Koreans betrayed the North by agreeing to help the US attack them. Hang Ah answers and tells Jae Ha that she is at the border but not yet crossed. What's important is finding out what both the US and North Korea are really intending.
Jae Ha wants Hang Ah to come back, he'll send a car to pick her up. She reluctantly tells him that she's going back to the North. Right now communications have been cut between the two Koreas, so she'll going back to convey to the North that the South does not want war. She will be the conduit for Jae Ha to send his message over and prevent this war.
Jae Ha worries once she goes they can't communicate with each other. Hang Ah reminds him that their hearts are as one. Ah heck yeah. Going back to North Korea is so that she can one day see Jae Ha again. He agrees and asks her to please stop this war. She wants him to remember that their hearts are aligned, then they will meet again one day. She says "I love you" before hanging up the phone and they both cry.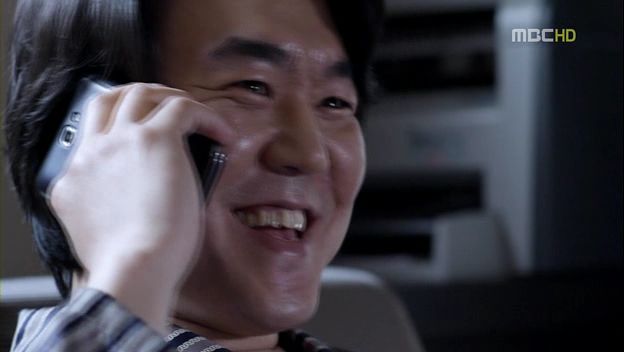 The President of South Korea has agreed to allow the US to attack through the South Korean military base, with the date set for May 24th to invade Pyongyang. Bong Goo gets a call from the US official, who is clearly helping Bong Goo's agenda, about the impending military intervention. He gets hold of the US attack order and sends it to Jae Ha to gloat.
Jae Ha gets a call from Bong Goo crowing about the news of the impending war. He blames Jae Ha for reporting him to the ICC so this is his punishment. It's his punishment for not making the right choice when he was on the cliff. He chose himself over his country, so this is what the consequences look like. It's Jae Ha's fault for his citizens to die in the war. Jae Ha says that it will all be Bong Goo's fault if anyone dies, Jae Ha merely followed the letter of the law to ensure Bong Goo was punished for his crimes. Jae Ha vows to stop this war while waiting for Bong Goo to be tried.
Jae Ha tells Secretary Eun that he got a copy of the US plans to attack Pyongyang on May 24th. He decides to raise the alert to Defcon 2 (impending war). The news of South Korea raising their battle alert status to Defcon 2 reaches Pyongyang and battleships begin readying.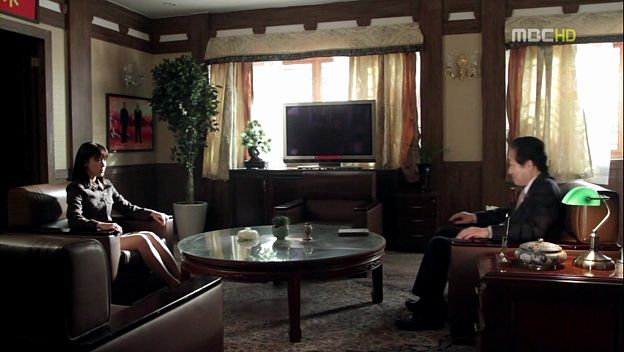 The North Korean Prime Minister is trying to get information from Hang Ah about the South Korean military but she refuses to play ball and give the North any ammunition to use against the South.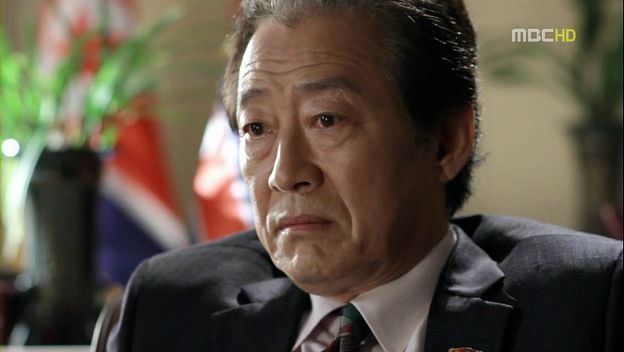 The South Koreans continue to try and re-establish communications with the North until finally the North decides to respond to talks. The North Korean Prime Minister demands Jae Ha explain why the US is trying to attack the North. Jae Ha plays hardball and says that if the North attacks Seoul, then South Korea will retaliate as well and North Korea will pay the price.
Hang Ah's dad wants to take Hang Ah overseas with him to Berlin where she can see Jae Ha again. Hang Ah doesn't like knowing her dad is trying to run away until her dad reveals Jae Ha threatening North Korea despite knowing Hang Ah is there.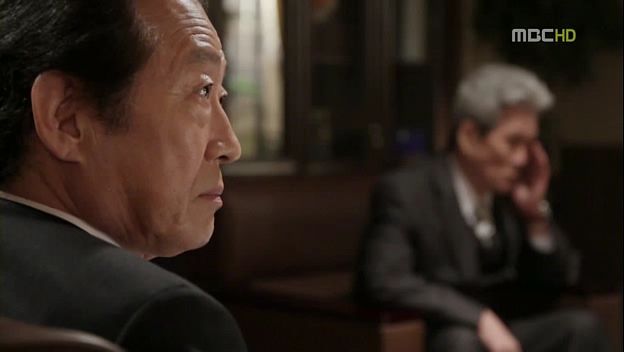 Hang Ah is sent as the representative of North Korea in a meeting with Jae Ha representing South Korea. They want her to confirm whether the US has decided to attack Pyongyang on May 24th. To use as leverage, the North wants Hang Ah to hand over contract between the two Koreas agreeing to the royal engagement so it can be torn up. Plus Hang Ah's dad is detained until she returns from the meeting. The North will be listening in on the talk.
Hang Ah walks into the meeting with Jae Ha. He asks what she is doing on May 24th? She asks if he's wondering if she's going into battle perhaps? Jae Ha asks her to attend a wedding…..to him. Since they are planning to get married anyways, he just moved the date up. Hang Ah asks why the South is planning to attack the North, but Jae Ha says it's not the South, it's the US. It's because the North carried out a terrorist attack on the US, but Hang Ah retorts that they didn't do any such thing.
Jae Ha tells Hang Ah that their wedding is the only way to stop the impending war. It will prevent the US from attacking North Korea, and both Koreas can survive. Her father is currently convincing the North Korean Prime Minister of this plan. Jae Ha is on the phone with the North Korean Prime minister, who is reluctant, so Jae Ha presses a red alert button.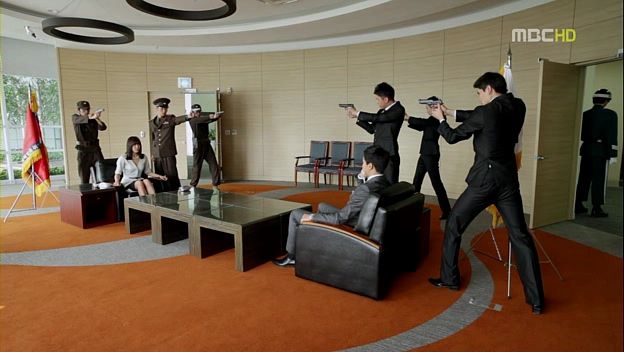 The alarm sends both North and South guards rushing into the room with their guns drawn. Jae Ha tells Young Bae to shoot him right between the eyes, since if the North doesn't agree they might as well kill him since the war is inevitable anyway.
Hang Ah grabs the gun and walks over to point it at Jae Ha. OMG. She tells him that she will kill him herself. Because she loves him so she will kill him and follow right behind him. Young Bae looks all weepy, while Dong Ha has his gun trained on her. When she cocks her weapon, the North Korean Prime Minister folds and agrees.
Hang Ah and Jae Ha hug each other. He says that today, they used the same willingness to die to prevent a war.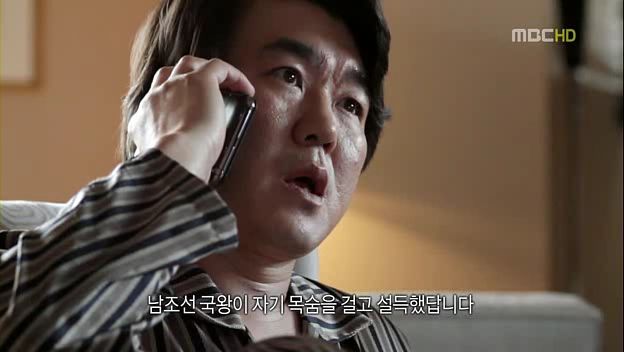 A North Korean news report announces that the North and South will be holding a wedding ceremony at the DMZ, and Bong Goo watches this news report at the hospital. Bong Goo calls his contact, the horrid US official, who finally wises up and refuses to play ball anymore. He tells Bong Goo to do whatever he wants as the US guy is about to lose his job for this.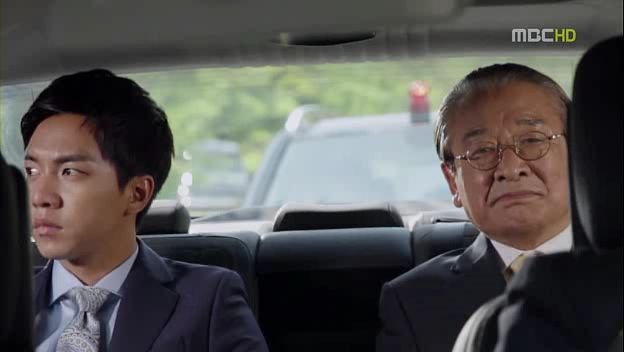 Jae Ha and Secretary Eun try to cross the DMZ but a US soldier refuses to let him pass since the army is at a Def Con 2 status right now. But the South Korean soldiers open the barricade and let his car pass through.
Hang Ah, wearing a traditional hanbok and her hair in a simple plait, is getting made up while her dad watches beaming in happiness. He worries that this isn't lavish enough for her since it's an once-in-a-lifetime experience. Hang Ah pulls him in for a hug and apologizes for being a bad daughter. He tells her that as long as she lives a happy life then he's happy for her. He looks at her, wishing her mother was here, before turning around and wiping his tears away.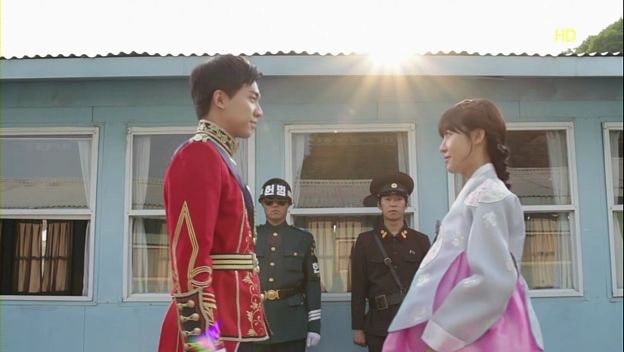 Jae Ha watches an announcement by the White House spokesperson, who sends the US's congratulations to South Korea on this historic marriage and reveals the US never intended any military intervention in North Korea. The marriage begins and Jae Ha and Hang Ah walk towards each other and meet at the yellow demarcation line.
He crosses over the line and they turn to bow towards the South. Then he holds her hand and they step over the line together before turning around and bowing towards the North. Jae Ha picks Hang Ah up and twirls her around a few times.
Boong Goo faces the judgment of a three-panel judges of the ICC and is convicted of murder and terrorism and sentenced to life in prison. Jae Ha goes to visit him in maximum security prison and thanks Bong Goo for willing to see him. Bong Goo thinks Jae Ha is here to gloat, and crows that he won in the end anyways. War almost broke out and Jae Ha was frightened of that possibility. He thinks Jae Ha will always jump when there is a shadow or a spark, he will never be at peace.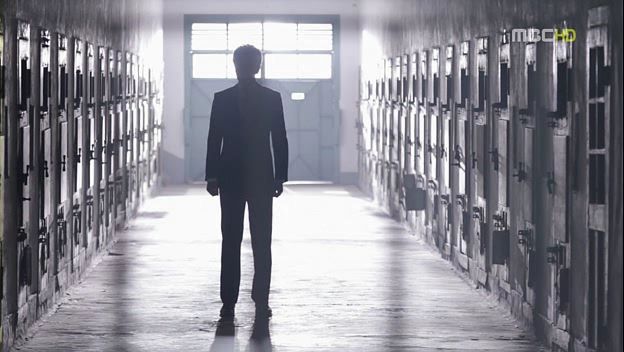 Jae Ha tells him that war was averted, and there is nothing scarier in this world than a war. They managed to prevent a war, what else would they be afraid of? He thanks Bong Goo for making them stronger. As Jae is walking away, Bong Goo shouts out that Club M continues to exist even if he's in jail, with a different name and a different leader.
It's four years later and the North-South Korea team is assembling for the 5th WOC. Jae Ha greets the three new North Korean members, while Kang Seok, Young Bae and Dong Ha are there supervising the training. Young Bae is teased for falling in love with a South Korean military instructor during the joint training. Aww, so cute.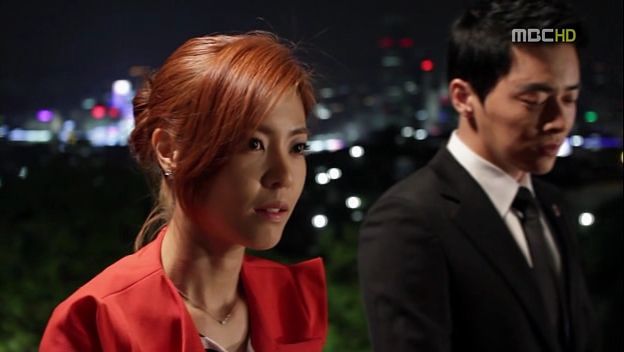 Princess Jae Shin is sitting on the fortress wall in Seoul where she went with Shi Kyung once. She has her bird besides her as she talks on the phone. The camera pans over and we see Shi Kyung sitting next to her. She reveals that she's got a matchmaking date tomorrow, asking him if she should go. She heard the guy is quite handsome and wonders if Shi Kyung is angry but memory Shi Kyung smiles and tells her to go.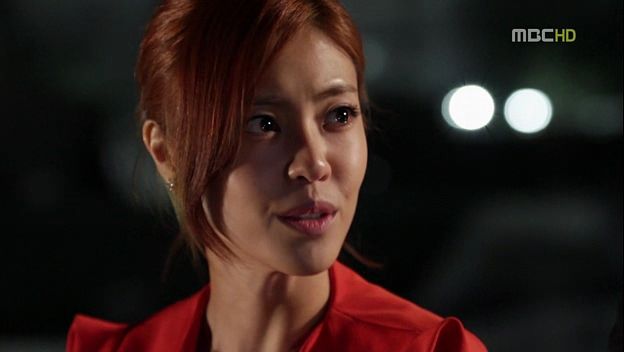 Jae Shin says she can't live her entire life thinking of Shi Kyung, but he'll always reside in a place in her heart like her shadow. The camera pulls away and we see Jae Shin sitting on her wheelchair looking at the wall. She smiles and wheels away.
Hang Ah's dad is happily looking through pictures and video on his TV with Hang Ah and a little Crown Prince.
Hang Ah goes to a ribbon cutting ceremony and Jae Ha is late but makes it on time. They cut the ribbon and the little Crown Prince comes running out. Jae Ha picks him up and the cute tyke reaches for his mom, calling her "omani" (North Korean slang) instead of "omunim". Hang Ah quickly covers his mouth but its too late.
The royal family gathers to watch news reports worried that the Crown Prince is speaking in North Korean slang, wondering about his royal education. The Queen Mother isn't worried, saying he'll grow up just fine.
The drama ends with Hang Ah and Jae Ha, standing side-by-side as they prepare to walk into a news conference. He grabs her hand and says "I love you". She turns and smiles at him. He says "let's go", and they walk forward together.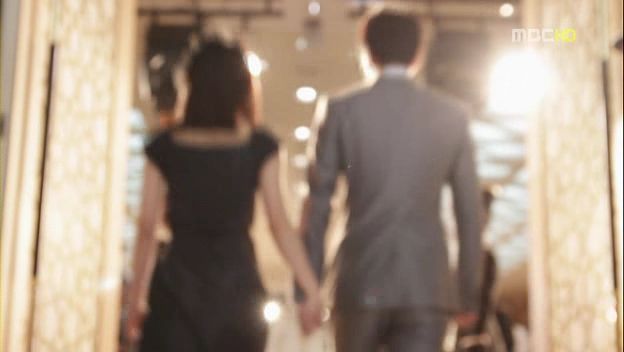 Thoughts of Mine:
The final episode of TH2H disappointed me in some ways while delivering in others. I felt like the final arc – impending war between North and South Korea – was delivered in such a rushed fashion so late in the game, then resolved in a truly fairytale way. The execution and resolution was laughably silly, but then this story was never about a realistic gritty look at international politics, was it? Bong Goo pulled off so many of his maniacal schemes it was ridiculous, and he only got his piddling comeuppance at the end in such a low key way it lacks the catharsis we all need. After he shot and killed Shi Kyung (who sadly really is dead), I wanted him steamed alive and then fed to the sharks. Life in prison is too good for pond scum like him.
But then the final 15 minutes brought this drama home for me. Ultimately it's about how life goes on even having gone through the most devastating and seemingly unfair of circumstances. Jae Shin didn't miraculously get the use of her legs back, but she seemed happy, didn't she? And why shouldn't she? She's got a loving family, she's still a princess, and being confined to a wheelchair doesn't mean her life is over. I loved the moment she pictured Shi Kyung beside, asking if she could go on a matchmaking date, but then confessing he'll always have a special place in her heart. I'm already at peace with Shi Kyung's passing, so for her to reach that point was poignant. I don't think she got a bittersweet ending, I found Jae Shin's strength and acceptance of her life so moving and realistic.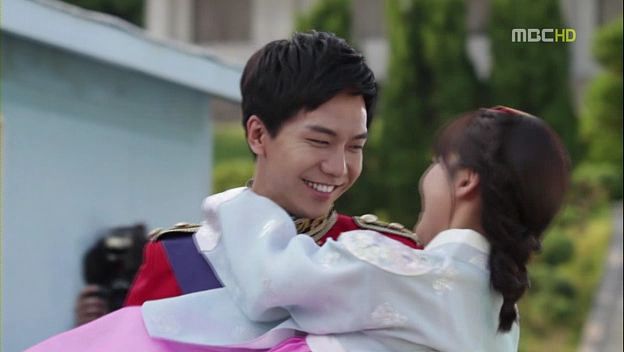 While the final episode was choppy and a bit like adding a final mile onto the run right as the runners could see the original finish line, ultimately it was satisfying to see Hang Ah and Jae Ha once again trust in each other to resolve even the most dire of situations. This story was about bridging things formerly seen as impossible, and everything starts with the first little step. Their marriage at the DMZ was wonderfully low key but amazingly high on the historic symbolism. The way they met at the yellow line, the way it was he who stepped across first (like Jae Kang making the first move with the joint WOC team idea), the way they made their bows to both sides of the political divide.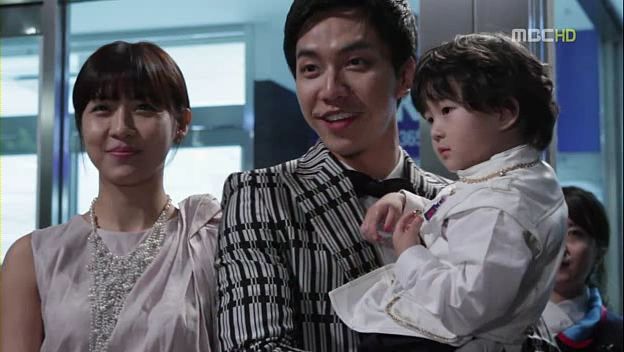 It was cute to see an ending showing their little son, and how politics will continue to dog them despite making such huge strides in bringing North and South Korea together. I really loved TH2K a lot, and the love remained consistent from beginning to end. I saw all its weaknesses and flaws, but appreciated its willingness to reach for more and attempt quite a hefty story load. This drama has quite the budget and every penny was shown onscreen, with far-reaching set pieces and a camera that never lingered on any moment to milk it dry. Happiness and sadness were both fleeting, but left a strong impression behind.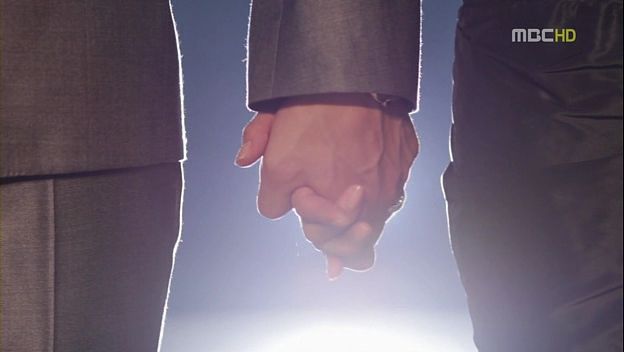 I was wary of this drama from the get to, when it kept changing its named and ended with the clunky The King 2 Hearts. I was disappointed when Lee Seung Gi was cast opposite Ha Ji Won, and second leads Jo Jung Seok and Lee Yoon Ji were lovely choices but nothing that made me sit up and go "Wow, I must watch this." But you know what? I was won over by this drama fair and square. Not by a bias for the leads or a predilection for its story, but by how much the acting, story, and directing all came together in a fantastic way to create a truly compelling 20 hours of entertainment. What a wild and thrilling ride it was. Thank you, TK2H, for making me fall in love with K-dramas all over again.