SBS opened it's official website for Faith yesterday and the first set of available drama descriptions are accompanied by an official look at leads Lee Min Ho and Kim Hee Sun in character. I'll wait until the drama releases official drama posters since these are just background sets, but I'm still sticking by my original observation that Kim Hee Sun looks like Lee Min Ho's aunt. Forget the age difference in real life (11 years, no biggie), what triggers my ugh reflex is that Kim Hee Sun actually resembles Lee Min Ho since they have these gorgeous cheekbones and fine features, which is why she reminds me of his pretty aunt, yunno like his mom's youngest sister sort of relationship. But chemistry is a fickle friend and impossible so predict, so perchance they will ignite the screen and render auntie comparisons moot.
Sadly Kim Hee Sun is as cold of an actress as they come in her works I've seen, and I can't imagine her igniting anything unless someone lit her pants on fire. Maybe her 5 year break has turned her all sorts of magnetic onscreen (and maybe she took acting lessons as well). The first preview doesn't show much of the lead chemistry, though it does show Lee Min Ho trying to be all badass with the time travel hoodoo. Right now I'm still underwhelmed by it all, but Lee Min Ho has been known to turn on the charm even in dramas I hate so much yet I keep watching for him. By the way, who's betting Kim Hee Sun will travel back to Gorguyeo and magically maintain her mane of red hair despite the lack of root touch ups.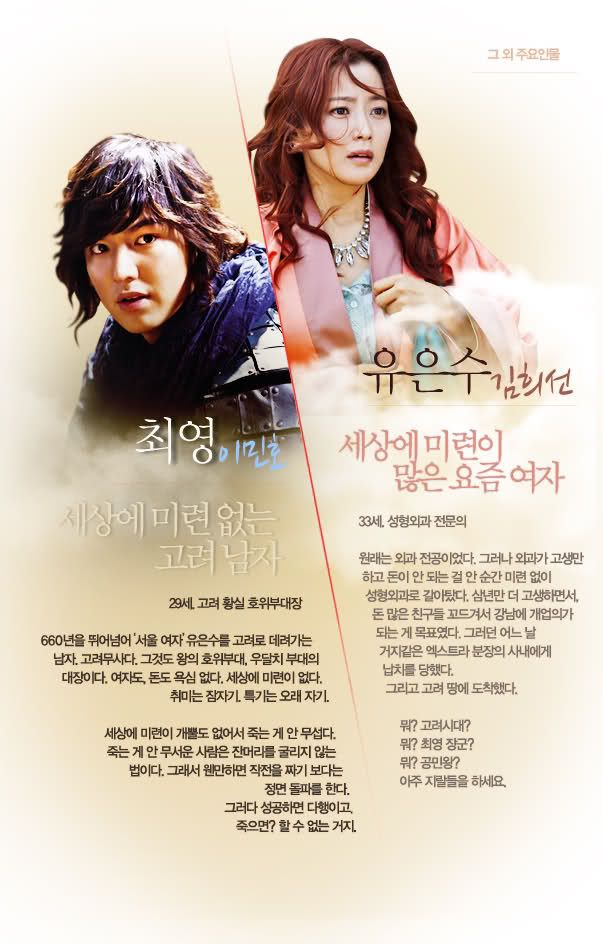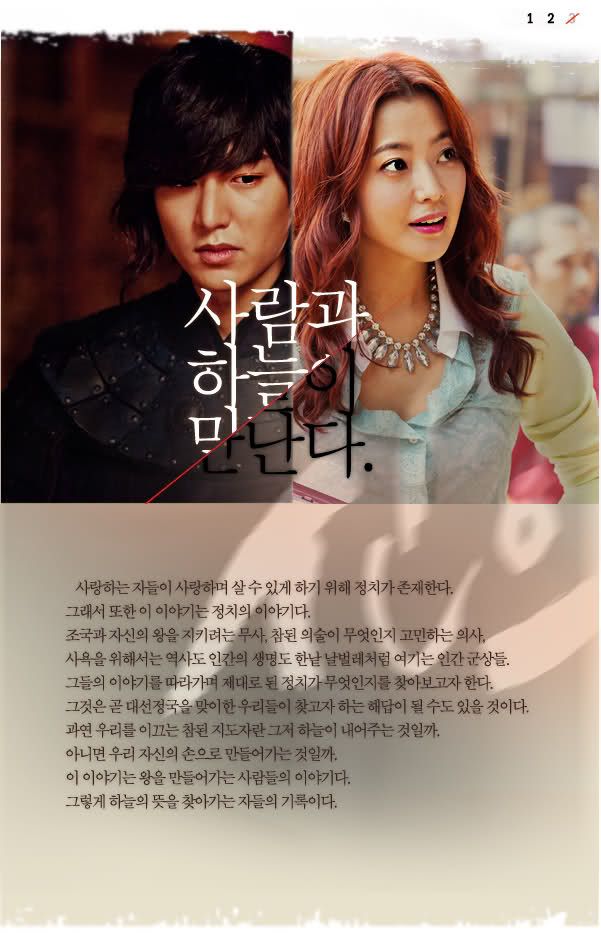 Faith has got some seriously heavy hitting credentials, so a shabby production team would not be one of its weaknesses. The PD directed Sandglass and The Legend, and the screenwriter wrote Sandglass, The Legend, Story of a Man, KAIST, and What's Up? Faith premieres in mid-August after The Chaser on Mon-Tues.
First teaser for Faith: