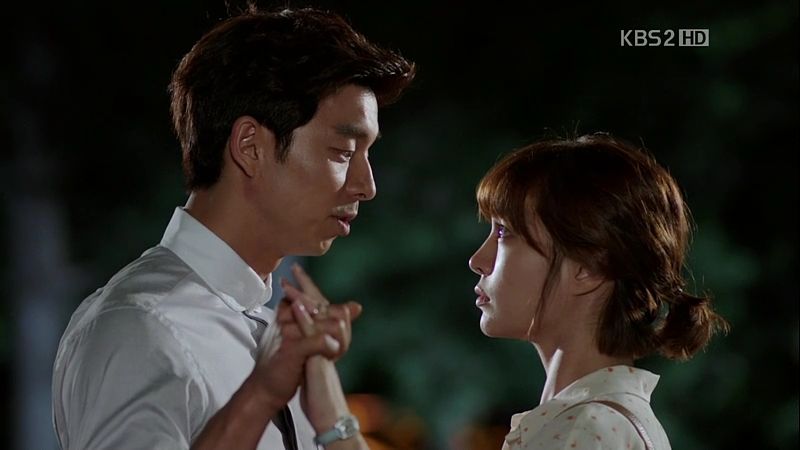 What did I say about this drama being renamed Hands. Look at their hands! I have either became omniscient from watching too many dramas, or else my all-encompassing love for Big flipped my brain on extra-smart mode. Episode 12 reveals more plot developments that continue to validate my earlier theories, but at the same time giving me so many wonderful OTP interactions I was left gasping, giggling, and sobbing with happiness within the span of a short hour. This might be one of the best episodes yet, but really this drama is about letting go of the demand for "whys" and just appreciating the story as it unfolds.
Da Ran and Kyung Jae finally bridge that gap between them in the most realistic and heartfelt of ways, having taken themselves (and us) through 12 episodes of getting there. From their very first meeting on the bus til now, I'm just giddy with glee at how I called it from the get to – this Kyung Joon is the guy for her. I feel like I've won two lotteries in a row, what with Big following right on the heels of The King 2 Hearts. If the Hong Sisters can finish up this drama with as much heart and thoughtful care as they've put into it so far, this will definitely be one of the top K-dramas of the year for me.
Episode 12 recap:
Kyung Jae tells Da Ran that he can't stand watching her emotionally suffer anymore. So if she doesn't stop crying, then he'll take her and run away. She tells him not to bother with her if she's the one who wants to give up, but he takes responsibility for her suffering. He was the one who asked to get married, so if she's hurting now it's because of him. He wants to protect her.
Kyung Jae tells Da Ran that if she takes off the ring, he'll take that as her choosing him and he will accept her at that time. He plans to keep his promise to leave once the souls switch back, so if she wants Kang Kyung Joon then she has the choice to take the ring off herself. He's not threatening her to take the ring off, but nor will he help her keep the ring on. Kyung Jae turns to leave, but not before telling her to take that ring off if she chooses Kang Kyung Joon.
During the drive home, Kyung Jae sees Da Ran sneaking peaks at him and tells her to look all she wants. She wonders how he can be so calm after what he just said. Kyung Jae says he wasn't expecting anything from her since she's not going to take that ring off anyways.  He asks if she'll seriously consider what he said? Kyung Jae thinks his declaration was better received compared to the last time when she called him a baby. She asks if he's joking again and he says this is serious but she can treat it like a joke if it makes it easier on her.
The horrible Seo parents are discussing Kyung Joon laying in the hospital. Mom admits she already knew son #2 was in a coma, but says that since Yoon Jae saved Kyung Joon in the accident, the debt has been paid back. Er, it doesn't work that way, you crazy ahjumma. Mom reveals Yoon Jae wants to look for Kyung Joon's dad so she tried to dissuade him. Years ago Yoon Jae's dad chose her and Yoon Jae over Hee Seok and Kyung Joon, and she wants him to choose again. How about I choose to throw you in the dumpster, bitch?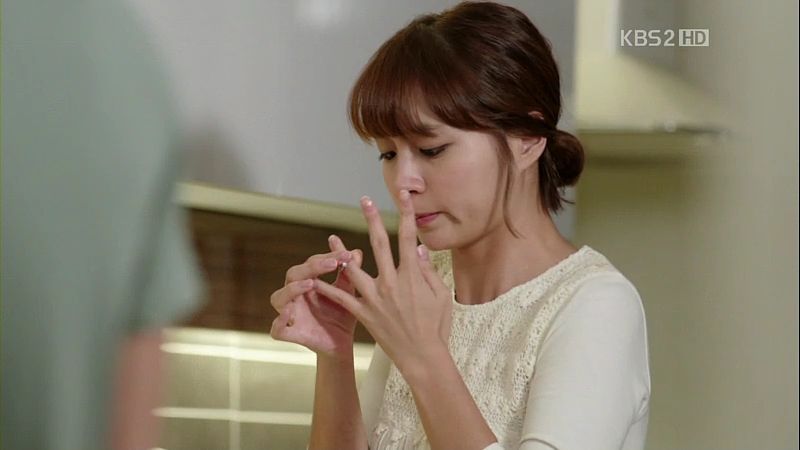 Back home, Kyung Jae notices Da Ran wearing the ring even when washing dishes and washing her hair. He tells her to take it off when doing chores, it's not like he'll hide it from her. Okay, two you, this is not the One Ring, so wearing it won't turn you all power hungry and evil and into Gollum. So don't affix so much significance to it, sheesh. Da Ran goes to her room and looks at the sunflowers.
At school, Ae Kyung continues to notice mopey Da Ran and thinks she's fighting with Yoon Jae. Da Ran mentions youngsters joking with her and she won't take him seriously. Da Ran hypothetically asks Ae Kyung what to do if a Joseon woman is waiting for her husband to return and doesn't want to be attracted to a young neighbor. Ae Kyung suggests the woman keep herself a big knife to avoid the man, or better yet just not see the young man anymore. This gives Da Ran an idea and she wonders if a teaching job in another province is available?
Kyung Jae sees Da Ran washing sneakers in the yard and points out she's still wearing her ring. He offers to tie her shoelaces for her once she's done washing the sneakers.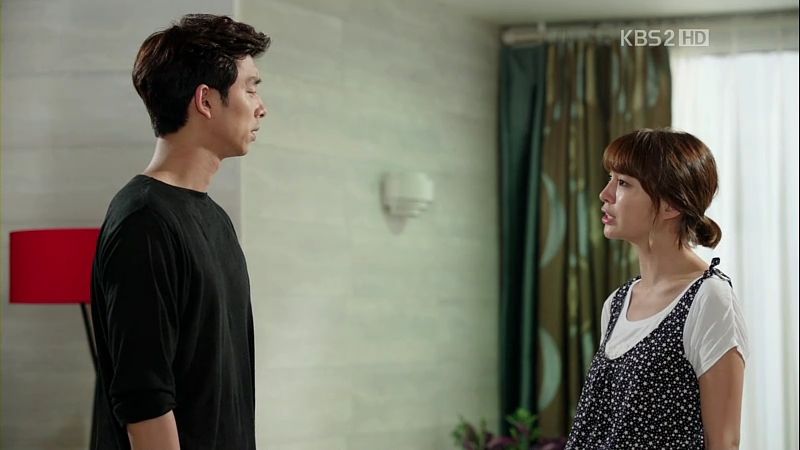 Da Ran finally gets fed up and confronts Kyung Jae, asking why he's joking around with her and confusing her. Kyung Jae tells her to keep treating what he said like a joke then? Da Ran can't handle his joking right now. Kyung Jae asks if she plans to keeping enduring like an adult, and who she is doing all this for? Yoon Jae? His parents? Da Ran says she's enduring for him. She spends time with him while waiting for Yoon Jae and it's hard to deal it because she enjoys it.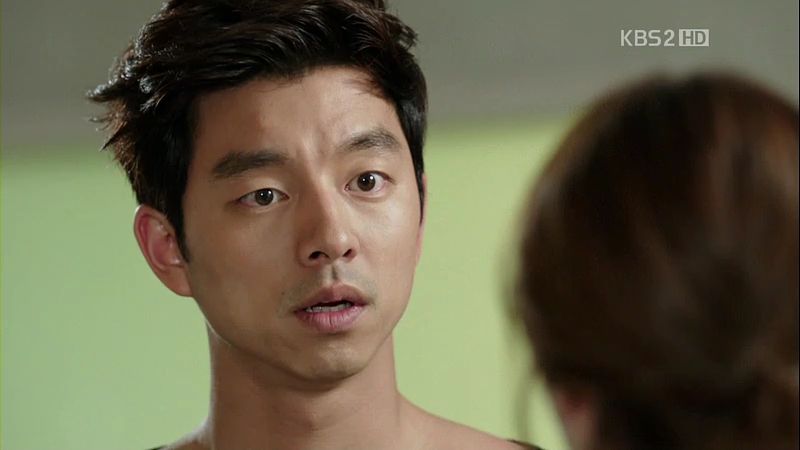 Kyung Jae asks if she'll die then if he's even nicer to her than he already is. Da Ran says she won't do it anymore, especially since Kyung Jae will soon find his dad and not need her or take responsibility for her. This upsets Kyung Jae and he agrees that they don't need to see each other anymore. He storms into his room and thinks Da Ran is getting ready for Yoon Jae's return by pushing him aside.
Da Ran grabs a garbage bag and starts collecting items Kyung Jae has given her – the sunflowers, the repaired walkman, the China book, the pandas, the 21 year old alcohol. Oh no no no no, don't you dare touch those pandas, missy! In a pique, Kyung Jae also grabs a garbage bag and heads to his room to toss her things away, but realizes there is nothing to toss.
Kyung Jae confronts Da Ran on how he did so much for her during their time together, whereas she did nothing for him. He wonders if she's suffering so much already from what he's done for her, what if he did even more and she could fill up another garbage bag? She probably be died by now.
Da Ran looks at the empty bag and muses that she did nothing for Kyung Jae. Kyung Jae angrily watches as she throws out the trash. As Da Ran walks away from the trash pile, she turns back and takes out the sunflowers. Since it'll wilt soon, she might as well keep it until it does. Then she takes out the pandas, which are staring at her, and the China book which she could use when she does visit China. When she flips through it, she sees the Da Ran-Kyung Jae doodle on the Great Wall and realizes Kyung Jae did take her to China. Da Ran cries and brings the items back inside.
Da Ran walks into the living room and sees the empty garbage bag on the ground. She cries and confesses secretly to the inside of the garbage bag that she likes Kyung Joon.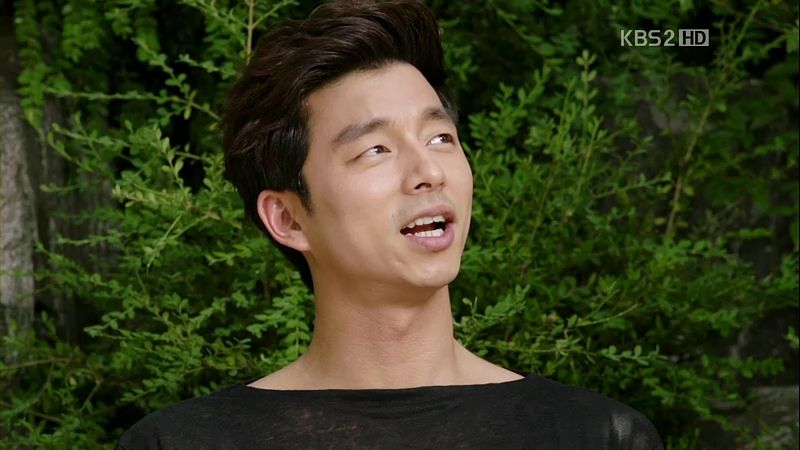 Kyung Jae talks with Mari about the man who visited his body but never came back. Kyung Jae says its his dad's loss if he's not really looking to reunite with him, since he's a smart, good looking and well behaved son. He warns Mari not to tell Da Ran he hasn't found his dad yet, since she's getting things ready so she can leave once he finds his dad. Mari suggests Kyung Jae return with her to the US even if he hasn't found his dad. Kyung Jae says he's made preparations to be independent after his birthday, so it doesn't matter if he's found his dad.
Kyung Joon's aunt and uncle are discussing Kyung Joon's trust fund when Yoon Jae's dad arrives at their restaurant. He stares at a picture of Kyung Joon's mom on the wall. You know, if Yoon Jae's mom is an icy bitch, then Yoon Jae's dad is a spineless douche. They deserve each other.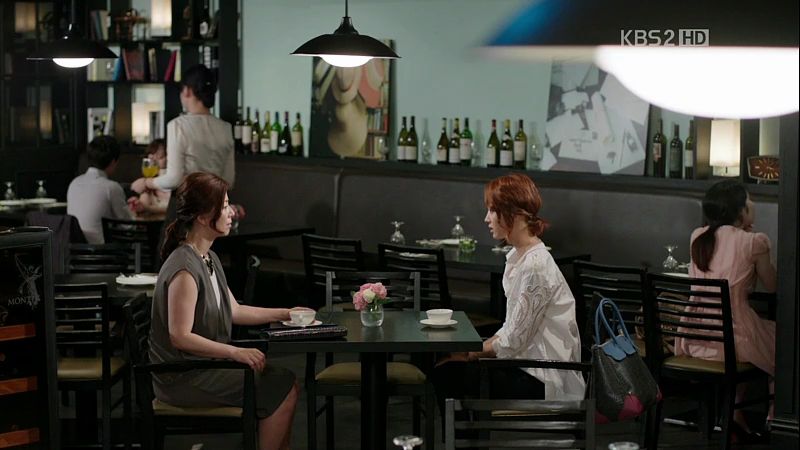 Se Young meets with Yoon Jae's mom to tell her about a man who visited Kyung Joon's body. Yoon Jae's mom reveals that Da Ran is planning to leave Yoon Jae once he gets his memory back. This confuses Se Young since in her eyes Yoon Jae is much better to Da Ran nowadays. Mom coolly says she never liked Da Ran for her daughter-in-law.
Da Ran is preparing to go on a camping trip with her family and tells Kyung Jae not to go since she already made an excuse with her parents. She asks to borrow his car and he purposely messes with the AC to annoy her. Kyung Jae refuses to play along with her lie, but then says he doesn't want to go. Da Ran tells her family that they just had a fight and urge everyone to get in the car and leave. After they leave, Kyung Jae regrets not going and missing out.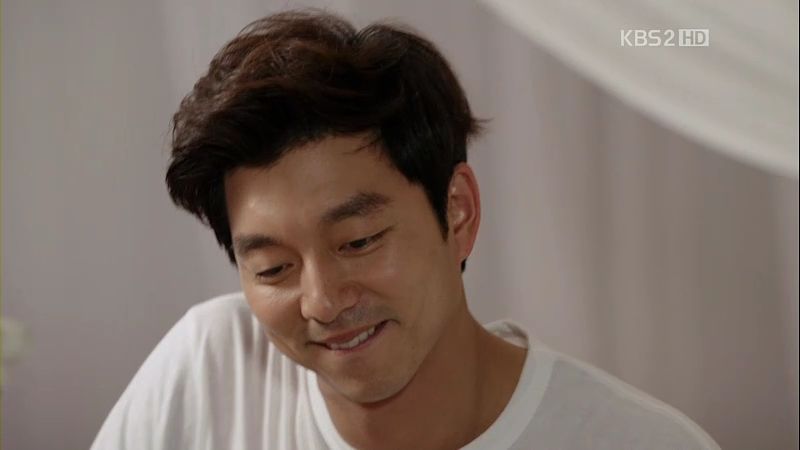 Kyung Jae goes to throw away all of Da Ran's household items since she's planning to leave soon, but he finds the bag of his gifts in her room that she retrieved from the trash. He smiles happily and then goes to put her items back that he was planning to throw away.
Despite Da Ran ordering her family not to contact Kyung Jae, everyone sends him texts. Dad wants him to come pick a son-in-law rock out, Mom lures him with her kimbap asking him to guess what she put inside, and even Choong Shik asks him to come and not miss the time to make up.
At the campsite, Da Ran looks around for a Kyung Joon rock. She goes through a few until she finds the one that correctly fits his personality. She punches it a few times while scolding it, but then smiles. When she goes back to camp, she wonders where everyone went. Which is when a guy's voice asks if she's all alone. She thinks she's being picked up so she looks all pleased. She turns and yelps in shock to see Kyung Jae beside her, all dressed for camping with his backpack.
The awesome Gil family is happily driving home, all proud that each contributed to getting the newlyweds back together so they can make up. They even took the car so Da Ran and Kyung Jae are stuck camping until tomorrow. See, this is what can come of two people marrying for love and with understanding, despite vast age differences and the teacher/student barrier. They create a happy loving functional family, unless the loser duo of Yoon Jae's mom and dad. Yesyes, I know those two buttheads are also Kyung Joon's parents as well, but until they act like it, I won't call them that.
Kyung Jae looks at all the rocks laying around and tosses one aside. He stands up to go for a walk and Da Ran is reluctant as she wants to guard their belongings. Kyung Jae does his patented count-to-three move and she instinctively complies when he counts to three.
They take a walk and Da Ran sees some wild sunflowers and admires them. Kyung Jae wonders why she threw the ones he got for her away if she loves them so much. Da Ran sets up a camera to take pictures on a timer. She sits down and Kyung Jae gets in all her picture, making funny poses and generally being just a nuisance.
Afterwards they go play in the water, and OMG Gong Yoo's arms in a wife beater are…….incredible. If they make a K-version of Thor I vote for Yoo! Kyung Jae picks Da Ran up and slings her over his shoulder. I love how Kyung Joon is making the most of being in the bigger body of Yoon Jae, as in he's already slung Da Ran over his shoulder twice now. Totally getting ready to grab his woman and run away.
They go to the convenience store to buy some snacks. When the cashier compliments the married couple on looking so good together, Da Ran calls Kyung Jae her younger brother and not her husband. Da Ran runs into her teaching sunbae and greets him warmly. She pulls him aside and asks if there is a teaching opening out here in the countryside. Kyung Jae watches Da Ran give her number to the sunbae so he can contact her about any jobs.
As Da Ran and Kyung Jae walk back to camp, a girl approaches and asks Kyung Jae for help setting up their tent. Since they are such weak ladies with no ability to put a few sticks in the ground. Kyung Jae knows he's being picked up but goes with it to annoy Da Ran. He tells them that she's his noona and happily goes to help them. Da Ran seethes in annoyance.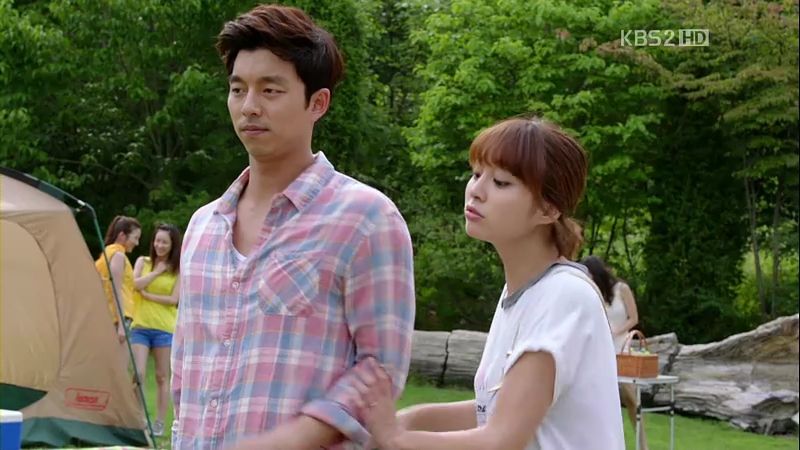 After he returns, Da Ran reminds him that those noonas are older than him, but he's fine with that. He reveals they asked for his number and he gave it, since he can't turn down a girl who clings to him. Hahahaha, poor Mari, she must not be a girl then. He reminds Da Ran that she can still come to him if she takes off her ring.
Yoon Jae's dad meets Kyung Joon's aunt and uncle and reveals that he is Kyung Joon's dad. When aunt and uncle balk at his offer to take Kyung Joon back to the US, Yoon Jae's dad tells them they can continue to manage Kyung Joon's trust fund, he just wants to take care of Kyung Joon's body. You're about 20 years too late, mister. Afterwards Yoon Jae's mom bitches out her husband for daring to choose Kyung Joon. He plans to take Kyung Joon back to the US after his birthday. Tin Man Mom says that day is not Kyung Joon's birthday, it's the day their Yoon Jae was reborn. Ugh, shut up woman, you keep digging herself deeper into Hell.
Kyung Jae and Da Ran continue bickering back at their tent. He threatens to go meet up with those noonas and tells her to go meet with her sunbae. She leaves and tells him to do whatever he wants. After she leaves, he moves to delete the ruined pictures in her camera, which is when he notices that she retrieved the rock he had tossed aside. This makes Kyung Jae happy again.
Da Ran changes her mind and heads back to the campsite. She knows Kyung Jae can be really super good to a girl when he wants to, so she doesn't want those girls falling for that. Along the way, she sees Kyung Jae carrying a lantern coming towards her. She grumbles about him heading to the noonas tent but he says he came to find her since its getting dark. She tells him to wait for her because she needs to go to the sunbae's tent to ask him something. Kyung Jae warns her that if she's not back soon, he might get lured away by a pretty and sexy female ghost.
Yoon Jae's parents make a joint visit to Kyung Joon's bedside. Kyung Jae starts getting dizzy and falls down on the wooden bridge as his soul appears to be once again trying to return to his own body. In the hospital, Kyung Joon's eyes open slightly and he sees a blurry image of Yoon Jae's parents that gets clearer and clearer. But before he can confirm it's them, he goes back to the body of Yoon Jae.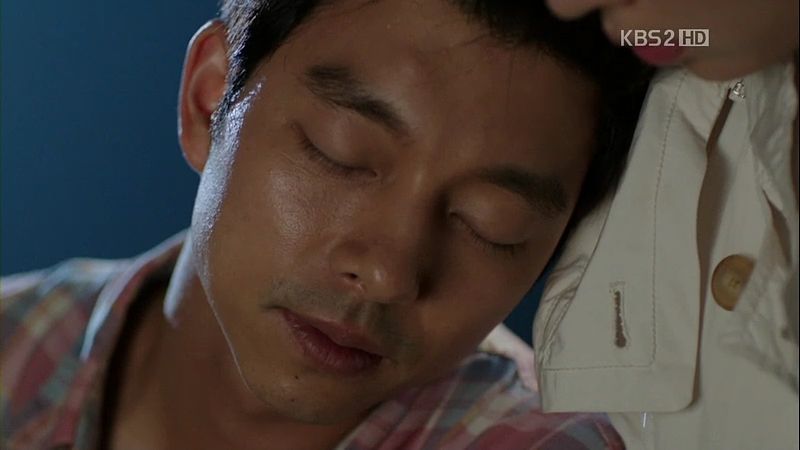 Da Ran returns and sees Kyung Jae looking pained and immediately realizes there was almost a switch. She asks if he's alright and he reveals the almost switch, which might even have been a dream since he thinks he saw Yoon Jae's parents when he opened his eyes. Yoon Jae's dad looks at Kyung Joon's chart and notes that his body is moving more and more. Kyung Jae leans on Da Ran's shoulder to rest for a bit as she looks on worriedly.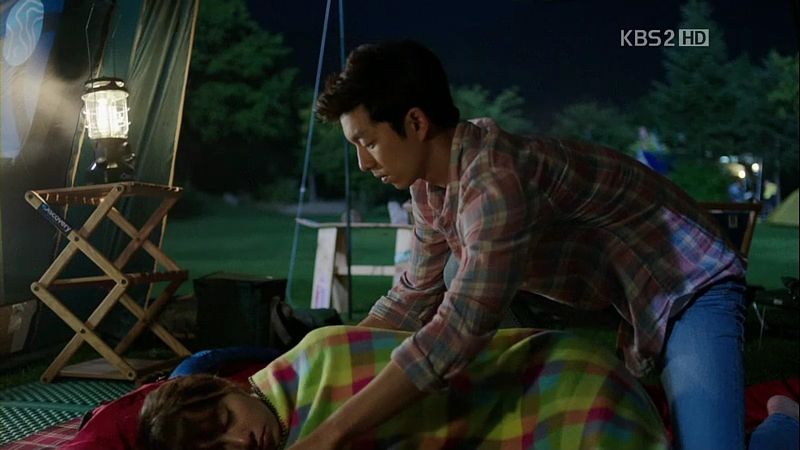 That night, Kyung Jae and Da Ran lay in the tent to go to sleep. Kyung Jae awakens with his head still dizzy and he sees Da Ran curled up a few feet away. He goes over to cover her up more snuggly, and then lays down behind her.
Da Ran is turned to her side and has her back facing Kyung Jae, who is turned on his side and staring at her back. He thinks she's asleep so he starts talking out loud. He's thankful that each time there was almost a switch, she is by his side. This life, with family and friends, isn't his, and he knows that when he switches back he'll be all alone again. That's fine, because he's always been alone. But here he has parents, in-laws, even Choong Shik, and also Gil Da Ran.
When he goes back, it's like his existence as Yoon Jae never happened, because people won't remember this. He hopes Da Ran will remember him. He hopes that she won't just celebrate Yoon Jae returning, she will also remember the Kang Kyung Joon who disappeared. With tears falling, Kyung Jae just stares at Da Ran.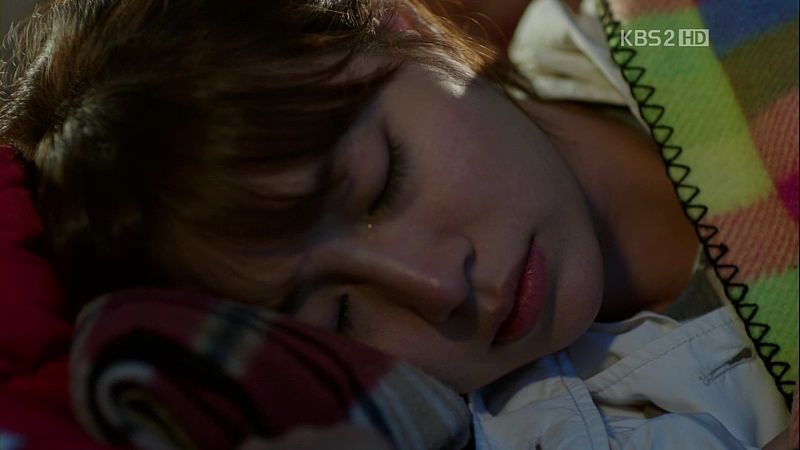 The camera pans away and we see that Da Ran isn't asleep and has been listening to what Kyung Jae said. She is silently crying. Good lord, just break my heart, won't cha?
Mari hears from Choong Shik that Da Ran and Kyung Jae went camping alone. She vows to quickly take Kyung Joon back to the US. Mari gets a text from Yoon Jae's dad identifying himself as Kyung Joon's dad and asking to meet. Mari shows the text from an unlisted number to Kyung Jae, who agrees to meet him.
Da Ran sits down with her dad and reveals that she's thinking of transferring to a school in the countryside. She asks her dad how he got together with her mom, since he was so much older and her teacher. He smiles happily and says there was a huge gap but he crossed because he knew she was the one. He even got on a boat as a stowaway to avoid her, but no matter what he did, she was someone he could never forget in his entire life. He is so thankful that she's chosen to be with him. Da Ran asks how he was sure she was the one, and he tells her to have courage to grab onto it, then she can have a lifetime's happiness. Da Ran looks down at her ring.
Mari is waiting in the hospital lobby for the man who is Kyung Joon's dad, while Kyung Jae is on his way. Se Young stops Kyung Jae and tells him to keep visiting that patient Kang Kyung Joon, who is a really pitiful. Afterwards Kyung Jae grumbles to hear himself referred to a pitiful.
Yoon Jae's dad arrives and Mari looks at him curiously, but before she can ask whether he's Kyung Joon's dad, Kyung Jae arrives and he suddenly collapses on the ground. Yoon Jae's dad rushes forward to help him, and so does Mari, who actually calls out "Kyung Joon" in her shock but Yoon Jae's dad doesn't hear it.
Dad drags Kyung Jae off to get checked. Kyung Jae asks if the Seo parents visited a patient's room together recently, he thinks he saw them. Dad is shocked and quickly says no. Dad confirms that Kyung Jae appears to have increasingly frequent dizzy spells. Dad reveals that Yoon Jae was very sick as a kid and wonders if he really doesn't remember. They agree not to tell Yoon Jae's mom and worry her. Afterwards, Yoon Jae's dad asks the doctor privately to run additional tests on his son and to let him know the results.
Mari discusses with Kyung Jae how she almost mistook Yoon Jae's dad for Kyung Joon's dad. She finds out that it is extremely painful for Kyung Jae whenever there is a near switch. Kyung Jae doesn't want Da Ran to know he hasn't located his dad yet. Mari tells him to gets him things in order and go back to the US with her. She decides to plan a birthday party for Kyung Joon. Kyung Jae remembers Yoon Jae's father holding his hand and how warm it felt.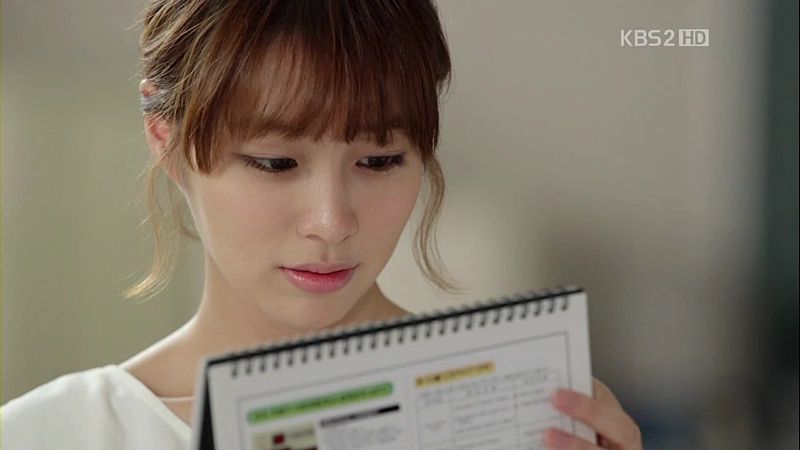 The Vice Principal sees Da Ran at school and points out how she's leaving early quite often lately. Da Ran sees the date on the calendar and realizes today is Kyung Joon's birthday.
Mari walks into Kyung Joon's hospital room and is stunned to see him awake and standing by the window. How I've missed you, my adorable boy! He gives her a smile and then turns to stare out the window. Mari stands next to him and looks up as well, wondering what he's looking at. When she looks back, Kyung Joon has vanished.
Turns out this was just Mari's dream (nightmare? premonition? foreshadowing?) and she's woken up by Kyung Jae. She reveals the dream about him disappearing and she tells Kyung Jae that he can't go anywhere. She doesn't even care if he stays this way forever, as long as he doesn't disappear.
Kyung Jae stares at his Miracle picture. Kyung Jae picks up a call from Da Ran's teaching sunbae, who reveals that a teaching position has opened up but she has to decide quickly. When Da Ran returns, he tells her about the call. Kyung Jae reveals he needs to attend a gathering with Yoon Jae's parents tonight.
Da Ran says it's his birthday tomorrow and asks to have dinner tonight. She asks if he wants anything as a present and he tells her to forget it since it'll just be tossed out as trash later. He asks if he really did something so wrong in offering to take her away. So why is she trying to run away somewhere else to teach? Da Ran says she needs an ocean that cannot be crossed. Kyung Jae asks what about an ocean? He hates riding in boats so he'll never go see her. If she goes to some random island to teach, then they don't need to ever meet again.
Mari and the nurses throw a birthday party for Kyung Joon's body. Mari prays for Kyung Joon to wake up soon. Kyung Jae walks to the kitchen and sees that Da Ran has made him a birthday breakfast which includes the Korean customary seawood soup. She left a note asking him to meet her at the park tonight. Kyung Jae huffs that he won't go.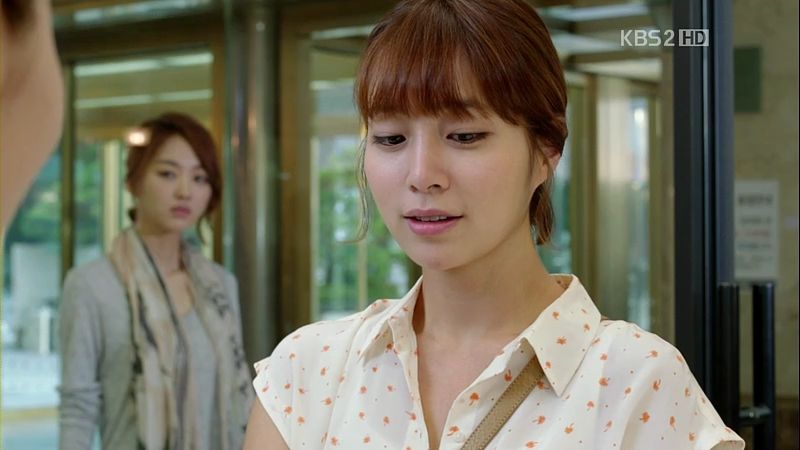 Da Ran is buying a watch for Kyung Jae as a birthday present. She asks for it to be wrapped, and the cashier offers to have it engraved. Da Ran writes down the initials KKJ on a piece of paper. Se Young and a friend walk by and Se Young notices Da Ran and says Da Ran is the wife of a friend. She overhears the cashier ask Da Ran if this is a birthday present for the man she loves, and Da Ran says yes. Se Young is curious since it's not Yoon Jae's birthday. She peeks at the paper and sees the initials KKJ.
Da Ran sits in a coffee shop later and stares at her ring. She takes it off and puts it in a small cup, sighing that she doesn't have the courage to throw this ring on the ground. Se Young and her friend are also at the coffee shop and the gossipy friend points out how Da Ran took her wedding ring off so could she be having an affair?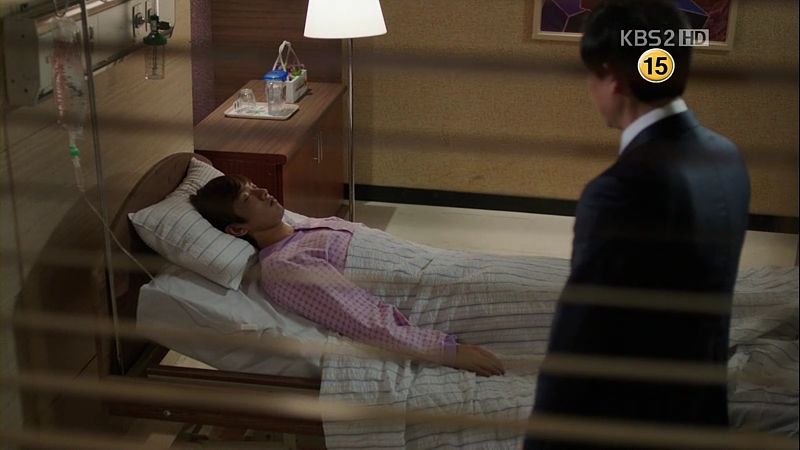 Mari finds out from Kyung Joon's uncle and aunt that Kyung Joon's father has been by and wants to take Kyung Joon back to the US. Yoon Jae's dad gets the report on Yoon Jae's health, and to my ever lasting non-surprise, Yoon Jae's childhood illness has recurred. The doctor asks if they need to start looking for a bone marrow donor match, but Yoon Jae's dad says he know where that person is. Oh, you mean your comatose other son? The one you tossed aside for 20 years? Yoon Jae's dad goes to stand by Kyung Joon's bedside.
Se Young calls Kyung Jae out to drop what she considers behavior indicative of Da Ran cheating on Yoon Jae. She saw Da Ran buying a birthday present for the man she loved, but today is not Yoon Jae's birthday. Plus Da Ran had the initials KKJ engraved on the present. When Se Young adds that Da Ran took her wedding ring off when waiting for that guy, Kyung Jae's face lights up and asks if she's serious? Se Young is totally serious and sure about what she saw, that Da Ran looked happy waiting for the guy and sad when the guy didn't show up. Se Young concludes by saying that Da Ran had told Yoon Jae's mom that she would let Yoon Jae go when he came back. Kyung Jae stands up and rushes out of there, muttering "Gil Da Ran, you are so dead." Se Young must feel like she's surrounded by freaks since her discovery made Kyung Jae so happy.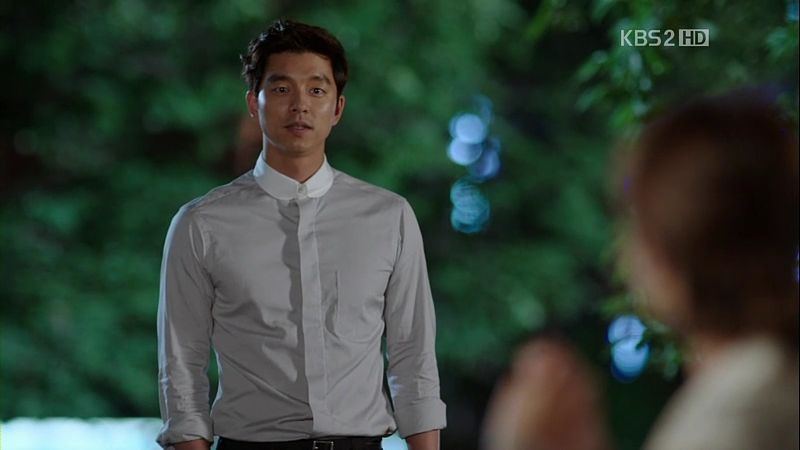 Da Ran is sitting at a park bench waiting for Kyung Jae. She happily looks at the watch present, and then takes off her ring. But then she reminds herself to clear her head, she needs to go home. She is about to slide the ring back on when Kyung Jae arrives and calls her "Gil Da Ran". Not Gil Teacher, but her full name, like when they first met.
He asks if she's cheating with another man? He asks if she's suffering recently because of that man? He asks if that man's initials are KKJ? Kang Kyung Joon? Da Ran warns him to keep his distance but he walks up to her as she's trying to put her ring back on and he grabs her hand, their fingers fully intertwined. The way Kyung Jae walks up to her and grabs her hand is just like the way Kyung Joon walked up to her after they got off the bus and grabbed her hand and the umbrella. I love these little symmetries.
Kyung Jae says that she's already cheated, so that ship has sailed. What is she going to do now? Da Ran tries to pull her hand away but he refuses to let go. He's staring at her and she slowly stops pulling and moves in for the kiss. Her hands relax and the ring falls on the ground, but neither of them notice.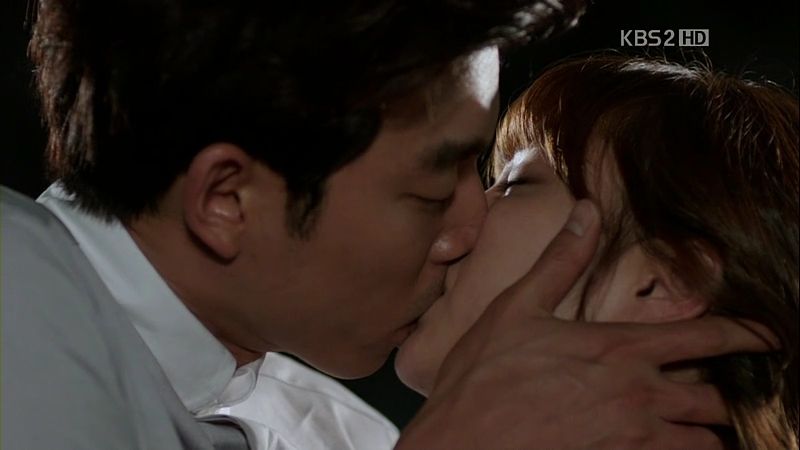 Both of them lean in for the kiss, as Kyung Jae tenderly cradles her face in his hands and totally kisses like an old pro and not the youngster he is inside. My boy always seemed like he knew his way around the ladies from the get go.
Thoughts of Mine:
More thoughts, more thoughts, Big 12 has left me with tons more theories about the entire story. But first things first, wow was that a satisfying episode. Chock full of emotional ebbs and flows that felt so palpable, because we've come to know Da Ran and Kyung Jae so well in the course of this drama. The Hong Sisters have failed to create a viable ensemble cast, with half the characters serving no material purpose other than to push the exposition forward and to be a reactive presence (Teacher Na, Ae Kyung, the Vice Principal, Kyung Joon's aunt and uncle). But the time saved from developing these side characters, have instead been well spent on developing Kyung Jae and Da Ran.
I think the story is just too ambitious and THS didn't have enough time within a sixteen-episode arc to devote to anything outside the main love story, plus time saved for the big soul switch birth secret recurring illness denouement. For an OTP to get together at the end of episode 12 is actually quite late for a drama of this length, whereas the pacing would have felt perfect for a twenty-episoder. Am I right? Hence some folks find this drama draggy while others think nothing is happening. That might all be true because a drama of this length does require more snap, crackle, pop within each episode, and Big doesn't have that. Big feels very leisurely and has elected to be a feeling driven drama.
Those hoping in every episode that Kyung Joon's body will wake up must be feeling terribly miffed that he hasn't, but I don't see that as some sort of narrative betrayal. This drama was not marketed as a soul-switch drama where the switched characters are both featured. In many ways Big the K-drama is like Big the US movie, in talking about a younger boy who spends the majority of the narrative in an older body. I think the disconnect in the K-drama is that Kyung Jae isn't in the body of his older self, but in that of another man Yoon Jae, who plays an important role in the drama. But Yoon Jae character isn't as a second male lead, but as a catalyst. So while Gong Yoo owns this drama, we've gotta stop fixating on his face. I've said this before, character-wise, the second male lead would have to be Choong Shik. And actor wise, the second male lead is Baek Sung Hyun and not Shin Won Ho. Which makes sense, because I may lub my Shin to death, but boy is a green newbie and hardly the likes the get second billing here. He's feature because his character Kyung Joon is the lead, but screen time wise sticking him in a bed isn't preposterous in the least.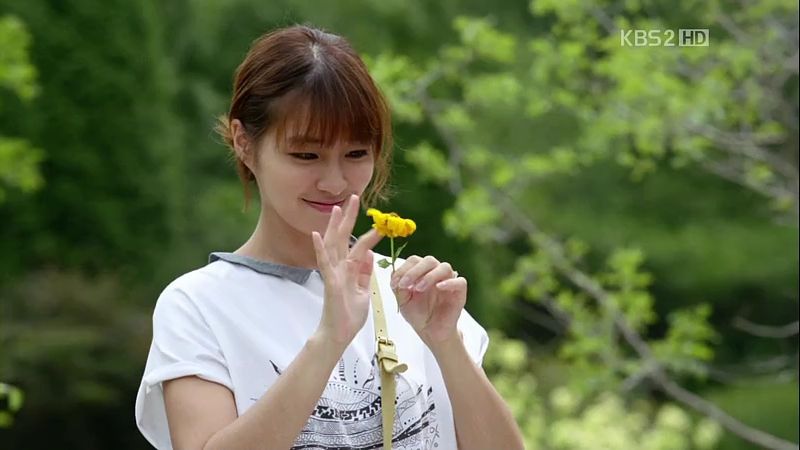 So here comes more Koala crazy theories that somehow keep coming true. Now that it's confirmed Yoon Jae's body is definitely sick again, I'm all atwitter my theory last week is right. I'm fairly certain he was starting to get sick again before the wedding, but it was just the first stirrings, whereas a year later now his body is pretty much failing. All that soul-switch back occurrences is because his body is trying to kick Kyung Joon out, and Kyung Joon's soul is in pain because of Yoon Jae's body being in pain. I still think Yoon Jae's soul is silent in his own body, and has seen everything happen. Here's the kicker –he does not want to stop Kyung Joon and Da Ran from falling in love. He's literally putting the world around him in order so that he can peacefully leave. He was going to call off the wedding with Da Ran so she's not married to a dying man, watching Da Ran fall for Kyung Joon probably both pains and relieves him.
The final choice will probably rest with Kyung Joon, and in a way his birth and beyond was completely out of his control. He will discover his true parentage, he will learn that his birth saved Yoon Jae and years later Yoon Jae saved him, and he will learn that Yoon Jae's body is sick again and he's the only hope. No one will be harvesting his bone marrow without his consent. Ugh, that is repulsive to even consider and not what THS has been talking about. This story shows how cruel Yoon Jae's mom was the first time around, in having a baby to save her child and then discarding him. Big is the story about second chances, and everyone will be getting a second chance to do things right.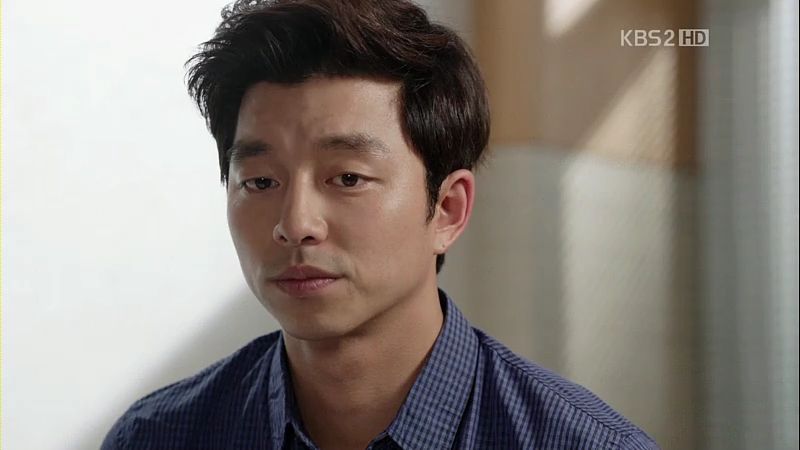 Yoon Jae's mom will get a chance to do the right thing, realizing that Kyung Joon's existence is something she needs to accept and value. I don't think she owes him anything, because Kyung Joon was lovingly raised by his surrogate mom and lacked for nothing since his family was so well off. But now that he's without his surrogate mom, it's time his blood mom stepped up and atoned for her sins against her second son. Da Ran and Kyung Jae falling in love was her second chance at choosing her partner for life. Yoon Jae is a good man but really not right for her. She's so hesitant and insecure around him, it's not a recipe for a lifetime of partnership. Look at her parents, that level of communication and understanding despite the age gap. Da Ran has that with Kyung Joon, and she's picking him the second time around.
In the soul switch giving so many people second chances, would Yoon Jae himself get yet another chance at life? I think once Kyung Jae knows the truth, he would willingly donate bone marrow to Yoon Jae. I'm thrilled he's confirmed Da Ran's feelings for himself first, so he doesn't try to save Yoon Jae out of some misguided belief that Da Ran loves Yoon Jae and wants him back. I think he'll choose to save Yoon Jae because that's his brother, and because the soul switch was Yoon Jae's way to give Kyung Joon a second chance at claiming the family and life he was meant to have. I'm still uncertain whether Yoon Jae will ultimately survive, but I'm sure at the end all the main characters will have truly understood the theme of love and sacrifice as represented by the Miracle book.