In an attempt to procrastinate starting my year end reviews, I started wasting time pondering random thoughts concerning the 2012 K-drama landscape. Aside from good and bad dramas, I realized I could actually pinpoint the breakouts of this year (and the un-breakouts, those who were flying high only to hit a dud this year), which actually were quite a few. Some having been toiling for years in smaller parts only to finally be rewarded for paying their dues. Others hit it big right out of the park by rising up to the acting challenge in a well-selected drama. Child actors really stole the show in many instances this year, showing us that the next generation is more than ready to step into the shoes of some young actors who are ready to graduate to the next level. I would say there were no bigger and more high profile breakouts this year than Kim Soo Hyun and Song Joong Ki, winning both box office and television ratings success and acting critical acclaim. If they were baseball players, one is a third-at-bat who loaded the bases while the latter is a fourth-at-bat who hit a grand slam home run. But for every breakout there was an un-breakout this year, coming down to earth from formerly flying high. Regardless of the successes and trip ups in 2012, it's all ephemeral unless the actor or actress keeps moving forward in positive and productive ways.
Breakouts of 2012 – turn these accomplishments into a trophy and put it on the shelf:
Three back-to-back-to-back dramas, two of which aired to high ratings? This boy definitely earned his breakout star status in 2012 primarily with Gaksital (though Ojakkyo Brothers started airing at the end of 2011 and 7th Level Civil Servant won't air until 2013). He also has a popular stint on variety show 1D2N and has accumulated a new coterie of fans with this breakout year. Keep on smiling, dimples, you deserve it.
Yeo Jin Gu and Lee Min Ho in The Moon Embraces the Sun. They played royal half-brothers and both were outstanding in their own respective roles. Yeo Jin Gu was boyish and idealistic, Lee Min Ho was playful and melancholy. Though this drama was the most memorable for both of them, Lee Min Ho also gave a truly charming performance in Rooftop Prince as one of the Joseon F4, while Yeo Jin Gu came thisclose to losing his child actor status with a very manly and heartbreaking turn as the younger Yoochun in Missing You.
Song Joong Ki continued his leading man ascent with the melodrama Nice Guy (The Innocent Man) and movie The Werewolf Boy. His breakout year actually started at the tail end of 2011 when he had an intense cameo appearance in the first four episodes of Tree with Deep Roots as the young King Sejong. I've written enough about his jawdropping acting performance in Nice Guy and I now believe there isn't a role he can't play.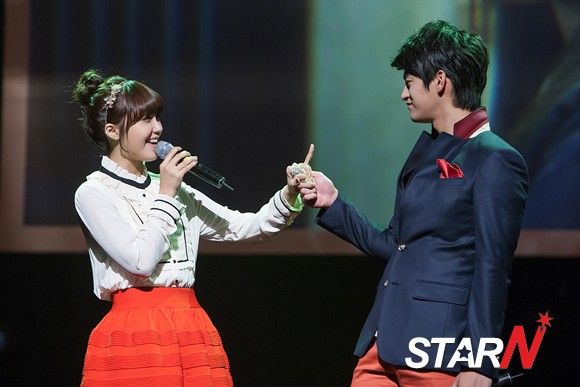 Seo In Guk and Jung Eun Ji for their turn in Answer Me 1997. They played two Busan kids who grew up together in the 90s and end up falling in love in the most low key and realistic of ways, with heart and tons of humor. The drama captivated me more for the friendship and family elements but these two singers-turned-actors are the real deal in terms of young acting talent. Up next for Jung Eun Ji is as the second female lead in That Winter, The Wind Blows, while Seo In Guk is currently in the weekend drama Rascal Sons (and he also garnered a lot of good critical praise for his turn in Love Rain earlier this year). They both can sing great and act well – I predict the future is their oyster.
Kim Soo Hyun is on fire! His drama The Moon Embraces the Sun broke 40% in ratings and he won himself a Baeksang Best Actor Award (a great performance from him IMO but totally not deserving of that award, especially considering his competition). His ensemble movie Thieves is now the highest-grossing K-movie of all time in the domestic box office. I fear he may have ascended to the pinnacle a dash too quickly, but I know he's got a good head on his shoulders and real acting talent to bolster his successes.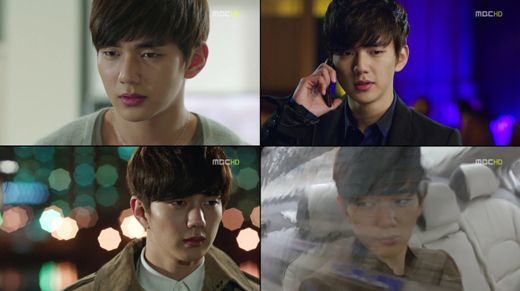 One famous child actor successfully makes his transition to adult leading roles. Yoo Seung Ho's former leading roles in Flames of Ambition and Warrior Baek Dong Soo weren't that convincing, still coming across like a kid cosplaying an adult. In 2012, Yoo Seung Ho officially became an adult leading man as he delivers his first romantic performance in Operation Proposal with Park Eun Bin, then does a character actor turn as the Celestial Jade Emperor in the fantasy sageuk Arang and the Magistrate, and concluding with a dark second male lead character in Missing You. Call it the trifecta of trying new things. All three dramas are all just meh for me, and he was truly awful in Arang, but I like how he keeps pushing himself in new directions.
Kim So Hyun in The Moon Embraces the Sun and Missing You. I though Kim Yoo Jung gave the better performance in MoonSun but Kim Yoo Jung has been a breakout child actress for many years now, so 2012 was really Kim So Hyun's chance to shine. Playing the childhood antagonist in MoonSun, she was wonderfully easy to hate as she showcased a really dark and bitchy character. She then stwitched it up completely as the tormented and woeful childhood heroine in Missing You, showing the audiences that she's able to hit all the dramatic makjang beats the drama dropped on her. With Seo Shin Ae falling off the cuteness scale as she grows older, Kim So Hyun has stepped in as the other child actress who can vy with Kim Yoo Jung for all the prime roles.
Unbreakouts of 2012 – bet these guys want to erase this year from their resumes:
Terrible, terrible, terrible. Terrible characters, terrible acting, terrible script, everything about Fashion King was so abysmal that it dragged down formerly high flying Yoo Ah In and Lee Je Hoon. The former had a breakout year in 2010 with Sungkyunkwan Scandal and the 2011 box-office smash Wandeuki and the latter has been accumulating accolades in film acting with The Front Line and Introduction to Architecture. Their turn in FK flushed all that goodwill down the drain (for the time being), and they will need a great project to revive their potential for me. Lee Je Hoon left for the army after FK so that will be a nice break for him and he can come back with a clean slate.
Gong Yoo and Lee Min Jung in Big. I may have loved this drama and loved their performances in it, but it was a great big letdown in terms of ratings and critical reception for this drama. I like to say they made it just for me (and the few other Big lovers out there), but at the end of the day, they probably want to move on from this and pick a project that garners more widespread appeal. This was Gong Yoo's first drama since Coffee Prince (and his return from military service) and I'm sad that he couldn't have picked a drama that was better received.
The entire cast of Dream High 2. Poor kids, the sheer suckitude of this script is beyond even anyone's ability to redeem, much less a cast of mostly idols. I felt the worse for leading lady Kang Sora, who followed up her star-making turn in the smash K-movie Sunny with this crap. Erase this and move on.
Lee Min Ho in Faith. A lackluster drama with poor ratings, this is the sageuk equivalent of Gong Yoo and Lee Min Jung's disappointing production with Big. Lee Min Ho was awkward and stilted as a Goryeo general, the script was piss-poor, the directing was atrocious, and his chemistry with leading lady Kim Hee Sun was nil. He needs to stick with modern fare going forward and this was a really disappointing way to follow up his smash success with 2011's City Hunter.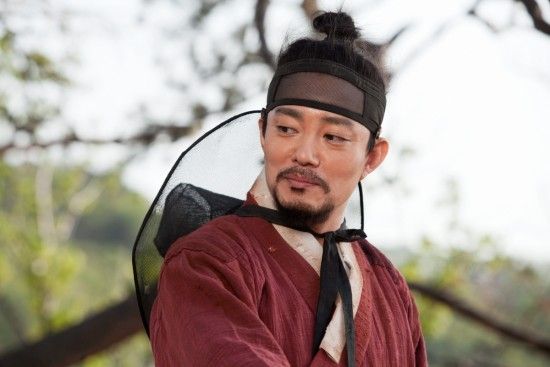 Lee Bum Soo in Time Slip Dr. Jin. He had a great run with the dark and quirky History of the Salaryman, but that drama wasn't nearly as memorable as the once-in-a-lifetime level of awfulness that was Dr. Jin. His presence in it was like Laurence Olivier starring in Inchon (google the movie if this reference flies by). I like to think he was self-aware enough to realize how stupid this drama was and therefore he found some tongue-in-cheek enjoyment in it. That, and getting to hang out on set with his good friend Song Seung Heon. Though I worry he might not have learned his lesson and is now set to reprise this experience with IRIS 2.
Don't Go Breaking My Heart, Baby:
What does this list teach us? It's that role, role, role is sometimes more important than actual acting talent. A really spectacular role in a good drama can make a mediocre actor. But a truly bleh role in a crappy drama can drag down a talented actor. Ultimately a drama is a group production and one great actor can rescue a drama alone when too many other things suck in it. But an average actor can make a lasting impression in a great drama, and this is magnified even more when the actor is actually truly exceptional at acting. But one great breakout year means nothing unless it's continuously built upon, and one stumble is merely a lesson to be learned to guide future decisions.