My anticipation for The Master's Sun can be framed as if I'm on a dating website and finds what seems like a perfect match. Looks great on paper, looks great in pictures, sounds fantastic on the phone, write marvelously in emails. All that is left is the in-person meet and greet, so what could go possibly go wrong? Aside from a Catfish possibility, but let's pretend it's all legit. So I saunter in all excited and nervous and he appears in person just as he looks and says hi with the same sexy voice and out comes the same witty banter. Except there are a few senses that can't quite be ascertained unless in-person – and sadly my potential dream hate crashed to a halt because the man is malodorous. TMS is so far coming across like that perfect date on paper and I'm both eager and reluctant to actually make its acquaintance next Wednesday in case it fails the final test. If it sucks I'll be sooooo disappointed, because So Ji Sub and Gong Hyo Jin are absolutely adorable together on and off-screen. And no, so far I have no illusions there is anything forming behind the scenes, he totally doesn't seem like her usual type at all. They come across like good buddies who share the same professional experiences and are enjoying the opportunity to work together and practice their craft together. Which is the best kind of chemistry, because it's pure acting we see onscreen rather than a couple parlaying real life emotions for an easy sell.
I thought I Hear Your Voice would pass the 30% mark towards the end of its run but that never happened. It still got to the mid-20%s which is no easy feat in this day and age, so hopefully that might give TMS a little edge going into next week's head-to-head battle with Two Weeks. SBS released some new stills and they clearly know what the selling point of this drama is. It's not the ghosts, that's for sure. It's totally the cute skinship galore between leads Taeyang and Joogun. Looking back, I appreciate the story the Hong sisters wanted to tell with Best Love but I never connected with nor really liked the heroine Gu Ae Jung. She was so downtrodden most of the time with a penchant for silent suffering. I love that TMS is allowing Gong Hyo Jin to sparkle again with wit and energy, even if she'll also spend plenty of time running scared and looking sleep deprived. So Ji Sub complimented his leading lady as the best rom-com leading lady of their generation, which could be lip service but he does genuinely look very pleased to be acting with her. While the long preview was super delicious and satisfying, SBS released a preview of episode 1 itself that has a new new snippets. Check it out below along with the latest stills showing Taeyang and Joogun in bed. They sure move fast, these two.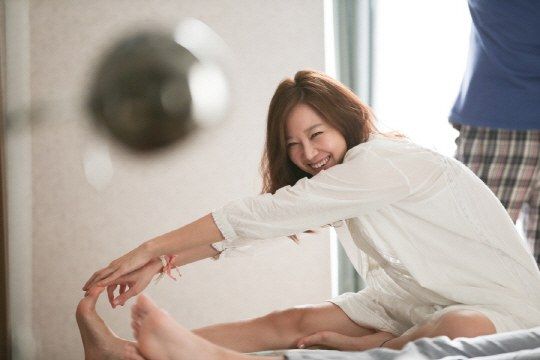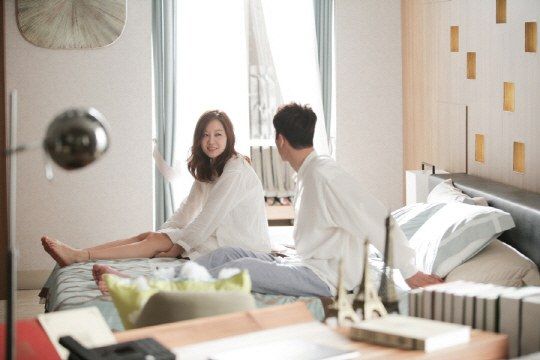 Preview for episode 1:
http://www.youtube.com/watch?v=FnHhG_ZAptI
Taeyang wakes up next to Joogun happily. The title card reads "A strange woman is approaching me…." Taeyang introduces herself as "Taeyang, Tae Gong Shil." He asks if she is a slut? Taeyang meows. Taeyang says she can see ghosts. Joogun says that if she is Taeyang (the sun), then he hopes that dawn never arrives. He screams at her to get out! She howls and Joogun tosses a pillow at her and tells her to bite on it.