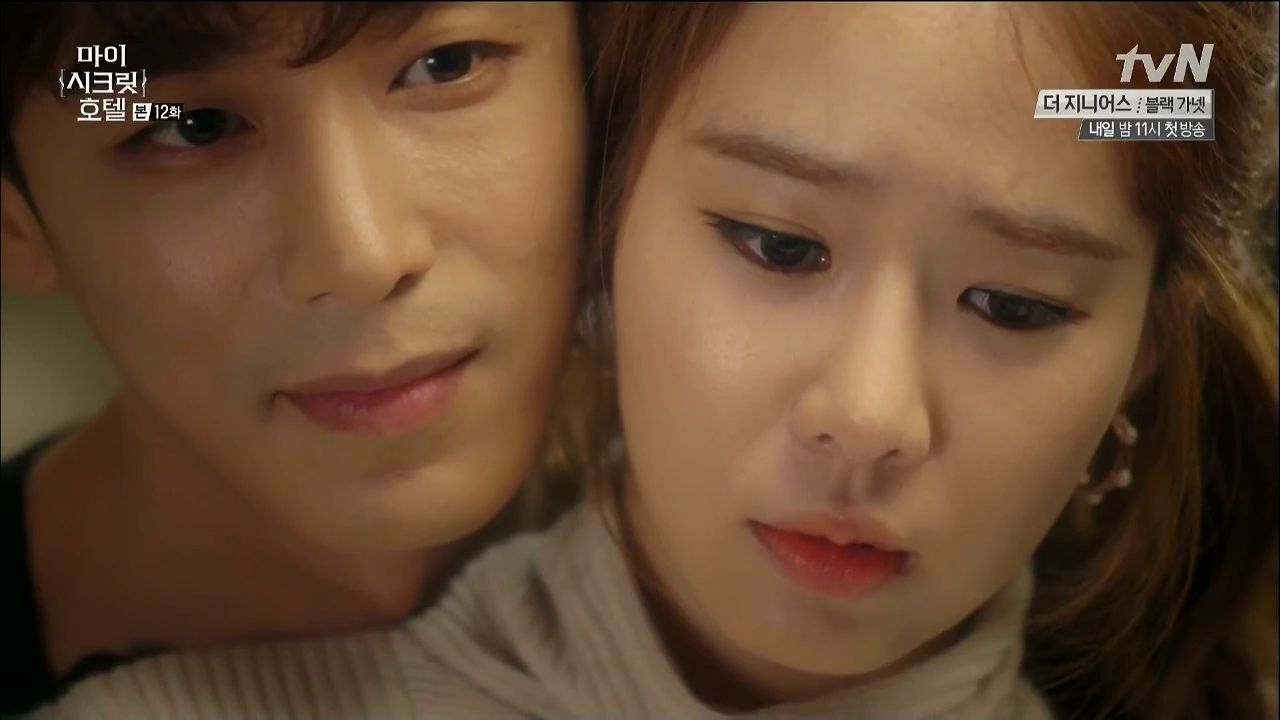 It's rather unheard of to suddenly have a new favorite character(s) in a drama arrive late in the game such as in episode 12 of My Secret Hotel, and in the form of formerly barely there side roles. Hae Young's parents have turned out to be adorable, sweet, and considerate, and in a shocking twist from being evil chaebol in-laws from Hell, end up doing whatever they can to help their son win Sang Hyo's heart. That already enough for the shoo-ins for parent of the year, but they pile on the awesome by treating Sang Hyo with affection and understanding leeway, accepting her limitations and extending their welcoming hand even if she's not ready to take it at this time.
As of now, the most convincing reason for Sang Hyo to go back to Hae Young is for her to land the best in-laws in the world. I'm mostly kidding on that since Hae Young did make major strides in reminding Sang Hyo of their wonderful past experiences together when married. But he follows it up by continuing to be immature when it counts in trying to win Sang Hyo's trust through everything except telling her the truth about why he left 7 years ago abruptly. This episode was cute enough being chock full of OTP scenes together, but sadly the ending confrontation brought it all back to square whatever once again.
Episode 12 recap: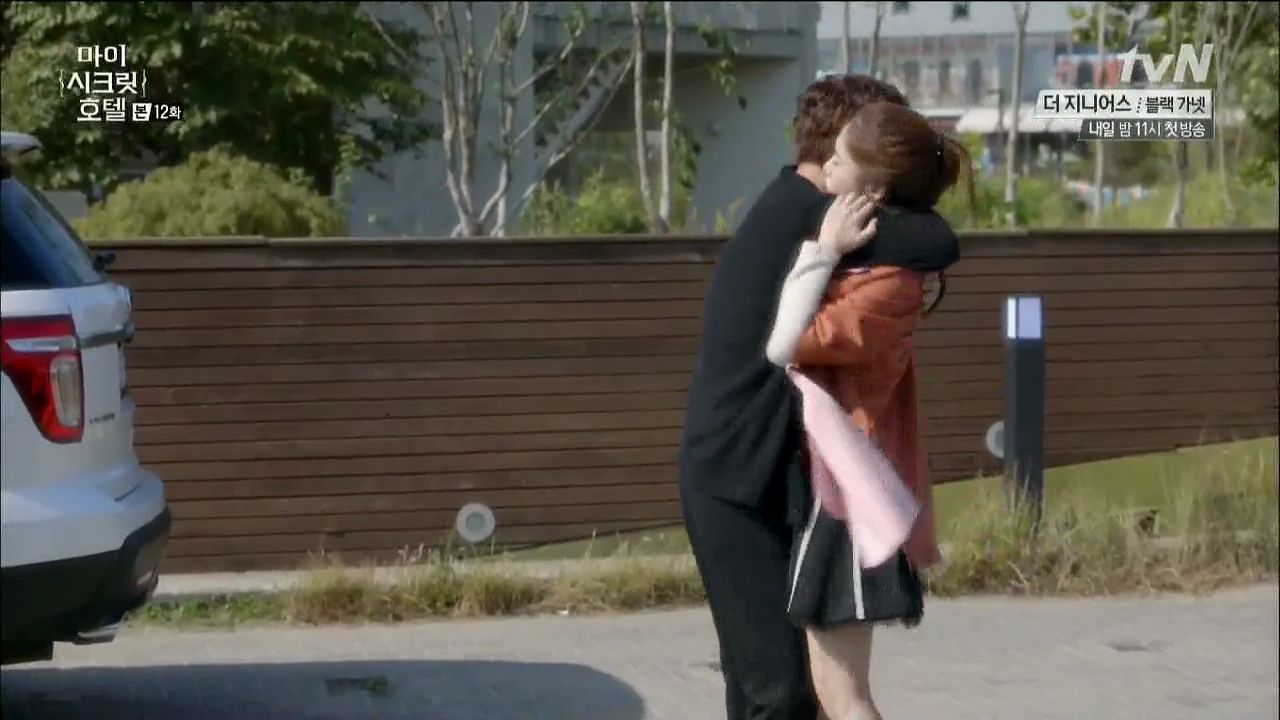 Hae Young pleads with Sang Hyo to once again pretend to be a happily married couple with him in front of his parents. His dad needs to see him happily married before he'll agree to have life-saving surgery for his illness. Sang Hyo tries to steel her heart but gives in and agrees to one week pretending. Hae Young rushes forward to hug Sang Hyo before giving her a quick kiss on the forehead. Hae Young then drags Sang Hyo back to her apartment to pack her belongings to move to his place.
Sang Hyo calls work to take a few days off, citing personal matters she needs to take care of. She grumbles to Hae Young why she needs to take time off work when she can just meet his parent tonight after work? Hae Young explains she needs to help him clean the house and also use the time to get familiar with his place and see it as her own. His mom is quite perceptive so Sang Hyo needs to be truly settled in for the ruse to work. Hae Young can see Sang Hyo wavering so he reminds her that his dad's heart is really really weak.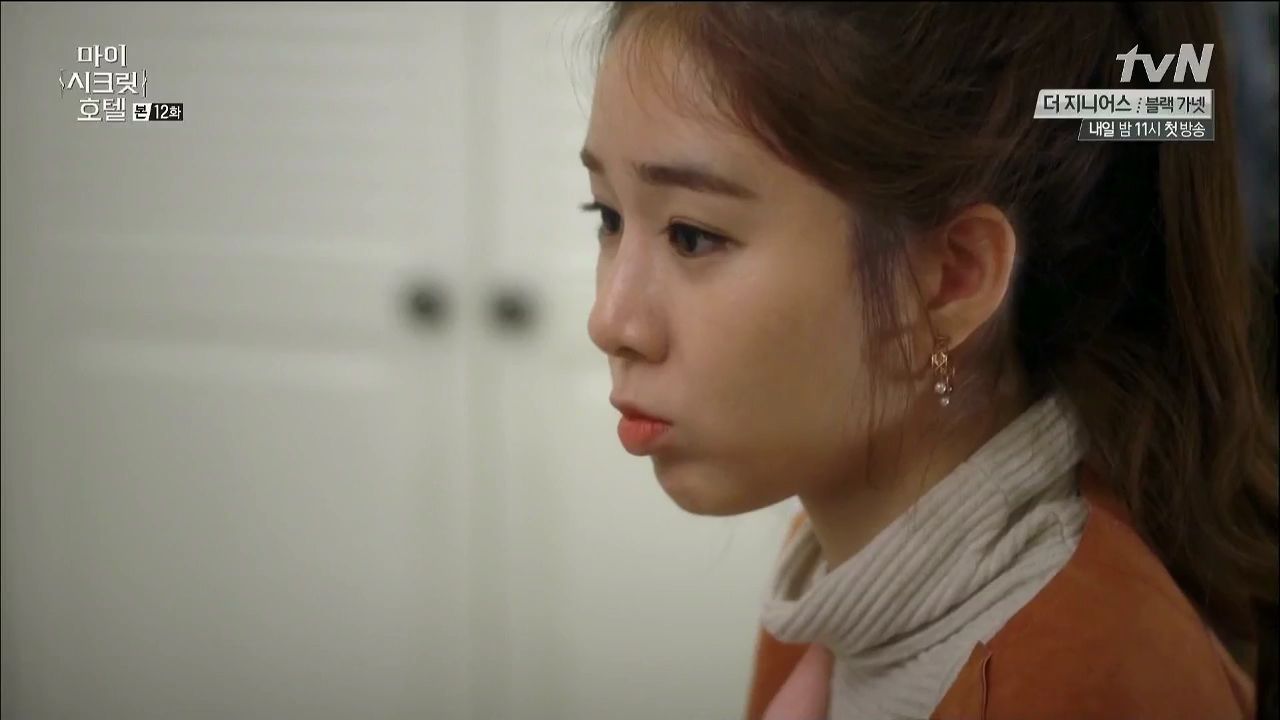 As Sang Hyo busies herself packing, Hae Young sits down on the bed and casually asks if Jo Sung Gyum ever spent the night here? Sang Hyo initially wants to say no but decides to milk it and act all sultry before saying both of them are adults. Hae Young is about to get upset and call Sung Gyum so Sang Hyo quickly assures him that Sung Gyum is a gentleman.
Hae Young snarks that Sung Gyum is a gentleman while he's an animal. Sang Hyo remembers how his suitcase was filled with male virility pills when they went on their honeymoon. Hae Young stands up to show Sang Hyo exactly what he can do and she holds up her pink hairdryer as a weapon to keep him at bay. Hae Young stalks her into the closet before closing the door on her with a smile.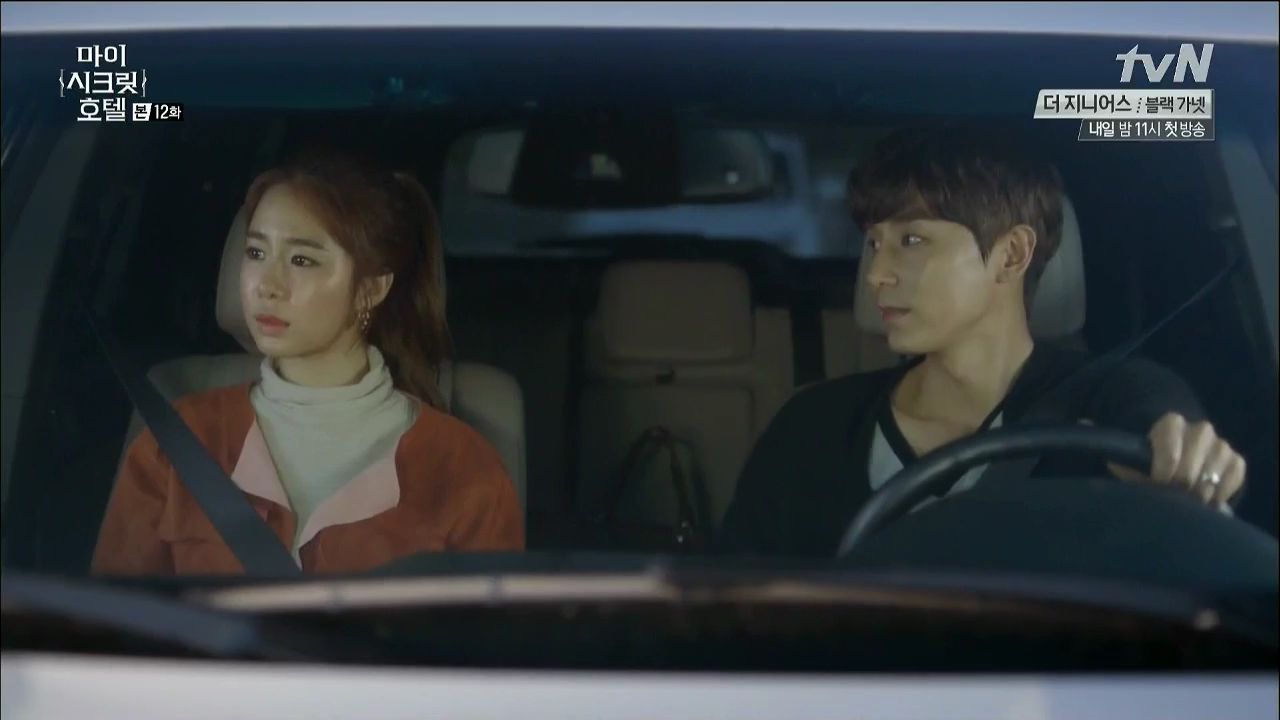 On the drive to Hae Young's place, Sang Hyo feels bad remembering the last time she married Hae Young and Sung Gyum got upset wondering why she didn't think about how he would feel. Hae Young can see Sang Hyo looking sad and hears that she's worried about Sung Gyum's feelings if he found out. Hae Young warns her to never mention Sung Gyum's name in front of him and if she does then he'll have to shut her lips. He puckers up and Sang Hyo warns him to not dare, but then both chuckle at their bantering.
Hae Young's parents are grumbling about why he insisted they come to his place tonight. Turns out the call in the morning was his parents telling him that they are headed to the US so Hae Young begs them to delay their trip for a week and come to his place. He pleads with him that this is very important and will affect his life.
Hae Young thinks to himself that he has one week and he will use that time to bring Sang Hyo back to him.
Sung Gyum walks into the event planning department looking for Sang Hyo and hears that she took the day off for family matters. Eun Joo runs into Sung Gyum in the corridor and her first instinct is once again to hide behind the beam and avoid him. Sung Gyum sees her this time and asks to talk, noticing that Eun Joo is crying.
Sung Gyum is sad that he can't see the confident Eun Joo anymore and doesn't like the Eun Joo who cries. He confesses having good feelings for her initially but it didn't develop into more but she is very attractive and charismatic. He hopes they can be colleagues at work comfortably. Eun Joo smiles and thanks him for saying this and she'll work hard to fix her feelings and wish him and Sang Hyo well…… Then Eun Joo's fake smile drops and she barks out that she would never say this to him! Has he ever seen a girl who likes a guy be able to be friends with him after he gets another girlfriend? That doesn't happen and Sung Gyum is selfish in asking for more.
She has no intention to be friends with him and reminds him that Hae Young's wife is Sang Hyo and in the future Sung Gyum's wife will be Eun Joo. And when that time comes, she will forever use what he did to her now to torment him! Eun Joo storms off while Sung Gyum sits there sheepishly. She's such a fiery hot tempered thing, I love her! After she storms off Sung Gyum smiles to see the old Eun Joo back.
Hae Young has movers helping him do slight redecorating around the house including hanging his wedding picture with Sang Hyo up. He's so picky until Sang Hyo gets fed up and tells him to hang it anywhere! Hae Young then sits in front of the portrait admiring it.
Sang Hyo starts cleaning and orders Hae Young to help out. She pokes him with a duster before sticking her tongue out at him and swanning off. Hae Young chuckles that she's such a bossy beautiful thing.
Sang Hyo checks out Hae Young's bedroom and announces that during the week his parents are staying over, she will sleep on the bed but he has to sleep on the floor. She warns Hae Young against daring to make a move on her. Sang Hyo then remembers the night that Soo Ah came over to see Hae Young which makes her yell that he needs to change the entire bed for her! Hae Young doesn't know what's gotten into her.
Sang Hyo makes Hae Young call in a mobile truck to disinfect the mattress which leads the guy ask if the couple has kids who are allergic. Hae Young embraces Sang Hyo and promises to have kids with her as soon as possible.
Sang Hyo gets a call from Sung Gyum and immediately reverts to aegyo on the phone. She explains that a really annoying person caused her to not be able to go to work. Sung Gyum is relieved she's fine and asks to come over for dinner tonight. Sang Hyo quickly says no and promises to explain to him at the hotel. Sung Gyum accepts it and warns her not to cheat on him. After Sung Gyum ends the call, Sang Hyo pretends to be still talking to him and says "I love you, too!" Hae Young grabs the phone from Sang Hyo to warn Sung Gyum off until he realizes the phone is silent. Sang Hyo warns Hae Young to stop bothering "my Sung Gyum" in the future.
Detective Kim arrives to meet with Sung Gyum and hears from Simon that Sung Gyum isn't in presently. He asks to go inside to wait but Simon refuses to let him. Detective Kim waits outside while checking out Simon and remembering the Vice GM describing Simon as looking like a creepy killer. Sung Gyum returns to his office and goes inside to talk with Detective Kim who once again asks what his relationship is with Heo Young Mi? Detective Kim then comes right out and asks Sung Gyum if he killed Young Mi?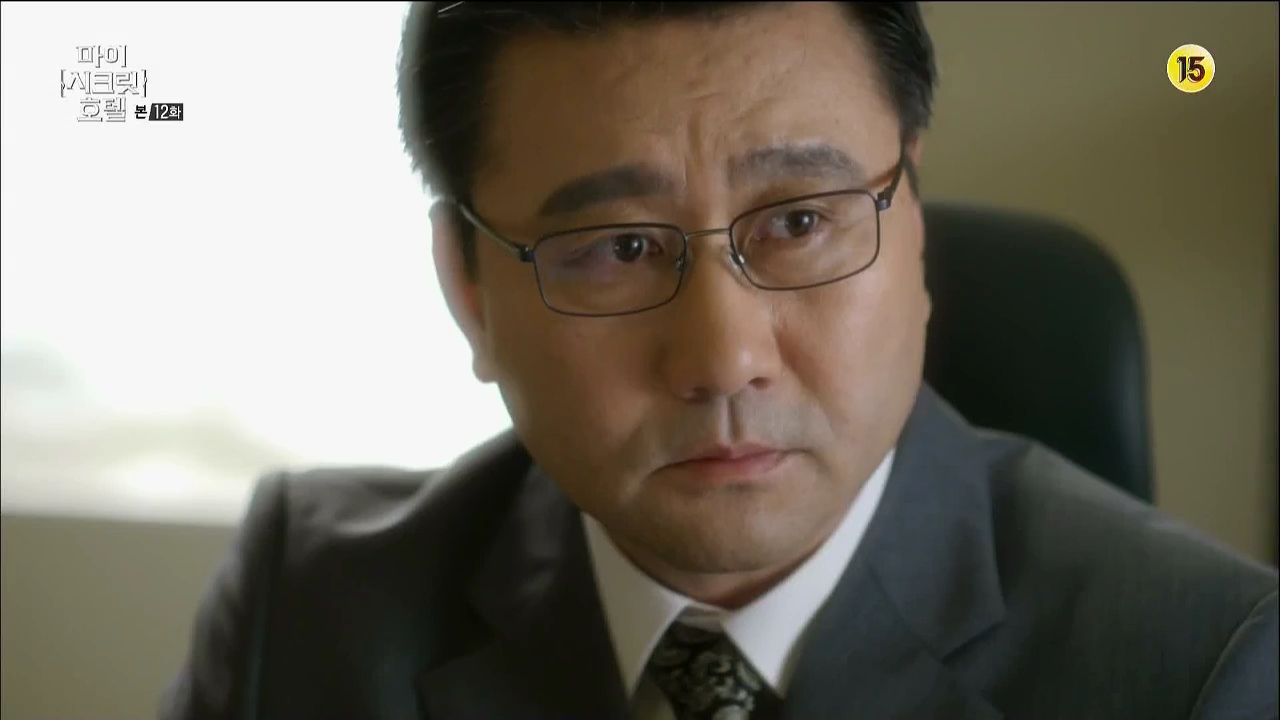 Guard Cha reports to GM Lee that Detective Kim is presently meeting with Sung Gyum to ask him about Young Mi. Perhaps the rumors that Sung Gyum killed Young Mi is true?
Detective Kim finishes his interview and leaves Sung Gyum's office. Sung Gyum stands alone inside smirking and looking way skeevy.
Shi Chan gets a call from Hae Young asking him and the rest of the team to hold down the fort as he won't be coming to work today. Shi Chan promises to do well and tells Hae Young to enjoy his time with Sang Hyo. The team wonder if they can leave work early now and Shi Chan tries to be a slave driver before letting everyone leave early except himself.
Shi Chan is about to dig into work when Jung Eun arrives looking for Hae Young and is upset to hear that he's with Sang Hyo now. Shi Chan suggests Jung Eun look at other eligible guys in this world beyond Hae Young. Jung Eun doesn't see anyone so Shi Chan whispers in her ear that he's eligible before running out of work.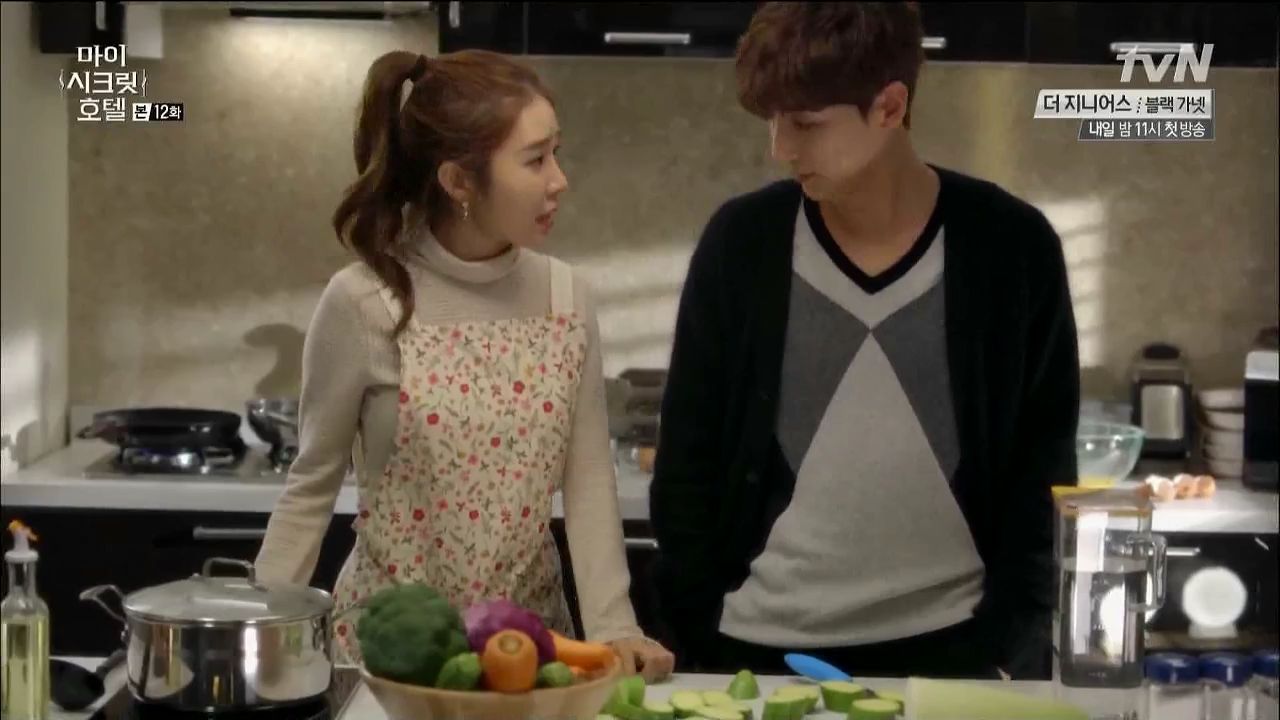 Hae Young is helping Sang Hyo cook dinner and he's more hindrance than help. Sang Hyo also makes a muddle of the dishes as some overcook or burn. Hae Young leans back to enjoy watching the wifey being all domestic. Sang Hyo takes a sip of the stew and makes a disgusted face. She feeds Hae Young a sip and he pours water in to dilute it. Then it becomes too bland so Hae Young tries to pour salt in only to dump the entire container.
Sang Hyo burns her hand on the food in the microwave and Hae Young immediately tends to her wound. Sang Hyo tries to shake it off but Hae Young princess carries her to the sofa to put on medicine on. Sang Hyo watches as Hae Young patches up her burn but her smile disappears when she remembers Sung Gyum asking if she never thought about how he would feel? She pulls her hand away and goes back to cooking.
Hae Young's parents arrive and are about to ring the doorbell when they near the newlyweds inside. They smile and decide to go for a walk and come back later to give them privacy.
Sung Gyum gets a call from Soo Ah's dad asking to dine with him later tonight. Sung Gyum arrives at the dinner and is surprised to find only Soo Ah there. He wonders where Chairman Jung is and Soo Ah gives an unconvincing excuse that her dad was suddenly called away. Soo Ah orders Sung Gyum not to misunderstand, she didn't bug her dad to schedule this dinner nor is she trying force Sung Gyum to spend time with her.
Eun Joo suddenly arrives and acts like she previously had a dinner date already with Sung Gyum. She then sits down and invites herself to this dinner. Sung Gyum asks the ladies what they want and the two ladies pick different steak cuts and insist Sung Gyum go with their pick. Sung Gyum plays neutral and picks his own different cut of steak. Then the ladies get into an argument about red v. white wine so Sung Gyum picks sparkling wine and skips an appetizer before another cat fight breaks out.
Hae Young and Sang Hyo sit down to dinner with the parents who are good natured and chuckle over the spread which is not very well made. Hae Young explains Sang Hyo cooked it all for them and even burned her finger. The parents dig in and it's clear from their expression that the dinner is a disaster but they still compliment Sang Hyo on doing so well her first time cooking a full meal. Dad laughs that the galbi is especially chewy, i.e. a nice way to say overdone.
Soo Ah acts all tipsy after dinner and wants to ask Sung Gyum to drive her home but Eun Joo preempts her by having already called a car for her. Soo Ah glares at the smiling Eun Joo as she stomps into the waiting car.
Sung Gyum thanks Eun Joo for saving him from an awkward dinner and for helping it end so quickly. He invites Eun Joo to have drinks and she happily accepts….before asking if he really thought she would say yes! Is he interested in her? If not then why have drinks with her? If not then why be so nice to her? Because of his attitude that is why he leads other ladies on to misunderstand. Eun Joo doesn't want drinks tonight with him but maybe another day. You tell him, Eun Joo!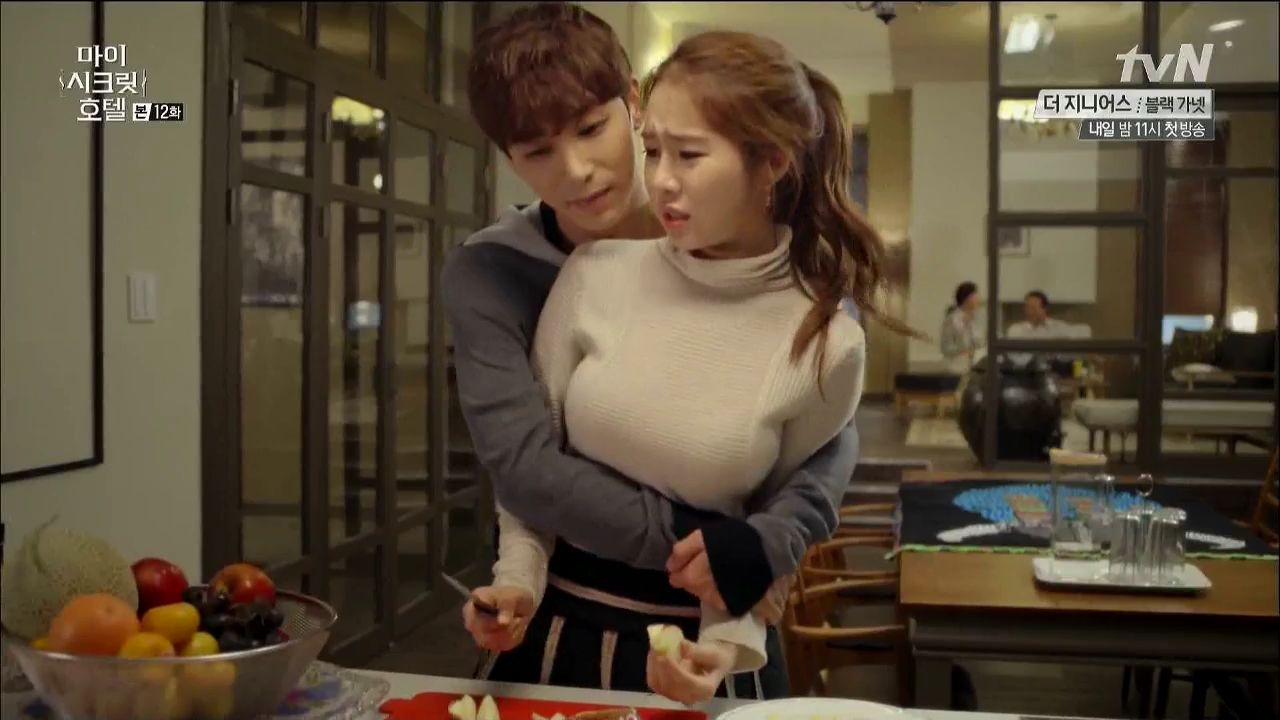 After dinner Sang Hyo is peeling apples in the kitchen while Hae Young stares at her all besotted. His parents notice and Mom tells him to go over to Sang Hyo if he wants to be with her so badly. Hae Young walks up to Sang Hyo and envelopes her in a back hug and refuses to let go. Sang Hyo threatens to run away if he doesn't let go. Hae Young reminds her that his dad might have a heart attack is she runs away. His whispering in her ears makes her all tingly while his parents sneak back to their room to give the kids alone time.
Hae Young gets serious and tells Sang Hyo that he likes this very much, he likes being able to hold her in his arms, he likes being able to restart with her again. He nuzzles her neck while Sang Hyo quickly takes it all in. She then thinks of Sung Gyum's voice again and tries to struggle out of Hae Young's arm. She stomps on his foot to get him to let go and waves her paring knife around to warn him away from her.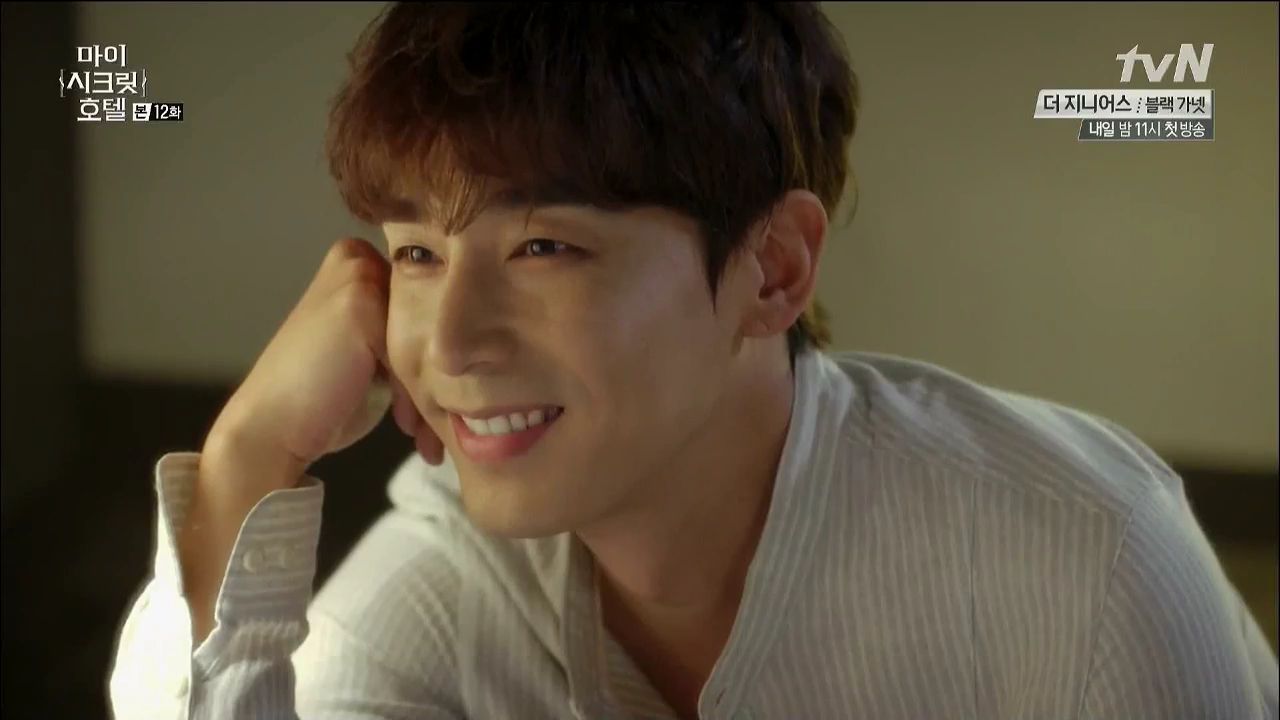 Hae Young prepares the bedroom including lighting mood candles and fixing the blankets. Sang Hyo walks in all ready for bed and orders Hae Young to go to his place for the night and the taps the ground. Hae Young reluctantly sits down on the ground but continues to stare at Sang Hyo with a happy smile. He thanks her for being so beautiful and filial to his parents, and for coming here. Sang Hyo tosses some bedding at him and lays down for bed. Hae Young grumbles that he'll not sleep well tonight since the floor is so hard.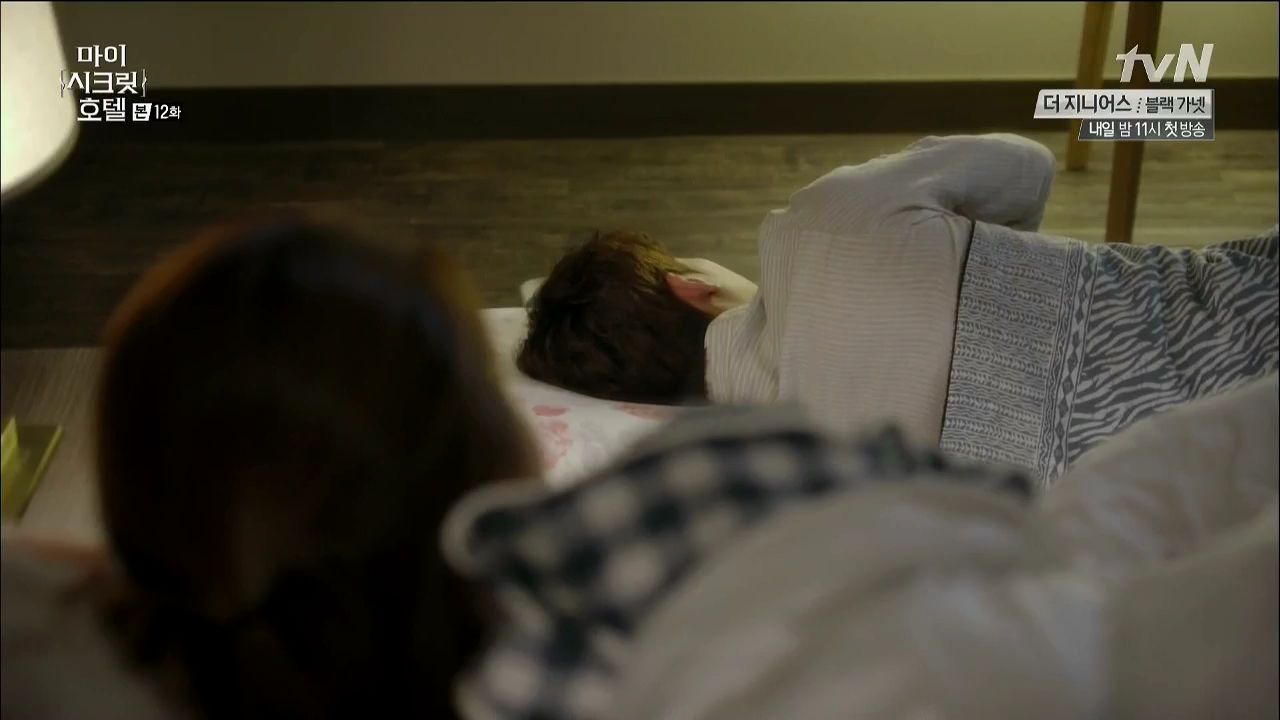 Hae Young lays down on the ground and props himself up to keep staring at Sang Hyo. She orders him to sleep but he wants her to sleep first. She refuses to sleep until he's asleep so Hae Young laughs that assures her that he's a good guy and won't do anything to her. Hae Young turns over to sleep so Sang Hyo takes to propping herself up and staring at his back.
Flashback to the married couple sleeping in the same bed with Sang Hyo being all aegyo for the sleeping Hae Young to turn over and face her. She asks why he's not facing her when sleeping and hears that he has an important meeting tomorrow. If he faced her when sleeping he won't be able to sleep because he'll want to ravish her. Hae Young ends up turning around and kisses Sang Hyo before the action moves under the blankets. In the present Hae Young smiles as he reminisces.
When Hae Young turns around he is surprised to see Sang Hyo staring at him from the bed. He asks why she's not asleep and what she's thinking about? Sang Hyo claims nothing so Hae Young asks if she wants him to sing her a lullaby to lull her to sleep?
Flashback shows a wide awake Sang Hyo tossing and turning in bed until she burrows into Hae Young's arms as he sings her a lullaby. Hae Young patiently sings Sang Hyo to bed.
In the present Hae Young offers again to sing her to sleep but Sang Hyo declines and turns around claiming she's sleepy already. Hae Young smiles and keeps on staring at Sang Hyo who is nervously wide awake.
The detectives grab a meal together and Detective Kim goes through his earlier interview with Sung Gyum when he asked directly if Sung Gyum killed Young Mi. Sung Gyum takes out the first letter Young Mi mailed to him and passes it over to Detective Kim. Detective Kim asks if Sung Gyum knows who killed his father? Sung Gyum has suspects but doesn't know who it is yet. In his last call with Young Mi, she offered to tell him who killed his dad in exchange for money. On the day he was on the business trip, he sent Simon back to the hotel to meet Young Mi but she didn't show up at the agreed upon time.
Detective Lee suggests they just get out an arrest warrant for Jo Sung Gyum but Detective Kim chides him for jumping the gun. Sung Gyum has an alibi while Simon has no reason to commit the crime. Linking them to working together will require more digging.
Sung Gyum is in his hotel room and hesitates a few times before calling Sang Hyo. She's asleep already but Hae Young is awake and picks up her ringing phone. He sees the caller is Sung Gyum and declines to answer. Sung Gyum assumes Sang Hyo is asleep already so texts her "Sang Hyo-shhhi, I thought about you all day and miss you." Hae Young reads the text and responds "Director, shut your trap and go to sleep!"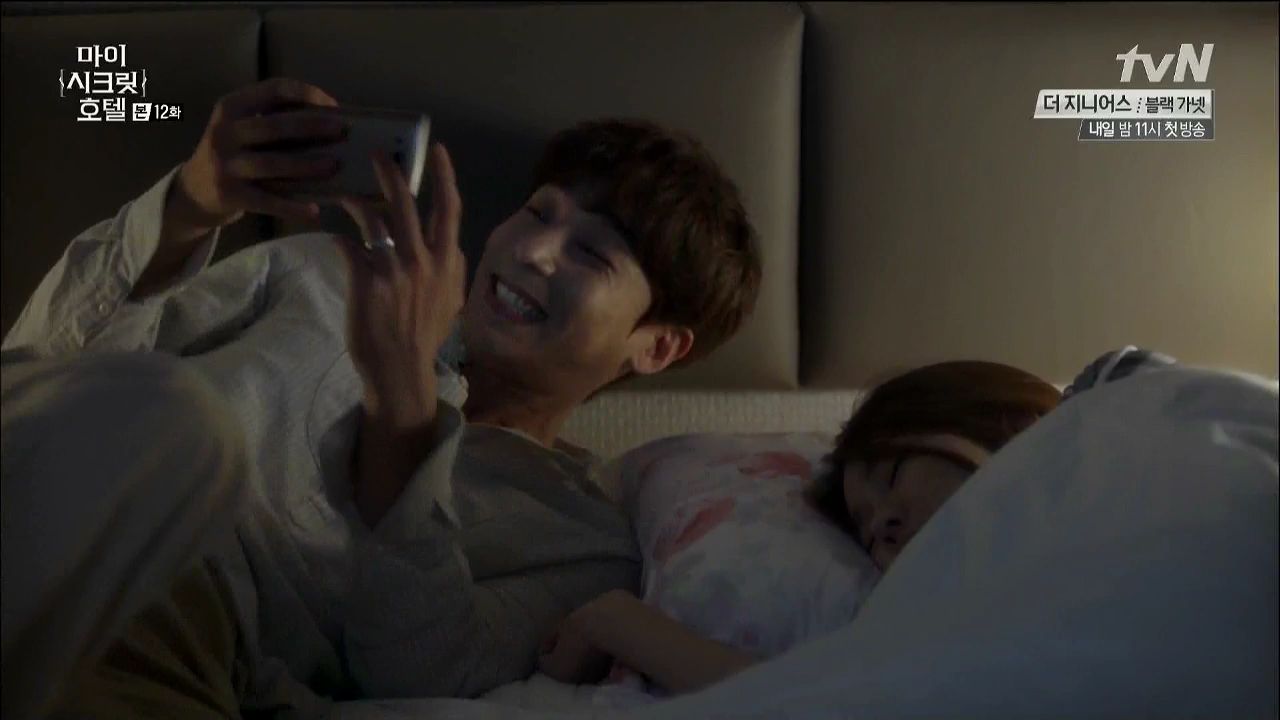 Sung Gyum is understandably dismayed and confused when he reads the message. Hae Young finishes dismissing Sung Gyum and then grabs his own phone to take a selca with the sleeping Sang Hyo. He adorably cackles in glee over his treasured new couple selcas before making himself comfortable to stare some more at Sang Hyo.
Morning arrives and Sang Hyo wakes up in Hae Young's arms. She's comfortable until she realizes her position and freaks out before screaming and pushing Hae Young off the bed. She throws her pillow angrily at him as he grabs the pillow to go back to sleep. Sang Hyo rushes out to the kitchen to apologize for oversleeping and not preparing breakfast. Hae Young's mom sweetly tells her no worries since she's new at this. She asks Sang Hyo to come over and sample the morning soup and Sang Hyo gasps in delight over how delicious it is.
Sung Gyum waits outside Sang Hyo's apartment to take her to work but she's currently saying goodbye to Hae Young's parents as she heads off to work. Hae Young warns Sang Hyo to come home straight from work and not linger with weird people. Hae Young's parents explain they bought a car for Sang Hyo but it's the same sound as tea so Sang Hyo says she likes all sorts of tea. The parents hand over car keys and confirm she has a driver's license.
Hae Young and Sang Hyo stand outside in front of the new car which doesn't make Hae Young happy because he wanted to drive Sang Hyo to and from work. Sang Hyo doesn't plan to accept this car since it's just a fake marriage. Hae Young tells her to make it real and then reminds her the parents are watching them so she needs to get in the car. Sang Hyo takes the car keys and gets in while Hae Young climbs in the passenger seat.
Sang Hyo tentatively drives off while the parents smile as they discuss how Hae Young is dead serious this time about Sang Hyo. Flashback to the day of the wedding where Hae Young got on his knees before his parents and begged them to let him marry Sang Hyo. She's the only woman he's ever loved and he doesn't want to miss this chance with her again.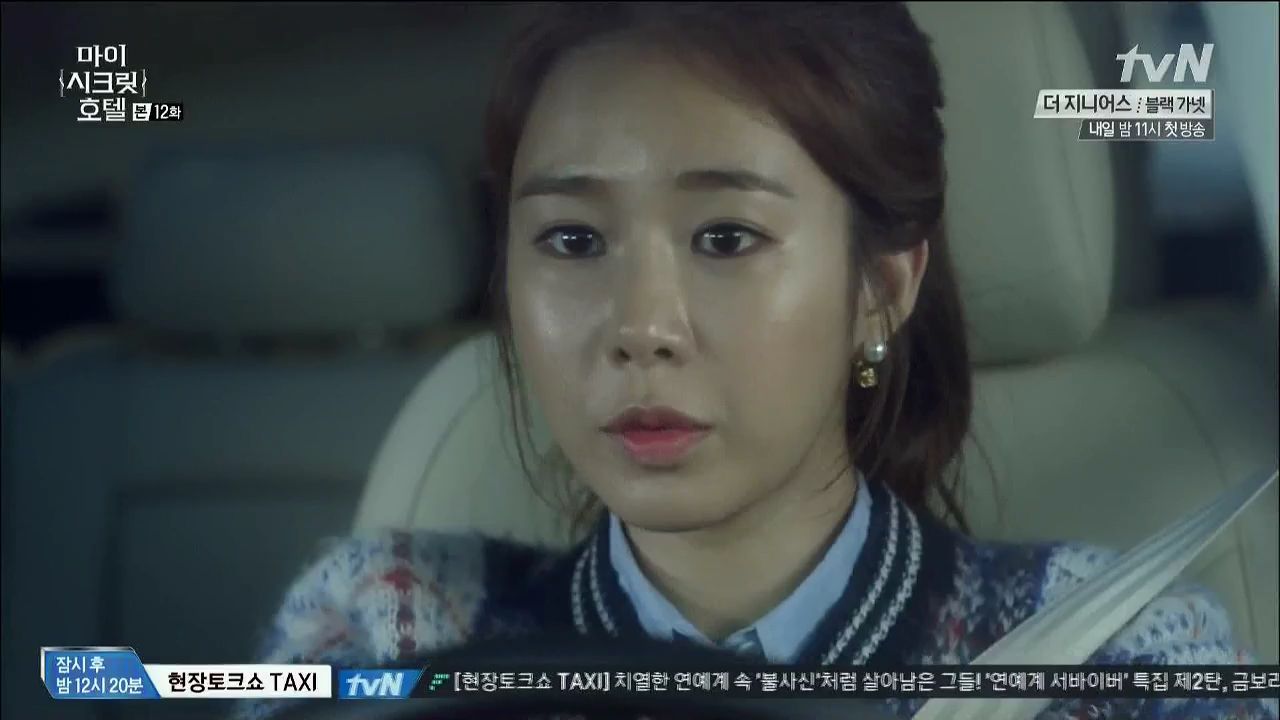 Sang Hyo grumbles about why Hae Young is hitching a ride with her and he is worried about her driving skills. Sang Hyo immediately proves him right when she makes sharp turns and drives between lanes and can't even find the turn signal. Man, Hae Young really must love Sang Hyo to put up with all her weirdness. Sung Gyum tries calling Sang Hyo but she's too busy driving badly to answer. He wonders if she went to work early?
Sang Hyo pulls into Secret Hotel and a freaked out Hae Young gets out feeling like he almost died back there. Sang Hyo hands the car keys to Hae Young and orders him to drive the car away so people at the hotel don't misunderstand. He wants to pick her up after work but she orders him not to. Sung Gyum pulls up in his car and gets out with a full pissy face to confront Hae Young. He demands to know what is going on? Before Sang Hyo can answer Hae Young interjects that Sang Hyo is clearly going to work. Sung Gyum asks if something is still going on otherwise why are they arriving at work together?
Sang Hyo lowers her head like an errant child which upsets Hae Young that Sang Hyo looks so guilty. Sung Gyum pulls Sang Hyo off to talk but Hae Young refuses to let go and grabs Sang Hyo's other arm. Both men claim Sang Hyo is his so she shakes their hands off her.
Sung Gyum walks right up to Hae Young's face and loosens his tie to get it on. Sang Hyo tries desperately to keep the two fighting men apart and finally she holds onto Sung Gyum and begs him not to fight. Hae Young angrily yells her name and pulls her off Sung Gyum before the two men continue to glare at each other.
Thoughts of Mine:
I have a hefty reserve of patience for characters I like in dramas, and with Hae Young and Sang Hyo the initial goodwill made it so I was okay with their protracted back-and-forth which sometimes was entertaining while other times pointless. But now the drama has wrapped episode 12 with only 4 more episodes to go, and I need Sang Hyo to make up her mind in the immediate future. Preferably at the beginning of episode 13 so I can be spared another Sung Gyum-Hae Young manly man staredown. It was thrilling the first time around for the sparks but now it's as dull as grandma's old dish rag. What's worse is that Sang Hyo keeps taking Sung Gyum's side when she basically created the misunderstanding in the first place. Perhaps my earlier hunch is still correct and Hae Young didn't leave abruptly but left a long letter which was swapped out for the cold plane ticket with no explanation. I still can't figure out a reason for the two exes to not talk through the past even for closure's sake.
If she's willing to marry Hae Young and now willing to play house with him, and I don't care what excuses she clings onto as her reasoning, then she's not over Hae Young and doesn't have a right to move onto Sung Gyum and involve him in her emotional conundrum. I know Sung Gyum agreed to it but he's also gotten in way over his head. Only Hae Young has remained consistent since he decided he wanted Sang Hyo back, and joining him are Eun Joo in not letting pesky obstacles get in her long term goal to marry Sung Gyum. Sung Gyum is basically a walking contradiction and if Eun Joo likes him that much to keep holding on for him then she's welcome to his hot-and-cold detached mien.  Not quite sure what she sees in him, the same way I'm not sure what Jung Eun sees in Hae Young to remain that fixated. For that matter why Soo Ah has zero lingering issues over Ki Ho and appears to be relishing the excuse to spend time with Sung Gyum. Weird.
I thought the OTP scenes in this episode were sweet only in the context that we see they are clearly still into each other. Otherwise all of Hae Young's crossing the line and pushiness with Sang Hyo is a major no-no in relationships, especially when she ordered him to sleep on the bed and he climbed in later to cuddle her. Just sayin' it not cool other than in the fantasy context of a crazy only-in-dramas relationship. The cooking and dining scenes were cute as well the sweet bedtime flashbacks. But all of that only means something if it significantly pushes Sang Hyo towards Hae Young but the next morning she seems as determined to keep her distance from him. Too bad his parents can only give him the excuse to spend time with her but can't actually help unravel the emotional knots of distrust in Sang Hyo.
Sung Gyum remains the main murder suspect though another twist would be if neither GM Lee nor Sung Gyum were the killers and it's all the work of a third party acting on his/her own. Who knows but the two detectives don't seem to be in a rush to find out what with their snail's pace investigation. It seriously needs to get a move on especially since this situation has the recipe for more victims if there is indeed some major secret someone is killing to protect. All in all episode 12 was much better than 11 but nowhere near recapturing the fun heady sensation of the first episodes that painted a world of intrigue and romance with equal potential for satisfying development. Now it's just fingers-crossed the drama makes it across the finish line in one piece.