It was yet another noticeable leap forward in ratings for Descendants of the Sun as episode 5 notched 27.7% AGB which marks a 3.3% increase from the previous episode. This drama isn't only guaranteed to break 30% it might even do it this week, though chances are likelier to happen next week. With that said, DotS rise in ratings is hardly at the expense of the competition dramas which have stayed mostly unchanged, which means DotS is that rare beast of an event drama that brings new viewers to the tube rather than shuffling around with the same pool of eyeballs. I think that's good for K-dramas in general even if KBS is the network benefiting directly.
Episode 5 didn't exactly wow my socks off or move the needle much in terms of increasing my interest in this drama. Maybe it'll just stay at this like but not love state, which is just fine with me and really a hard place to be since most dramas lose my interest in the first episode nowadays. I can't say either couple also made any progress, but at least Shi Jin and Mo Yeon keep talking which is a nice hallmark of Kim Eun Sook romantic interactions. They aren't talking over each other and make really nice attempts to process what the other says and respond thoughtfully. But that doesn't change the quandary as Mo Yeon remains firmly in refusal and Shi Jin doesn't even toy with trying to convince her to give it a shot. Bummer that a kiss didn't kick start things again.
Episode 5 recap:
Shi Jin uses the offer of red wine to seal the deal, swooping in for a kiss ostensibly to sample the red wine from Mo Yeon's lips. The man's womanizing skills clearly have not grown rusty in the last 10 months. He ends the kiss and is about to move in for round two when Mo Yeon regains her critical functions and turns her head away, abruptly ending the fun times ahead by wishing Shi Jin a good night.
Each goes back to their respective rooms to mildly brood.
North Korean Ye Hwa is awakened in the middle of the night by a presence in her room who turns out to be her hubby Daniel. Ye Hwa is upset that he just went off for a month like that and asks about another person Chen Jiang. She hears that he's gone "back to his country" and the news upsets her.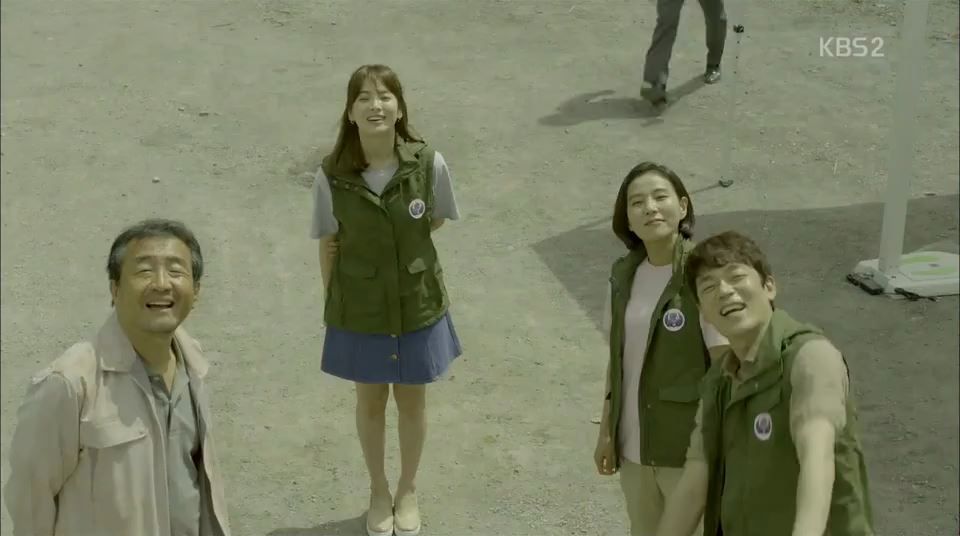 Construction is underway for the Haesung funded power plant in Urk as the ahjusshi from before who came to the medical facility is the Team Leader Go leading the construction.
A fellow Korean introduces himself as working for the Urk electric commission and is here to also supervise the construction. His name is Jin Yong Soo and it sounds like "come get your registration", lol. Manager Jin keeps trying to make himself seem important and wants to speak to someone of the same rank from Haesung like a professor. Everyone walks away leaving him standing there.
Mo Yeon takes a call from Chi Hoon with good news that the lead poisoning boy is all better but the bad news that he's gone. All he left was a drawn note that may be telling the doctors that he's gone home.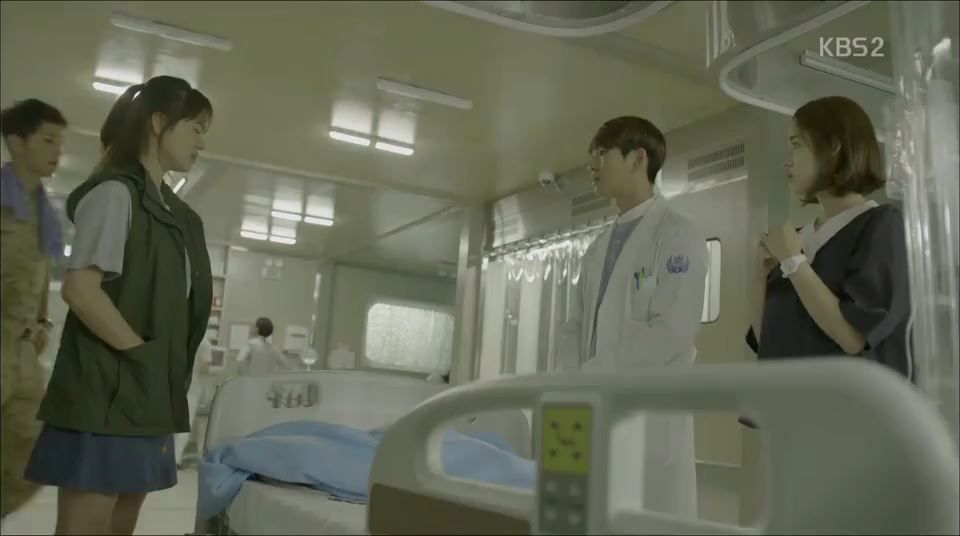 Chi Hoon tells Mo Yeon that he asked the soldiers for help and who else saunters in than Shi Jin. He explains that the drawn note says the boy went back to his village but it's quite a long trek. Chi Hoon wants to atone for losing the boy and go look for him. Mo Yeon wants Chi Hoon to handle the energy construction with Dr. Song and she'll go with Shi Jin.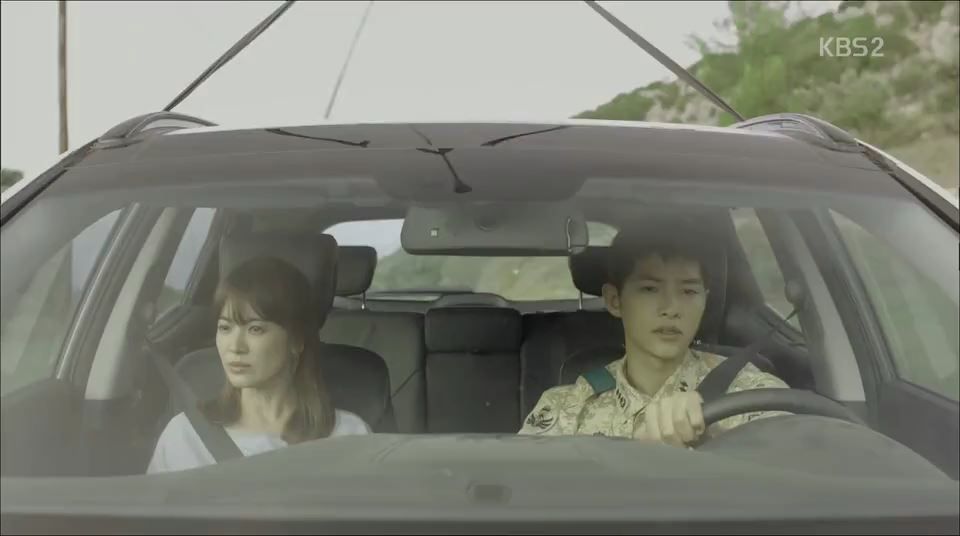 The mood is awkward between Mo Yeon and Shi Jin and she orders him to keep his eyes on the road when he turns to look at her. Shi Jin's question about whether she slept well gets the snappish answer that he's the reason Mo Yeon didn't sleep well last night. Shi Jin wants to talk about last night but Mo Yeon cuts him off, not wanting to talk about it. She directly admits she wants to avoid the topic until she figures out what to do.
Shi Jin is fine with avoidance as long as she doesn't think it was a bad thing he did. It's something he's been thinking about thousands of times and finally got up the courage to do it.
Mo Yeon and Shi Jin keep driving until the spot the little boy. Mo Yeon goes back to his home to drop off the medicine and draw instructions on how to administer it. Talk turns to how Mo Yeon has a great memory in recognizing some of the other kids from earlier, and she uses that opening to ask Shi Jin not to do anything memorable to her or say anything that will leave an impression with her. Gah, so bossy!
Myung Joo is impressed with the top quality supplies given to her on the Urk base and hears from Colonel Park that that it's donated items from the big corporations in Korea so that the Korean army doesn't seem backward compared to the other countries armed forces.
Myung Joo gets a call and she excuses herself to take it, and it's from her spy back in Korea that she's tasked with literally tailing Dae Young and making note of his every single move during the day. It's not cute but since they are in love and can't be together I'll cut Myung Joo some slack. Dae Young arrives and Myung Joo's spy stops the report and tries to act nonchalant but Dae Young doesn't buy it.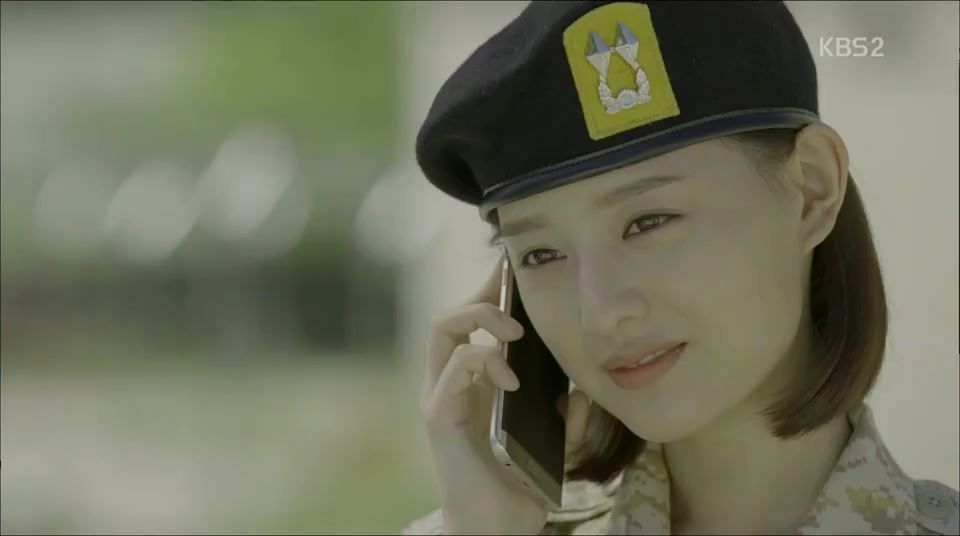 Myung Joo is so happy today because she can hear Dae Young's voice chiding her spy for tailing him. She lets her spy go and he's naturally given some hard times by Dae Young who orders him to go run laps or else cook ramyun with his own sliced off meat. Ooooh, scary Dae Young lol.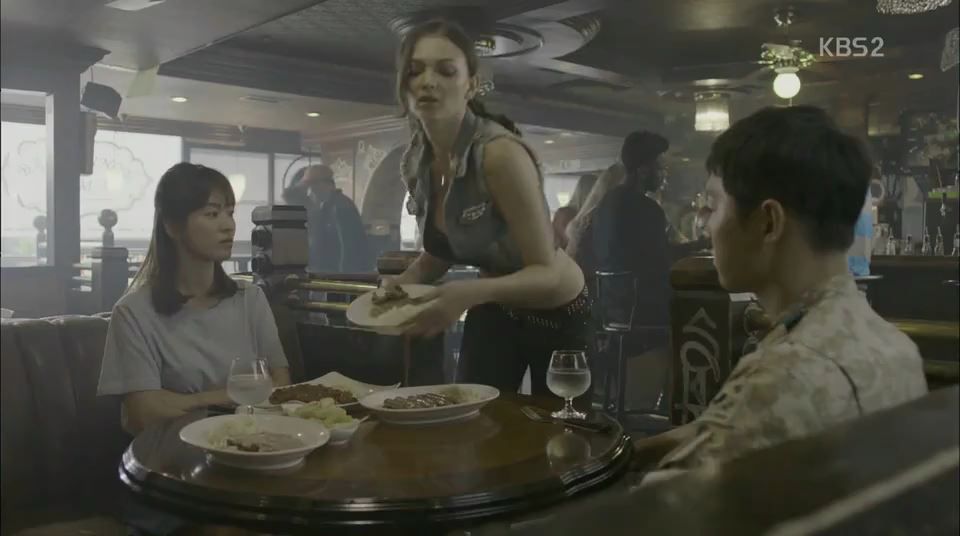 Shi Jin takes Mo Yeon to the same bar from earlier to dine and the sexy waitress lets Shi Jin know that a new shipment of fine wine just came in. Mo Yeon eyes the sexy lady and Shi Jin quickly explains that Dae Young frequents this place whereas he likes the commissary food because it's expedient. Mo Yeon doesn't believe him but offers to pay for today since he took her here.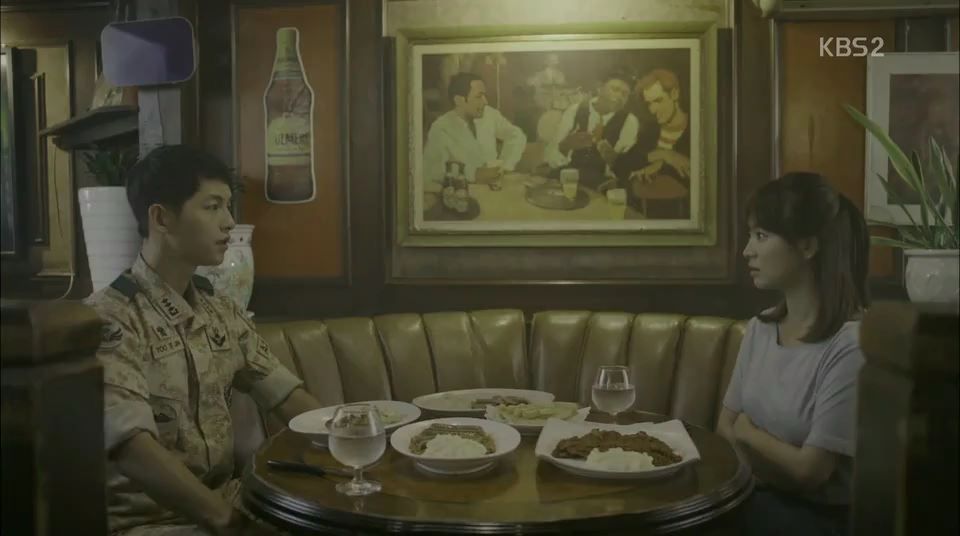 Mo Yeon wonders why Shi Jin became a soldier, was it to put on a uniform? He explains that someone needs to serve as soldiers. Shi Jin can tell Mo Yeon doesn't like his profession but she just thought that only super patriotic men would do this job willingly. That's not the case, Shi Jin counters, there are also folks who want to protect women, children, and the elderly. This is what Shi Jin believes to be loving one's country.
Shi Jin turns the question back to Mo Yeon – would their relationship be easier in progression if he wasn't a soldier and was a second generation chaebol? That's not interesting to Mo Yeon either because it's too trite.
Shi Jin walks out of the restaurant when he notices a man who he remembers as the fake UN delivery guy. He sends Mo Yeon off to Ye Hwa's store first and tells her to borrow a car to drive back to the base, claiming that he needs to go to headquarters to provide an update.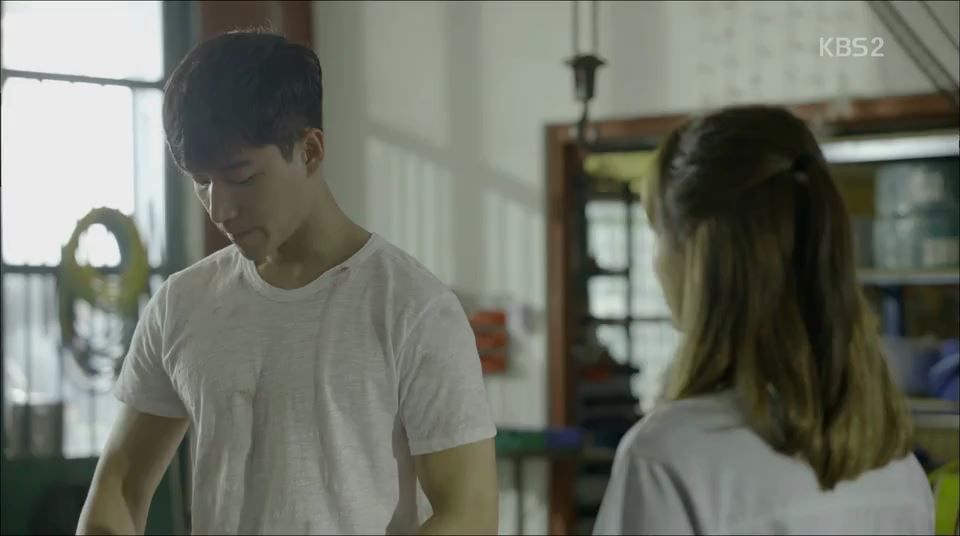 Mo Yeon arrives at the store and runs into Daniel who was expecting her from Shi Jin's call. Daniel turns out to be a doctor as well but he explains that he also tinkers around and even done vet work here.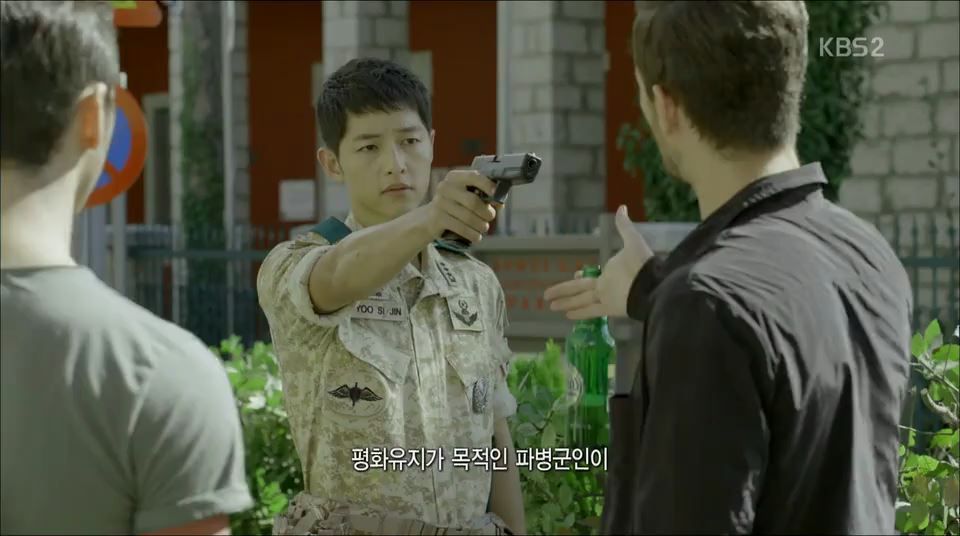 Shi Jin walks up to the fake UN guy and points his gun at them first before shooting out a tire. He demands to know why they purposely showed up her to draw his attention? A bunch of men exist the building and is led by Argus, Shi Jin's former comrade-in-arms.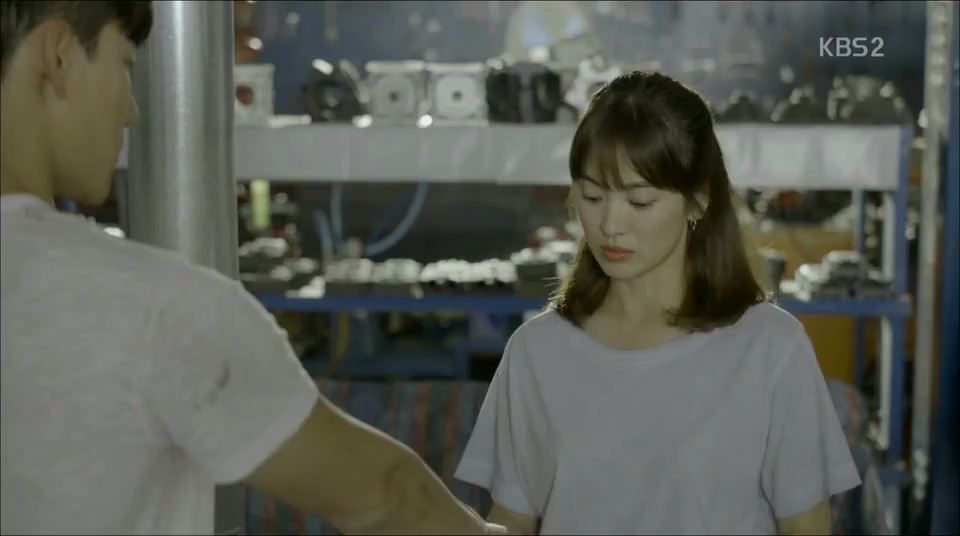 Daniel and Mo Yeon hear the sun of gunfire and Daniel calls a contact to find out what is happening. He assures Mo Yeon that everything is fine. Mo Yeon wonders how Daniel knows Shi Jin and hears that they regularly attend the same funerals. Mo Yeon knows that her question is sensitive but if she doesn't ask now she won't get a chance – she wants to know what Shi Jin does specifically?
Cut to a scene of Shi Jin getting tortured by enemy forces before getting rescued. Shi Jin tells his partner to help another captured soldier from his squad ad that other soldier is Argus. But Shi Jin's partner is killed by a rogue bullet before he can get on the helicopter. Daniel asks Mo Yeon if she's asked all her questions and gotten the answers she needed to either stay with Shi Jin or leave him. Mo Yeon has no answer for that.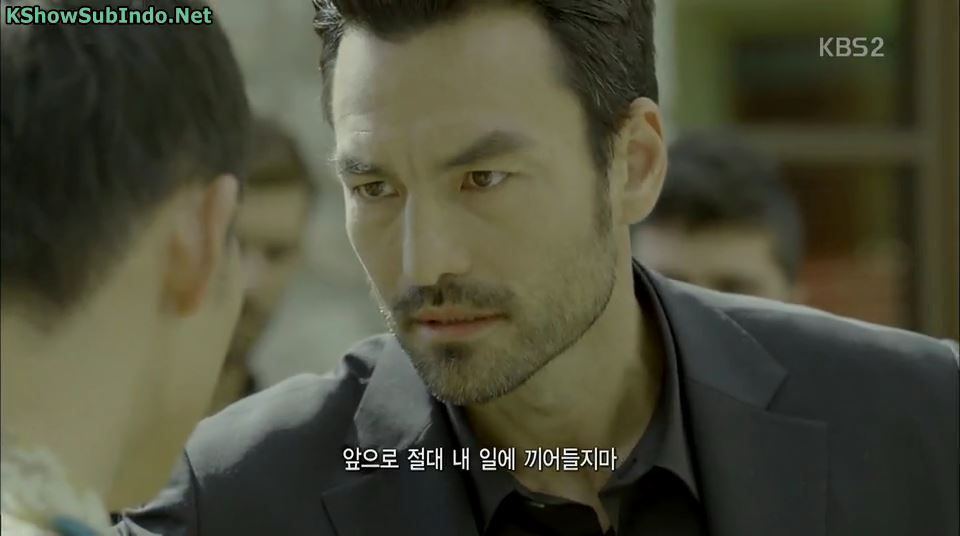 Argus unapologetically explains to Shi Jin that doing the right thing doesn't pay the bills and he goes where the money is now. Plus he doesn't even have a country to serve so who cares about honor and loyalty. That pisses Shi Jin off and he warns Argus to keep out of his sight otherwise there will be a price to pay.
As Mo Yeon is driving back to the base, she's distracted and runs off the road, nearly going over the cliff into a picturesque ocean that is surely a deathly freefall. She calms down enough to answer an incoming call from Shi Jin, screaming for him to come save her. Shi Jin tells her to calm down and drives off to go rescue his girl. Again.
Mo Yeon's car is half on and half off the cliff and all she can do is scream for help. She manages to call her mom and leave a voicemail will and tearily says she loves her mom. She doesn't forget to ask her mom to get the deposit back for her office building leave.
Shi Jin climbs in the car from the trunk and tells Mo Yeon to open all the windows. He moves her seat all the way back and orders Mo Yeon to keep her eyes on him and take his hand tightly. Shi Jin promises that he will save Mo Yeon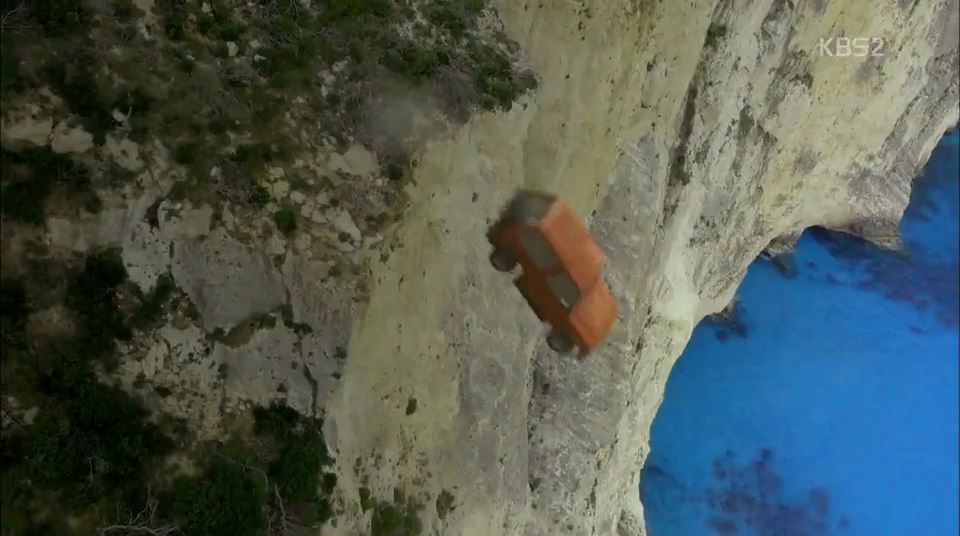 Shi Jin releases the car brakes after activating the air bag, sending the car hurtling over the cliff with both of them in it.
Shi Jin fishes Mo Yeon out of the ocean and does CPR on her inert body until she regains consciousness. Mo Yeon calls him a crazy bastard for how he saved her but Shi Jin is all smiles seeing that Mo Yeon has the energy to get mad at him. Mo Yeon admits she can't stand right now and is not a soldier so she was so scared back there. Shi Jin just smiles and parts her on the back as she tries to compose herself.
Shi Jin drives Mo Yeon back to the base and drapes his military uniform coat over Mo Yeon, explaining that she's wet and rather see through. She's upset he's giving it to her now but he already saw everything so it didn't matter earlier, and now they are back at the base he doesn't want other people see. Shi Jin saunters off with a jaunty hand wave.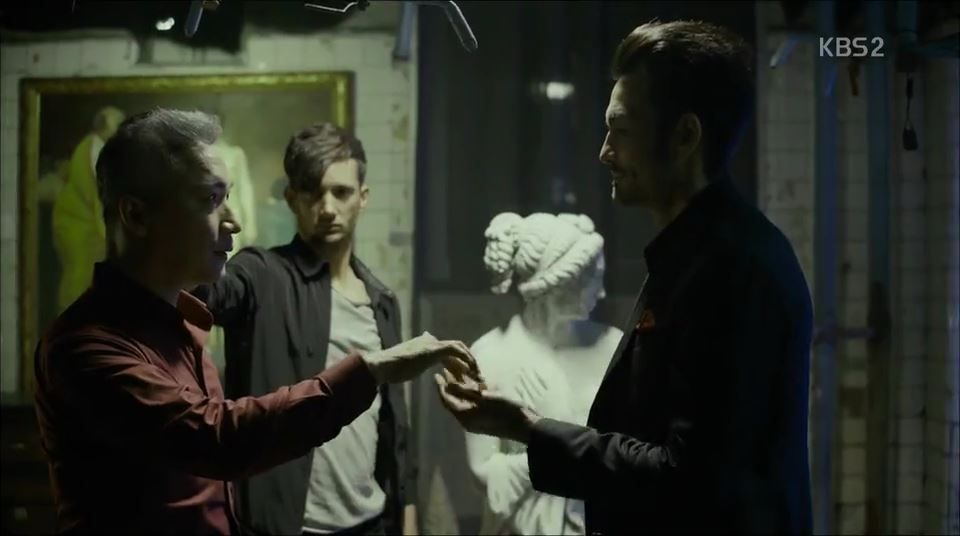 Argus has killed yet another of his Urk sources and now Manager Go is his contact. He hands Argus a packet of diamonds and Argus wonders if all Korean men are the same since there is mandatory military service, one meeting and it's a quick comrade friendship. Manager Go is threatened promptly with a demand to transact every week.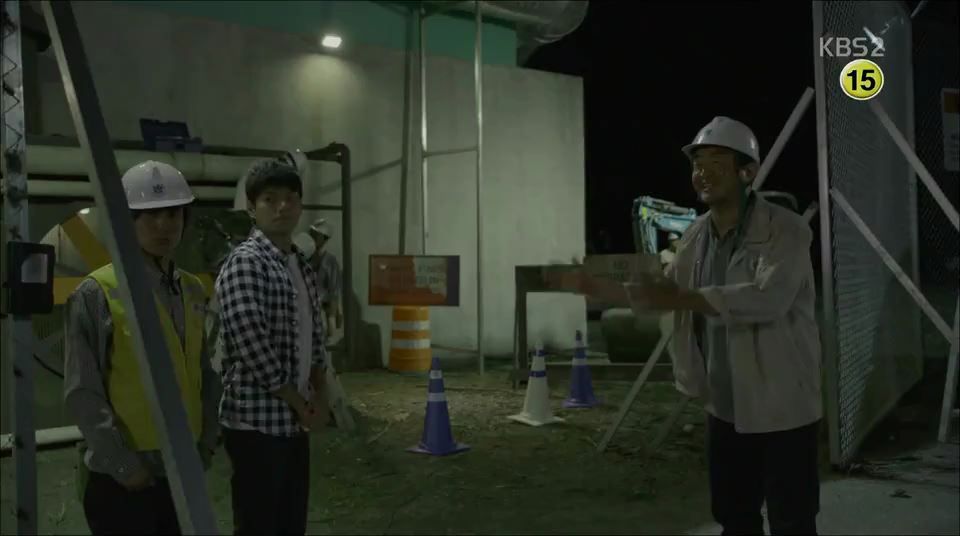 The power plant construction Team Leader is admonishing his subordinates on doing a better job. Manager arrives at the site and the Team Leader wonders where his driver went? Manager Go says the driver quit but the subordinate notices blood on his socks as he walks up the stairs.
Shi Jin brings Mo Yeon instant coffee to warm her up but teases that her bra was black earlier. Mo Yeon offers to write him a prescription to help calm his nerves since she's still rattled herself. Shi Jin asks if Mo Yeon is worried about him and she is because he saved her life. He pouts that he needs to save her life for her to care about him.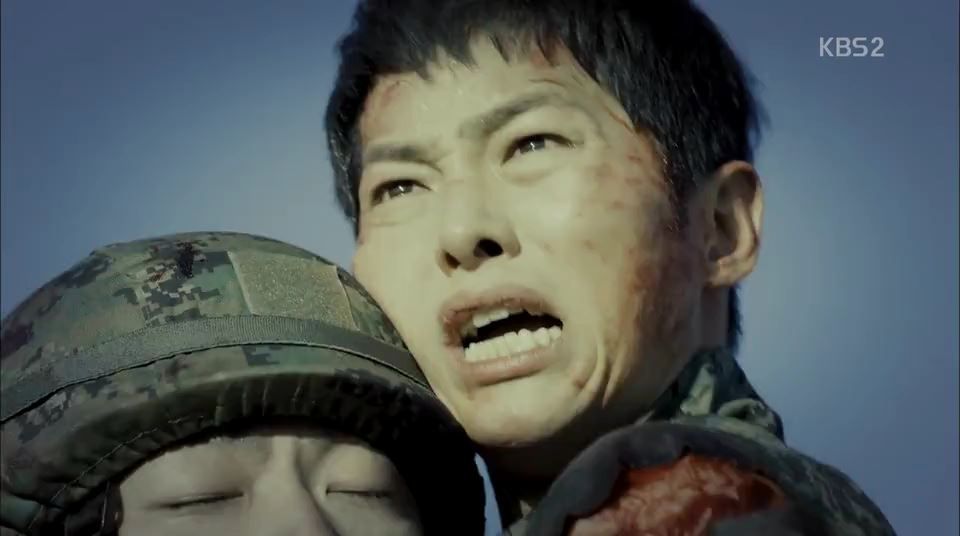 Mo Yeon wants to talk about what Shi Jin said before to her about saving a former comrade of his, wondering if he did it? Shi Jin's partner was killed by a sniper on the roof during the rescue evacuation of Shi Jin and Argus, and died in Shi Jin's arms. Shi Jin confirms his comrade was saved but today is the first time he's come to regret it.
Mo Yeon knows Shi Jin lied that he had to go to headquarters, she heard a gunshot go off from the store and asks if Shi Jin did it? He constantly does things to jumble her up like this. The electricity goes out but Shi Jin assures her that it'll be back in 30 seconds as this is a normal occurrence. Shi Jin warns Mo Yeon not to do anything to him in the dark. She laughs and thanks him for today but he counters that she still can't do anything to him. She laughs some more and promises not control herself.
They stare at each other in the dark until the lights come on, and Shi Jin wonders if Mo Yeon has been staring intently like this at him the entire time. Mo Yeon thinks Shi Jin must have a lot of women around since a man with a good sense of humor is very attractive. All Shi Jin has are men around him, and Mo Yeon has been staring at those men every morning during their morning jobs. Mo Yeon doesn't even blink before saying that is her very reason for existence these days, lol.
Shi Jin nearly growls at that until Mo Yeon brings back the car in the ocean. Shi Jin's taken care of it, placing a call to have it fished up from the water.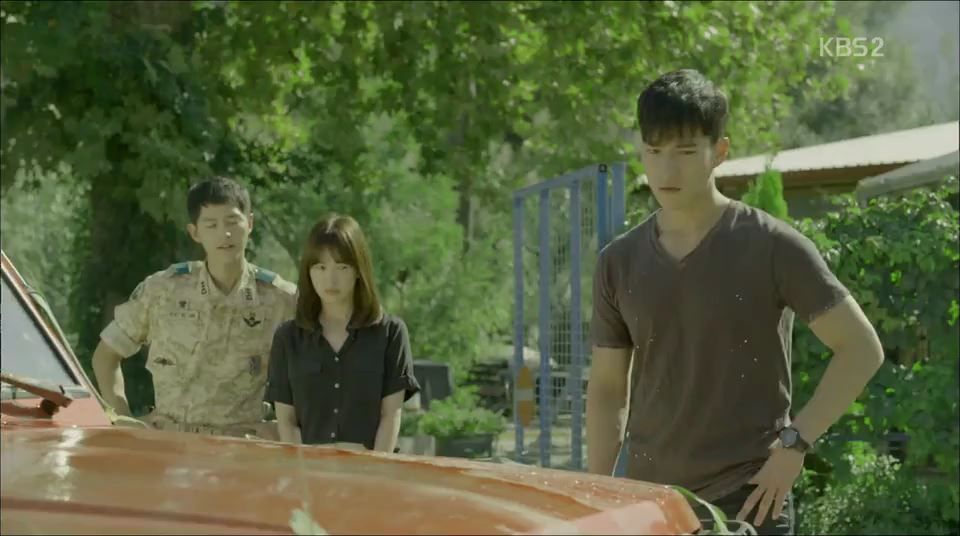 The soaking wet car is returned to Daniel at his shop and the poor dude stares in disbelief at the wretched state. Mo Yeon is super apologetic but can't help but wonder why Shi Jin had to send the car into the water to save her. A glare from him gets her to pipe down since he saved her life and all. Mo Yeon promises to pay for the repairs from her salary but Shi Jin assures her that Daniel can repair anything. That's when the car grill and door fall off its hinges.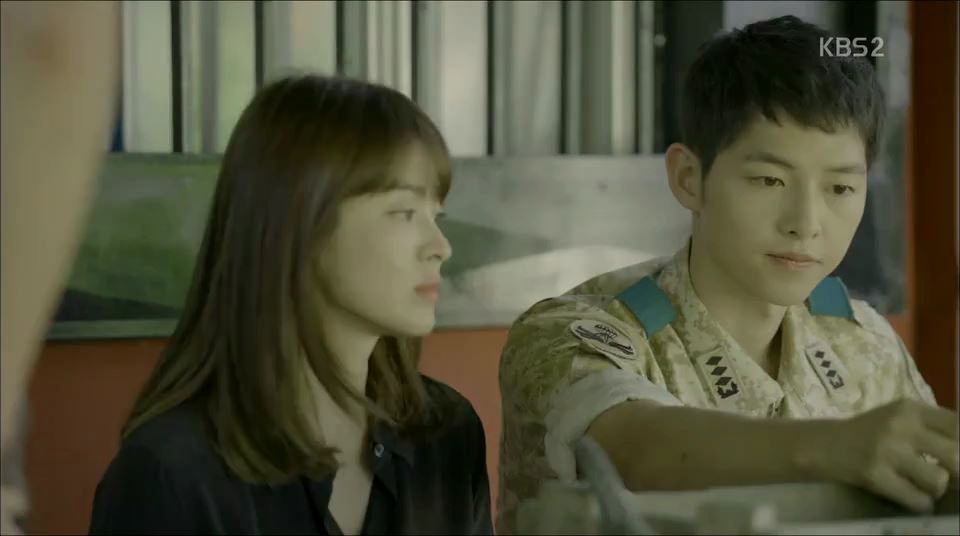 Daniel hands over a box to Shi Jin containing walkie talkies that he asked for. Shi Jin explains that walkie talkies are more reliable here than cellphones in cast something happens again. Mo Yeon offers to pay, for the car that is, but Daniel wants to try and repair it first. Mo Yeon is incredulous that he can resurrect the car and Daniel tries to play up the situation by saying that he feels bad for the car since he never gave it a new paint job or filled it up with highest grade gasoline.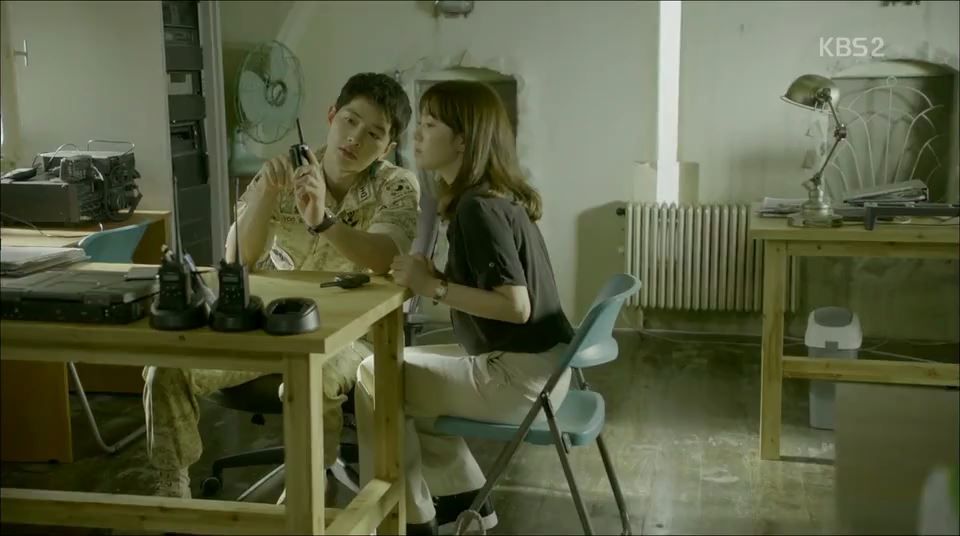 Shi Jin sits down with Mo Yeon to explain how to use the walkie talkie, and how he's preset 3 for the medical team and 7 for the army. He demonstrates for it and starts off identifying himself as Big Boss. Mo Yeon learns that Big Boss is Shi Jin's call sign and he asks her to think of one for herself. He suggests Pretty Girl which makes her happy.
Their chit chat is interrupted by the arrival of Myung Joo who has been taking the scene in earlier. She announced her presence here to get married to Shi Jin, which rattles him and she takes note of that. Myung Joo reports that she's been assigned her as the medic support. Shi Jin points out how she's pulled rank for her personal reasons but Myung Joo doesn't feel bad since she's facing tough odds to begin with.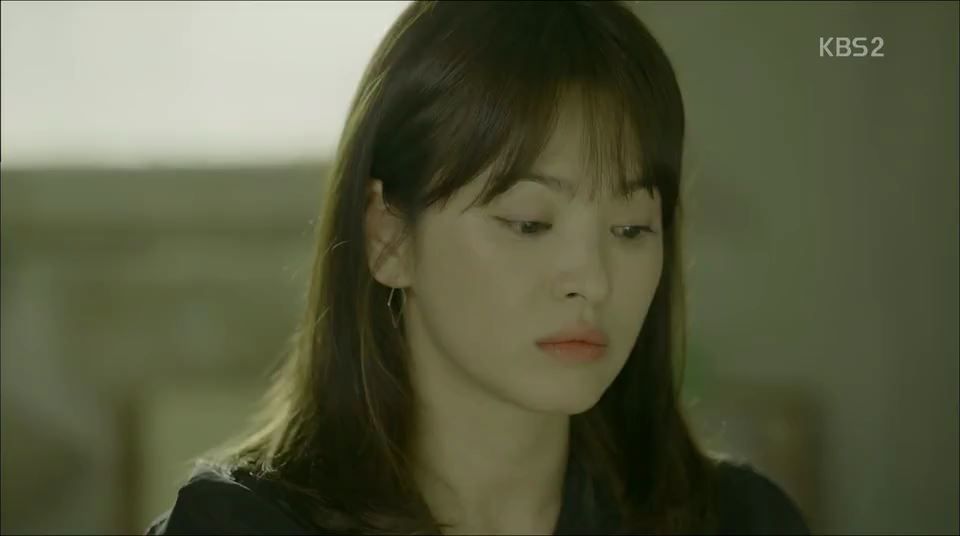 Mo Yeon takes her leave but Myung Joo wants to exchange greetings and put things behind them now so they can work together here. Mo Yeon blows her off claiming her hands are full holding the walkie talkies.
After Mo Yeon swans off, Shi Jin asks Myung Joo how exactly she knows Mo Yeon. Myung Joo asks Shi Jin back whether he met Mo Yeon here or have been dating Mo Yeon already and is pretending to meet here? Shi Jin is nothing like Myung Joo and chides her for disrespectfully referring to Mo Yeon by her full name in banmal. Myung Joo calls herself the little sister and disapproves of Myung Joo for Shi Jin. He can't figure out their weird family relationship since she earlier claimed to be here to marry him.
Mo Yeon is trying to eavesdrop on the conversation with her stethoscope against the door. Chi Hoon sees her and gets her to quickly drag him off lest she is discovered.
Shi Jin brings up how Myung Joo's dad called and asked him to take care of Myung Joo, i.e. torment her so she is willing to go home. Myung Joo hears that Shi Jin's return date has been moved up so that he can attend his dad's retirement ceremony, which means Shi Jin is also from a military family. Shi Jin urges Myung Joo to try harder, if the other guy wasn't Shi Jin then Myung Joo would have already been married off. Myung Joo sasses that she should just marry Shi Jin and that freaks him out. He wants to know if Myung Joo has spoken to Dae Young? Myung Joo brings up how Dae Young doesn't take her calls so Shi Jin tries to call him to show how Dae Young always takes his calls.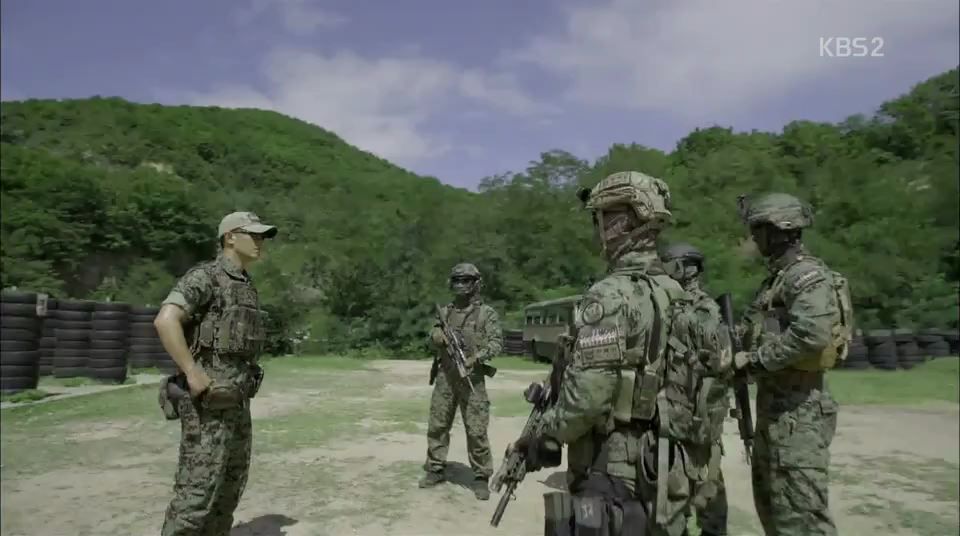 Too bad no one answers since Dae Young is in special forces training in Korea. His type of training is to place himself as a direct target to see how accurate his men are and how willing they are to accept absolute orders.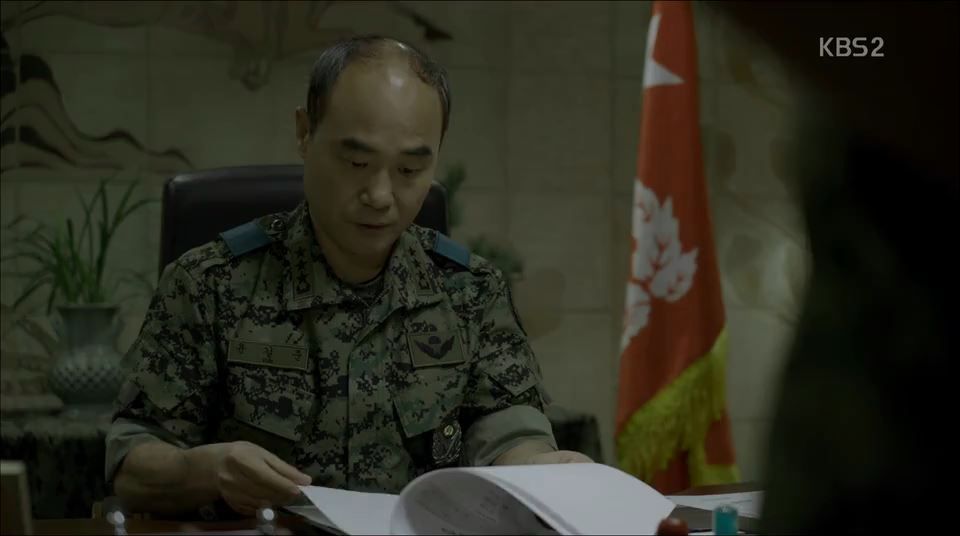 Dae Young is called in to report to General Yoon about whether any of the men in training are suitable for Alpha Team. He wants Dae Young to train the men hard and create future team leaders. He's also planning to bring Shi Jin back after he breached protocol last time, stashing him in army training to lay low and also build up his connections.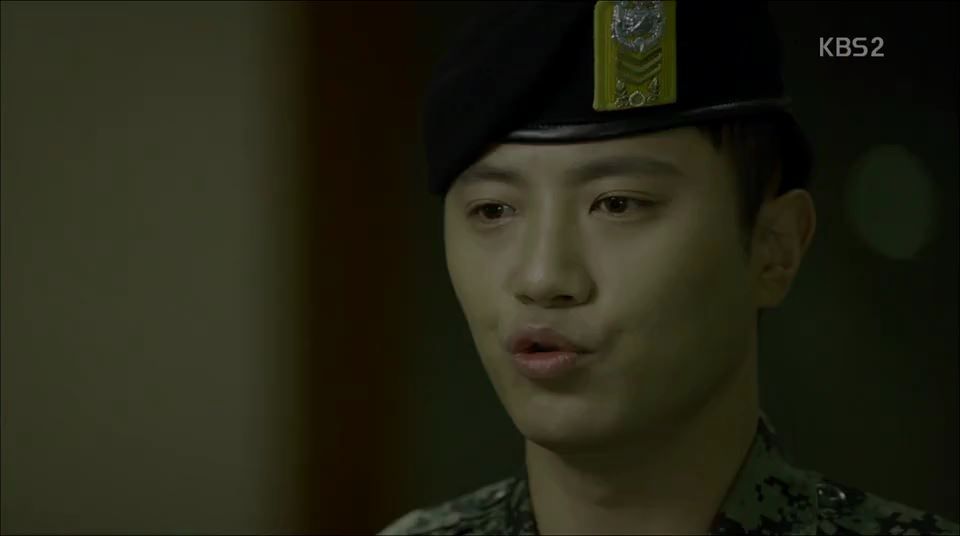 General Yoon asks if Dae Young also believes like Myung Joo does that he was transferred back here for unjust reasons? Dae Young agrees so General Yoon tells him to lodge a complaint. Dae Young will never do that because General Yoon has one weapon that Dae Young cannot counter – his sincere love for his daughter's future and wellbeing. That's why Dae Young has lost already because he wants the same for Myung Joo.
Dae Young walks off and remembers back to happier times with Myung Joo, going on dates and having their dad farewells. Myung Joo apologizes for being a woman who blocks the future of her man but she still wants to be with him. She regrets not holding his hand or hugging him more, but she still loves him. Dae Young sees a call from Myung Joo and ignores it. She wishes they could be together in Urk but wonders if they will be sent apart again.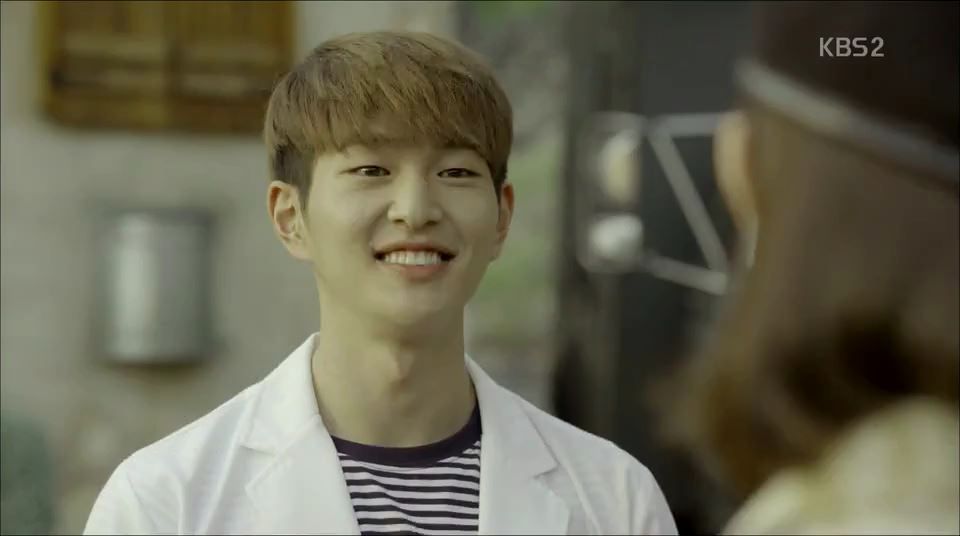 Chi Hoon approaches Myung Joo to ask about joining the army and whether army doctors will get guns. He's soon to enlist for his military service and wonders if army doctors will practice in the field if there is a war? Myng Joo wonders if Chi Hoon is trying to pick her up but Chi Hoon quickly shoots her down, he just thinks being an army doctor is cool plus Myung Joo isn't really that pretty.
Mo Yeon walks up having overheard that and is super pleased. Myung Joo points out the expensive Hae Sung group medical facility and compares it to rich kids going on a field trip, they will do some perfunctory medical work before leaving in a short time so why bring so much. Mo Yeon pulls sunbae rank and answers all of Myung Joo's questions with a pointed reference to her as the hoobae, lecturing her that the extensive supplies have been shipped here so the remainder can be donated to the UN facilities once they leave. Myung Joo takes off and Mo Yeon loudly wants to smack her for being rude. Mo Yeon declares to Chi Hoon that they won and marches off with him following behind but Chi Hoon doesn't know who won what.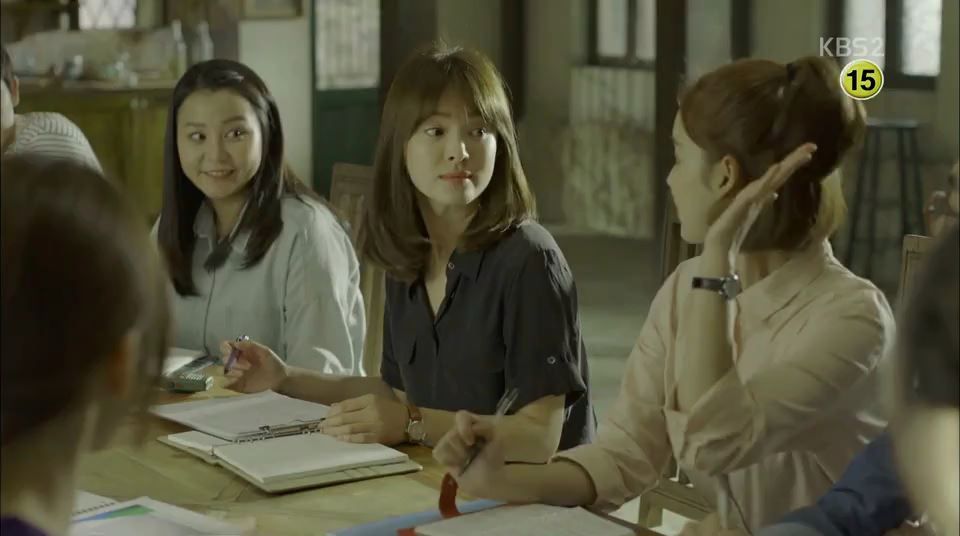 Mo Yeon sits with the team to parcel out staffing assignments for the day. Mo Yeon gets a call over the walkie talkie with the code name Pretty Girl asking what she wants for lunch? She's so giddy until Shi Jin walks over asking to talk which sends the rest of the medical team scattering. Mo Yeon tries to mask her embarrassment over her code name but claiming Shi Jin shouldn't be talking to her because it will upset the woman who wants to marry him.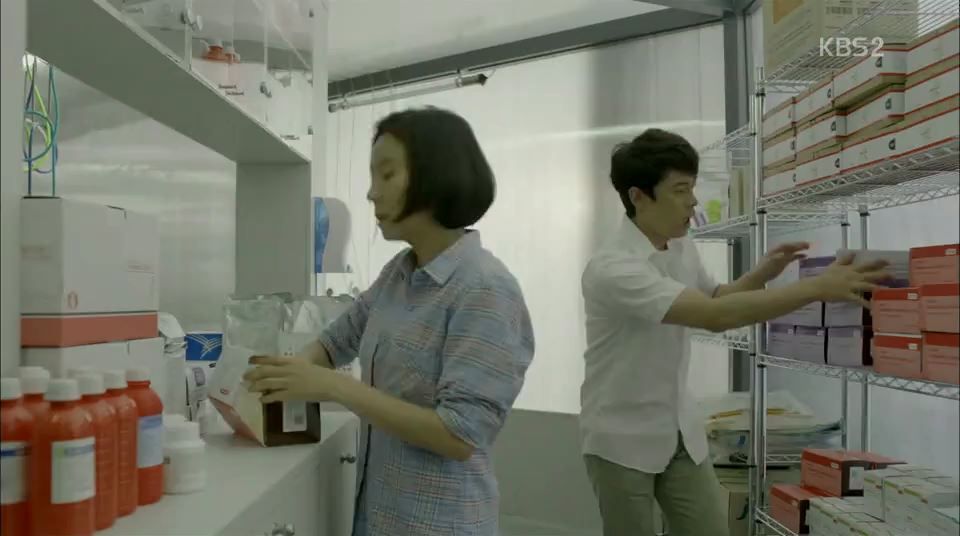 Dr. Song wonders to his wife Nurse Ha if something is going on between Shi Jin and Mo Yeon? Something like what was between them? His wife snarks that it's something regretful then which hurts Dr. Song's feelings and he runs off in a huff.
Ye Hwa thinks Daniel should give up on the car, there is no way he can fix it. She is impressed that he looks like a real mechanic right now though she finds him even sexier with a scalpel in hand. Daniel thinks Asians find a suit and wrench sexiest which riles up Ye Hwa that he's so flirty. Daniel manages to fix the car and successfully start it.
Chi Hoon is playing war games with Dr. Song using the walkie talkie in the medical facility and it's being broadcast over the medical team channel so Shi Jin is listening in on it. He is packing and finds the rock from the island in his drawer. That's when Mo Yeon starts singing a patriotic song over the walkie talkie to her playacting colleagues. Shi Jin sits down to quietly listen to her sign and playing with the rock in his hand.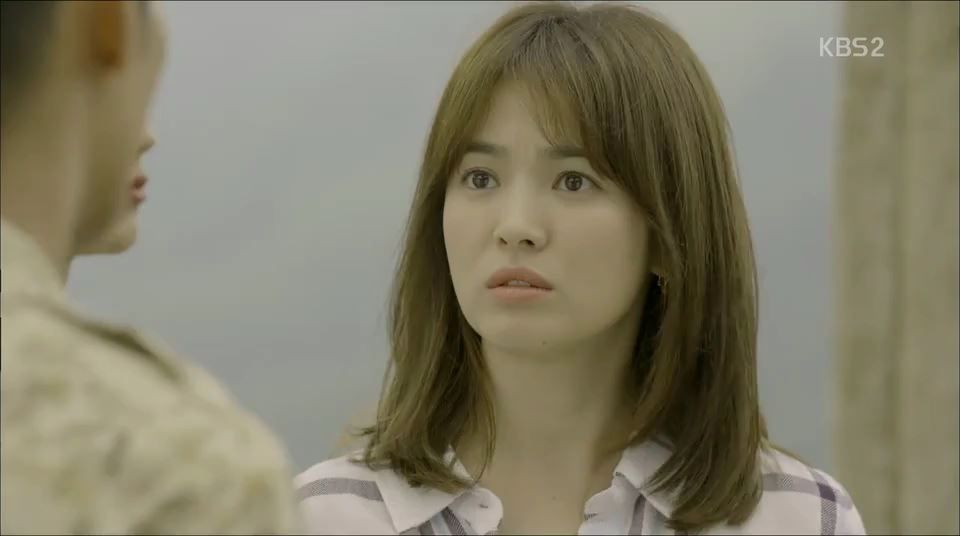 The next day the medical team and the soldiers all gather around for a cake farewell celebration where Mo Yeon is shocked to hear that Shi Jin is leaving tomorrow to return to Korea.
Mo Yeon is pacing around that night all upset that Shi Jin said not a word about leaving tomorrow. She turns the walkie talkie to the army channel and is tempted to talk to him on that line. She doesn't and just yells at him without pressing the talk button but then is startled when she hears Big Boss asking if anyone saw Dr. Kang. She speaks up and Shi Jin wants to meet to talk.
Shi Jin asks if she's upset about him leaving and not saying a word? He was going to tell her during lunch but she ran off, remember? Mo Yeon argues that he should have stopped her and told her. Shi Jin thinks Mo Yeon being mad at him is to his advantage but she disagrees. Shi Jin asks if he's still jumbling how she feels and she remains silent to that question.
Shi Jin once again cuts to the chase wants to use this chance to ask one final question – that kiss without her permission, does she want him to apologize or confess his feelings? Mo Yeon stares at him and says nothing. God, I hope she doesn't start lying but at least say she likes him but doesn't want to like him because he's always running off, which is true. Or something like that.
Thoughts of Mine:
Like the needle hasn't move any on either main couple, it's the same sense of ennui that permeated this episode a bit. Just a noticeable smidge on both the emotional and action story line, which when done right feels quietly reassuring but here felt a bit protracted. Perhaps the story line has been moving at a certain pace for the first four episodes so this change initially felt jarring and I needed to realign my bearings. I appreciate the continued quality in filmmaking, with the action scenes continuing to look top notch sleek, and those who find the story cheesy aren't wrong either but both are really separate elements of this drama and shouldn't conflate to either good or bad on one or the other axis. Pretty visuals and smooth editing didn't do as much to beef up the thinness of the story seams that are starting to show though – I still don't quite know what Alpha Team or Shi Jin does concretely, Hae Sung's medical mission feels increasingly silly, and Mo Yeon's attitude took another step in stubborn mulishness. Thankfully Myung Joo and Dae Young buoyed the ship as a whole in this episode even if they didn't have any scenes together in the present.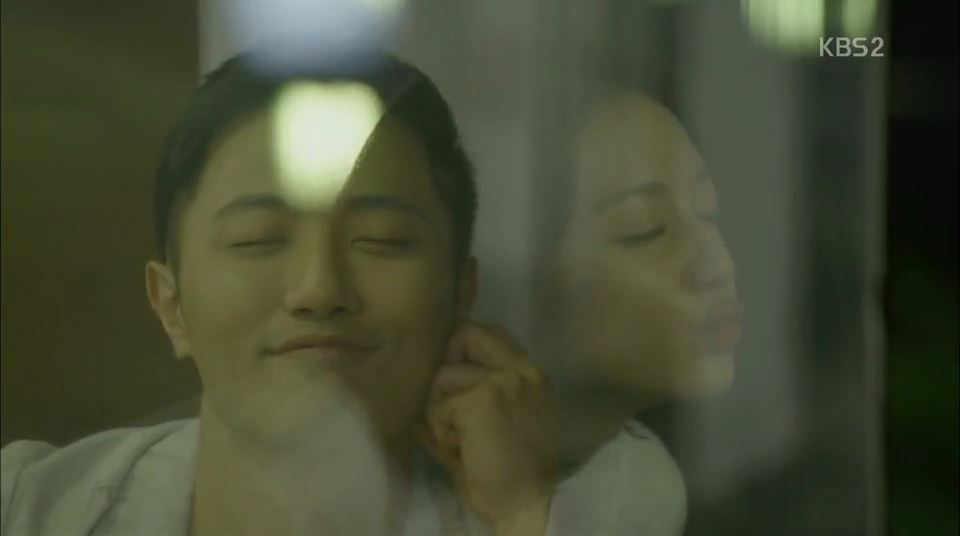 I really do like Myung Joo even if she's got plenty of faults and certainly does her share of line crossing activity. Siccing a junior soldier to tail Dae Young and report back to her on his daily minutae is all sorts of wrong, yet kinda cute in her dogged puppy dog way. I can cut her slack because Dae Young clearly loves her as much as she loves him and is only suffering from a severe case of noble idiocy. I wonder if he fought back and contravened General Yoon that might actually be the key to breaking the impasse. General Yoon wants a leader and right now Dae Young is forever a military rule follower. Sure it's a double edged sword because he has to take that leap of faith first, but his method is certainly not working right now. But I also buy that he wants Myung Joo to be with a guy that's better than him, so it isn't just General Yoon keeping them apart. He's such an idiot because having a good staff sergeant soldier as her hubby can't be a career killer for Myung Joo's military future. Heck, plenty of five star generals are probably married to stay at home wives for all we know, it's not like Myung Joo needs to marry up to climb the ladder.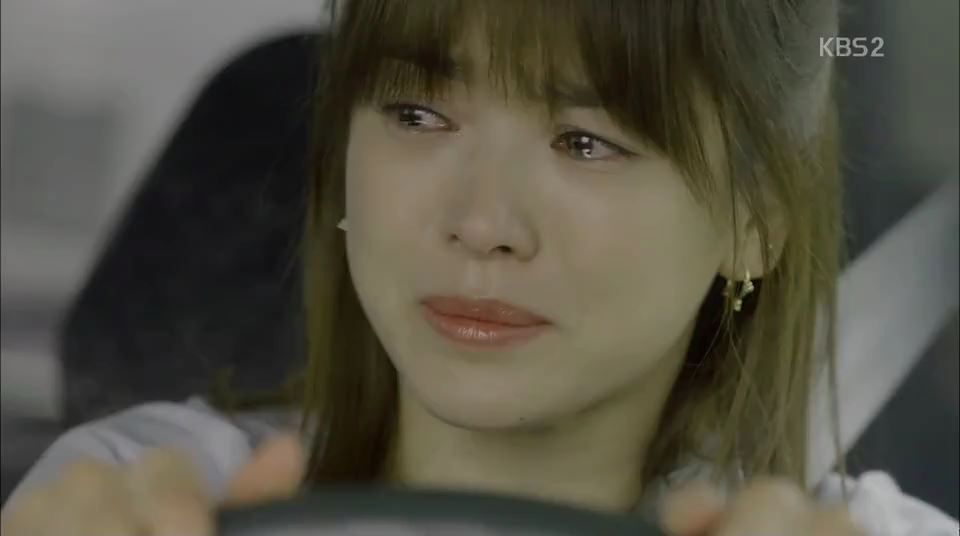 If Myung Joo and Dae Young are stuck in a rut of Dae Young's own making, Mo Yeon and Shi Jin are stuck in a rut of Mo Yeon's creation. I wonder if her aversion to soldiers was there from the beginning or because Shi Jin abruptly stood her up twice in a row when they started. If their dates are gone fine and ending on great terms, would she seem to dislike the soldier life of running off when duty calls? Her tending to Shi Jin's wound and the bullet wound also seemed to bother her. What if he were a regular military recruit rather than a career officer, would that make a difference? I find Mo Yeon's issues simplistic and not terribly thought out, hence her continued push and pull with Shi Jin is growing so frustrating. If she's not interested then what's with the jealousy, and if she's interested then be a grown woman and just date the guy for the time being and see where it leads. Even if she's certain it's not forever why can't she just enough an overseas fling? I like her personality in most other ways but when it comes to her issues concerning dating Shi Jin it's not the easiest to buy into.
Shi Jin remains the character that is easiest to identify with because he handles issues with such a direct approach. He's loyal to his friends and consistent with his ideology whether in serving his country or in love. I can't even say he's in love with Mo Yeon, or vice-versa, but he doesn't play games with her aside from the constant teasing and joking. When it comes to his interest it's candid even if he doesn't force it on her. The action sequences in this episode from the car over cliff rescue to the previous military operation scenes continue to impress with how believably Song Joong Ki pulls it off from the acting rather than any physical plausibility. All the existing and new side characters are nicely presented and immediately make an impression, I'm especially curious about Daniel and like how Argus found a new henchman to do his bidding. I'm wondering why narratively Shi Jin needs to be shipped back to Korea, and in fact was hoping Dae Young would have a return ticket back to Urk by now. If the medical team is on Urk then the story plays out so much better with everyone slapped together in close environs and forced to figure things back. Hopefully it's just a matter of time before all the major characters are assembled in the same place and maybe all it will take is a large natural catastrophe.
Click here to watch Descendants of the Sun.