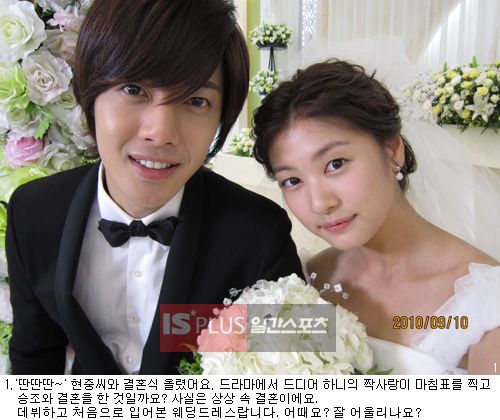 And…..it's official. Playful Kiss (Mischievous Kiss) is confirmed to be a 16 episode drama. I hesitate to say it is being cut, because apparently MBC never did confirm it was going to be a 20 episode drama. Likely its length was left undetermined based on its reception. And since it's reception is the worst in recent and not-so-recent memory, PK has been given the 16 episode stamp.
On one hand, I am enjoying PK so much, even with its mellow vibe and rolling progression of the story, that I would look forward to 14 more episodes of this type of drama and this story in particular. On the other hand, cutting it now is realistically the only thing that can happen, its ratings are so low I highly doubt it will be resurrected to any satisfactory degree in the near future.
My only fervent wish is that they cut all the fat, trim the cute but unnecessary scenes, and just get this couple to the alter by episode 12 or 14, and then let them deal with some young marrieds issues afterwards. It's not ideal, but I can live with it. Live-filming means that the writer can focus on the meat of the story without PK devolving into a mess.
For all PK-fans out there, c'est la vie. Korean viewers have their own tastes, and PK clearly doesn't fit their cravings right now. I can tell you all by the incredible number of hits on AKP since I started recapping PK, that PK is more popular online then anything I have seen in a long time.