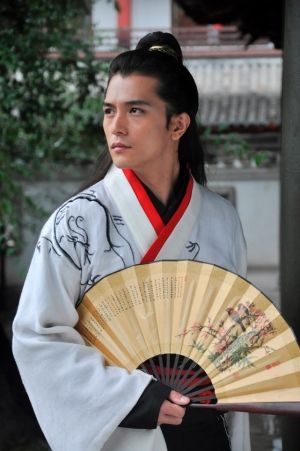 Even if you are not reading Yun Zhong Ge along with me, I recommend reading this one post and feeling the love wash over you. It's the ending to one of the most beautiful love stories I've ever read. I think my brain tells me to drop YZG, because its just too long, and the emotional toil towards the end is exhausting. But my heart stubbornly clings on to the vestiges of this novel, and I realized that I can't fully drop it because I can't say goodbye to Ling gege. It's crazy, as a male lead he's on the periphery, and as a character he's ephemeral. But in YZG he makes the most impact on me, and for good or for bad, he's going to be one character I'll have a hard time forgetting. I've translated the most moving parts of two chapters (39 and 40), the chapters that made me cry harder than I have cried in years. Sobbing and gasping for air is not exactly my reaction when I read, and I think you'll need to have tissues ready for this.
Chapter 39: Thoughtfulness Brings Pain, Deep Love Never Ages
When the leaves have almost all fallen, Liu Fu Ling left Wei Yang Palace in Chang An and removed to Wen Quan Palace in the Lu Mountains.
Most matters he no longer handled personally, and at most he would meet with a few officials a day in Wen Quan Palace. He handed the running of the dynasty to Huo Guang and a few other high ranking officials. Leaving Chang An behind, it was like leaving all the worries and frustrations behind. At least that was how it felt to Yun Ge.
In the past, Ling gege had very little time to give her. When she woke up, he already left for court, and it wasn't until late into the night would she be able to see him. But now, he gave her all his time. There were no Palace rules, there was no fear of anyone spying on them, and there was no worry about unknown dangers.
Him and her began to live the ordinary life of a married couple. Yun Ge cooked for him, and he read books, wrote calligraphy, painted, and played his flute. The two of them held hands and walked in the mountainside slowly, enjoying the views of the rivers, the waterfalls, seeing the clouds dance, watching the dew glisten. Or they looked at nothing in particular at all.
Yun Ge taught him how to make a trap to catch a bird. In the end, the teacher caught three, while the student caught nine.
He taught Yun Ge how to carve a seal. Yun Ge kept breaking her knife tip, and she didn't even manage to carve one entire character on the seal. But in the end, she owned the most exquisite jade seal in the world.
One time, the two of them decided to wake up before sunrise and go collect the dew from the bamboo leaves to bring back and brew tea. They worked all morning and finally collected enough dew water. As they drank the tea, both of them had the same lament. "The taste is just like this! So not worth it!" The next day, both of them slept until noon before waking up, and then went to the hot springs together.
Liu Fu Ling never understood why his father built the hot springs in such a weird way. Liu Che placed jade pillows there and even built a jade pallet inside. He never bothered to figure it out in the past, only resting his head on the jade pillow as he soaked. But Yun Ge was different. She wasn't soaking inasmuch as she was swimming around in the hot spring. She was curious about anything she couldn't figure out. Yun Ge was bright and had the ability to think outside the box, plus she was bold and daring in a way most girls weren't. She continued to investigate the hot spring decor until she figured out out, She whispered to him, with her face bright red, what the various items were intended for.
One afternoon, he was in the mood and drew a painting. A hot spring pool with green verdant waters, two cranes were dancing. One was in the water while the other was on the surface. On the bottom of the painting he wrote the verse "What thing entrances the soul."
Yun Ge saw it and she was so embarrassed, wanting to rip it up. Liu Fu Ling smiled and watched her, making no move to stop her. But then Yun Ge picked up the painting and studied it carefully, her face pink but her lips curved into a smile. "If my lord husband wants to "enjoy" this way, then you might as well draw a painting after each time!" Liu Fu Ling's smile froze while Yun Ge grabbed her belly and guffawed.
The days pass as usual in the mountains, and Liu Fu Ling only felt how short each day was. In his entire life, he never wanted so desperately for time to slow down. But time passed quickly, and his pain only increased in severity and frequency. He could no longer keep it from Yun Ge.
The pain was like a thousand arrows piercing his heart. His body refused to cede to his control. When it was less severe, his body would feel numb, but when it was more severe, his body would twitch uncontrollably. Initially Liu Fu Ling was worried about Yun Ge, but he discovered that each time he had an attack, she would calmly hold him and softly speak into his ear. Sometimes it was a story, other times a joke, maybe a poem, or even nothing at all as she just called his name over and over "Ling gege, Ling gege……."
He passed out from the pain, but in the darkness he could hear her calling him. He relied on his longing for her to call him back, enduring this never ending pain over and over.
He promised her to make snowmen with her when it snowed, but by the time the first snowfall came, he could no longer move around freely. He could no longer accompany her outside for walks. Making a snowman became a promise he could not keep.
He stared at the snow, his heart crestfallen, but Yun Ge smiled and said "On such a cold day, hiding inside next to a warm fire is the best." In her smile, he didn't feel so bad, yet at the same time he felt even worse.
[Liu Fu Ling calls Liu He into see him, and later Liu He and Yun Ge have a lovely conversation as she walks him out of the Palace, which I won't translate fully. He teases her about still wearing her hair in the style of an unmarried lady despite marrying into the Liu family. Yun Ge tells him to be respectful of his elders, since she's technically his Aunt now. They are adorbs.]
Liu Fu Ling also called Liu Xun in to see him. Liu Xun arrived and saw someone carrying an armful of plum blossoms walking in the snow. The person's face was obscured by the plum blossoms, but then the person tripped and slid down a snowy incline. Liu Xun rushed forward and grabbed Yun Ge, who cried out "Don't harm my plum blossoms!". Liu Xun moved his arm strength to avoid the plum blossoms and pulled Yun Ge into his arms. A fragrant scent hit his nose, and he wasn't sure if it was the flowers or the person who smelled so lovely. Yun Ge right herself and smile "Thank you, big brother."
Yun Ge and Liu Xun walked together to see Liu Fu Ling.
Liu Fu Ling was seated on the pallet with his back resting on the side, his face was thin and drawn, his energy almost sapped. But in his eyes Liu Xun could see a never before seen peaceful happiness.
Liu Fu Ling saw Yun Ge and in his eyes there was no one else anymore. He brushed the snow off Yun Ge's hat and smiled "The snow storm actually kick started the plum blossoms in the mountainside." Yun Ge arranged the flowers in a vase and laughed "Yes! And its so pretty. I've brought back all the best ones. Rather then having random people enjoy it, we can enjoy it ourselves."
Yun Ge arranged the flowers and put the vase next to the window, in a place Liu Fu Ling would see when he raised his head. She opened the window so the snow flew in and the white landed on the red plum blossoms. Liu Fu Ling silently enjoyed the view and then nodded his head with a smile. Yun Ge closed the window.
Yun Ge pointed to the flower, and then pointed to herself. Liu Fu Ling smiled and shook his head. He motioned for her to come over and then plucked the few stray plum blossoms on Yun Ge's hair before arranging it artfully on her head. He looked at it for a moment before smiling and then tapping her on the head. Yun Ge smiled brilliantly and swanned happily out of the room.
The two of them said not a word, but it was clear in their every gesture. One person was not despondent in the face of impending death, the other was not inconsolable in the face of impending loss. In the time that was remaining, they enjoyed the beauty of their world together. Liu Xun could not have expected to see Yun Ge and Liu Fu Ling like this.
[Liu Fu Ling passes the throne to Liu Xun, telling him that he's best suited to run the country. If he was picking a friend, he would pick Liu He, but as his successor, Liu Xun is ruthless enough to oppose Huo Guang and fight for the people. He asks Liu Xun to promise not to kill Liu He, to not ever make Shang Guan Xiao Mei's life difficult, and to let Yu An leave the Palace and not harm him.]
Liu Xun asked "Your majesty, you asked me when you first met me "What is the happiest thing in your life so far?" and "What is it that you want to do the most in your life?". Today your servant I want to ask Your majesty the same question back."
Liu Fu Ling didn't answer right away, only closing his eyes as if he was deep in thought. Liu Xun felt comforted that Liu Fu Ling was like him, unable to answer this question. But then slowly, Liu Fu Ling smiled. "I have so many happy things, I cannot think of the happiest one at this very moment."
Liu Xun's heart shook, he wasn't sure if he was envious or jealous.
A moment later, Liu Fu Ling smiled and said "The happiest thing in my life is marrying a wonderful wife."
Liu Xun held his breath waiting for Liu Fu Ling's next answer. Liu Fu Ling's smile disappeared and he didn't answer, growing so quiet Liu Xun thought he fell asleep. As Liu Xun was about to quietly excuse himself, he heard Liu Fu Ling quietly say "The thing I want to do the most is to grow old with her." Liu Xun's heart thundered and he didn't dare meet Liu Fu Ling's eyes.
Liu Xun walked out and saw Yun Ge making snowmen outside. Two monkeys were accompanying her, helping her collect snow, pulling her hat to get the snow off, and sometimes even accidentally toppling the snow she collected. But Yun Ge was not angry or upset, only smiling and continuing to do her thing as the two monkeys kept her company.
When Yun Ge saw Liu Xun leave the room, she raised her head with a smile and rushed into the room, shaking the snow off her as she ran. The two monkeys got excited as well and raced behind her, shaking off their snow and joining her in entering the room.
When Liu Xun asked, he was told Yun Ge saved the two monkey last year and released them into the wild. But since they moved to Wen Quan Palace, the two monkeys suddenly appeared and would bring offerings and come spend time with Yun Ge and Liu Fu Ling.
Chapter 40: In Sadness, A Parting Forever
[Liu Fu Ling summons Shang Guan Xiao Mei to Wen Quan Palace and hands her an official decree that will free her to leave the Palace after he dies. She is only fifteen and he wants her to leave the Palace and live her life as she wishes. He hands her the Imperial Seal and tells her to hand it to Liu Xun after he's gained control, so Liu Xun will be further indebted to Xiao Mei and will never want to harm her. Xiao Mei asks to stay and take care of him but he tells her to treat the past fifteen years of her life as a dream and move on. When Xiao Mei is heading down the mountain, she gets off the carriage and walks in the snow, prolonging her trip so that she can feel like she's in the same place as her Big brother Emperor for a bit longer.]
The snow this Winter was very odd, coming down in spurts. One time it came down for ten days straight, sealing all the mountain roads and turning Wen Quan Palace into a secluded paradise. Liu Fu Ling no longer handled anything from the outside, only quietly spending his days with Yun Ge.
His attacks grew less frequent, but each time it was more severe than the last, and he was unconscious for much longer period of time.
When they were sleeping, Yun Ge would wake up in the middle of the night and press her face against his chest. When she heard his heartbeat, she would smile like a doofus and peacefully go back to sleep. Sometimes Liu Fu Ling wasn't aware of it, other times he knew Yun Ge got up and listened against his chest. When she lightly embraced him and fell back sleep, he would open his yes and stare at her exhausted face while praying he wouldn't suddenly have a spell and disturb her rest. In truth the Heavens could be so cruel. Even when quietly staring at her sleeping face it felt like a rare gift.
The love was so deep, so deep. But time was so short, so short.
Perhaps the two of them knew that their time together was quickly slipping away, so day and night they spent every moment by each other's side.
In the day time, she was his hand, his eyes, doing things he couldn't do. She told him about the world outside, describing everything vividly. He could only stay inside the room, but from her eyes and her voice, the world outside entered his heart. Despite the four walls of their room, their world felt infinitely big. Their laughter would ring out constantly. At night, she curled into his arms and told him stories, read him books, and even picked up his flute and played him songs.
He could no longer play an entire tune, and her skill at playing the flute improved by leaps and bounds. She played the tunes he often played. In the rise and fall of the musical notes, his eyes revealed his longing, and her eyes revealed unshed tears. When he reached for her in apology, her smile immediately appeared. In her smile he realized that feeling sorry was meaningless between them.
One quiet late night, Yun Ge read to him from a travel journal exploring new lands. The two of them traveled with that traveler and saw new sights. After reading for some time and not hearing Liu Fu Ling say anything, Yun ge grew afraid and called out "Ling gege."
She pressed her face against his chest and heard his heartbeat, which was when she relaxed. She set the book aside and helped make the bed so he could rest more comfortably. She blew out the lamp and laid down next to him. She pressed her face to his chest and listened to his heartbeat as she fell asleep.
His heartbeat was the only solace in her world.
In the middle of the night, Liu Fu Ling suddenly woke up "Yun Ge." Yun Ge quickly responded "What happened?" Liu Fu Ling smiled "Where did you read to? I think I nodded off." Yun Ge felt this ache in her heart and she smiled "I got tired so I stopped reading and then went to sleep."
Liu Fu Ling heard the sound of heavy snowfall outside and felt his heart hurt so badly like it was being torn apart. "Yun Ge, go open the window, I want to look outside."
"Okay." Yun Ge lit the lamp and arranged his blanket before getting off the bed with a jacket around her. Liu Fu Ling said "Wait." He wanted to button her jacket but his hands were unsteady so his every gesture was slow. Yun Ge appeared not to notice, only chatting as she waited for him to tidy her up like he always did for her. After he finished, she walked to the window and opened it. A gust of cold wind blew the snow into the room. A few snow plum blossom drawings on the pallet was blown on the ground and Yun Ge rushed to put it back and place a paper weight on the drawings.
She curled back under the blankets "So cold!" and put her cold hands on Liu Fu Ling's face. His face felt numb but he couldn't feel the sensation of coldness. He reached out and touched her cold face to brush some snow off, but he also couldn't feel anything.
Despite being late at night, because the snow fall was so heavy outside, the white snow lent the world a eerie brightness. In the courtyard, Yun Ge had made two snowmen who were holding hands, but with the heavy new snowfall, the two snowmen's original shaped was long gone. The two of them held each other and quietly looked outside.
There was no sound, only snow flakes dancing.
He felt his chest constricting even though there was no pain. Half his body was starting to grow numb, and in the vague darkness, he appeared to understand something.
Liu Fu Ling quietly asked "Yun Ge, you will forget me, right?" Yun Ge vigorously nodded her head "Yes, I will forget you."
"Yun Ge, look at the snow plum blossom drawings on the table. I drew them when they were at its most beautiful, preserving their beauty on paper so all you can see is its splendor. But in truth, it's just like any other flower, it will wilt and die. I am the same. I'm really not that wonderful. If we lived a lifetime together, I will cause you sadness, and we will surely fight and be angry with each other. You will have times when you cry."
He tightly gripped Yun Ge's hand, the only thing in this world he longed for and didn't want to leave, the only thing he worried about. He thought once that if he loved her and she loved him back, he can hold her hand forever. He can watch the clouds pass by, watch the flowers bloom and wilt, until they finally turn old and wizened. But in truth, even if he did everything he could, he can only prevent them from being apart when both are living, he cannot prevent them from being apart when one must die.
"Don't live in the memory of the plum blossoms at its most beautiful, that is just an illusion. If you compare the plum blossoms on the paper to the ones in real life, it's not fair to the ones in real life." Yun Ge closed her eyes tightly and her voice quivered "I understand."
The wind picked up her hair and entwined it with Liu Fu Ling's hair.
He was smiling, but in his eyes there was only his worry. It was starting to be difficult for him to talk, and in truth she understood everything already. Between the two of them, they never needed to explain. But he was still worried "Remember the day we saw the sunrise? No matter what happens, never give up. Continue walking forward, you might see new sights you never expected. Perhaps its a road you didn't intend to take, or a mountain top you didn't intend to scale, but a different path has a different view and a different mountain top has a different sunrise. Don't keep longing for the original path….."
Yun Ge soft kissed him on the lips and said with a smile "Don't worry, I will leave Chang An. I will forget everything here. I will go travel the world, I will write a recipe book. Perhaps I will meet someone who is very good to me, and he'll go climb a mountain with me to see the sunrise. He will eat the food I cook. I won't live in the memory of missing you………I will forget…….."
Yun Ge continued to smile but her voice grew softer and softer until it disappeared into the wind. It wasn't clear if she was saying it to Liu Fu Ling, or to herself. The snow outside fell even harder and the entire world was a wintry blanket of white. Other than the snow, there appeared to be nothing else out there. Time appeared to be stopped by the bone chilling cold.
The two of them huddled against each other, quietly embracing their own forever and always. It was a moment, but it was also a lifetime. It was a lifetime, yet it was but just a moment.
Liu Fu Ling wanted to reach out and touch Yun Ge's face but he didn't have the strength anymore. He valiantly tried to raise his hand when suddenly a sharp pain stabbed at his chest, as if a thousand arrows was piercing him. It was so painful he had difficulty breathing and everything started to spin. He used all his strength to say "Yun Ge, sing to me. That song………that song…………"
As if she knew exactly what he wanted, Yun Ge took his hand and placed it on her cheek. She grabbed his waist and pressed her face against his chest and began to sing:
"The dark night is low
The bright stars are following
Insects flying, insects flying
Who are you missing?
………………"
Liu Fu Ling started to see blackness descending and he tried desperately to look at Yun Ge one more time. But she gradually faded away in his eyes and he saw only blackness. He tried so hard, and he was so very worried and had so much longing, but it only fell wordlessly back into his heart. Silently he departed.
"The stars in the sky are crying
The flowers on earth are wilting
The cold wind blows, the cold wind blows
Only needing your company
The insects fly, the flowers sleep
A pair, a pair is beautiful
Not afraid of the dark, only afraid of heartbreak
Not afraid of being tired
Not afraid of North, East, South, West…….."
Listening to his heartbeat slowly stop, Yun Ge's face turned whiter and whiter. Until the end, when she didn't appear to have any blood in her, when she was as white as the snow outside.
The room was cold and lonely in the stillness. The curtains billowed in the wind, the sound only emphasizing how desolate the room was.
The hand on her face gradually turned cold, until in the end it was as cold as ice. She still didn't react, only continuing to sing the song.
Her voice was tender and musical as she sang a song about a lifetime's longing and waiting for someone.
The darkness of the night was coming to an end. In the distance the sky was turning white, and the first rays of sunlight peeked through, shining color on the white snow.
Yun Ge raised her head and looked out the window. "Ling gege, the sun is about to rise. We can watch the sunrise in the snow!"
The person next to her didn't respond. His face was peaceful, and there was a slight smile on his lips. She embraced him tightly with all her strength as she raised her head and stared towards the East with unblinking eyes.