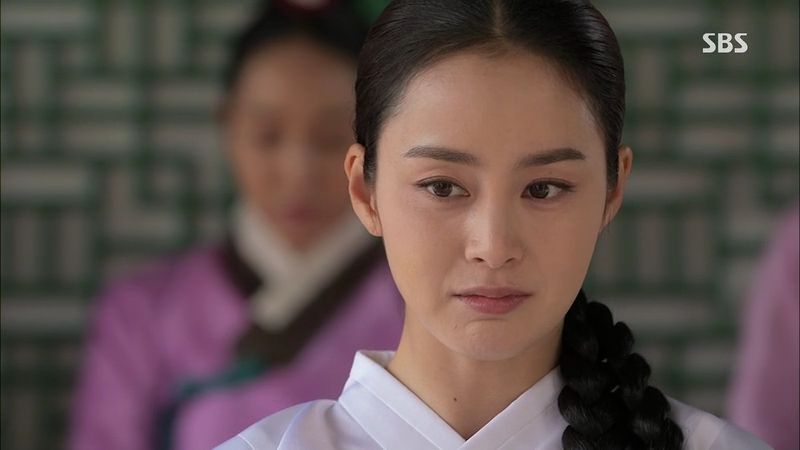 With episode 12 of Jang Ok Jung, Live in Love, the rumblings of the last few episodes are finally complete in its transformation. This drama has jumped the shark, people! It is now no longer a fusion sageuk romance with thoughtful political intrigue and subtle power plays. It's now a full blown daily makjang drama wearing pretty hanboks and produced with the money and quality of a prime time drama. If the ratings don't rise because of this then I have no choice but to accept the domestic audience hates a complicated and sympathetic Jang Ok Jung, because otherwise the makjang is through the roof now. Everyone is suddenly shouting, screaming, publicly battling, and making decisions without any careful consideration. Episode 12 reminded me so much of those daily drama moments where the mother-in-law hates her daughter-in-law and spends time devising pointless but cruel put downs, all while the poor hapless son is caught in the middle. I have to preface by saying I'll probably keep watching JOJ despite this drama going off the rails of its original trajectory, made all the more obvious by being MIDWAY done and still Jae Hee's second male lead has not appeared. Forget feeling bad for him as an actor, clearly there was some major script reworking going on.
if this is what the brain trust decided to turn JOJ into, then I'm game to see how it all unfolds. But the love is gone, I can't even feel the passionate tumultuousness between Ok Jung and Lee Soon. Their love was supposed to be the emotional centerpiece of this story, so that we feel how the world is against them as they strive to find a measure of simple happiness together. Now I just think Lee Soon is a terrible thoughtless King, one who hasn't a clue about how to balance all the elements and find the right way to earn his love with Ok Jung. As the King he's not supposed to have simple happiness, his father's dying words explained that love is a luxury and not a right as the ruler of Joseon. Yet Lee Soon tries to cram his love with Ok Jung down everyone's throats, all while treating his classy Queen with no respect and thumbing his noses at the ministers in power. How can I root for him when I think he's an idiot? I hope the drama rights itself in at least making Lee Soon more strategic, because right now Ok Jung is the brains of this show.
Episode 12 recap:
Dowager Queen Kim orders Ok Jung forced fed medicine that will sterilize her and keep her from bearing a child for the King. Ok Jung struggles and manages to grab the jade knife that was a present from Great Dowager Queen Jo and holds it against her neck, threatening to kill herself.
Dowager Queen Kim is stunned by her intensity and realizes she will not get away with this if Ok Jung ends up dead. She backs down and leaves with her maids.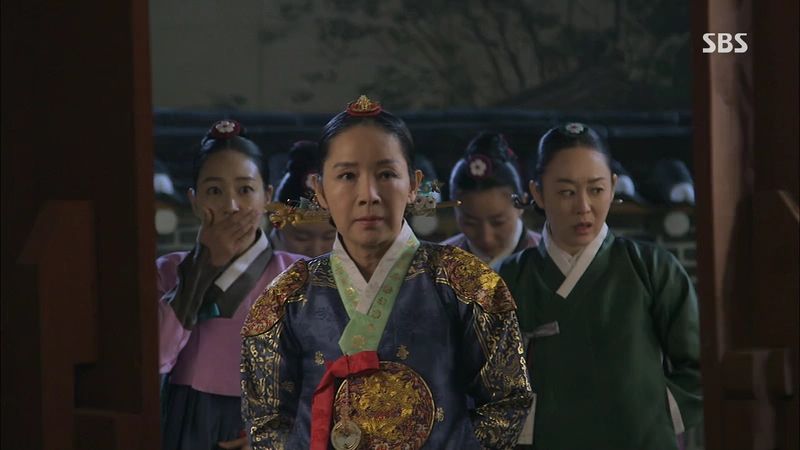 Great Dowager Queen Jo actually arrived in time to intervene but she doesn't once she sees Ok Jung pull the suicide threat. The Palace is a dangerous place and Ok Jung needs to learn to survive on her way. Her only security is to bear a son for the King so she is right in fighting back, because if she chose her life rather than the ability to bear a son, then Great Dowager Queen Jo will discard her as well.
Ok Jung goes back to her quarters and finds Lee Soon anxiously looking for her. She hugs him and cries while he worriedly asks what happened?
Dowager Queen Kim goes back to her quarters and voices her realization that Jang Ok Jung is stronger and more formidable an opponent than she thought. She calls her "the witch of all witches". LOL. She asks if Ok Jung will tattle to Lee Soon but her court lady says no because she knows better than to meddle in mother-son affections.
Lee Soon holds Ok Jung's hand and puts her to bed. He keeps asking what happened by Ok Jung says nothing, only that she was out for a walk and was so happy to see him. He doesn't believe her and she assures him that no one would dare harm the King's woman in the Palace. He allows her to maintain her silence but when she wants to tell him, know that he will always be on her side. She asks him to keep her company until she falls asleep. Lee Soon asks Court Lady Uhm to take good care of Ok Jung and leaves. Afterwards he asks his eunuch to check on the status of the project, he wants it done as quickly as possible.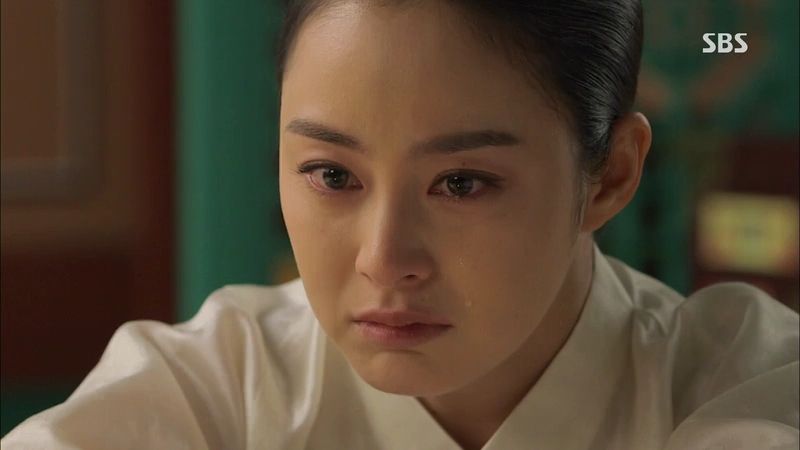 It's morning time and looks like Ok Jung didn't sleep a wink. She thinks back to the whole laundry list of mistreatment she has endured, from being tossed out of the Palace, almost getting burned alive, and now almost forcefully sterilized. She vows to herself that one day Dowager Queen Kim will pay for what she's done to her. She decides that she cannot tell Lee Soon what his mother did to her, one day she will make his mother confess. She vows to give birth to the cutest most beloved grandson for Dowager Queen Kim.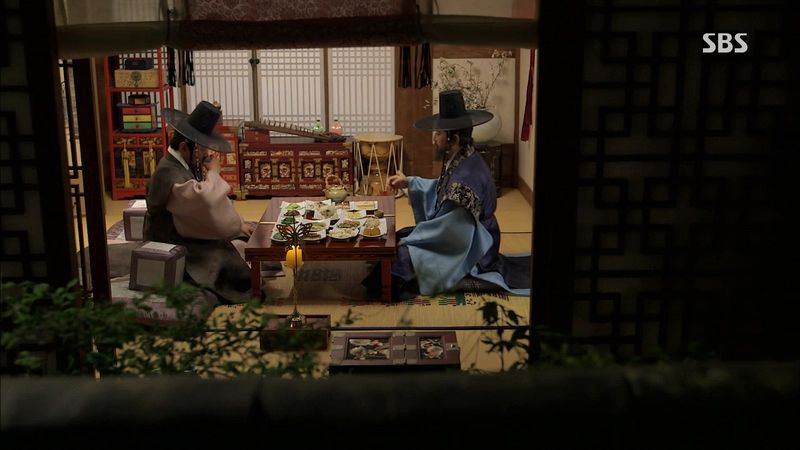 Minister Min dines with Minister Kim to discuss what is happening with the King and his women. Minister Min claims that when Queen In Kyung died, she died horribly because Lee Soon was already shacking up with Jang Ok Jung. He even embraced Queen In Kyung on her deathbed with Ok Jung beside her. That's a smart move, turn Minister Min angry at his former son-in-law. He tells Minister Min they need to make up and not let the King drive a wedge in the Soron faction. Minister Min says if the King has cut off their funds through the liquor trade, they will cut off his source of funds.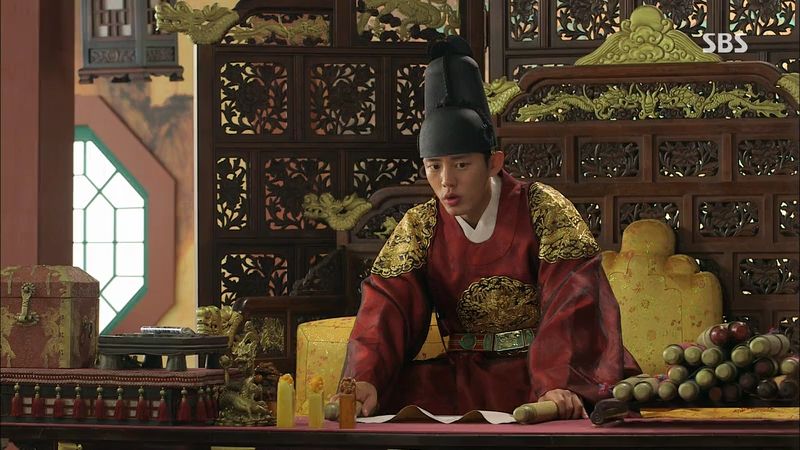 At Court the next morning, Minister Min brings up stopping the use of coins and letting the peasants revert to bartering goods in trade. Minister Jo says the Qing dynasty is already well in control of their coin currency. Minister Min says the use of coins is pushing the citizens into poverty. Lee Soon asks if he has proof? Minister Kim suddenly arrives and says there is proof with the influx of counterfeit coins into the market.
Minister Kim dumps out a bag of counterfeit coins, saying it is driving prices higher and sending the citizens into poverty. The Sorons urge him to stop the use of coin currency despite it being a source of funds for the royal family. Lee Soon is pushed into a corner.
Lee Soon later asks why Minister Kim is not aligned with him anymore? Minister Kim says he is following his own beliefs. Minister Jo urges Lee Soon not to get rid of coin currency and he agrees since it will ruin his other plans. He tells Minister Jo that he plans to go to the market to check himself and also to meet with Jang Hyun.
Jang Hyun is holding a meeting in his residence with business associates and subordinates. Some minions overstep and congratulate him on soon becoming the father-in-law to the King and says they don't need to work has hard. Jang Hyun smacks him down.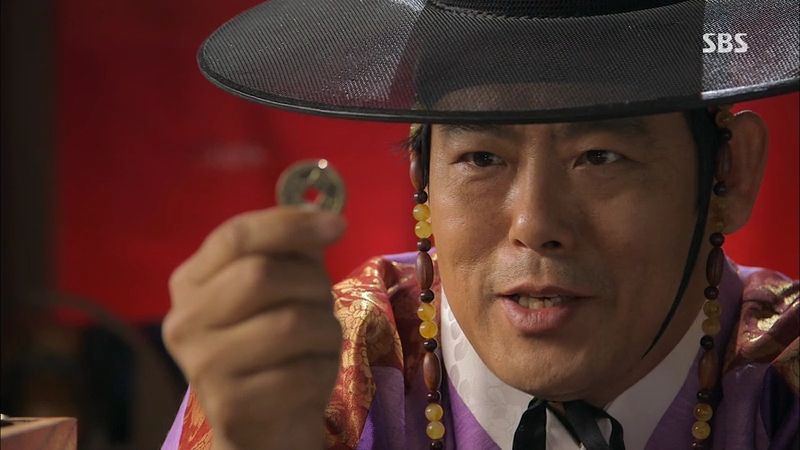 Jang Hyun picks up a coin and says he loves it because one's birth is ordained by Heavens but coin and power belongs to those who obtain it first. He is interested in having more control over the flow of currency in Joseon, as a way to garner from favor from Lee Soon.
Some court ladies are walking through the Palace at night and get spooked thinking they are ghostly fires floating, which really is the lamplight being held by guards. But this gets everyone nervous and worried.
In Ok Jung's residence, she hears from Court Lady Uhm that Lee Soon is planning a romantic outing for them and he's built a residence just for her.
Lee Soon goes to see Queen In Hyun to discuss the Soron's opposition to his latest reforms. In Hyun was worried hearing about the conflict but Lee Soon says conflict is what drives progress in the nation. Lee Soon says a King needs to be fair and apportion jobs to his ministers to help run the country. She is no longer the daughter of a minister but is instead his wife and member of the royal family, and she needs to start thinking of their position first.
Lee Soon's eunuch comes to get Ok Jung and leads her to a date with Lee Soon. All long the way there are candles lighting the path, and when Ok Jung arrives at a new residence Lee Soon is waiting for her.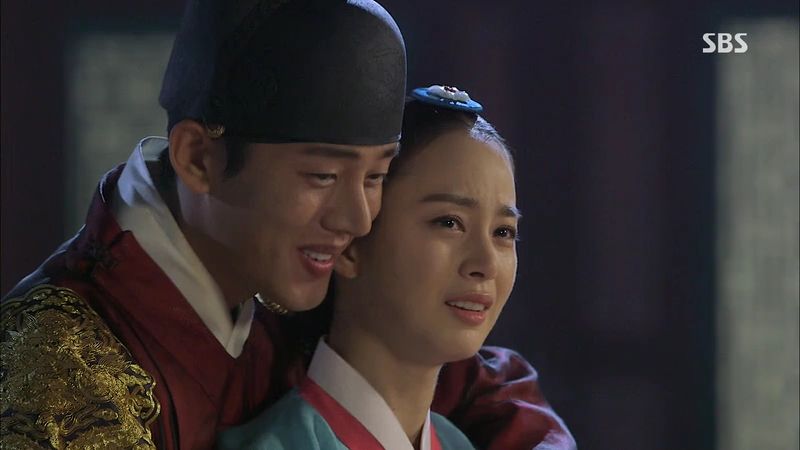 Ok Jung and Lee Soon spend a romantic night out in the garden amidst the candle light. He embraces her and shares his dreams of living together in their own new residence and having a rabbit warren of babies.
Ok Jung realizes that the ghost fires occurring recently were simply workmen building late in the night. She worries building this will cause strife in court but he says he will handle it. Ok Jung looks worried.
The court opposes Lee Soon giving a Court Lady a residence, so Lee Soon says he can just made her a royal consort so that she matches up to the residence. Minister Min brings up that King Hyeonjong never elevated a court lady that received his attention to such a high rank.
Lee Soon laughs that he loves Ok Jung more than that and he's going to make her a fourth-level Consort. He tells all the ministers that they are men so they ought to understand. All the ministers kneel to beg him not to do it which only enrages Lee Soon more that they are trying to control even his personal life. He says this residence was build with his personal funds so they have no say and he doesn't want to hear another word of opposition from them.
Lee Soon gets his way and Ok Jung is elevated to fourth-level Consort. She is led out in purple noble robes with her hair piled high to receive the royal decree.
Ok Jung hears the royal decree read to her and kneels to accept the royal honor. All the maids and court ladies bow deeply to her and congratulate her on being elevated.
At the new residence, Ok Jung has tears in her eyes and Lee Soon comes to join her. They holds hands and walk inside. Queen In Hyun stands outside looking very resigned.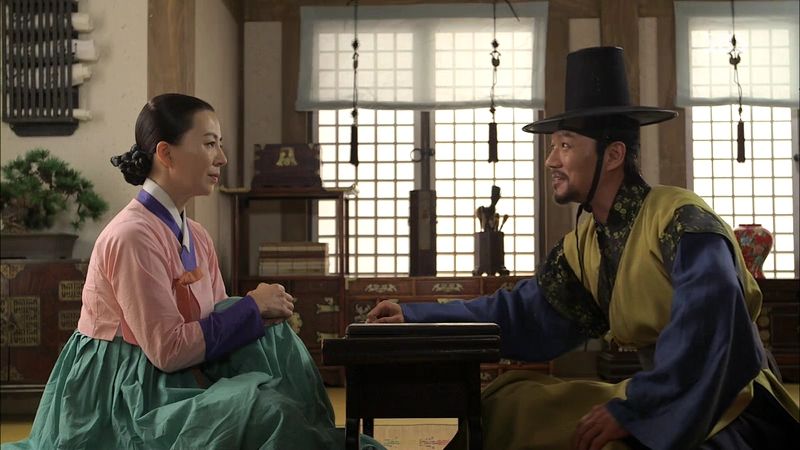 Hee Jae informs his mom that Ok Jung has been elevated to fourth-level Consort. Mom is shocked that her daughter could attain such status in Palace. Hee Jae has grander dreams that Ok Jung will continue to rise through the ranks, and will summon him into the Palace soon to assist her.
Ok Jung goes to pay her respects to Great Dowager Queen Jo in her new status. Great Dowager Queen Jo is ecstatic that the Norons will rise again under Ok Jung. But she grows somber and reminds Ok Jung that all her glory comes from having the King's love, but she's in a dangerous place since Dowager Queen Kim hates her. To cement her position in the Palace, she must bear a son for the King.
Ok Jung goes to pay her respects to Dowager Queen Kim, who flat out refuses to receive her. She demeans Ok Jung's new position and refuses to acknowledge her and says she is nothing but a low born court maid. Dowager Queen Kim calls her a woman who will bring strife to the Palace. Ok Jung orders the maid to announce her again.
Ok Jung goes to pay her respects to Queen In Hyun, who receives her graciously albeit coolly. In Hyun asks if she did not present herself to Dowager Queen Kim? In Hyun suggests this will take time and Ok Jung's genuine heart will touch Dowager Queen Kim one day. In Hyun has planned a party for Ok Jung's ascension and Ok Jung thanks In Hyun for being so gracious.
Dowager Queen Kim is annoyed In Hyun is too nice and throwing Ok Jung a banquet, as long as she is alive she will humiliate Ok Jung. She orders a meeting of all the court ladies.
As Ok Jung walks through the Palace, she appears to spot Court Lady Joo, the one who arranged her abduction. She chases after the woman but loses sight of her. She finds out from Court lady Uhm than her banquet for her rank promotion is empty because Dowager Queen Kim pulled everyone away.
Prince Dongpyung meets with Lee Soon, who asks why he's not visiting the Palace lately? Prince Dongpyung makes excuses that he's too busy enjoying life. Lee Soon sighs that the ministers are really stepping all over him and he needs Prince Dongpyung's help. He wants him to attend court. Prince Dongpyung says he is not allowed to attend court as a member of the royal family.
Lee Soon will make it happen and asks Prince Dongpyung to think about it. Lee Soon changes the topic to how happy he is to have Ok Jung by his side. He invites Prince Dongpyung to a banquet celebrating Ok Jung's elevation to fourth-grade Consort. Prince Dongpyung makes an excuse and declines.
Dowager Queen Kim holds a banquet to meet and greet with all the court ladies and women of the Palace with rank. Queen In Hyun is there but fourth-level Consort Ok Jung is purposely not given an invitation. Court Lady Uhm wants to discourage Ok Jung from crashing the party but Ok Jung insists she has the right to be there. Ok Jung crashes the party claiming she is there to pay her respects to Dowager Queen Kim, who uses the chance to publicly humiliate Ok Jung again.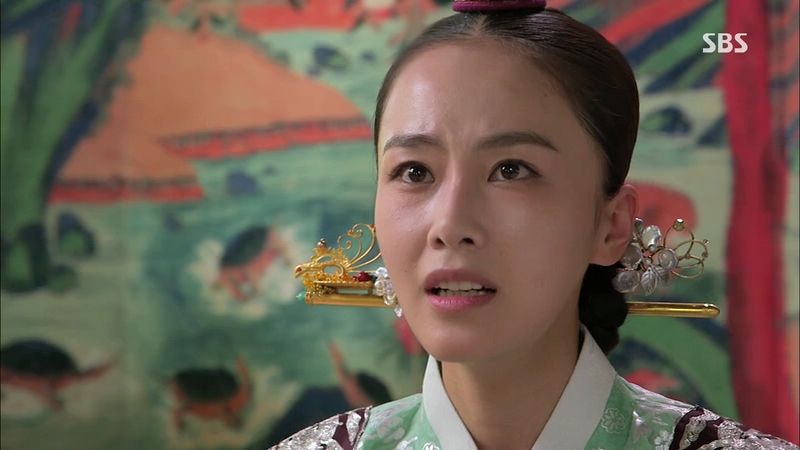 Ok Jung gets angry and talks back, telling Dowager Queen Kim that she may be a Noron but she is still a beloved member of the King's back Palace. Queen In Hyun tries to defuse the situation and tell Ok Jung to leave for now, she'll throw her another banquet later. Ok Jung refuses and instead chews In Hyun out for being the Queen but not stopping the Dowager Queen for such breach of Palace etiquette. Dowager Queen Kim loses it and orders Ok Jung seized!
Lee Soon arrives at that very moment and screams at what is happening. He angrily tells his mom that he elevated Ok Jung's rank properly and she is a member of the back Palace so Dowager Queen Kim cannot treat her this way. Lee Soon is upset that even the usual classy Queen In Hyun is part of this plot to humiliate Ok Jung. He tells his mother that Ok Jung isn't just his consort, her role is a member of the back Palace and assist Queen In Hyun.
Lee Soon grabs Ok Jung's hand and leaves, which is when Dowager Queen Kim spits up blood and faints. She orders him to get rid of that woman and demands to know how he could talk to his own mother this way.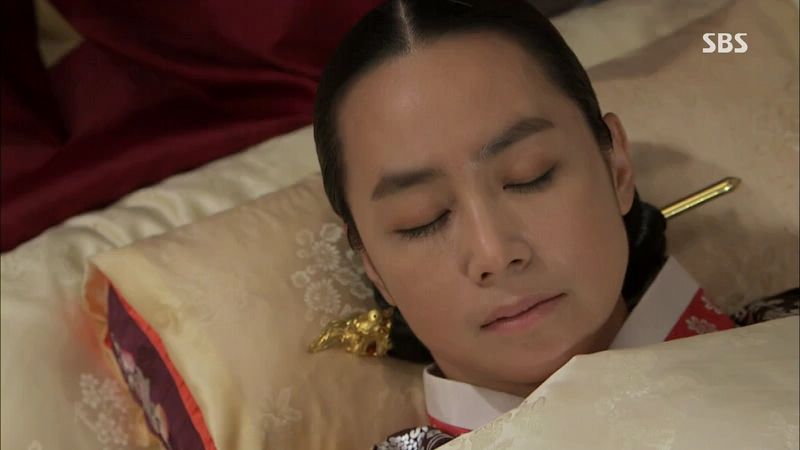 Dowager Queen Kim is being tended to by the royal physicians while Lee Soon and In Hyun keep vigil by her bedside.
The Sorons are meeting and think up a brilliant plan to use Dowager Queen Kim's illness and this incessant rain as an excuse to get ride of Jang Ok Jung. Minister Min claims that history shows that floods are caused by the misbehavior of the lord. Minister Kim says its enough just to blame the weather on her, so they add to it the illness of Dowager Queen Kim which happened when she got upset at Ok Jung. These guys are pretty good schemers.
Lee Soon receives official proposals claiming that Consort Jang is an evil seductress who has brought strive and danger to the Palace. They beg the King to get rid of her. Lee Soon reads all the requests to get rid of Ok Jung and is furious. He asks if getting rid of Consort Jang will cure all the problems in the country. Minister Min fans the flames and says that if she's not disposed of, then even the scholars in Sungkyunkwan will revolt.
Ok Jung walks with Prince Dongpyung in the Palace says that the rumors about her are getting out of hand. She's supposedly a snake demon wearing human skin who has seduced the King. Ok Jung knows they want to get rid of her because she presents the hope of the Noron faction to return to power.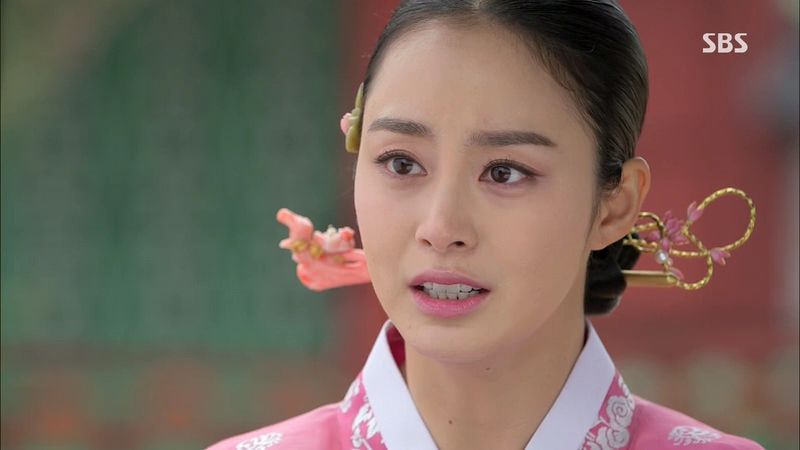 Ok Jung intends to use political backing to cement her position in the back Palace, and her only source of support is the Noron faction. Ok Jung reveals that she is doing to kneel before Dowager Queen Kim to beg forgiveness. Minister Min and the Sorons discuss their need to get rid of her before she grows stronger. Tomorrow they will get the Sungkyunkwan scholars to join in their calls to get rid of her by holding a sit-in and refusing to go to Court for morning session.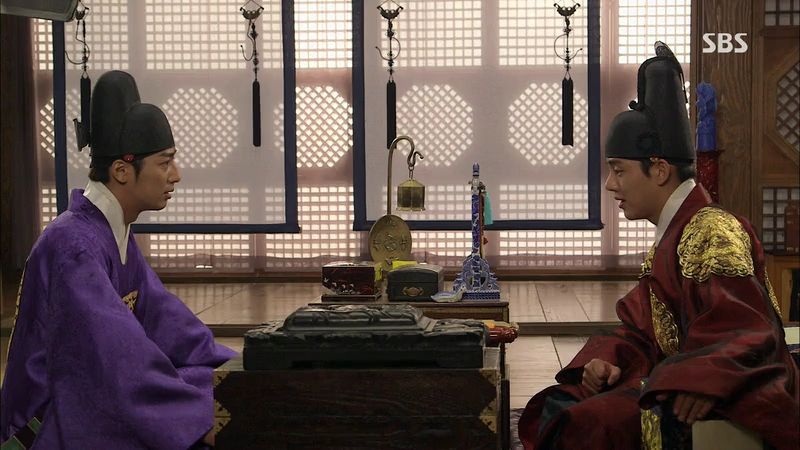 Lee Soon goes to talk with Prince Dongpyung about how all around him are the calls to get rid of Ok Jung, and even though he is King he cannot protect her. He thanks Prince Dongpyung for doing what he can to protect her.
Ok Jung is dressed in all white with her hair down in a simple braid. When she walks out, Minister Min happens to walk by and Ok Jung stops him.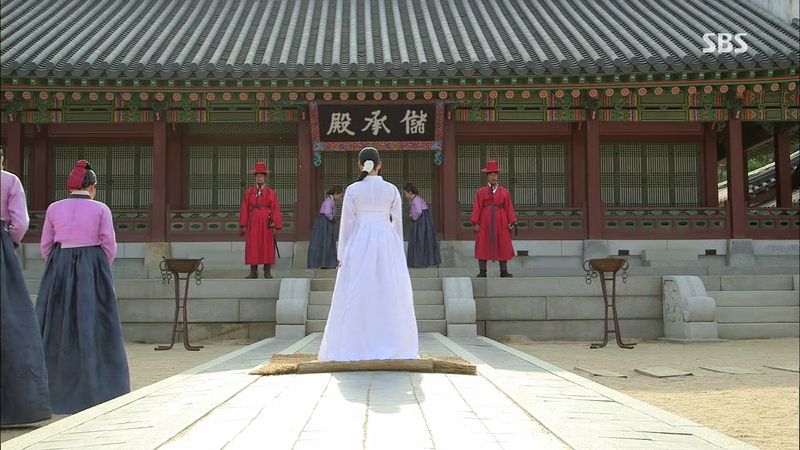 The next scene has Ok Jung kneeling before a grass mat in front of Dowager Queen Kim's chambers begging forgiveness. Dowager Queen Kim ignores her and lets her continue kneeling.
Court Lady Joo is captured.
A flashback shows up that before Ok Jung went to speak with Minister Min, she went to meet with Jang Hyun and told him her suspicions about Court Lady Joo. She asks him to capture her.
Dowager Queen Kim continues to ignore Ok Jung, who continues her atonement vigil and is close to collapsing by the next day. She then hears from Court Lady Uhm that the Soron ministers have called off their sit-in and are in Court.
The Soron faction wonders why Minister Min is not meeting with them to lead the discussions on getting rid of Consort Jang, and instead they are told to call if off and go to Court as usual. Minister Min is at home and furious that Jang Ok Jung dare threaten him
Turns out Ok Jung told Minister Min before she went to kneel that she knew he was behind her abduction using Court Lady Joo. She has told her uncle Jang Hyun to find her, and once she does, the King will know what Minister Min tried to do in killing her. She offers to make a fair trade – she'll forget what he did to her if he calls off the sit-in that is aimed at getting rid of her.
Minister Min realizes that Ok Jung has his by the balls and capitulates and calls off the Soron faction sit-in. He tells her that she must forget this ever happened and if she ever brings it up again then her life will be in danger. Ok Jung laughs and says of course. Minister Min clenches his fist in anger and you know its ON between him and Ok Jung.
Ok Jung calls out to Dowager Queen Kim that the sit-in is over and the King can return to work. She tells her to hurry up and heal so she can discipline Ok Jung, but to remember to have affection even to someone she despises. Dowager Queen Kim comes rushing out and is angry that Ok Jung appears taunting her. Dowager Queen Kim says she will never ever accept Ok Jung, the witch who stole her son from her.
Ok Jung says Dowager Queen Kim lost her son to a woman, but she almost could bear a son because of the medicine the Queen almost forced her to drink. So who has more reason to be angry? Ok Jung sees that Lee Soon has arrived from the corner of her eye and she quickly starts crying and adopting a victim attitude. She says that she would never dare to threaten the Dowager Queen, in fact she's never going to reveal that the Dowager Queen tried to force her to drink sterilization medicine so she cannot bear a child for the King. She understands the Queen did it to preserve the traditions of the Palace that a Court Lady could not bear the son of a King.
Lee Soon hears this and is stunned.
Dowager Queen Kim admits she did that and Lee Soon hears it all. He storms over furious and demands to know how his mother could do that, and why Ok Jung didn't tell him? He demands that Ok Jung tell him the truth right now, while Ok Jung cries very prettily and asks the King to put her to death.
Thoughts of Mine:
LOL, where should I even start? Did almost every single character have a lobotomy in the last few episodes? A character transplant from deliberate and delicate to wielding giant hammers of obviousness? Let me say that Queen In Hyun has turned out to be the most watchable character for me – her thought process makes sense, her behavior is consistent, and her motivations are understandable. She is the gold standard in character development in this drama. Conversely Dowager Queen Kim (and in some instances Great Dowager Queen Jo) appear like she-bats out of hell flapping their wings and cackling around the Palace. It was okay in small doses in earlier episodes, but now it's just out of control. There is not a shred of resemblance to even the "sageuk" portion of this fantasy re-telling of the life of Jang Ok Jung. It really is a daily drama masquerading as a interesting sageuk, except its no longer interesting. I want to send Lee Soon to Kingly re-education boot camp, because he's seriously a total inept moron when it comes to getting what he wants in the confines of his life. He wants Ok Jung? He needs to work with his enemies to get them to accept her, not shove her down everyone's throat. He's winning battles but totally losing the war, and for that I've lost all interest in him (for now). He's like a child who spends all his time playing with his favorite toy and forgets he has a country to run.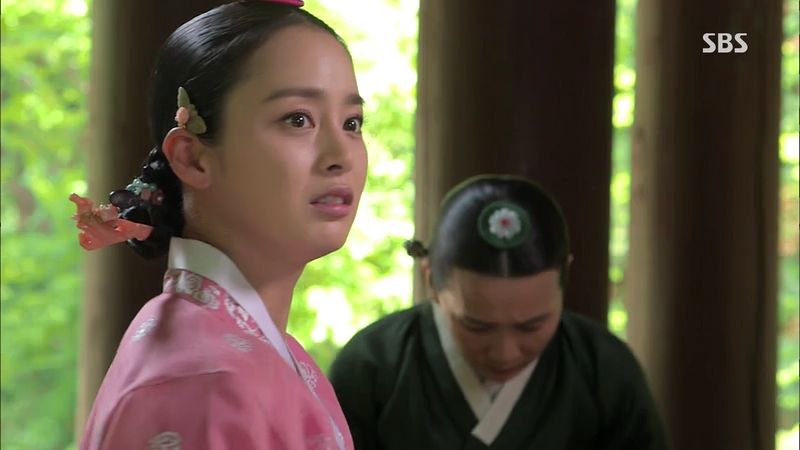 I'm more ambivalent about Ok Jung's transformation. I don't find it forced though it did feel rather abrupt, but it is understandable given how much mistreatment she endured at the hands of Minister Min and Dowager Queen Kim. What I'm pondering is how drastically she went dark, how she seems to be relishing winning over her opponents rather than the ultimate goal of becoming powerful for the sake of her security in the Palace. Old Ok Jung was so Candy-esque I didn't see even that inkling of smirky satisfaction in her, yet now she appears to be an old hand at it. In electing to make her orchestrate her own rise to power, it does empower the female lead though conversely it makes Lee Soon seem like a tool of the women around him. Prince Dongpyung has also completely disappeared from the narrative, while poor Hyun Chi Soo probably got lost on his way back from the Qing dynasty hence he can't show up in this drama. What really annoyed me the most, and is really the backbone of those daily dramas and my beef with them, is how heavy-handed all the plotting and backstabbing that was going on here. Sageuks are all about subtle strategic scheming, and right now that has been thrown out the window. To get what everyone wants, there are different ways of going about it. Everyone appears to be choosing the scream very loud and make lots of threats method. For a drama where initially all the characters appeared intelligent and scarily competent, it's now staffed with people competing to see which one falls flat first. What a disappointment JOJ has turned out to be as it heads into the second half.