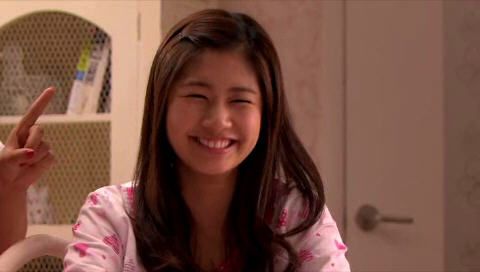 The Chinese Playful Kiss fans are absolutely hilarious. Whenever I'm in Baidu, the amount of spazzing there takes the cake. Sometimes it takes me multiple reads of a single post to fully understand the purpose of said spazz. Take the latest spoiler nugget to come out about PK.
Possible baby conception set-up scene:
In the anime Itazura na Kiss, a few years after marriage, newbie nurse Kotoko is on her way to celebrate her birthday. She helps a lady on the street who has collapsed, giving her CPR.
Kotoko misses her date with Naoki, who is not upset but is instead so impressed with her calm-under-pressure that it gets him all excited, and he jumps her without remembering to use protection. Baby is conceived that night.
What this means:
So some eagle-eyed poster at Baidu confirmed that some fan witnessed Ha Ni filming the scene in question – helping performing CPR on a lady in the street. The Baidu spazz-team extrapolate that to mean the baby conception scene is forthcoming.
I make no such assessment. I am way more amused that everyone at Baidu kept talking about "birthday boat" with respect to the scene. And I was like "what birthday boat?" Apparently my Chinese slang is rusty, because boat is slang for bed scene in a movie/drama (the words sound alike when pronouced very fast). So birthday boat refers to the bed scene that happened on Ha Ni's birthday.
To whet your appetites even further, apparently said scene in the anime was the raciest and most saucy scene in that story. So there you have it, a warm applause to welcome the birthday boat, which will likely arrive in episode 16, if it does at all!