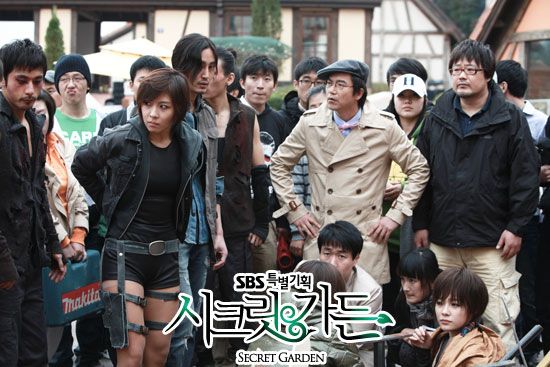 Unlike the written previews for other dramas, Secret Garden's written previews are exceedingly short and succinct. Which makes sense, because Kim Eun Sook's dramas thrive on the action, the dialogue, and the body language to fully express each and every moment. That's impossible to sum up for each upcoming episode.
I'd like to use this opportunity to also confirm that I have no plans to recap Secret Garden because of my work and travel schedule for the next few weeks (crazy doesn't begin to describe it). Since I've already started on Mary Stayed Out All Night, I want to follow through on that drama for the fans who have been following it.
I would have loved the challenge to recap SG, but alas, my will has a larger appetite than reality dictates, so I must reluctantly pass on this gem of a drama. After 2 episodes, I absolutely love SG, and think it's positively brimming with win with respect to the characters, story, execution, and above all else, whole cast chemistry.
Preview for episode 3 of Secret Garden:
Joo Won has prepared a lavish meal for Ra Im, asking her: isn't this better than what she thought (him being a unemployed layabout), is she surprised, doesn't he slightly look different?
Ra Im tells Joo Won to stop doing this from now on. And stop coming to the action school. She gets up to leave, and Joo Won tries to stop her. She tells him that she's not comfortable eating here. She gives him money for the meal and for her medical expenses, telling him that now they owe each other nothing, and have no reason to see each other anymore. She turns and leaves.
Damn, but girlfriend is so fine, both in appearance and in attitude. She has zero patience for fools, and Joo Won is like a child stuck in a man's body trying to entice the cute girl in the playground to come over and play with him. I can't believe this, but I feel like SG has enough story without the fantasy body-switch element. Which added to this already incredible and whiz-bang start, only means the drama has a one-way trajectory towards potentially amazing. That's my prediction and I'm sticking to it.
[Written preview from SBS Secret Garden website]