Da Wu Sheng 大武生 (English title My Kingdom) might just be the most anticipated Chinese movie of 2011. A Sino-Hollywood collaboration, produced by Andre Morgan (Oscar-winning producer who made Million Dollar Baby), director Gao Xiao Sheng, famed screenwriter Zhou Jin Zi, with action choreography by Sammo Hung (famed actor and martial artist with 40 years of experience as a martial arts director for over 200 movies, and who trained with Jackie Chan under the same master and is his Shi Xiong – elder  martial arts brother).
Da Wu Sheng will star former Super Junior member Han Geng, Fahrenheit member Wu Zun, and Barbie Hsu, along with a slew of seasoned actors playing the roles of the elders and antagonists. The movie is an action romantic period piece set in the early Republic (squee, my favorite period), and Andre Morgan has gone on record as saying that this is the best script he has read in his entire movie producing history. Them is BIG praise indeed.
Da Wu Sheng just wrapped production this week, and only a handful of stills are available as the set was was heavily concealed during its filming. The available plot synopsis is also very slim as the production wants to preserve the suspense.  The story concerns a pair of brothers who are Da Wu Sheng (or the martial arts performers in a classic Chinese opera theater). The brothers embark on a journey seeking fame, love, and revenge, against a backdrop of a Shanghai theater troupe. Its a story about a love that may be fleeting or everlasting, expressed through modern and innovative martial arts interpretation as choreographed by Sammo Hung.
Some spoilers about the plot (don't read if you don't want to be spoiled): Beijing opera performers have a strict edict – male and female performers cannot fall in love. Even more verboten is if both are in a teacher-pupil relationship. Two handsome Da Wu Shengs fall in love with one Dao Ma Dan (an actress playing a female role), and this Dao Ma Dan also has a forbidden love relationship with her teacher. And then the two handsome Wu Sheng force the teacher to commit suicide. What follows is a twisted and dramatic love and revenge triangle.
I am beyond interested in the movie, yet also beyond worried because of its main cast. Wu Zun is ridiculously gorgeous, and just as insanely bad of an actor. I can't stand Barbie Hsu, which is a personal preference (she has AFS for me, check the glossary for definition), and I feel like she is always dragging down the energy of any scene. Just a side note, Mr. Koala saw a picture of her and went "wow, that chick looks like a classic Chinese first wife" and I about died of laughter, because that is exactly my problem with her. She looks and acts like a classic first wife in the olden times – the lady who marries the rich husband, and then is repeated shunted aside as he marries his concubines, and she ends up looking very very depressed. Barbie has a face that just looks woe-is-me for me.
I remain open to Barbie wowing me one of these days, but she has yet to do so. Hang Geng is the one shining light in this main cast, as I think he can't possibly be as bad as Wu Zun. I don't mind an idol cast doing a fun frothy movie like Butterfly Lovers, but I much prefer a movie like Da Wu Sheng having cast actors with a track record of substantive acting performances. But what is done is done, and I remain hopeful and optimistic that they'll be just fine. Please movie gods, let the acting be just fine.
Da Wu Sheng is scheduled for a Fall 2011 premiere in Asia, followed by a theater run in the United States. I'm dying to watch a great epic C-movie, and the story, feel, and genre of Da Wu Sheng is so much my catnip. Wu Zun, Barbie, and Hang Geng all took Beijing opera and martial arts lessons for three months prior to the commencement of principle filming, so I know they are taking their roles seriously. Plus, they all look breathtaking in their period costumes. I'm such a sucker for pretty people in pretty costumes. Sigh.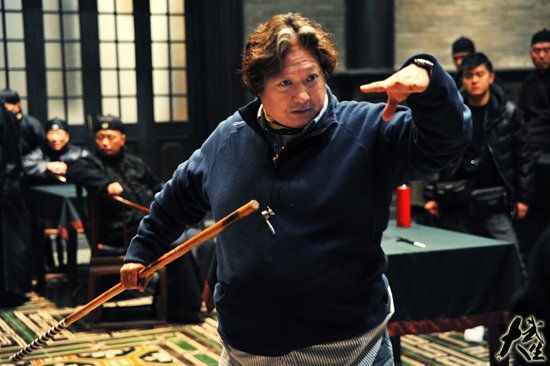 I'm also chuckling a little at the possibility that Super Junior and Fahrenheit fangirls will be the first in line to watch a martial arts/Beijing opera/period epic movie. It's kinda like Justin Beiber fans camping out for a Star Trek:TNG movie because their idol got cast as Wesley Crusher.