My most anticipated drama of 2010 turned out to also be the biggest disappointment of the year for me. It wasn't the worst drama of 2010, but it was definitely the biggest waste of talent all around. No, I'm not talking about Secret Garden, which by the way I loved from the outset and continued to have elements that entranced me even to the end.
If you all know my number 1 actor love, then it's easy to conclude that I am talking about Athena: Goddess of War. Athena makes IRIS look like a masterpiece. Athena makes third-grade written spy thrillers look like a Ph.D disseration. Athena makes me angry and embarrassed for everyone involved for getting suckered into signing up for this production. To commemorate it's impending conclusion, bringing you the latest shooting stills of Jung Woo Sung, looking impeccable and healthy after an on-the-set accident a few weeks ago.
Even my love for Jung Woo Sung is not enough for me to continue watching Athena (I finally gave up around episode 12), because I literally feel my head hurt as the brains cells die a slow and inexorable death from the stupidity onscreen. All I'm doing now is saving all the gorgeous stills of my honey from the drama. And he is so very pretty in this drama (as are all the actors actually, the amount of eye candy and solid acting is ridiculously high). I actually tried writing a first impression review of Athena for you guys last month, and I ended up crying from anger and then smushing my computer keys like I was playing a game of smash the gopher. Athena is a lost cause, but we can still all enjoy the pretty, no?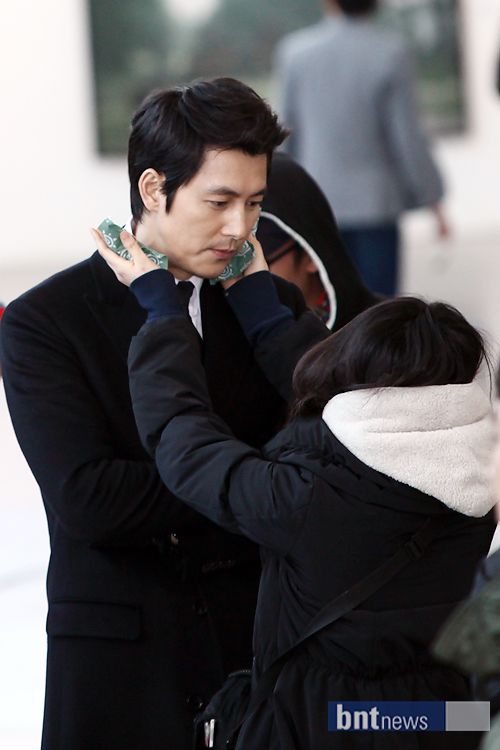 I want to rename the drama – Athena: Stupid People at War, or Athena: Goddess of Stupidity. Athena herself must be rolling over in her immortal coil having been associated with this production. When I say this drama is stupid, I'm honestly confessing that every single plot point makes me go "huh?" and then "what?", and then finally "butbutbut, why doesn't anyone else see the obviousness of the situation, is everyone BLIND in this drama?". And then I repeat this process for the next plot development.
Luckily, it's pretty obvious that everyone in the drama knows they are acting out lame and ridiculous storylines, but they gamely soldier on, and appear to be just chilling with the situation and enjoying the opportunity of doing a drama which brought so many A-list stars together. I will definitely buy Athena when it comes out on DVD, because I am a sucker like that. But I will never let Mr. Koala watch it, because he will spend the entire time mocking it, and I have to glumly accept all the deserved mocking.
Athena will be followed by Midas, starring Jang Hyuk, Kim Hee Ae, Lee Min Jung, and No Min Woo. I never thought the day would come when I am anticipating my I Lub You to get off the screen. *Goes off to cry some more*
[Credits: all pictures of the respective news agencies as identified, or from Baidu Jung Woo Sung bar]