After sharing the happy news of their engagement two weeks ago, Eugene and Ki Tae Young held a press conference this week for the first time as a public couple, answering questions about their courtship, sharing news about their wedding, and generally being so stunningly happy I'm sure anyone in the vicinity of them must be bathed in their bliss.
They revealed that they didn't start dating until Creating Destiny finished filming, both are devout Christians and going to church together help strengthen their relationship, and Eugene confessed to wanting four kids.
K-entertainment tends to sensationalize gossip or else fixate on scandals or tragedies, so it's truly a joy to see such an honest and simple declaration of love from two famous actors. The pictures from their press conference are beyond gorgeous, their happiness radiating in every single shot. Wishing them a lifetime of happiness together.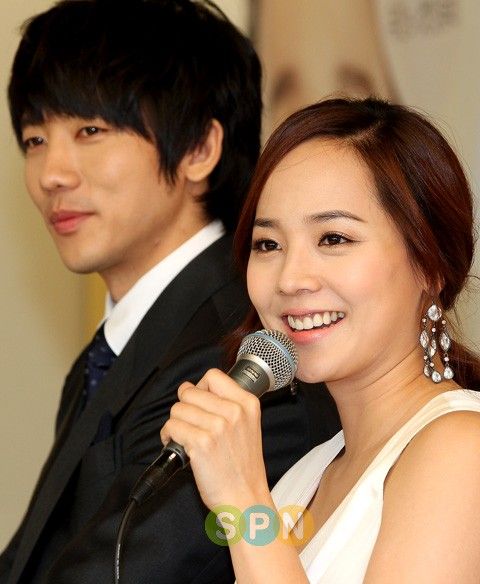 I've always found Eugene to be such a class act. She's been in the industry since 1997, transitioning from a girl group member to a bona fide actress with style, grace, and hard work. Random fact I just learned: Eugene and Sung Yuri are born on the same day, same, month, same year – March 3, 1981. Normally that's just a cool coincidence, but made all the more startling when you consider both ladies have had the exact same career trajectory, starting from around the same time. Eugene got a year head start in SES, but Yuri debuted with FinKL shortly thereafter.
From all accounts Ki Tae Young is a real gentleman and dedicated professional in the industry. I'm totally psyched for the wedding, the guest list is bound to be insanely star-studded. Plus I'm dying to see what Eugene picks as her wedding dress. She's got such an eye for elegance and classy styles. Sigh, won't more of my fave star couplings go public and get married?