As much as I enjoy watching a Hong Sisters drama, even the ones I liked tended to go downhill in the second half, some rather precipitously. I've been praying that Best Love (The Greatest Love) might end that trend for me, and I'm happy to report that episode 11 doesn't dip a toe anywhere near a puddle of convoluted mess of plot developments.
While this episode was substantively nowhere near my favorite, the ending was by far the best BL ending so far. I don't think I will ever look at a potato the same way again. I am now also fully convinced that Cha Seung Won + car = danger to all womenkind the world over. OMG, after City Hall, I never thought he can make me swoon in a car again. But I was wrong, because he did it again. *cue the song involving Britney Spears in a red skin-tight latex suit*
Episode 11 Recap:
Jin embraces Ae Jung, telling her that he's exhausted and needs to recharge. He explains that a device like a cell phone needs to be charged for at least one bar before it can be turned on. So he'll just hold on to her until he's done charging for one bar. Ae Jung's eyes widen as she lets him hold her for a bit.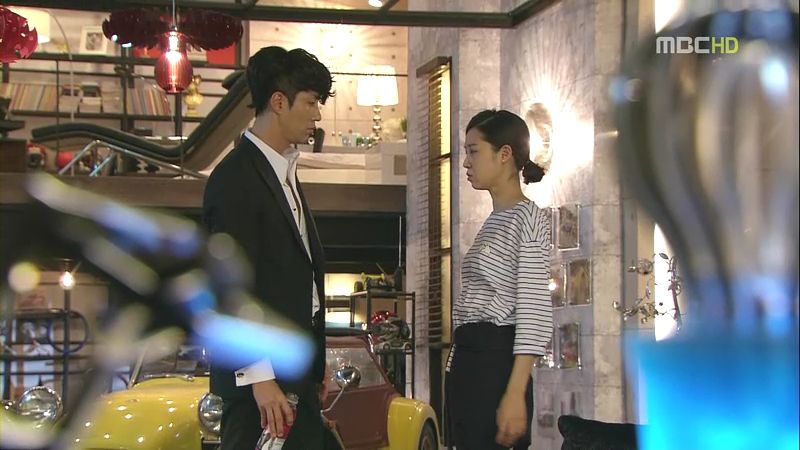 Ae Jung comes to her senses and pushes Jin away, telling him she's not his charger and he should go elsewhere to grab some juice. Jin turns his metaphor literal, and walks over to the kitchen asking Ae Jung to make him some curry then. If she's not going to let him recharge emotionally, at least feed him physically. She wonders why he insists on the curry, and doesn't want to oblige his request.
Jin asks her how she's planning to leave, since there are scads of reporter camped outside. Jin thinks Ae Jung is stuck at his place for at least 2-3 days. But if she'll make him curry, he'll tell her the secret passage out of his house, which involves the model car parked in his living room.
Jenny and Ae Hwan are talking about why Ae Hwan let Ae Jung go over to Jin's house. Ae Hwan says Ae Jung wants to confirm something so she just left. Jenny is rightfully worried that Ae Jung will waver again if she finds out Jin punched the manager for Ae Jung's sake. Pil Joo arrives and asks to speak with Jenny about something.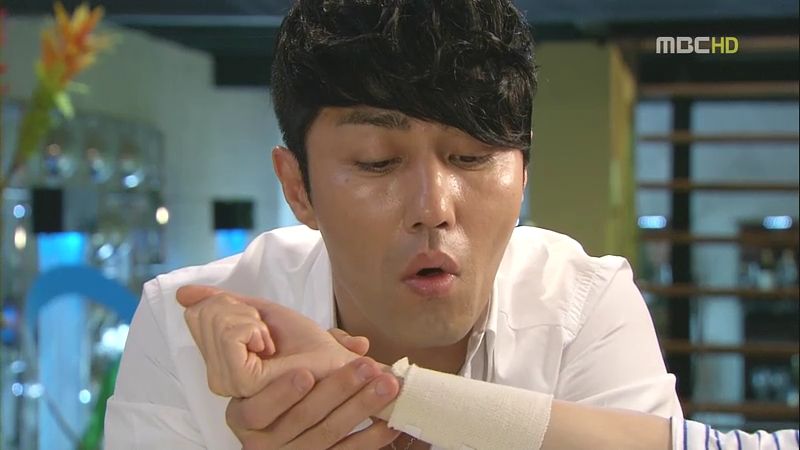 Ae Jung chops vegetables and Jin tosses them in the pot. He gently blows on the burn on Ae Jung's arm. Ae Jung puts two-and-two together, and asks Jin if her injury is the reason he got in a fight. She tells him that he should go blow on the manager's wounds instead. Ae Jung asks to grab some potatoes and he says that in his house, potatoes do not get killed to become food.
Jin points to his fish in the aquarium, asking if Ae Jung would cook those fish if she wanted to eat fish. The same logic applies to potatoes in his house. They eat the curry without potatoes. Afterwards Ae Jung asks Jin if he really has a way out of the house.
Ae Jung and Jin get into the model car, and he pretends that he can get there where she wants to go. She tells him to stop joking around. He asks if there is anywhere she wants to go with him? There are many places he wants to go with her. Ae Jung thinks he's crazy, but he says he's not crazy, he's broken. He points to his broken heart, telling her it beats for her all the time.
Jin tells her that his car is as broken as this model car here. If he gets his heart fixed, he'll drive right past her. Until then, she needs to stay away from him. She wonders why he tries to get close to her, and then now tells her to run away and avoid him.
Jin walks out of his house and is surrounded by reporters. He tells the media that he will explain it later, and gets in the car. Ae Jung sits in the model car and thinks back to the contradictory things Jin keeps asking of her.
Pil Joo asks Jenny why the manager has it out for Ae Jung? Jenny says it's because of Mina. Pil Joo remembers who Mina is. Jenny says it's been 10 years and she doesn't remember what happened back then anymore. Ae Hwan says that he should have been the one to hit the manager, not Dokko Jin. Pil Joo doesn't look pleased.
Jin goes to visit the manager in the hospital. Jin apologizes, and the manager agrees not to press charges this time because Jin came to apologize in person. But next time he won't let it go. Jin also says that he won't put up with it next time, if the manager messes with Ae Jung again. The manager can't believe Jin is doing this for Ae Jung, and warns Jin that his image will be ruined if he keeps doing this.
Jin tells him to go ahead and try it. The manager wonders who Ae Jung is to Jin? Jin says that she is just someone at his agency with no power, and he is Dokko Jin with lots of power. He calls the manager a bad guy who would hurt a woman. Jin warns the manager that this is the end of this matter, and he'll be sued if he dares to write a book about it.
The media reports that Jin missed the awards ceremony because his previous heart condition flared up. Jin meets with Agent Moon, who hands him his award. Jin informs her that he's not going to Hollywood anymore. Agent Moon reminds Jin that Ae Jung doesn't want him. He smiles and tells her not to worry, it's all good.
Jin talks with his potato, happy that its growing so fast. But he worries that if the flower blooms, the potato might die. He holds his heart. Jin meets with Se Ri, who asks why he never told her his scar was from heart surgery. Jin doesn't think they had the kind of relationship for him to share this secret with her.
Se Ri asks with a smirk if Jin really likes Ae Jung? Jin wonders why she looks kind of happy about this? Se Ri offers to let him go to Ae Jung, which makes Jin further curious since they don't have the kind of relationship where they want the best for each other. Se Ri confesses that she likes Pil Joo, so if Jin can make it work with Ae Jung, then she can have Pil Joo to herself. Jin says it can't work out between him and Ae Jung, so Se Ri needs to leave Pil Joo alone. Se Ri wonders if Jin has been pushed aside for Pil Joo. Jin says he wasn't pushed aside, he just can't get ahead of Pil Joo.
Se Ri shows Pil Joo the fake news reports about why Jin missed the awards ceremony (because of his heart condition), saying the truth was Jin punched someone because of Ae Jung. Pil Joo says he knows, and he also knows Se Ri is here today to tell him this and not because she's sick. Se Ri says it hurts so much, seeing Ae Jung holding on tight to Pil Joo on one side, Jin on the other.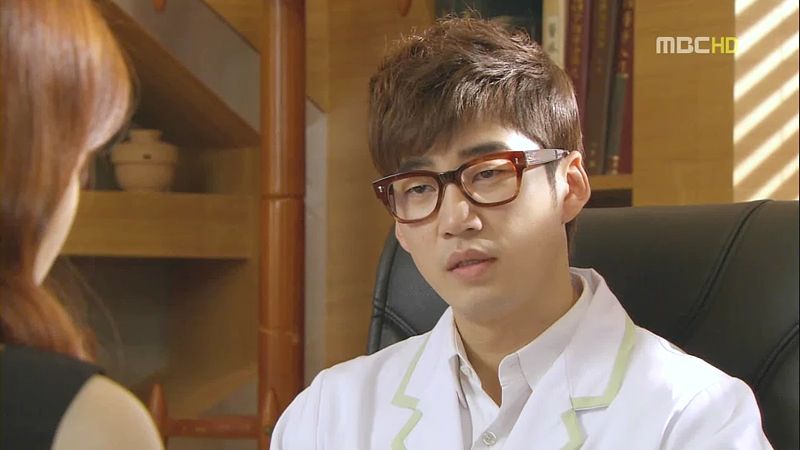 Pil Joo says Se Ri hurts because of the jealousy she feels in her mean heart. Se Ri concedes she's jealous because what she wants is being taken away from her. She asks Pil Joo if he's not also jealous. Pil Joo also admits he's jealous a lot. He apologizes to Se Ri for scolding her. She asks him to stop scolding her because she is really having a hard time.
Ae Jung is signing pictures at the agency. Jae Seok brings in a smiling ad of Jin. Ae Jung chides the ad, wondering why he's bothering her if he's broken. She accidentally marks it with her pen so she tries to wipe it clean. She's blowing and wiping the picture Jin when the real Jin shows up. He thinks she's trying to kiss the fake him because she can't do it to the real him.
Ae Jung explains that she was just trying to wipe it clean. Jin makes the same pose and tells her to go ahead and do the same thing to the real him. She doesn't take him up on his offer, so he disappointedly sits down with her as she continues signing. Ae Jung ignores him, and Jin notes that she's good at ignoring his antics.
He tells her to continue ignoring him in the future, no matter what insanity comes out, it's all a joke. If he asks her to marry him, it's a joke. She says ding dong. He says if he disappears and goes to die, it's a joke. He wants her to say ding dong, but she refuses, upset and he can joke about this. Jin says he's got a butthole for mouth, he can joke about this. He gives her some candy to eat as she signs.
The manager talks with someone, and it's clear he's not going to let this go. He wants Mina found. Jin is watching Ironman, and Jae Seok asks Jin if he's really not going to Hollywood. Jin says he can't go because he needs to stick around and make sure something is not messed with. Jae Seok asks if Jin won't tell him the results of his test. Jin says that Jae Seok may not be his manager for much longer. Jae Seok has tears in his eyes, and says he's job is not to reveal things.
Jin's heart surgeon holds a medical team meeting with a roomful of doctors and discusses Dokko Jin's heart condition and need for another surgery. Jin meets with the doctor, asking him to schedule the surgery within the month. The doctor reminds Jin that the reason for his heart to start thumping again ten years ago is now by his side (i.e. Gu Ae Jung).
Jin is home and says out loud that he misses Ae Jung. His heart starts to beat wildly and he presses down on it, telling it to get itself under control. But he looks at the potato and says that he still misses Ae Jung. Jin sneaks up to her house, telling himself that he'll just see her once and leave so that he can recharge.
Ding Dong sees him and explains his aunt is not here. Ding Dong is holding a blue stool and asks Jin for help since Jin is so tall. Jin grabs the video game put up high so that Ding Dong can't reach it. Jin makes Ding Dong promise not to reveal that Jin got the video game for him. The kid wonders if Jin is here to secretly see his aunt, and Jin says of course not, that is what stalkers do.
Ding Dong runs off to play, and Jin looks around the kitchen. He spies bottles of his endorsed Vitamin Water which makes him giddy. But then he sees a box of Oriental medicine from Pil Joo, which makes him upset. He walks around the house carrying the pouch of medicine. He starts to wander around the house, but reminds himself that he's no stalker.
He then decides that if he knocks, then he can enter. He does just that with an adorable devious expression. He walks into Ae Jung's room, and he opens a jar of face cream. He says it smells like Ae Jung. He puts some under his nose and smiles that it's Ae Jung's smell. Suddenly Jin hears Ae Jung calling out for Ding Dong, and realizes she's home.
He tries to hide but steps on the dropped pouch of Oriental medicine. He tries to wipe it up using his hands, and then using Ae Jung's pair of white shorts. He shoves the shorts in his pocket but can't find a way out. He goes back in her room and walks over her bed and jumps down on the other side, leaving footprints on the bed. Jin hurts his ankle a little and dodges behind a pile of hanging clothes.
Ae Hwan and dad come home as well, and Ae Jung goes to her room to change. Jin suddenly realizes she's changing. He tries to shield his eyes, but can't stop himself from peeking. Ae Jung wonders where her shorts went, suddenly Jin makes a noise. She looks and sees only his eyes, and he says "it's me." But she starts screaming and running away because she doesn't realize that it's him.
Jin grabs her on the bed and silences her, allowing her to recognize that it's him. Suddenly Ae Hwan comes over and Jin ducks under the covers and Ae Jung pretends that she's tired and resting first. Suddenly Ae Hwan sees Jin's dirty feet, and tells Ae Jung to wash it first before sleeping otherwise it's just so dirty.
Ae Jung realizes that Jin smells like her cream, and that he has her shorts in her pocket. His handprints are exactly where her butt area is, heh. He says that he's not a stalker. She wants him to leave via the roof. Once he goes outside, he says he can't leave since he hurt his ankle.
Ae Jung grabs him a compress for his ankle. He asks if she learned that from Pil Joo? Jin holds Ae Jung's face close to his, telling her he needs to recharge. Ae Jung allows him to hold her close. Finally Jin pulls away, telling Ae Jung that he's going crazy because he just wants to take her home to be his personal recharger. Ae Jung tells him to just say it, he likes her and wants her to stay by his side. He says he can't because he's broken. Ae Jung gets upset and walks away. Jin thinks he's going crazy for real.
Pil Joo's mom demands to know why the PD allowed Pil Joo to be paired up with Ae Jung. PD Kim explains that Pil Joo likes Ae Jung. Mom wonders if Ae Jung seduced Pil Joo, but realizes that Ae Jung appears to not like Pil Joo back. Pil Joo's mom meets with Ae Jung dad and explains the situation. Ding Dong overhears and confirms it with a cute "ding dong". Mom wonders if Ae Jung will reject Pil Joo on the show, or they will go all the way to the end. She moans about what she's going to do with her Pil Joo.
Ae Jung meets with Pil Joo and lets him know that his mom really doesn't like her. Pil Joo asks Ae Jung to please let that person (Jin) go, if she likes Pil Joo even a little. Otherwise he can never catch her.
Agent Moon gives Ae Jung her first solo single demo, and confirms that a CF is lined up. She asks Ae Jung to do her a favor – convince Jin to go to Hollywood by messing with Jin's pride and breaking up with Jin for good.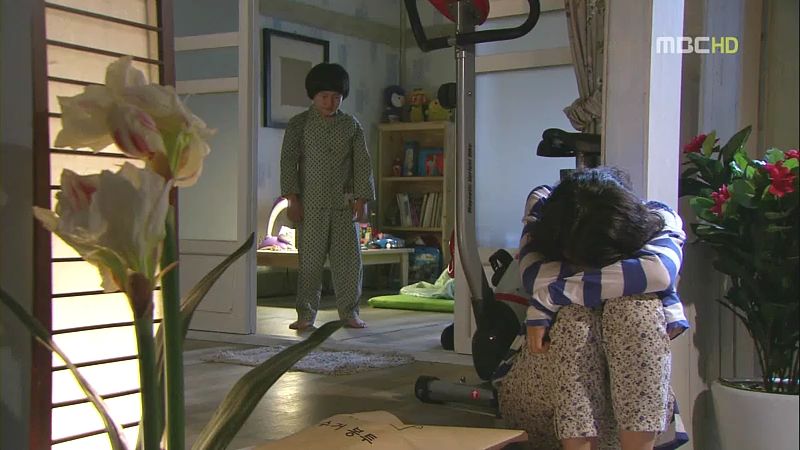 Ae Jung looks at the purple sneakers Jin bought for her and remembers what he did for her. She puts it in a bag and cries. Ding Dong watches her and cries as well. The manager meets with Se Ri and informs her that he found Mina, who has a new name and is still in Korea.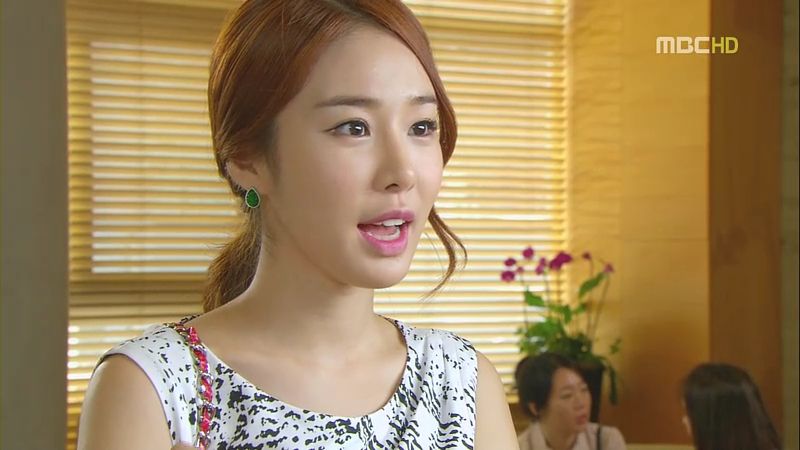 Se Ri tries to get the clinic to give her Mina's information, but the clinic won't share it. Se Ri then asks if she can be told when Mina's next appointment will be. Pil Joo comes out and wonders why Se Ri is looking for Mina. He finds out from Jenny that Se Ri and Mina were not close.
Pil Joo is walking in the neighborhood and sees Ding Dong looking into the recycling bin. Ding Dong asks for Pil Joo's help to get the sneakers out of the recycling bin. Pil Joo asks if Ae Jung threw it away, and is told that she threw it away all the while crying, so she clearly doesn't want to throw it away. Pil Joo gets the sneakers for Ding Dong, who washes them and sets it out to dry.
Ae Jung practices what to say to Jin, who overhears her. He asks if she's starting to like him. Jin asks her to come to his house, he has something he wants to show her. She asks him to do as she says now. He asks if she wants him to leave her side, because he can't do that. Ae Jung asks Jin to go on a picnic with her, and to wait at her house for her. He promises to wait for her.
Ae Jung and Pil Joo film for Couple Making. She promises the PD that she'll talk with Pil Joo more today. Pil Joo asks if what he said to her made her feel burdened? She asks him for a favor, to hold onto her so that she doesn't run to Jin. She apologizes for asking this of him.
Jin gets dressed up and happily tells the potato that he's putting it all on the line and going to wait for Ae Jung. He presses his thumb against his lips, and then presses a kiss on the potato.
Jin texts Ae Jung a picture of the potato, which Pil Joo accidentally sees because he thought it was his phone. He tells Ae Jung, who doesn't want to see it, telling him to delete it. Pil Joo moves to delete it, but we don't see if he actually does it. The production of Couple Making think something is wrong between Ae Jung and Pil Joo since their interaction is rather stilted.
Ae Jung and Pil Joo do a puzzle. He tells her to follow his lead, and he will help her. Jin goes to Ae Jung's house and waits outside in his car. Pil Joo and Ae Jung have dinner. Poor Pil Joo looks sad still. He walks her home, asking if she enjoyed the movie today. She says she did, and he looks at his watch and realizes that the day is over already.
When they arrive at her house, they see Jin waiting in the car for Ae Jung. Pil Joo takes Ae Jung's hand, telling her that even if its hard he'll help her, and all she needs to do is follow him. Ae Jung stops to look directly at Jin, but Pil Joo switches their hands and they walk inside still holding hands.
They sit down in the patio area, and Ae Jung takes her hand out of his. Pil Joo grabs the empty space for a moment as Ae Jung starts to cry. Ae Jung wonders if Jin got her message, she did a great job of just walking right past him, right? He must know she purposely ignored him, and if he has any pride he will completely leave her life now. Ae Jung looks at Pil Joo, apologizing for how hard this must be on him as well.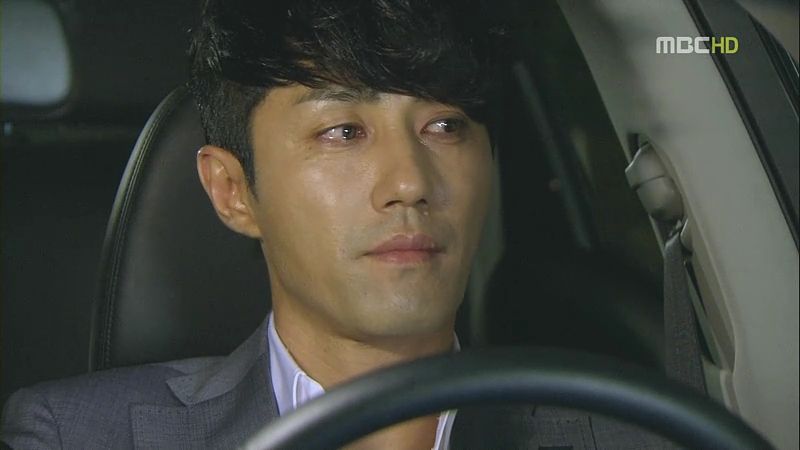 Jin sits in his car and cries. Oh god, watching a grown man cry like that just breaks me into pieces. Pil Joo looks at the crying Ae Jung and the sneakers drying in the yard. Pil Joo takes out Ae Jung's phone and shows her the picture and text Jin sent. Pil Joo gets up and leaves without saying anything else.
Ae Jung reads the message which says: Gu Ae Jung, I grew the potato you brought this much. They say the flower is poisonous, but I was patient and grew it until the flower bloomed. I'm broken so I can't catch you, so this time you need to come. So that I won't be able to stop, and can keep going on. Come and recharge me.
Jin sits outside still waiting for Ae Jung, tears in his eyes as he peers up at her house. Ae Jung walks up to his car and Jin has his eyes closed. This time it's she who puts her hand on the window and against his cheek. Jin looks up and sees her, and OMG he still has a tear rolling down his eyes.
He rolls down the window, and she tells him "you bad guy – recharge." Jin sticks his body out the window and grabs Ae Jung for a deep kiss. Everyone with me now – SQUEEEE!!!! And for the record, the song that plays during this scene is my favorite off the BL OST, it's called "Don't Forget Me" and it just perfect for this moment.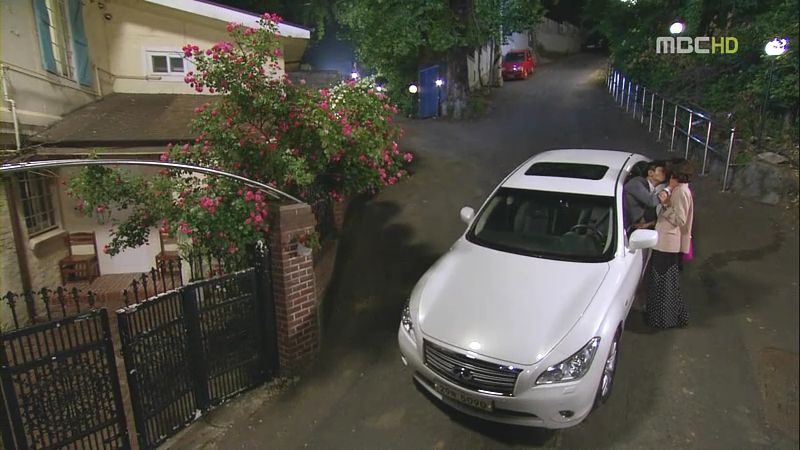 Thoughts of Mine:
While the jokey scenes, the hyper-antics, and the overall theatrical nature of this drama may turn off some folks who find it all just a little bit "too much", what's hidden within the layers of Hong Sisters wrapping is a truly memorable and very touching love story. One that is mature despite the immaturity of our hero, and one that is romantic despite the practicality of our heroine.
In discussing this episode, I have to call out Se Ri and Pil Joo first, because dayum are they rewriting second lead history as we speak. Se Ri, who still needs to stop her whining and entitled ways, nevertheless is really brave when it comes to fighting for her love. She's done nothing to sabotage Ae Jung, other than confess her feelings to Pil Joo at a crucial moment for him. She tells Jin that she likes Pil Joo, hoping that maybe Jin can make it work for Ae Jung so she can have a chance with Pil Joo. If only other second female leads can be this way.
Pil Joo officially wins the best second male lead of the year award. Hands down, no competition. When all is said and done, his might be my favorite character in this drama. Because he's so normal, so sincere, so realistic. At the end of the episode, he knows where Ae Jung's heart lies, and he can even see where Jin's heart lies. Jin's not toying with Ae Jung, and Ae Jung is running away from Jin for Jin's sake. In a case like this, Pil Joo is the third party, and he accepts his place in this love triangle and allows Ae Jung to look at all the facts and make her choice.
We've five more episodes to go, and we finally have our OTP together at long last. I thought the development of their relationship was very appropriately paced, and their getting together at this juncture feels well-earned. I know Jin's surgery, and to a lesser extent the mystery of Mina, remains looming over this story. But I like to think that however this story reaches its conclusion, we'll all be clapping like trained seals because it was just so incredibly amazing to get a rom-com this equal parts funny, sophisticated, and heartfelt.
While BL may end up being my favorite Hong Sisters rom-com (Hong Gil Dong remains my favorite Hong Sisters drama, period), it's not without its flaws. While I find all four main leads well-cast, and have good chemistry, sadly I have to concede that I personally find Gong Hyo Jin has much better chemistry with Yoon Kye Sang. I can't explain it, but it's clear in every scene they share. Chemistry is intangible, and not a factor of the ability to act or looking good together in the same shot.
For example, nothing Hyo Jin has done has ever come close to her soul-searing chemistry with Rain in Let's Go To School, Sang Doo. Same with Cha Seung Won, who probably met his onscreen soulmate in Kim Sun Ah in City Hall and it might never happen again. It's just that something more that can't be forced. Rare couplings have it, but most end up just being good but not great.
That doesn't mean Jin and Ae Jung are not a dazzlingly memorable OTP when all is said it done. But really the Hong Sisters never create mind-blowing OTPs for me (whereas that appears to be Kim Eun Sook's specialty). Rather they excel on creating love stories and situations that are memorable and touching, which is how I feel about Jin and Ae Jung's love story. It moves me because it's so well-written, period.