Guess who is all together again in Shanghai? The entire lead cast of all three Happy dramas, that's who! Ming Dao and Annie Chen (Happy and Love Forever), Mike He and Janine Chang (Sunny Happiness), and my boy Li Yi Feng (he was the second male lead in the first two Happy dramas), all joined the new leads Blue Lan and Cheryl Yang in Shanghai to film the opening scene for Happy Michelin Kitchen, the upcoming third and final drama in the trilogy.
Everyone looks so gorgeous and dressed up, as this party scene will be set at the opening of the fictional trendy restaurant called Muse. I have tons of pictures after the jump, plus some lovey dovey ones of Yun Jie and Yong Yong holding hands and then being so cute you'll get cavities. Another bonus is lots of Li Yi Feng – did my boy get hotter in the last few months or is it just me?
The male leads and the females leads of the three Happy dramas.
Thank god Blue got rid of that Shih Tzu on his head which was his hair style last month when filming HMK. It was hideous to say the least.
Okay, those are three ridiculously tall ladies. The only reason Cheryl, who is model tall, looks short next to Annie and Janine in this picture is because she is wearing flats as her character will be a waiter at this party being filmed for the drama. The below is clearly the cast posing for some official stills.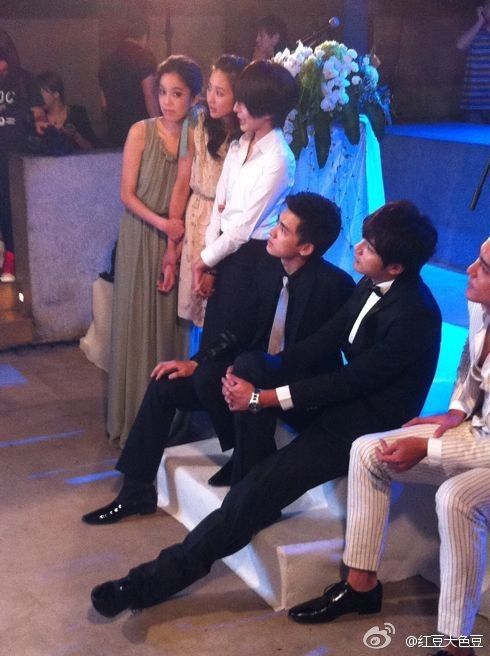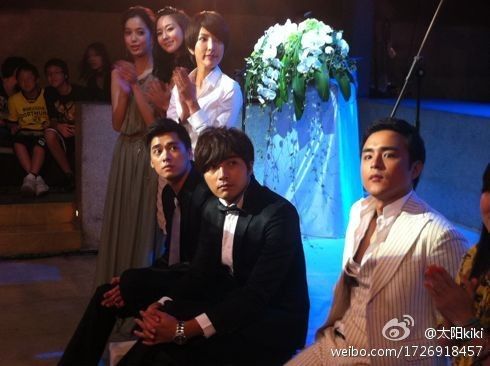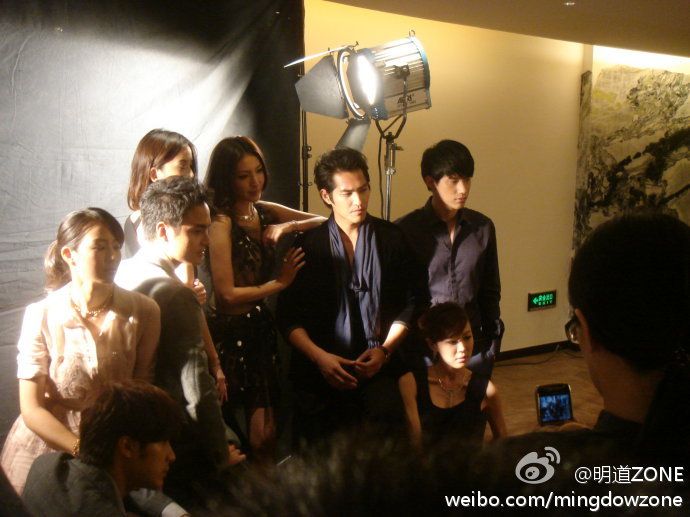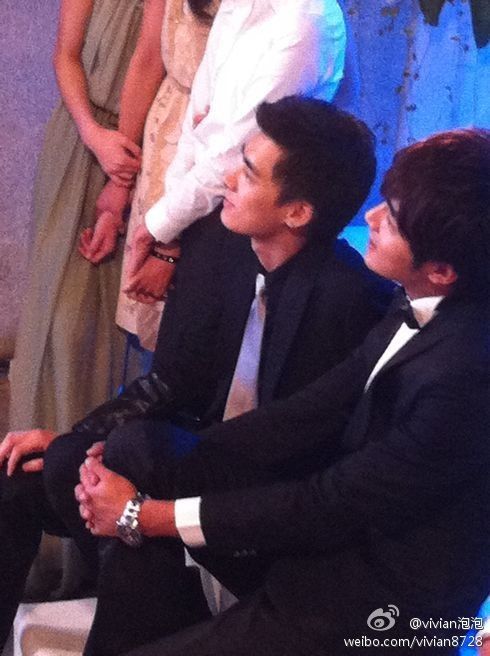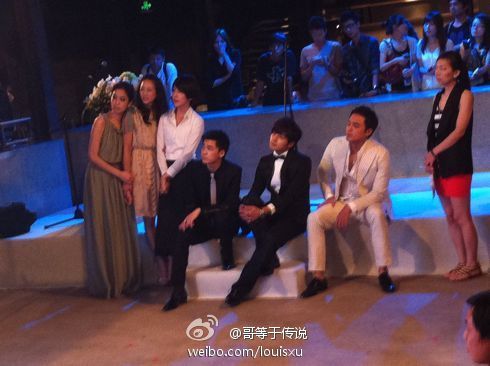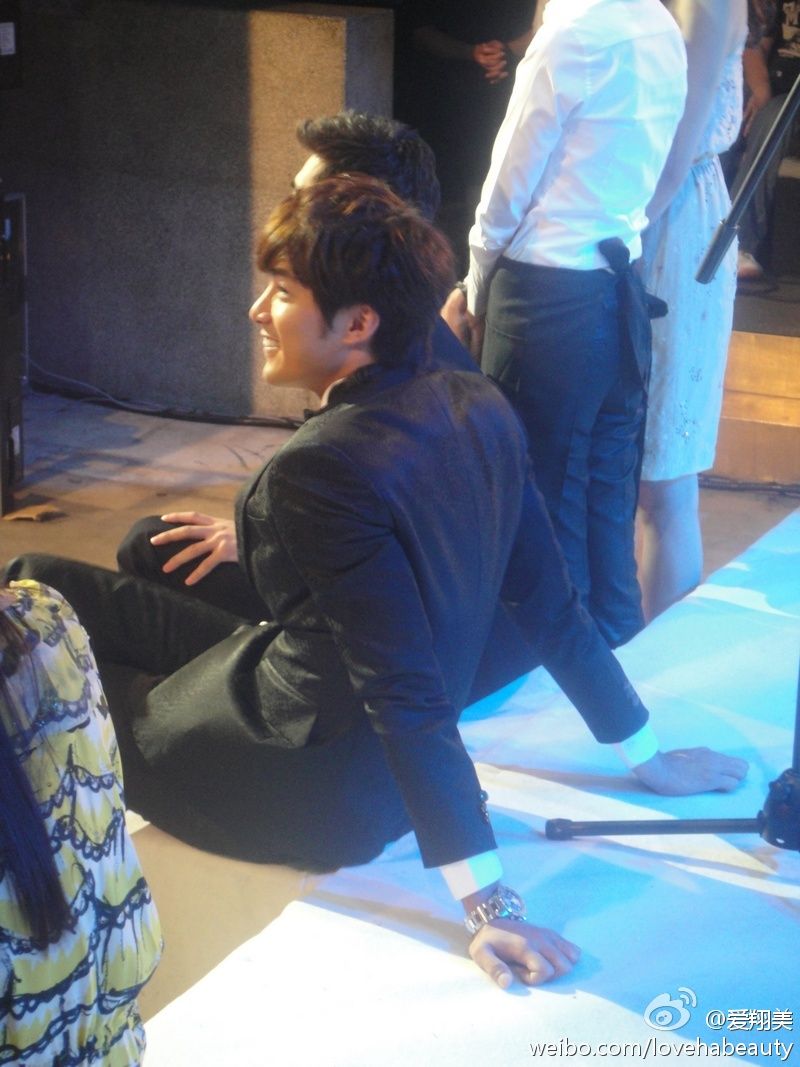 The entire guest starring and main cast for this opening scene in Happy Three Stars. From left to right: Ming Dao, Annie Chen, Janine Chang, Mike He, Cheryl Yang, Blue Lan, and Li Yi Feng, and then the rest of the second leads of all three dramas.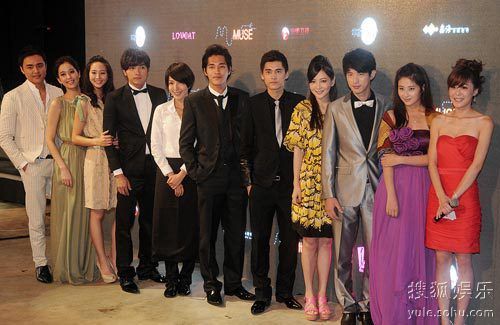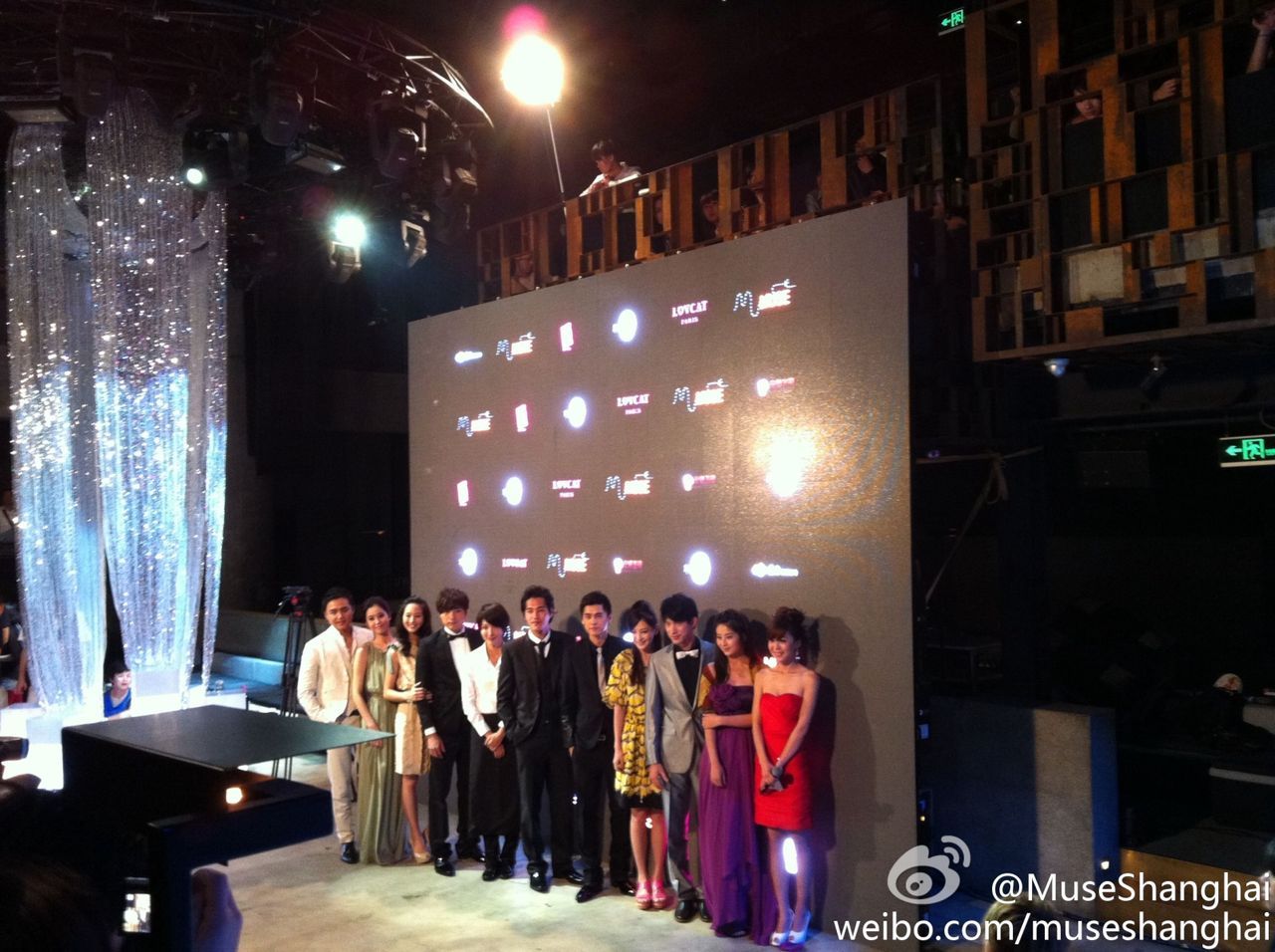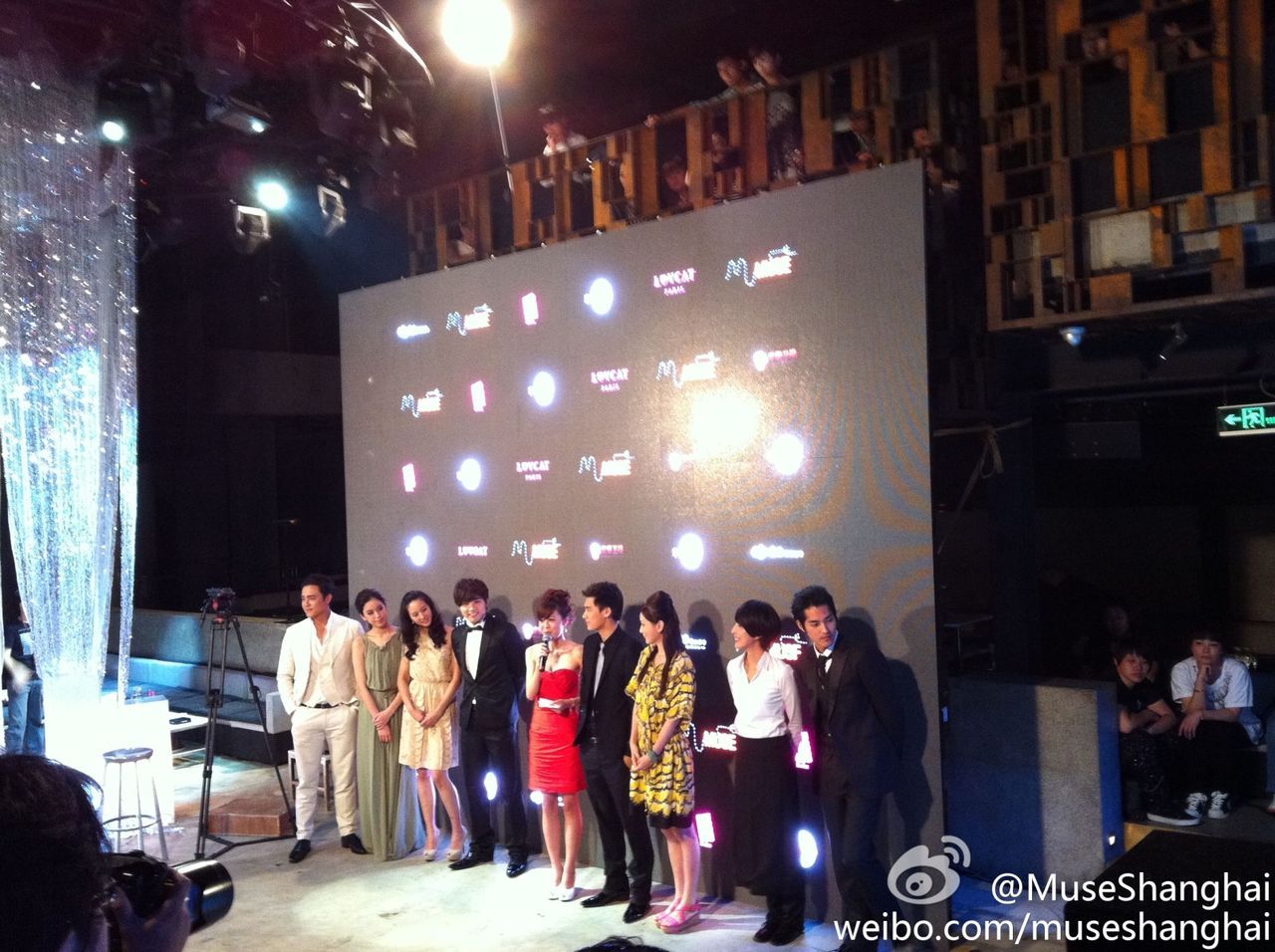 It's Yun Chao and Yong Yong hanging out again (below). Still a viable alterna-ship. Too bad the OTP was so ridiculously amazing together. Yi Feng teased Janine that she was glowing, is there a new romance in the air? Love how Yi Feng totally dared to go there with Janine, since rumors are flying all over Taiwan that Mark and Janine have gotten back together, or alternatively they never broke up after Xiao Tian (Ethan Ruan) opened his big mouth last year and let loose that his new BFF was dating Janine, which everyone suspected after Mark and Janine finished B&W.
Janine laughed and said she would never cheat on Yi Feng's big brother (i.e. Yun Jie), plus since she broke his (Yun Chao) heart, then she would make sure he found love first before she settled down. Awwwww, they are so insanely cute together.
The Xian brothers back together again.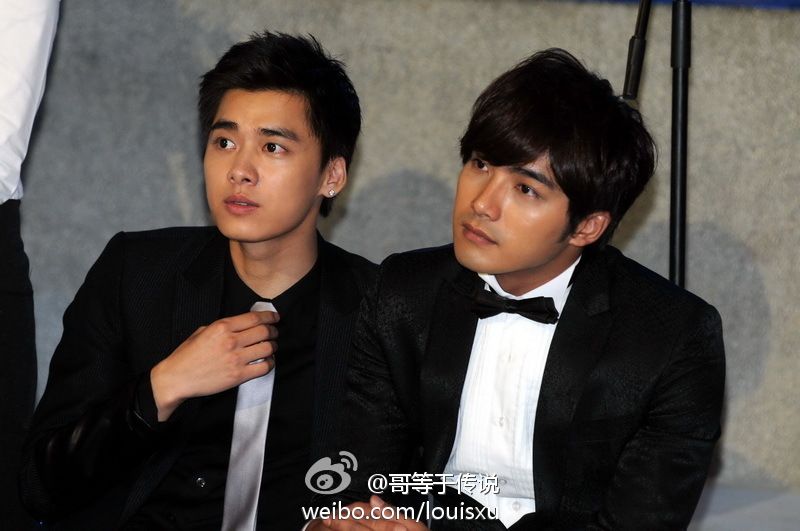 Mike and Janine – truly one of the best OTPs in a TW-drama ever. One on paper that seems like such a misfire (hot-tempered Mike from Devil Beside You and Why Why Love with icy-elegant Janine from Black & White and The Hospital). And yet they made magic together, and rekindled my love for TW-dramas.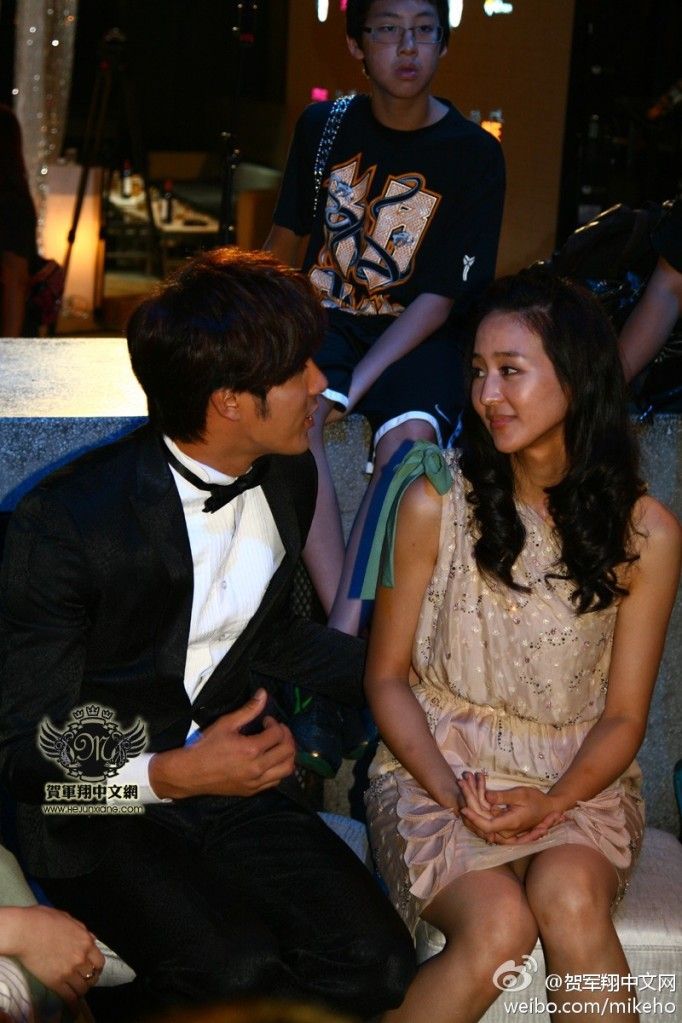 So the four guest-starring leads will be playing their characters from their respective dramas, attending this opening as guests of Blue Lan's restauranteur character in Happy Three Stars.
Between filming, Ming Dao was goofing off and started acting all sweet with Annie while they were pretending to be in character. To which Mike and Janine proceeded to disgustingly out-sweet them as Yun Jie and Yong Yong.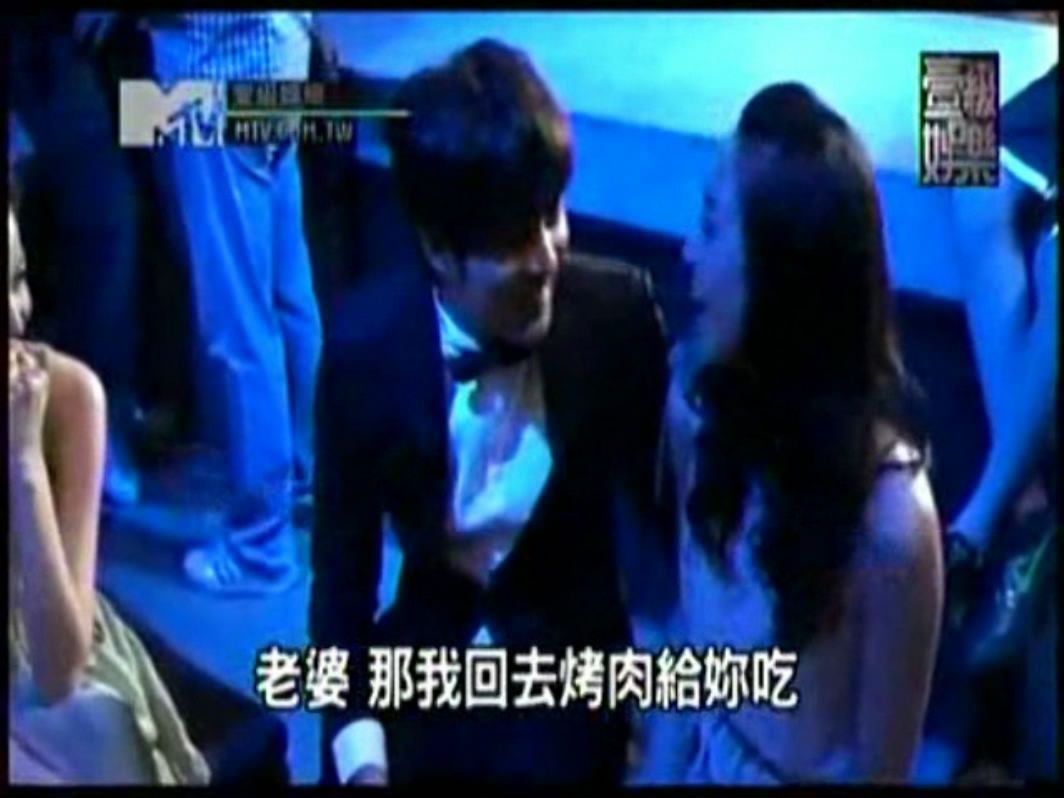 Yun Jie says: Honey, let's go home and I'll barbecue some meat for you to eat.
Yong Yong says: My honey's grilled meat tastes the best.
Yong Yong and Yun Jie say simultaneously: Who can stand it? (which was the last line of dialogue in Sunny Happiness).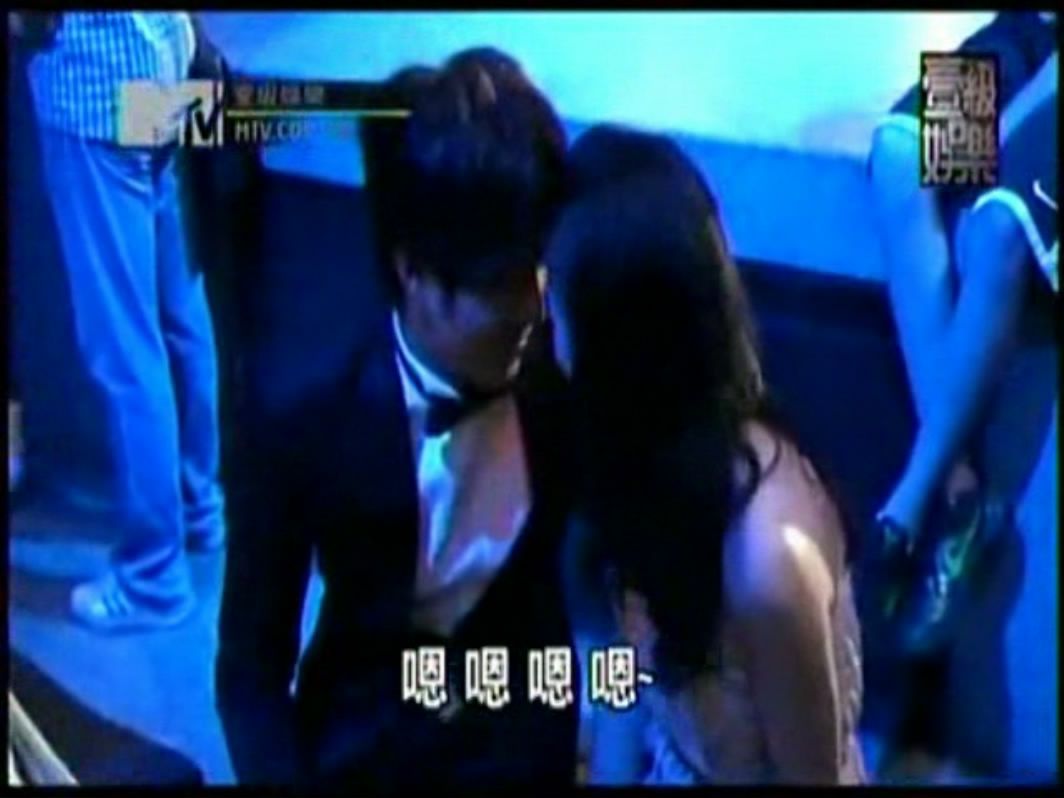 They nuzzle each other's noses and make sickeningly sweet noises.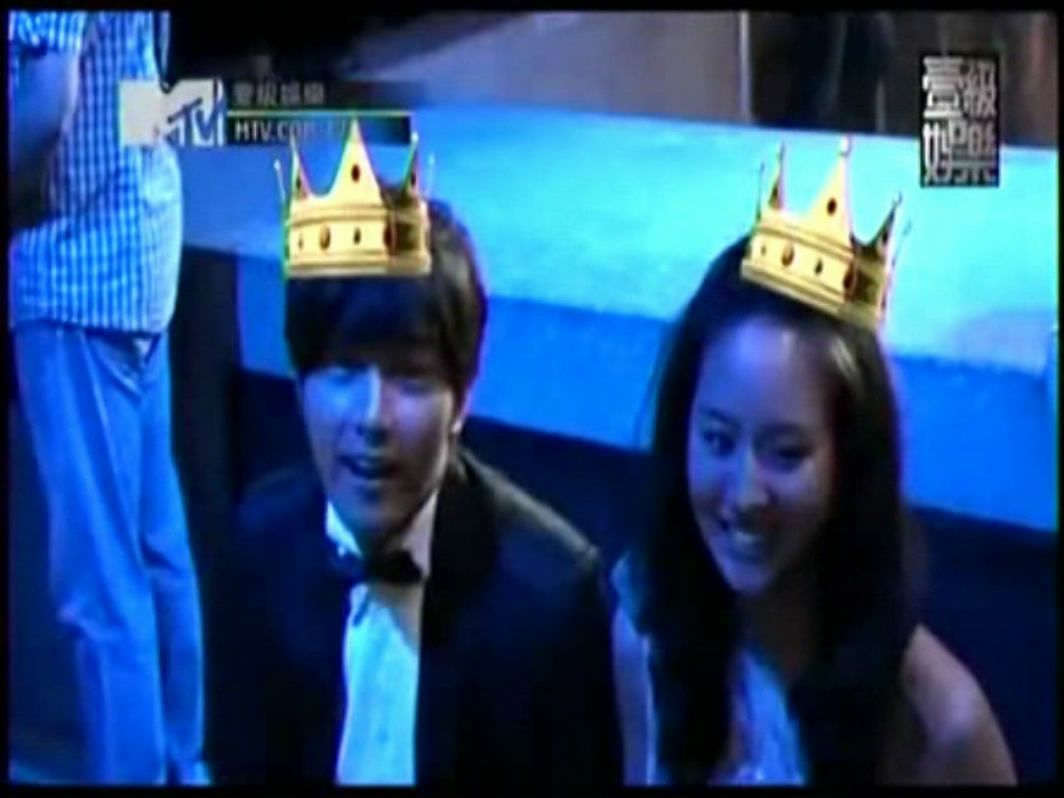 Ming Dao and Annie pretend to retch off-camera while the camera man crowns Mike and Janine as the winners. Ahahaha, this is so cute. Reminds me of all the hilarious BTS scenes from the filming of SH that showed how much fun the cast had making the drama, and what wonderful chemistry was going on among the leads.
So there you have it. The title of Happy Three Stars apparently has two references – Blue Lan's character wants to open a restaurant that will garner three Michelin stars, and the drama will have three stars to represent how the story balances romantic love, familial love, and friendship love. HTS will continue filming until September, and is scheduled to premiere simultaneously in China and Taiwan around February 2012.
[Credit: all pictures from Baidu Happy Three Stars bar]