Let me talk about the good things at the Scent of a Woman press conference first, okay? The chemistry between Lee Dong Wook and Kim Sun Ah is unbelievable. I seriously think a scandal will erupt soon if they keep looking at each other like that. Wow. Which does lead me to believe they simply get along quite well and love the open flirting to drum up interest in the show. If they were really into each other they'd be much less obvious. Regardless, this is great news for the drama, because great co-star chemistry is always a good thing. With that out of the way, I am not happy with how emaciated Sun Ah looks. She's apparently eating one meal a day for this role, and it shows.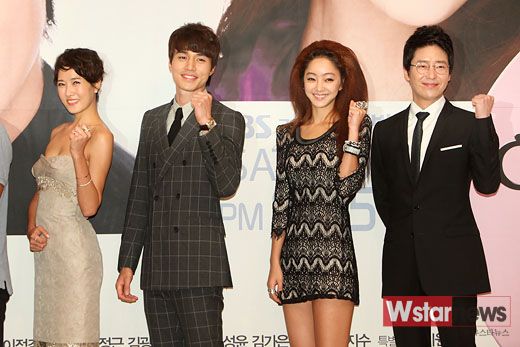 Okay, the drama gods cannot reunite the second leads Eom Ki Joon and Seo Hyo Rim from World's Within and not have them end up together this time around as well. That would be cruel and unusual. Also, what's up with Seo Hyo Rim's hair. O__O I'm confused.
Look at these pictures of Sun Ah. If she's pulling a No Min Woo in Midas and starving herself to show the dying of a terminal illness part of her, then it's going to be really hard for me to watch this show. I don't think I've ever seen her this skinny. She was simply perfect in City Hall.
I guess I'll just focus on Sun Ah and Dong Wook making "I want you" faces at each other. But I do have to protest Dong Wook's ugly-ass suit. What gives guy? Did two years in MS make you lose your fashion sense? That suit needs to be donated. Though considering what he wore in My Girl, this suit actually looks good in comparison. Now back to more pictures of Sun Ah flirting with Dong Wook and him staring at her with stars in his eyes.
Scent of a Woman premieres this weekend on SBS. This is actually SBS's first weekend drama special since Secret Garden turned into a runaway ratings hit and cultural phenomenon in Korea. Will Sun Ah gain the critical and popular acclaim her My Name is Kim Sam Soon co-star Hyun Bin received for SG? We shall have to wait and see.
[Credit: all pictures from Baidu Scent of a Woman bar]