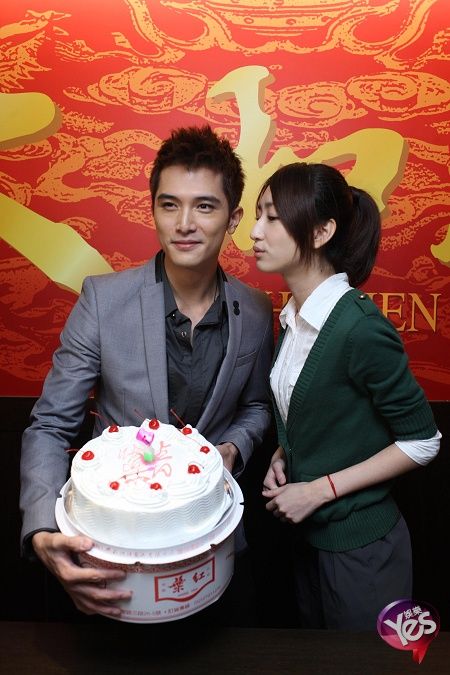 Of all the three leading men in the heated Sunday night competition in Taiwan dramas, it's hands down Roy Qiu that's getting the most career boost out of his role as bottom-dwelling chaebol heir Qin Zi Qi in Office Girls. Peter Ho is gasp-inducing and sublime in Ring Ring Bell and Bolin Chen is understated and a perfect foil to Ariel Lin in In Time With You, but neither is garnering anywhere near the level of media adoration as Roy. Which is about time, I say! Roy's not a newbie by any measure of acting or singing, but when he hit a career lull back in 2005 he decided to go serve his military duty for 2 years. Now that a huge group of leading men are about to be conscripted, I'm thrilled the TW-landscape has added Roy as a certifiable leading man.
The cast and crew celebrated his 30th birthday on set this week, and the media went atwitter with the very public displays of affection between Roy and his costar Alice Ke. It's all for show, of course, with the OG leads really knowing how to keep the interest level high for their drama. Even the media isn't really buying the possibility of a RL romance between Alice and Roy, since his last two girlfriends were of the very cute type. In fact, for Roy and Rainie Yang, their years long relationship early in their careers remains something both consider the most intense and unforgettable in their dating history.
While Alice and Roy have a wonderfully breezy and rat-a-tat chemistry onscreen, I can't see them becoming a couple in real life. Neither seem like each other's types. But I still love it when they act lovey dovey for the media, because who doesn't love fan service. Roy is currently so red hot that Japan has just acquired the rights to broadcast OG and he's headed there at the end of the month for promotional activities.
It's pretty ironic that Roy's drama followed his ex-girlfriend Rainie Yang's drama Drunken to Love You. At the press conference for OG, Roy was of course asked about Rainie, and he complimented her on her acting prowess and said that when he watches her onscreen now, he feels like a viewer and she seems like a star. Rainie and Roy dated for quite some time during the early days when they both debuted. I'd say Rainie was about 19-20 back then, and from all accounts it was a very intense relationship. Rainie admitted years later that she loved Roy so much, and she was so young, that she tried her best to transform herself into whatever she thought he wanted. Since Roy is quite literary and loved to read, Rainie tried to develop that interest. But in the end, it just didn't work out because they were so different.
Rainie said in an interview back in 2008 that the break up just devastated her. She sent him a text that she didn't think it was working and they needed a break. He responded two weeks later asking to meet. She thought he used the break to decided they should give it another go, only for Roy to say that he agreed with her text that they should break up. To this day, Rainie says Roy was the ex-boyfriend who hurt her the most, but she concedes it was because she was so young and so madly in love with him. Awwww, Rainie, you need to love to learn. Anyhoo, that was just some random Roy-Rainie history I wanted to share.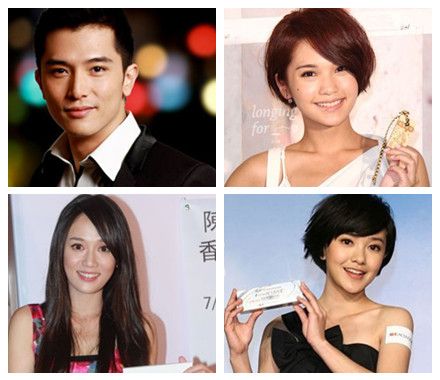 Rainie and Roy are really very similar in temperaments, and both constantly have media speculation around them dating their co-star. Roy has also dated Chen Qiao En, but from all accounts that was more of a casual relationship for both of them. Roy told the press at the OG press conference that there is a TW-actress he has a secret crush on, she's of the cute variety and currently single. He still hasn't told her how he feels because he's not sure the time is right. The media has narrowed down the suspect to Amber Kuo, but Roy won't confirm it. Oh Roy, you are such a wily fox. I doubt he really has a crush on anyone, but that was a great way to get some juice going before his new drama premieres.