Sunday nights in Taiwan is set for the next two months or so, with Office Girls, In Time With You, and now Ring Ring Bell all premiering one after another and in it for the long haul of head-to-head competition. I don't think the current rankings will change at all during its run, with perhaps some minor up and down, with OG getting the ratings love, ITWY garnering a devoted niche audience with critical acclaim, and RRB being this oddball of the group. After watching episode 1 of RRB, I'm really torn about the drama. I loved parts of it (really really loved it), but as a whole it doesn't quite gell properly.
Some notable first impressions are that Janine Chang just officially broke out of her typical acting style limitations and produced a breakthrough performance AND Peter Ho is has officially made me eat my words on how I used to find him grody. He is not grody at all in RRB, he's is so swoonworthy I'm doing double-takes constantly. From the Director who did My Queen and Zhong Wu Yen, RRB is a drama I like enough to keep watching, but really don't know how I feel about it as a whole just yet.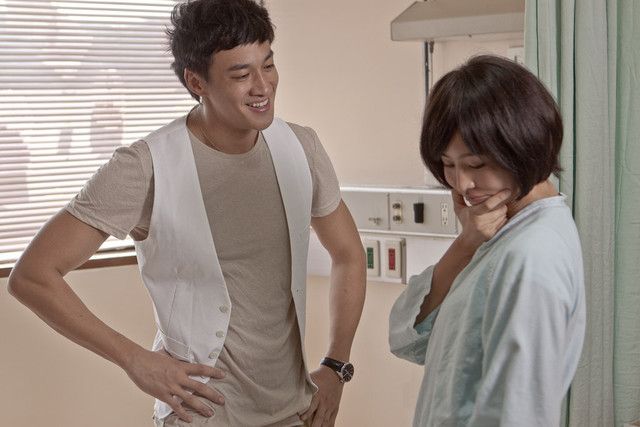 RRB tells the story of Zheng Xiao Xiang (Janine Chang), a completely average 20 year old girl living in 2003 during a time when there is an outbreak of an airborne flu strain called CIV (echoes of the SARS scare). An elevator malfunction, which leads to the first of many cute interactions between Xiao Xiang and a photographer named Ren Jia Kai (Peter Ho), lands Xiao Xiang in quarantine with the illness.
Xiao Xiang and Jia Kai are clearly interested in each other, but a series of missed opportunities allows a chance of a romance between them to pass them by. Xiao Xiang ends up dating Wang Ke Jian (Xiu Jie Ke) another man who saved her that day, a happy relationship that nevertheless goes South after 7 years of an extended engagement buckling under the strain of raising an adopted baby girl, the orphan of Ke Jian's respected college senior.
Ke Jian walks out on Xiao Xiang and their adopted daughter Duo Duo, him being a man who isn't cruel or shallow inasmuch as he's ultimately selfish. Xiao Xiang finds herself having wasted the prime years of her life on a relationship that has no payoff while losing her vibrancy on the exhaustion of child rearing. Xiao Xiang goes to get a name change at the government administration office on the same day Jia Kai and his wife arrive there to finalize their divorce.
They run into each other outside, with neither in a good mood with their current personal woes. Xiao Xiang is the first to recognize Jia Kai, though her worn down look doesn't ring a bell with him just yet. But Jia Kai finds himself at witnessing firsthand the devastation of Xiao Xiang and her daughter getting rejected by ex-fiancee Ke Jian outside a hotel room, leading him to extend a helping hand. Now that 7 years and two failed relationships are behind them, can Xiao Xiang and Jia Kai finally get a chance with each other?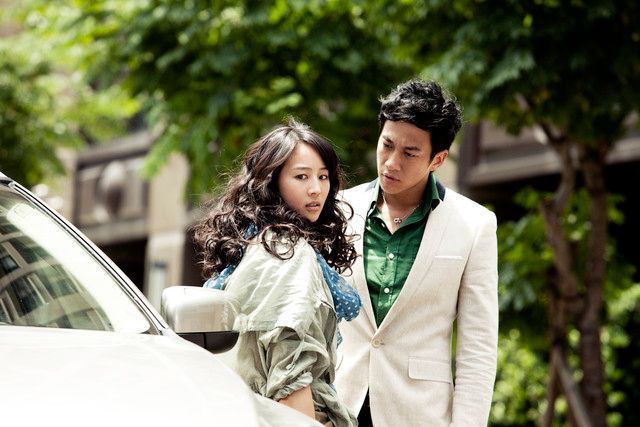 I enjoyed episode 1 of RRB because of the potential I see. The chemistry between Janine and Peter is incredible: charming, intense, and heady. I like his character a lot, whereas I like how Janine plays her character even if I don't like Xiao Xiang's personality all that much. I think the acting by the two leads really carry this show, which falters on story and set up, with an execution that is fast but not memorable.
Every OTP interaction is golden, from their first elevator meeting when both are wearing face masks, to 7 years later when Jia Kai finds Xian Xiang again when she is literally at the lowest point in her life, having just watched her ex-fiancee in a hotel room with another woman as he closes the door in her face. Every scene with Xiao Xiang and Jia Kai is memorable and emotional, whether it's lighthearted or very intense. I don't recall seeing such immediate OTP combustion onscreen in recent memory.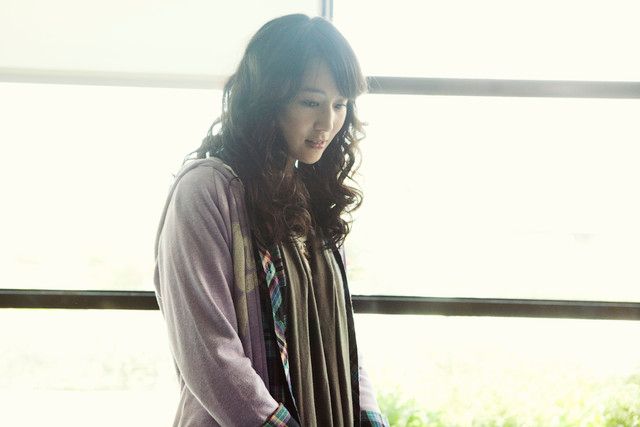 Janine tends to have a very reserved line delivery. Even when she plays more animated and spunky characters, such as her Yong Yong in Sunny Happiness, she still retains this slight aloofness that I've always associated with her. That's why she always gets typecasted as the ice-queen character. Her Xiao Xiang is the first time Janine has truly broken out of her typecast and I'm thrilled to see her so overwrought at times it's heartbreaking to watch.
Peter Ho finally erases all traces of smirky smarminess that he always gives off in role after role, turning in a performance that is all sorts of wonderful. He's warm and affecting, the character of Jia Kai made more interesting because Peter brings him to life in a way that feels genuine. I know this is starting to sound redundant, but I'm really impressed with Peter's performance so far, my being impressed taking on even greater significance considering how much I used to loathe him.
The fact that Peter's mindblowing physique is on front-and-center display in RRB from the first episode makes me laugh at the blatant fan service, even whilst I stare slack jawed at his, uhm, chest muscles. W.O.W. No wonder Janine can't keep a straight face when discussing the constant exposure of Peter's naked torso in a variety of scenes. Peter also mentioned this is the drama where he has the most kissing scenes ever done, so that is yet another reason to tune in. Yes, why lie and pretend that I don't also have a completely shallow reason to watch RRB.
I'm pretty underwhelmed with the directing for this drama, which is just okay, with some really choppy editing throughout the first episode. Sadly it's OST is also equally disappointing, which is quite a critical weakness since many a TW-drama has used a sterling OST and scoring to soften the rough edges around a mediocre story or acting. RRB doesn't have a single song or background music that elevates the source material, whereas it's competition OG and ITWY are hitting it out of the park in the OST department for both dramas.
As a drama, RRB will probably end up being one of those middle of the road projects. Some folks will love it, but not enough that it'll be a much discussed drama. As a result, it'll garner no drubbing as a result of popular backlash, and ultimately end up being watched and put away without any lasting impact. I'm hoping the story really starts rolling once Xiao Xiang and Jia Kai get together and start making a real go at a romance that ought to have started 7 years prior. Janine and Peter are stunningly perfect together (looks and chemistry-wise), and that is really the ultimate hook of RRB, a sterling OTP to anchor the entire story.