I make no excuses for raving about Material Queen when it first premiered, waxing in recap after recap about its merits both superficial (its breathtakingly gorgeous) and substantive (tightly plotted story with exhilarating character development). So when it hit a huge plot ditch in episodes 10-11, I took a break from recapping it hoping it would regain its footing and I could write off the glitchy middle episodes. Sadly, the entire drama plot went to hell in a handbasket thereafter. It turned to forced misunderstandings and dumb plot developments to keep the OTP apart for another 10 episodes, plus to hammer home the point of "their love can withstand all materialistic wants in life".
What was originally so subversive and sharp about the drama turned maudlin and lame, and I wept for a drama that could have been but ended up self-destructing on the pen of a bad writer. I have no regrets about loving the first half of MQ, which remains a stellar piece of work, and the performance of Lynn Xiong as Lin Chu Man is one of those iconic ones for me whereby I've completely become her fan henceforth. The costume designer of MQ released a behind-the-scenes blog about designing the outfits for Chu Man with the input of special costume director Patricia Field. Follow me on an inside look at the unmatched sartorial splendor of MQ.
This cocktail dress was a creation by Turkish design Arzu Kaprol. When trying it on, the costume designer felt something was missing, and it become complete once it was paired with a pink tulle underskirt. It gave off a playful freshness, like returning to the innocence of childhood. The dramatic necklace and bracelets added to the theatrical element of the entire outfit, rendering it perfect for a drama setting.
This dark-colored strapless gown has a skirt design ringed with feathers, which gave it texture and depth. The bodice has a criss-crossing ruched arrangement, and the waist was wrapped by a large satin bow, giving it an elegant but sophisticated aura.
Chu Man wore this outfit to have afternoon tea, which showcased her look as a high class European lady, with the hat a necessity for such ladies to complete their outfit. The hat was custom made, and was paired with a simple v-neck dress to accentuate her curves. A furry bracelet took away the emptiness of her arm and added a unexpected splash to the look.
This scene has Chu Man touring the luxury condo she will be residing in after receiving the affection of Yen Kai Ming. She looks sophisticated and ladylike. Her dark colored dress was paired with a light purple purse, plus the exaggerated earrings and a bracelet in the same color family of the dress accentuated the outfit. It was completed with a purposely light-colored playful fur stole to show how Chu Man was suited for her materialistic aspirations.
This is another Arzu Kaprol dress, and paired with the feathery over-sized earrings, really emphasized Chu Man's strong feminine loveliness. This was one of my personal favorite looks in this drama, and the scene had Chu Man destroying Jia Hao for the sake of saving him (he doesn't know it), so her beauty became her weapon to simultaneously hurt Jia Hao while protecting him.
This was a bright-colored custom made Christian Dior dress. Paired with a similarly bright-colored Dior bag, it is eye-catching without being too blinding. It suits Chu Man's fair skin perfectly.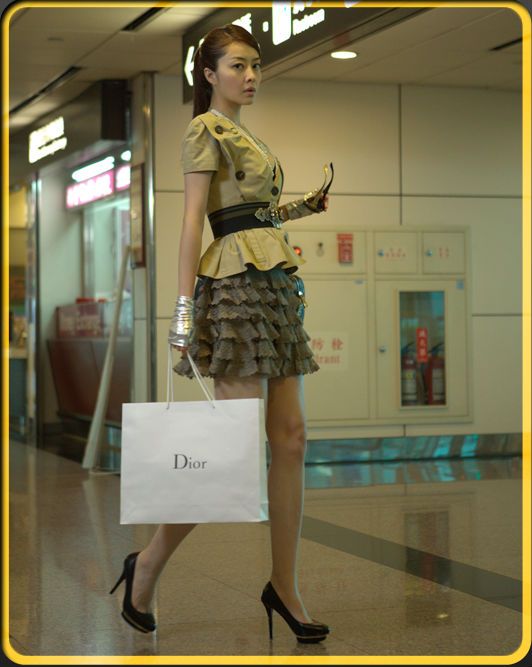 This outfit shows off the creativity and strength of mixing and matching. A khaki-colored jacket paired a ruffled and tiered mini normally wouldn't come to mind, but together with the right accessories, it feels casual yet eye-catching. Chu Man wore this when she took a flight from Paris back to Taipei. The shiny finger-less gloves and the wide belt complete the look, and screams out a low key type of lavishness.
After a series of glamorous outfits, it's time for Chu Man to don something casual to match her current residence at the Due South Market. It's a more gender neutral look, and her plaid shirt is actually a menswear shirt. She's plotting against her friends at the Due South Market, so her Sherlock Holmes-esque hat and muted colors show she's rather plotty and trying to lay low. Plus she playfully tied her shirt in a knot to make it more feminine, and broke up the monotony with a suit jacket used without it's suit bottom.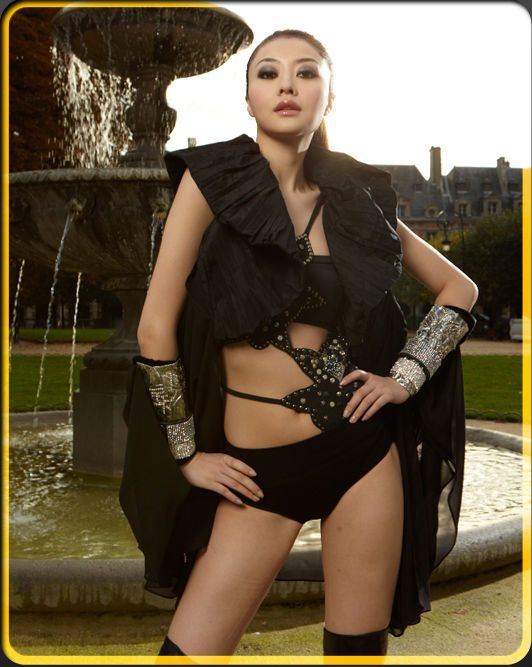 This is model Chu Man modeling a swimsuit in Paris. This entire outfit is from another Turkish designer that Patricia Field loves, and shows off Chu Man's glamourpuss ways.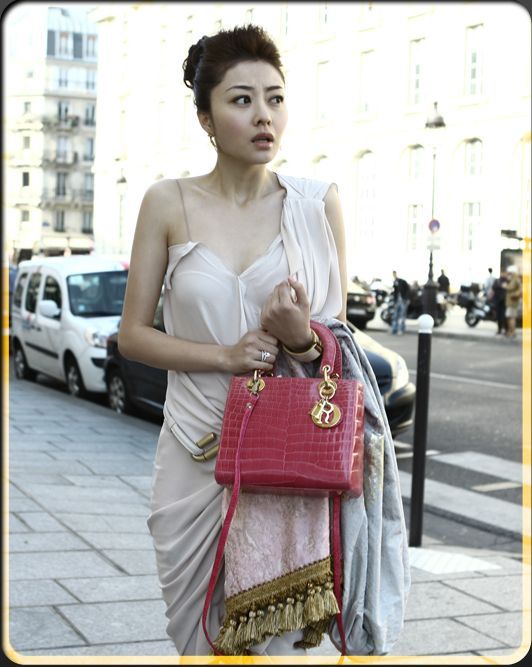 Nude color outfits are in for 2011, but it's hard not to look washed out or grimy in it. She added to the texture of this dress with a thick corded satin belt connected with a gold toned buckle. Her cloak is both dramatic and adds practical warmth, and paired with her favorite bright pink Dior bag, makes the nude color pop when it otherwise wouldn't.
This is a Valentino 2010 Fall/Winter couture outfit that Chu Man wore for a modeling assignment. Yes, she was teased in the drama for looking like a bird in a bird cage. This outfit is normally only displayed and never worn except for photo shoots, and the production managed to borrow it for a day to shoot the scene. What was fresh was the custom-made hair piece using Taiwanese fabric.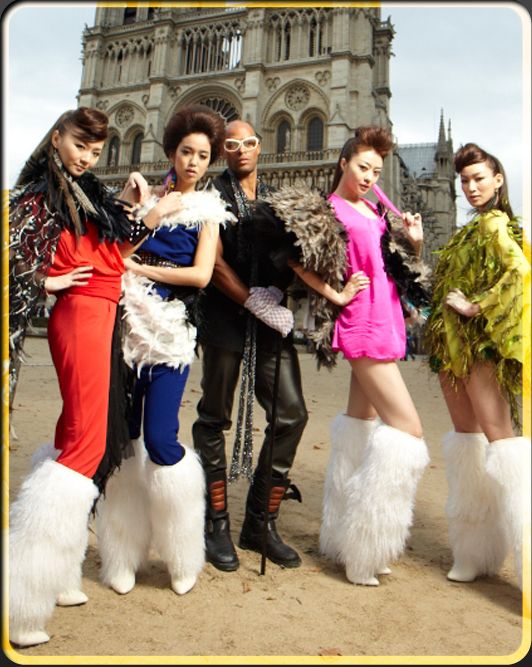 All the models in Paris. Chu Man's fur capelet/stole was handmade, with each feather, tulle, and leather stitched together. Patricia Field brought the feather earrings with her from New York, and she had four of them, so each was given to a model. Added to the entire insane dramatic look were the furry white boots.
Chu Man vacationing on an island, wearing an outfit inspiring by the bright dyes of Indian fabrics. The yellow billowy-sleeved top with the bright green shorts give off a vibrancy perfect for the beach setting. The outfit was completed with over-sized sunglasses with an dazzling orange frame and a turquoise necklace to add more color.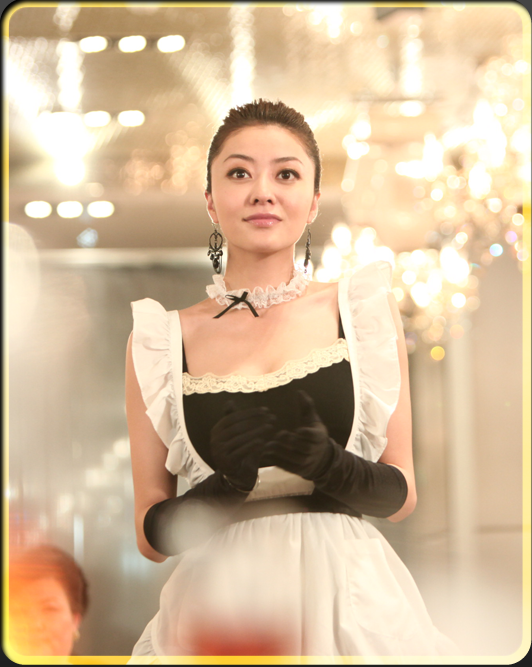 For a charity auction, Chu Man used her creativity to don an old-fashion hot maid outfit, drawing the attention of the entire crowd for daring to showcase her beauty in such a way. People talked about her. but more importantly, everyone remembered her that night. So there you have it, a visually memorable stroll down the MQ costume design memory lane.
For those of you curious how the drama ended, of course Jia Hao and Chu Man beat all odds and ended up together. She proved that she loved him more than financial security, and he showed that he loved everything about her and trusted her completely. A nonsensical detour occurred where a rich old man tried to bargain with Chu Man, her companionship for financial security, which she declined in the end, EXCEPT it turned out all to be a "test" administered by that old man to prove to his dead wife that Chu Man and Jia Hao indeed loved each other more than anything else in this world, including money. Don't ask about the whys, it doesn't make anymore sense. With this post, I put MQ to bed, thanking it for the brilliant episodes and forgetting everything else thereafter.