Wow. I can't describe what I just watched using words that don't involve expletives. What the hell was all that? Magic voices? The mastermind bike burglar? Hwa Young unraveling but no one forcefully institutionalizing her? Bong Sun remaining steadfast to her "I don't know why we broke up, but I'm sure it's a valid reason" illogic? Episode 14 of Me Too, Flower! confirms for me that the writing for the second half of this drama has gone down the crapper. Oh, don't get me wrong, this drama still works largely on acting and some amazingly well-written characters established from the first half of the drama. I'm onboard because of all the goodwill built up already, plus the fluid execution and great OST keeps the scenes just popping along merrily.
Too bad the characters have take a turn for the inconsistent in terms of actions and dialogue, purely for the purpose of manufacturing conflict to keep Bong Sun and Jae Hee apart. I never thought Hwa Young ought to have gone as far as she did, and I never thought Bong Sun would keep boring a bigger and bigger hole for herself to hide in when the shit hit the fan. Where's the ballsy girl we met earlier? I thought all the angst and conflict in the first half of the drama was excellently constructed, but everything afterwards stretch my credulity more and more. This episode tossed my credulity out the window and told me that a near death experience might be the only thing to bring Jae Hee and Bong Sun together. That's just bullshit, and I'm disappointed writer Kim Do Woo went there.
Episode 14 recap: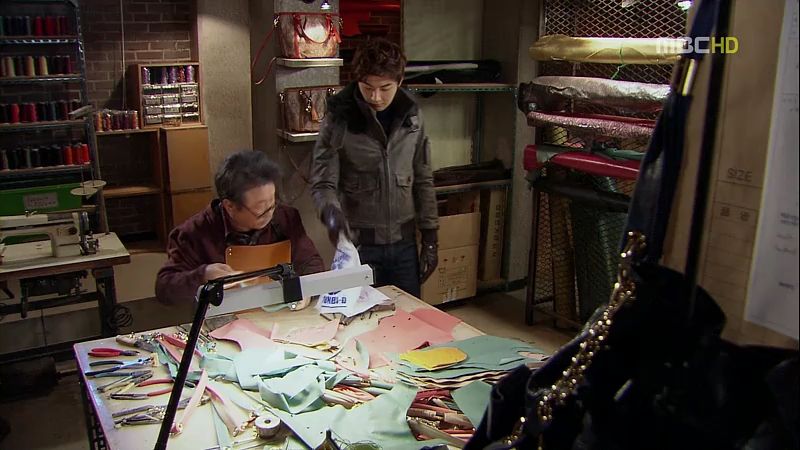 Jae Hee and Bong Sun pass each other on the street, the moment coinciding with Bong Sun's date grabbing her hand to hold it. Jae Hee continues walking, oblivious to anyone and anything, which leaves the returning home Dal unable to get his attention as she walks past. Jae Hee walks into a pharmacy but he's forgotten what he needs to buy. The pharmacist asks if he needs eye drops, because his eyes are bloodshot. Jae Hee goes back to the bag factory and hands poor Bae ahjusshi the eye drops he bought. Once he's reminded that he was supposed to buy cold medicine, he grabs the eye drops and runs back out.
Bong Sun's nice date drops her off at home, tentatively asking her if they can meet again. Bong Sun agrees and her date happily leaves. Dal arrives home to see this, muttering to herself why two people who like each other that much isn't staying together. I can't believe I'm completely agreeing with Dal on this one. Dal goes to bother Bong Sun, asking if she wants to keep meeting that ordinary guy. Bong Sun informs Dal that the breakup with Jae Hee wasn't because of Dal, who isn't important to their relationship at all. Dal didn't do anything wrong, which is why Bong Sun isn't kicking her out. Bong Sun tosses a letter to Dal addressed from a law firm. Dal is furious and shocked to read that she's being dismissed by Perche for a breach of contract.
Dal storms into Hwa Young's office spitting mad, demanding to know how Hwa Young can terminate her modeling contract unilaterally. Hwa Young says the company is in dire straights and they need a superstar model for the brand. Hwa Young reminds Dal that their contract has a confidentiality provision that requires Dal to keep secret every single communication between them during the course of their contract. Hwa Young tosses an envelope of money at Dal for her to take it and slink away. Dal decides to tell Hwa Young the truth, that she is a monster who is destined never to be loved in her entire lifetime. Hwa Young slaps Dal, and Dal turns around and returns the slap. Hwa Young looks stunned, while Dal is used to being slapped so this is nothing. Dal leaves her car keys on the desk and storms off.
Dal goes to complain to Dr. Park about how she's being mistreated by the biscuit seller ahjumma. When asked what she ought to do, Dr. Park encourages her to do whatever she wants to retaliate. Dal informs Dr. Park that she didn't break up the couple. And if they broke up because of her, then clearly they weren't going to make it anyways. Dal goes to see Jae Hee and hands him a flash drive. She's not doing this because she likes them (Jae Hee and Bong Sun), nor is she hoping they'll get back together. She tells Jae Hee to decide later if Dal needs to pay a penalty for breaching the contract.
Hwa Young is on the phone with an English-speaking customer and trying to stabilize their business by trying to pay more money for their partnership. Her assistant disagrees with Hwa Young's approach to throw more money to solve the problem. A top model won't be willing to rep their damaged brand, but Hwa Young doesn't care and will use any means to get her way. She asks for Jae Hee to be located.
Jae Hee plugs the flash drive into his computer at the factory and listens to the conversation between Hwa Young and Dal, where Hwa Young first offered Dal money to break up Jae Hee and Bong Sun. The more Jae Hee listens, the more he's shaking with rage and pain, remembering how much it hurt Bong Sun to see Dal kissing him. Hwa Young arrives at that moment and Jae Hee turns to ask if this is the real her? Hwa Young shakes her head and then rushes to grab the computer and try to smash it. Hwa Young cries and tries to convince Jae Hee that the voice isn't her and she didn't do it.
Jae Hee is numb while Hwa Young keeps shaking him while screaming that she didn't do it! They both fall to their knees, with Hwa Young continuing to cry out her innocence. Jae Hee grabs the hysterical Hwa Young in a hug, likely finally realizing how fucked up she's is, and it's all still tied to the death of her husband and the aftermath. Dal smirks to herself, pleased that she's given the biscuit ahjumma a taste of her own medicine. But when Dr. Park arrives, Dal admits that somehow she doesn't feel a true sense of satisfaction?
Jae Hee deposits Hwa Young back home and she immediately crawls into bed. He offers to call Dr. Park, but she declines and tells him to go. He wants to spend the night with Ah In but Hwa Young tells him there is no need and he can leave. But then she calls him, asking if he remembers a time long ago. We see a young Jae Hee working in the bag factory alongside a young Hwa Young. Young Jae Hee tells Hwa Young that she might be his only woman in this lifetime. She tells him to stop joking, but he says he's not joking. Too bad Hwa Young has already chosen a wedding date, to which Jae Hee congratulates her on getting married to his hyung.
Hwa Young says she remembers that day vividly, the look on his face and his words to her. Jae Hee also remembers that day, because Hwa Young was his first love, from the first moment he laid eyes on her. Jae Hee sits down on the bed, telling Hwa Young that he was so young back then but she already had his hyung. After the death, he decided to take care of Hwa Young and Ah In, but treating Hwa Young with respectful distance was his way of honoring his hyung's memory. Since then, he's never met anyone who touched his heart. Until he met Bong Sun. He didn't give his heart to Bong Sun willingly, it went to her because he had no control over his feelings for her. Jae Hee tells Hwa Young that he will think carefully about Hwa Young's feelings for him, even though it must end here. Hwa Young sits in her bed alone and sobs.
Jae Hee goes to see Bong Sun and forces her to let him inside in his usual cavalier way by claiming that she'll regret it if she doesn't see him. She still refuses to let him in, so he just punches in her code and walks in. Jae Hee sits down in the living room and makes himself at home, even going so far as to ask for food to eat because he's hungry. Bong Sun tells him the rice is in the cooker and he can eat it himself. She moves to leave but he cuts to the chase and apologizes. He apologizes for letting her go, asking for another chance.
Bong Sun says another chance isn't going to work. Jae Hee doesn't agree. Back then he didn't know the real reason it was so complicated between them. He knows it now, and even though it's caused by something he did in the past, he wants another chance with her. Bong Sun shares a passage she read in a book about a pair of ex-lovers meeting by chance on the street. Scene flashes to Bong Sun and Jae Hee wearing funky 70s clothes and sitting in a cafe looking uncomfortable. Neither knew why they broke up back then, but when they got back together, it was awkward and they didn't know what to say to each other. But when the girl sees the guy fiddling with matchsticks, she remembers that his habit annoyed her, and clearly years later he hasn't changed.
So while Bong Sun doesn't know the exact reasons they broke up, those reasons still exist. If they start again, they will have the same ending. Jae Hee replies that he doesn't have a matchstick fiddling habit, but we see that Bong Sun has already left and Jae Hee is all alone in her living room. Dr. Park wakes Dal up and tries to rush her out of his office because he has an appointment coming up. Of course that appointment is Bong Sun, and the two step-sisters are completely stunned to see each other there. Dal asks her unni if she gets psychiatric treatment here?
Bong Sun drags Dal out and demands to know if she's seducing the doctor this time. Or if she purposely finding out everyone associated with Bong Sun and messing with them all? Did Bong Sun kill Dal's dad in a previous life, otherwise why is Dal doing this to her! Dal says it's just a coincidence and she's just as shocked to see her here. Dal says she's in love with the Dr. Park and Bong Sun isn't allowed to have all the guys to herself. Dal stayed with Dr. Park when Bong Sun kicked her out, and even last night.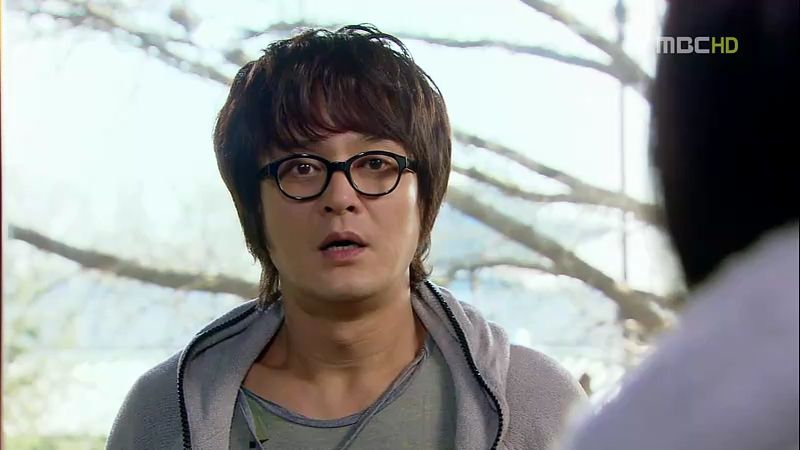 Dr. Park thinks back to all the times Bong Sun bitched about her annoying and rude step-sister in treatment sessions in the past. Bong Sun rushes in and confirms that Dal stayed here last night, and even stayed here multiple times in the past. Dr. Park confirms it, but tries to explain Bong Sun's misunderstanding about his relationship with Dal. Bong Sun storms off after saying she's disappointment in him. Dal honestly tells Dr. Park that Bong Sun thinks he likes Dal. Dr. Park is so pissed and pushes her out of his office.
Bong Sun walks and bitches to Maru about her disappointment in Dr. Park for falling for a sly fox like Dal. Maru's response is that Dal seems quite spirited and he appears to have a good impression of her as well. Bong Sun hangs up on him and goes to check on the bike racks. Everything looks fine, but as she's walking away, a man dressed as a biker gets out from a van and walks towards the bikes in a suspicious fashion. He crouches down and grabs a pair of lock cutters. Bong Sun calls Maru to inform him that the suspect has shown up. Maru warns her not to take action alone and he'll come with back up.
The suspect starts cutting the locks so Bong Sun gets up and walks towards him. She calls him and claims that it's her bike. He notices that she's holding a pair of handcuffs and takes off running, Bong Sun chases him and drops her bag at the scene. Bong Sun chases him all the way to a building rooftop, where the guy manages to outwit her and lock her on the rooftop. Bong Sun starts screaming for help but she's all alone. She cries for help down from the railing but she's too high for anyone to hear her.
Jae Hee is in a meeting to handle his plan to use his wealth to train new design talent. He tells the assistant to stop the model search and it's clear he's taken over running the company since Hwa Young is taking time off. Hwa Young sits in her bedroom with a dazed expression on her face. Dr. Park arrives and cheerfully asks her what's happened? Hwa Young says that she was happy just to see him (Jae Hee), so all she wanted was to be able to see him for the rest of her life. Dr. Park sighs, asking Hwa Young to consider seeing his colleague who treats severe mental disorders. She refuses, claiming that she's perfectly normal. She tosses pillows at Dr. Park while screaming for him to get out! Right….you are so normal.
Dr. Park plays with Ah In while calling Jae Hee to confirm he tried but Hwa Young shut him down. Hwa Young's emotional barriers are too high still. Jae Hee sighs, glad that at least Dr. Park tried. Jae Hee calls Bong Sun only to have Maru answer her phone. The entire precinct is worried since they can't reach her and it's negative ten below outside tonight. The chief tells his team to split into groups and canvas the area around the park. Jae Hee arrives and worriedly asks about Bong Sun. He ends up going out to search with Maru, who isn't all that happy with Jae Hee's presence. Maru blames Jae Hee's broke up with Bong Sun for this happening. Jae Hee thanks Maru for being so concerned about Bong Sun.
It's freezing now so Bong Sun runs around the rooftop to try and keep warm, stopping to call out for help and bang on the rooftop door. She eventually rounds up all the stray newspapers and boxes on the rooftop and bundles herself inside the makeshift shelter. Maru and Jae Hee pull up to an area where surveillance cameras showed Bong Sun chasing the suspect. The captain stays on the phone with Jae Hee and guides them to follow Bong Sun's route, when ends abruptly near an area. Jae Hee gets out of the police car and starts canvasing on foot.
Bong Sun is so cold that she's barely lucid and awake. She manages to open her eyes and she imagines that there is a glorious tray of ramyun and pickles in front of her. She almost falls asleep when she hears Dr. Park calling her name. He asks what the happiest thing in her life is up til now? Bong Sun thinks back to the night Jae Hee and her returned from their trip and she didn't want to go inside so he carried her off the motorcycle and deposited her inside. Bong Sun smiles, while Dr. Park asks her what the thing she regrets the most in her life is up til now? Bong Sun thinks back to Jae Hee barging into her house to see her and asking for food.
Suddenly Bong Sun imagines that Jae Hee is crouched before her and singing "Santa Clause is Coming to Town" in Korean to her. She smiles and tries to sing along with him. After he finishes singing, he just sits there and smiles at her. Bong Sun asks Jae Hee what they are doing for Christmas? Jae Hee plans to have fun with her, of course. Bong Sun says she's sleepy but Jae Hee tells her that she can't sleep and needs to keep her eyes open. Bong Sun apologizes, but she's going to close her eyes for a little while.
Jae Hee is unable to locate Bong Sun and is about to leave when he hears Bong Sun calling his name. He looks back but doesn't see her. He hears her voice again, which is when he notices one of her gloves on the ground. He runs down a hallway and finds himself in an elevator bank. The elevators are off for the night, so Jae Hee climbs the stairs all the way to the roof. He notices the roof door has been locked and is about to walk downstairs when he hears Bong Sun's voice again. Jae Hee turns back and opens the roof top door. He walks out to the roof and looks around. He doesn't see anyone at first, until he sees a pile of boxes behind the water tower.
Jae Hee walks towards the boxes and spies Bong Sun. He rushes over and pulls the boxes off her, calling her name and trying to shake her awake. Bong Sun remains unresponsive while Jae Hee cries and continues to try and revive her, calling for her to wake up.
Thoughts of Mine:
I'm not angry at this episode of M2F (or the entire latter half in general), I'm just disappointed that a drama with such potential and powerhouse acting performances once again devolved into a series of forced plot turns to generate momentum. And to think the drama plans to tie everything together next week in just one episode, with episode 15 being the final one scheduled by that douchy MBC. I can hope for a miracle, but am geared for just a series of deus ex machinas to wrap everything up, and maybe get some fan service happy scenes for Bong Sun and Jae Hee. Since episode 9 this drama has really failed to take me on the journey of Bong Sun and Jae Hee IN a relationship, which was ripe with so much interesting issues to explore. Instead it wasted time with the Hwa Young and Dal shenanigans which were unnecessary plus no one cared about it. Why couldn't I watch Bong Sun and Jae Hee fighting and making up over their social differences, their hidden traumas and scars, their sometimes fire and ice personalities? And don't even get me started on Bong Sun going on that pointless matseon date, which served no greater purpose other than to pour more angst on Jae Hee.
Bong Sun and her brush with death to realize the importance of Jae Hee is just ridiculous. For a woman who is afraid of being abandoned, Jae Hee's love and desire for her was always such a strong pull, how could she just shut him down time and again and need some stupidly manufactured roof top freezing-to-death moment to realize what truly mattered to her? Bong Sun's stupid cautionary tale also made no sense because if you can't figure out why you broke up then that is not a valid reason. It basically boils down to "I just know in my gut it won't work". I thought the writer wrote this OTP has flawed and broken but realistically adult characters and suddenly Bong Sun has the EQ of a teenager. I get her hesitation to date Jae Hee but what happened to let's just take it one step at a time and see where it leads. The world's not going to end if they date again and somehow it doesn't work out in the future and they break up. Bong Sun's characterization totally went haywire in this second half while Jae Hee has remained the consistent one in dealing with all the situations that has arisen.
I appreciate that Jae Hee didn't lay on verbal beat down on Hwa Young when he discovered the extent of her actions in breaking up him and Bong Sun. He was in rage and pain, but he also still care so much for her and knows how damaged and mentally screwed up she is because of him. She needs in-depth therapy because her behavior stems from psychological hang ups more than being purely being evil and selfish. It's akin to discovering the Evil Queen in Snow White had an abused childhood. It doesn't erase what she did, but she needs help more than bitter recriminations. I'm still completely uninterested in Dal and Dr. Park's storyline, whether individually or together, but I get why their characters need to exist in this story. In the end, I'm glad I watched M2F despite how it'll end next week. I thoroughly enjoyed the first half and still love to pieces the acting by the two leads. I don't think the shortening of this drama was the reason for the lackluster second half, but rather the writer taking her story in a forced direction rather than follow a natural narrative flow. Such a shame, really, because M2F could have been great.