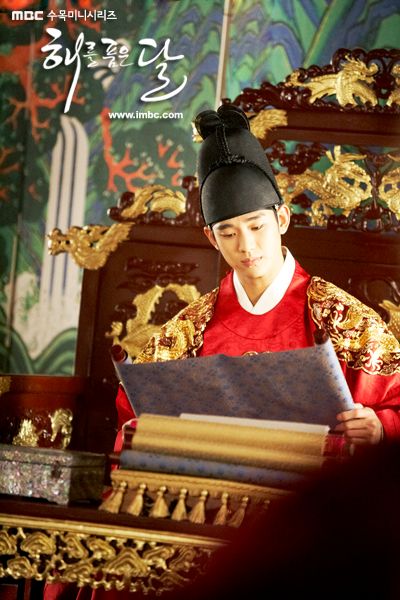 Ahhh, episode 9 was solidly good, but all my previous gripes haven't gone away. It's good, I can live with those issues and still enjoy the drama. One thing I like about how the drama deviates from the novel is that it gives me the sense of freshness, like seeing something from a different angle almost. So far I don't have a preference either way, because I think some elements from the novel are less suited to be transferred to a visual medium. Sometimes I love following a drama that has a niche following, but I am enjoying seeing The Moon that Embraces the Sun's runaway success domestically and burgeoning interest elsewhere. My biggest joy in watching this drama's success is knowing that Kim Soo Hyun has made it. My boy, I just adore him. I've brought the preview for episode 10 and translated it below.
Preview for episode 10:
Bo Kyung: It's not enough just to have the spirit of a deceased person, he even keeps a lowly shaman in his heart! [Hahaha, yes Bo Kyung, he rather be with dead spirits and lowly shamans than you. And you STILL don't get it? Might as well call it quits now, lady]
Wol: Could I be the owner of those memories? Will I become that person?
Female voice (Jang Shil?): Oraboni (elder brother), the person you are looking for, let me be your guide.
Wol: There are constantly confusing things flashing before my eyes. I feel the memory is so mixed up. Who am I really?
[Credit for upload to tonightstays]