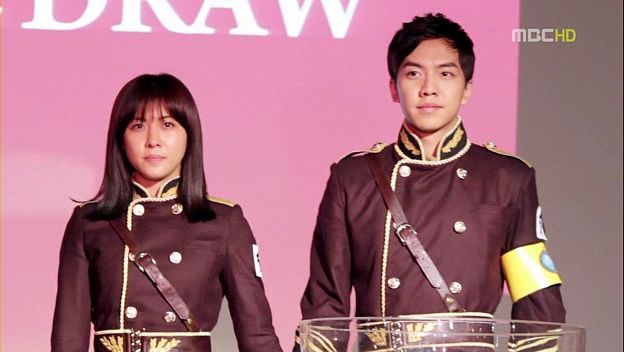 I finished watching this episode of The King 2 Hearts holding my breath. Nothing comes easy for Jae Ha and Hang Ah when their opponent doesn't play fair and has the means to pull off stunning feats of sabotage. Our darling OTP has tied their personal fates together with the outcome of the WOC, and can I say how fantabulous that is from a viewer standpoint. Suddenly all the stakes are raised and we're back in the game of showing the world what a joint North-South Korean team can do. Succeeding at the WOC encompasses Jae Kang's dream, Hang Ah and Jae Ha's marriage, the pride and unity of the two Koreas, and sticking it to Bong Goo where the sun don't shine. The writers have deftly weaved all this in with pushing Jae Shin to step up and stopped being a victim and start taking control of her life again. I can't say enough accolades about TK2H, but its enough to let this drama speak for itself. Episode 13 sets up what looks like a epic final arc of this drama.
Episode 13 recap: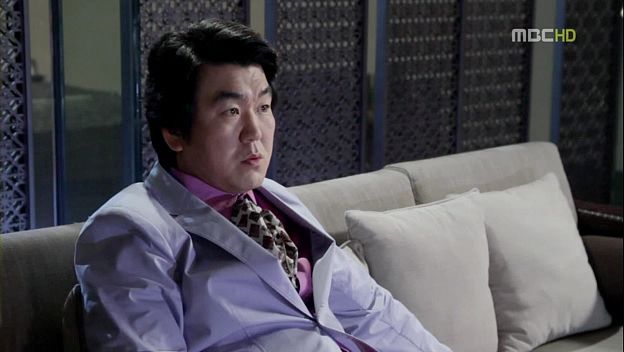 Bong Goo opens the box from Jae Ha using the password "people". Inside he finds a royal encrusted USB drive. He's a bit impressed that Jae Ha is returning a video message with another video message. When Bong Goo plays the video inside, out pops Jae Ha sitting down and addressing Bong Goo casually like they are friends. Jae Ha gives Bong Goo another chance to heed his warning and turn off this video on the count of ten, otherwise it'll be too late.
Jae Ha snaps his finger and Bong Goo's eyes widen when he sees Jae Ha and Bong Goo's girlfriend Tara having drinks. Jae Ha secretly recorded his flirtation with Tara to piss off Bong Goo. More importantly, when Jae Ha asks Tara about her boyfriend, he gets Tara to laughingly proclaim that her boyfriend is this childish insecure guy who loves showing her magic tricks. Frankly, all he has is lots of money but nothing else, no charm or humor. She laughs that money can't buy intelligence and integrity. She's only with Bong Goo because he has money. Tara makes fun of the fact that Bong Goo refers to himself as the King, and Jae Ha laughs along with that.
Tara walks out to the living room at that moment and asks why Bong Goo isn't coming to sleep. Bong Goo pulls out a gun and shoots her point blank. He turns and watches the video for a few more minutes, seeing Tara puts the moves on Jae Ha. He walks over and shoots Tara a few more times as she's laying on the ground.
Jae Ha calmly asks if Bong Goo just shot Tara? Jae Ha tells Bong Goo about the time when he was pushed into a corner and shot Hang Ah. But because he had his older brother and the people of his country, he was able to learn how to trust and believe. It is for his people that he will fight Bong Goo to the end. These people who believe in him and love him. Bong Goo can try to destroy Jae Ha as much as he wants, but it will only make Jae Ha stronger as he fights to protect those people.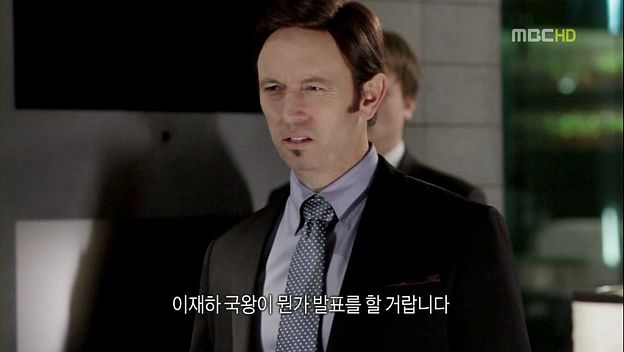 Bong Goo fires a shot into the television and ends the video. His right hand man comes out to remove Tara's body, and tells Bong Goo that Lee Jae Ha is about to make an announcement.
Jae Ha stands before a packed audience at Jae Kang's memorial concert. Jae Ha discusses Jae Kang's two dreams when he was live – participating in the WOC as a unified team and Jae Ha's marriage to Kim Hang Ah. He announces that the joint North-South Korea WOC team will proceed, and he will be participating along with Kim Hang Ah.
He announces that he loves Kim Hang Ah, but as the King of South Korea, being engaged to a North Korean military officer is truly a difficult thing for the people to accept. Jae Ha introduces Kim Hang Ah, the leader of the North Korean side of the WOC team, and also his fiancée and the woman he loves. He will use the WOC to show the people the level of trust between Jae Ha and Hang Ah, and show that North-South Korean cooperation can have positive results. If the joint Korean team doesn't advance past the first round of the WOC, then he and Hang Ah will not be getting engaged.
Hang Ah changes into her North Korean military uniform and walks out on stage. Jae Ha walks up to her and extends his hand. Bong Goo watches this announcement on TV since the memorial is being broadcast live. The people clap as Hang Ah and Jae Ha stand on the stage side by side.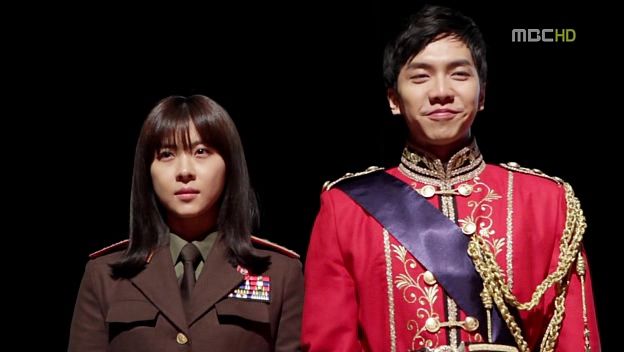 She expertly shifts her military hat to her right side and reaches out her left hand to clasp Jae Ha's hand. They turn and face the audience together. I swear I could just squish them they are so perfectly awesome together.
The Prime Minister is voicing his displeasure and worry about Jae Ha leaving the nation to participate in the WOC in Japan for a month. Jae Ha points out that other Kings in history have been involved in military activities, and this time he's going because there are greater political implications involving many powerful countries. Secretary Eun actually doesn't side with the Prime Minister this time. Jae Ha finally gets the guy to shut up when he points out that the Prime Minister didn't do his mandatory army duty. When asked what will happen if the Korean team is eliminated in the first round? It'll be a huge embarrassment! Jae Ha promises they will advance past the first round. Jae Ha asks the Prime Minister to assist Jae Shin as Queen while he is gone.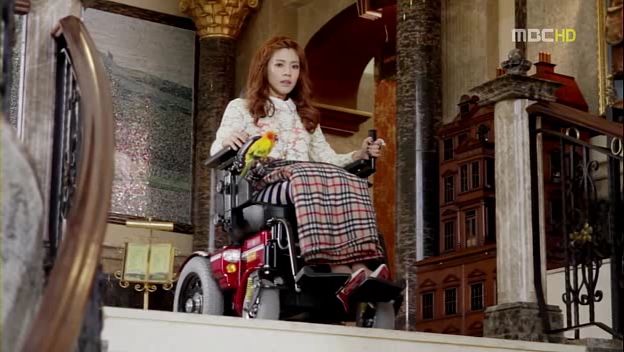 It's up to Jae Ha and Hang Ah to convince the other family members to go along with this plan. We see Jae Shin zipping around the Palace on her motorized wheelchair like it's a race car, with her little parakeet perched on her handle bar. She's very self-sufficient, that is until she comes to a staircase. She stops and looks upset to acknowledge that there are still limits to her immobility.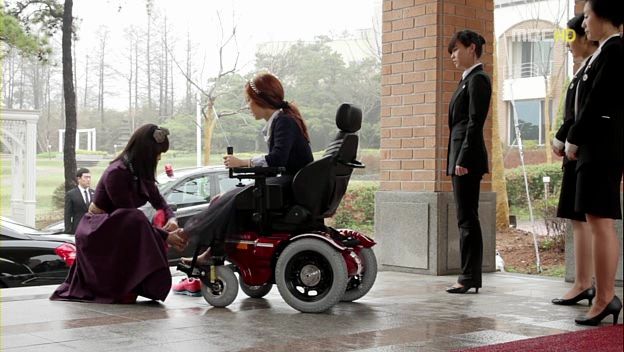 The Queen Mother and Jae Shin are not happy with the WOC plans. Hang Ah asks to spend the day with Jae Shin instead of the Queen Mother. Jae Shin is against it, claiming that Hang Ah will just hit her again. Haha, true dat. The next day, Hang Ah tags along with Jae Shin to the hospital, promising to take Shi Kyung's place and protect Jae Shin since she's so strong. Instead of taking her to the hospital, Hang Ah instead takes a sleeping Jae Shin back to the vacation home where Jae Kang died. What's so sweet is how Hang Ah props a sleeping Jae Shin on her shoulder during the car ride.
Jae Ha is trying to convince his mom to support his plan. He tells his mom that Kim Bong Goo killed Jae Kang and confessed it to Jae Ha's face. The Queen Mother is understandably overcome with worry when she finds out how Jae Kang really died and now her only remaining son is trying to battle the same man responsible. While Jae Ha is away, he's going to subject Jae Shin to even more pressure while she is in her current state by asking her to be Queen. Mom knows that Jae Shin often hits her head against the wall at night since she's so scared she can't sleep. How can Jae Ha force his sister to run when she can't even walk right now?
The Queen Mother asks Jae Ha to just avoid this, to figuratively run away. Before her sons were Kings, they are first her sons. She doesn't want any more of her children to be sacrificed, she doesn't want them to be placed in danger anymore. Jae Ha says they need to catch the person who did this to Jae Shin, who killed Jae Kang, how they can just forgive that person?
Bong Goo shows a gathering of Club M people the box Jae Ha sent him, trying to prove that Bong Goo is useless and has no one around him he can trust. Bong Goo decides to attend a gathering peace summit to be held in Jeju. Hahaha, that's like a sex addict attending a celibacy retreat. He decides to stop being the shadowy power of Club M behind the scenes. He's going to be there as King Jae Ha leads the Korean peninsula, his homeland, towards peace.
Hang Ah plays the same song Bong Goo likes to play for Jae Shin while they are at the vacation home, hoping this will trigger a memory. Sadly Jae Shin still cannot remember other than some snippets of fragmented memories. Hang Ah tells Jae Shin the truth about her Jae Kang oppa's death. Hang Ah tells Jae Shin that Kim Bong Goo doesn't want to see a join Korean WOC team, which is why they have to do it to oppose him. But their biggest weapon will be Jae Shin's memory of what happened, so they need Jae Shin to remember.
Jae Ha continues to try to convince his mother to let him do this. As he recounts how Bong Goo told him about killing Jae Kang, both Jae Ha and the Queen Mother starts to cry. He needs to do this to keep his family safe and to seek justice for Jae Kang. Bong Goo is very powerful, that is why he could do this to Jae Shin and Jae Kang. His mother wants to forgive this and keep it in her heart and let it go. She begs Jae Ha to please save her, she cannot lose him as well. Jae Ha hugs his mother as they cry and cry. Oh, just cut my heart out, won't you?
Jae Ha is talking with Hang Ah later in the evening in her room. LOL, its like these two have dates that double as debriefing sessions. Hang Ah explains that it's very hard to get Jae Shin to regain her memory, especially since Jae Shin has lost all confidence in herself.
Conversation turns towards the death of Jae Kang and how Bong Goo could have found out the location of his vacation destination in order to send assassins. Jae Ha says that only the family, Secretary Eun, and a few royal guards knew where Jae Kang was headed. Hang Ah points out that Secretary Eun ought to be considered a suspect in the information leak, especially considering that he's lied to them before. Hang Ah reveals that Secretary Eun once lied to her that Jae Ha wanted her to attend the public investigation, though afterwards he did tell Hang Ah that he lied about it.
Jae Ha backs Secretary Eun, saying that even if no one else is trustworthy, he'll never betray them. He's been serving the royal family for 30 years and is just like a family member. Despite what he just said, Jae Ha continues to think about what Hang Ah said. The next day when he is meeting with Secretary Eun, Jae Ha wants reassurance that he'll never lie to Jae Ha. Fat chance of that happening. Jae Ha asks again if Secretary Eun made a mistake because of his old age when it came to checking the vacation home to make sure it was safe. Secretary Eun sticks with his story that he made a mistake.
The royal guards are in their break room laughing and chatting as Dong Ha tells everyone about Kang Seok's love for SNSD. Dong Ha jokes that Kang Seok is old and a softie, but Shi Kyung points out that Dong Ha took off when Kang Seok showed up during the snowball fight. Jae Shin comes in and asks to speak to Shi Kyung alone. After everyone else leaves, Jae Shin asks Shi Kyung to stay beside her and not attend the WOC.
She'll agree to govern as Queen for the month if Shi Kyung helps her. Her brother and Hang Ah will be away at the WOC, leaving her all alone. Shi Kyung at first insists that he needs to participate in the WOC since he's a member. Jae Shin asks if she needs to get down on her knees to beg him. Despite her disability, she's still a Princess, why does she need to beg him. He finally relents when Jae Shin reveals that she needs him. Despite resenting him for pushing her to be braver in facing her condition, she nevertheless wants him to help her. Jae Shin says she really can't remember, she's not avoiding it or not trying hard enough.
Shi Kyung tells Jae Ha that Jae Shin has asked him to stay before she'll agree to be Queen, so he likely has to withdraw from the WOC. Jae Ha knows that this means Jae Shin likes Shi Kyung, and teases Shi Kyung about always getting the ladies to fall for him. from enticing Hang Ah to Jae Shin. Jae Ha asks if Shi Kyung is angling to become the Prince Consort?
Jae Ha laments his dream brother-in-law as a guy with a fun personality he can hang out with, too bad it's going to be someone as boring as Shi Kyung. Shi Kyung adorably insists that he has no untoward intentions for Jae Shin, she's not his type. Jae Ha stops teasing Shi Kyung and tells him to stay behind, not just to protect Jae Shin, but to help investigate the possibility of a traitor in the Palace.
Secretary Eun tries to persuade Jae Shin to attend a public event but she still refuses, telling him to get her mother to go. Afterwards he sits in his office and sees a list of people attending the peace summit in Jeju. He sees Bong Goo's attending and picks up a phone potentially to call him, but is interrupted by Shi Kyung. Shi Kyung tells his dad that he's staying behind under Jae Ha's orders to investigate a potential leak in the Palace. Secretary Eun tells Jae Ha that Kim Bong Goo will be coming to the Palace for Jae Shin's inaugural party as part of the guests invited from the Jeju Peace Summit. Jae Ha asks Secretary Eun to help Jae Shin while he is away.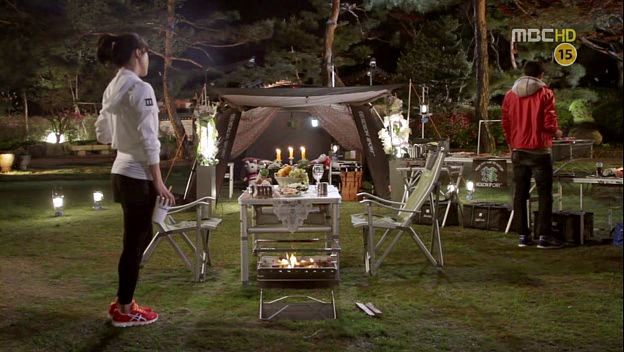 Jae Ha has prepared an outdoor camping trip experience in the backyard of the Palace for a date night with Hang Ah. Nice to see Jae Ha using his smooth moves on his own fiancée rather than hoochie Tara.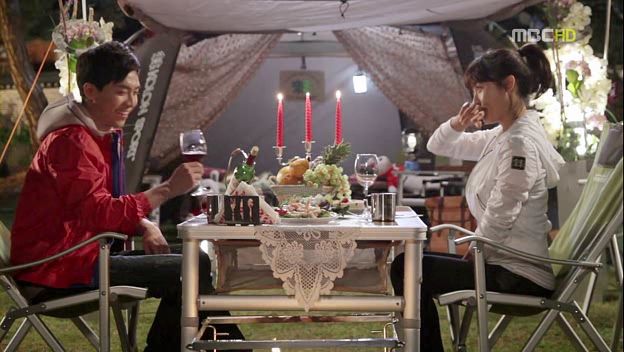 They sit down and toast to tomorrow's start of the WOC, with Hang Ah downing her wine in one gulp. Jae Ha brings up the topic of first loves, which annoys Hang Ah and she stands up acting all upset and says he needs a beating before tomorrow's group activity. Jae Ha pulls his chair over to Hang Ah and sits down next to her, telling her that's not what he's talking about.
Turns out Jae Ha's first love was an experience he wanted to forget. He tells Hang Ah that his first love was this pretty girl in elementary school, who ignored him until she learned that that he was a Prince. He went to a normal elementary school where he's identity was kept a secret initially. At which point she started fawning over him and dragged all her girlfriends over so she could take a selca with Jae Ha and act like he was her boyfriend. To little Jae Ha, her attitude change was very disgusting to him.
Jae Ha became disillusioned by this and grew to not trust anyone. Since that time, he wanted to just not try hard at life, enjoy what he had and just go with it. It's been very lonely for him to live in distrust of people for so long. Hang Ah listens to him quietly and puts her hand on his hand reassuringly. Jae Ha pulls Hang Ah's hand over and places it on his cheek, nestling into it.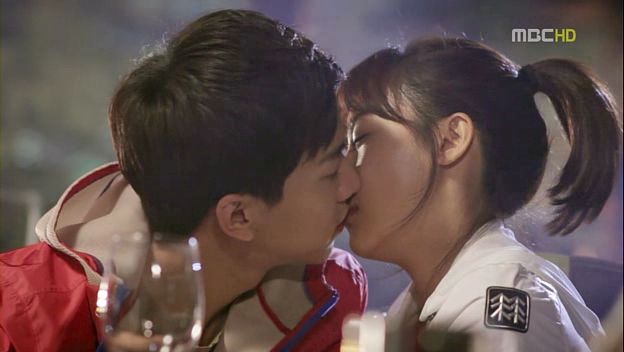 He thanks her for being with him, and he promises that they will win until the very end. Hang Ah nods. Jae Ha leans in to tenderly kiss Hang Ah and then they pull back and smile at each other.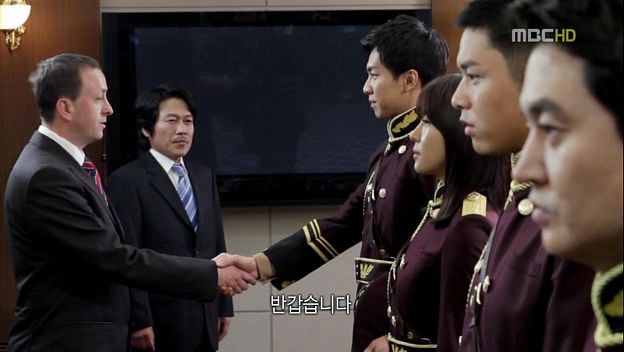 The South Korean portion of the WOC team, along with Hang Ah, arrive in Japan for the start of the WOC. The media is waiting for them and they file into the room to be introduced to the host nation and the organizers. Jae Ha tells the head of the WOC that he is here not as the King of South Korea but as a member of the joint Korean team, so he doesn't want any special treatment.
As the team is being driven to their dorms, Jae Ha and Hang Ah look around and see a lot of other teams have already arrived and some have even started training.
When they walk into their dorm room, Kang Seok and Young Bae are standing at attention waiting for them. Jae Ha casually extends his hand to for a reunion handshake but Kang Seok and Young Bae are formal and stiff with him.
Turns out they were just playing with Jae Ha and relax for a long overdue greeting. The guys pull Jae Ha down and tickle him, with Hang Ah standing by and watching her guy get ambushed. They tease him for having a soft belly and try to tickle the excess fat off him. So cute.
Princess Jae Shin, dressed in a formal Queenly gown and crown, is sworn in as Queen for the duration that Jae Ha is away at the WOC. She looks nervous but goes through with it.
Secretary Eun finally succeeds in reaching Bong Goo at the peace summit and he warns the crazy freak not to dare do anything else to the royal family. Bong Goo shoots back that instead of being worried about the Princess, Secretary Eun ought to be worried about himself. Doesn't Secretary Eun have a son working as a royal guard, who respects his father very much. What would happen if his son learned that Secretary Eun was very close to Bong Goo?
Bong Goo is headed to the Jeju Peace Summit. He's in his car with his right hand man and is upset that his picture in a NY Times article about attendees to the Jeju peace summit is smaller than everyone else's. I seriously love all these jabs at Bong Goo's raging inferiority complex. His subordinate asks if Bong Goo plans to let the Korean team win the WOC, since if they win the first round, Jae Ha and Hang Ah are planning to get married. Bong Goo laughs, clearly not putting any faith in the Korean team's ability to advance far in the WOC. Bong Goo shows off a magic trick where he produces a ball from inside his mouth which says WOC on it.
Shi Kyung is next to Jae Shin as she nervously prepared for her first public appearance to speak at the Peace Summit. She wonders if there are a lot of people out there, and if they will all be looking at her? She pulls his sleeve and he kneels down to talk to her at the same level. Shi Kyung tells Jae Shin that the night they went to look at the stars, he didn't look at the stars but was instead captivated by her, because she was shining brighter than any star.
The joint Korean WOC team is gathered with the WOC teams of all the participating countries in a ballroom as the WOC draw selection goes underway to determine the match ups. Jae Ha and Hang Ah discuss who their best opponents (re: the weakest) would be and confirm that their best bet is to pick Italy, Iran, or The Netherlands. Hang Ah calls her dad and confirms those three countries are indeed the Korean team's best bet to advance against.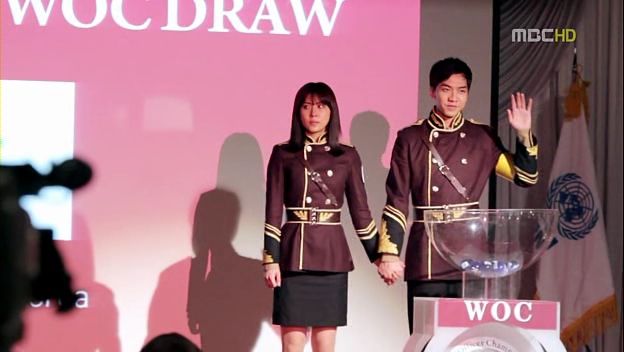 Each team sends their captain up to pick a ball from a bowl, then peeling off the sticker to reveal who their opponent would be. When it's time for Team Korea, Hang Ah and Jae Ha go up together holding hands. I don't know why, but seeing them side-by-side competing makes me so happy I can cry.
Jae Ha is nervous so Hang Ah has to whisper for him to calm down and pick a ball. She tells him that if he keeps picking around, he'll decrease his luck. As Jae Ha is reaching around, it appears that a ball keeps being attracted to his hand. We see that Jae Ha is wearing a ring around his index finger of the hand that is reaching in for selection.
Jae Ha stops and everyone stares, waiting for him to reveal who their opponent will be. Jae Ha picks up a ball and peels off the sticker. But instead of reading the name himself, he holds the ball up towards the ballroom audience and waits for the name to be read.
Team Korea sucks in their breaths as the name is read by the announcer: The United States. What's awesomely done is that we don't see the name on the ball right away, but instead we see the United States flag being projected on the screen next to the Korean flag, and juxtaposed over Hang Ah and Jae Ha as they are standing on the stage.
Team Korean's first round opponent will be the previous WOC champion (and the winningest country at the WOC since its inception). Good one, Bong Goo. As far as sabotages go, that was excellently done. Jae Ha and Hang Ah stare at each other in shock, and then turn to look out at their teammates.
Thoughts of Mine:
It's been so long since I've watched a K-drama with genuine stakes. Not just the OTP getting past whatever obstacles and getting together, or the leads conquering whatever their hang ups and bottle necks are in life, but real stakes where a solution isn't just a matter of when. I have no clue how Jae Ha and Hang Ah are going to finally vanquish Bong Goo. Will he end up dead or in some maximum security prison? Who will be collateral damage in this fight to the end? If it was only as easy as sacrificing an annoying twat like Secretary Eun to appease Bong Goo's vanity and call it a day.
I have to say it was a tad disappointing to know that Jae Ha pretty much sacrificed Tara to achieve his end result, which was to cut Bong Goo down a notch and deliver a genuine warning to him. But all's fair when its war, and Jae Ha is fighting a stealthy terrorist who has no empathy or conscience. Plus it was up to Bong Goo to pull the trigger and not Jae Ha, so let's say a RIP for Tara and move on. I enjoyed watching Jae Ha find just the right weaknesses to exploit in Bong Goo. It was satisfying to see Jae Ha get the upper hand for once, even if we know Bong Goo will quickly retaliate back.
I find the WOC storyline one of the best developed threads in the entire drama. It opens the drama, weaves throughout the middle portions with Jae Kang's death and Hang Ah's stay in South Korea, and through it all brings importance to keeping the North and South continuing to cooperate. I feel like the joint WOC is a greater family outside of Jae Ha's immediate family, providing an added source of support and strength to his fight with Bong Goo. While Jae Kang's death left this void in Jae Ha's life, it's only fitting that some of the main sources of support Jae Ha has around him come from Jae Kang. It was Jae Kang who created the joint WOC team, it was Jae Kang who made it so Jae Ha and Hang Ah met, and it was joining the WOC that brought Shi Kyung into the fold.
When I saw the draw rigging, I was totally laughing at the flashback to the David Stern-NY Knicks-Patrick Ewing conspiracy. A cold envelope versus a magnetized ball, but either way, Bong Goo made sure the Korean team was doomed to fail in round one. But since tons of spoilers are out there on the impending royal engagement, that does take a bit of air out of the worry that the Korean team will get knocked out by the defending champions. I can't wait to watch Hang Ah take charge and the team working together to pull off a super underdog victory. At the same time, I'm glad Shi Kyung and Jae Shin are getting more time together and doing the other end of the dirty investigative work back home. It takes an entire TWO countries to band together and vanquish one Kim Bong Goo? If that man realizes it, it might actually give him the peace of mind that he actually amounted to something, hopefully right at the moment before someone pumps fifty bullets into him.