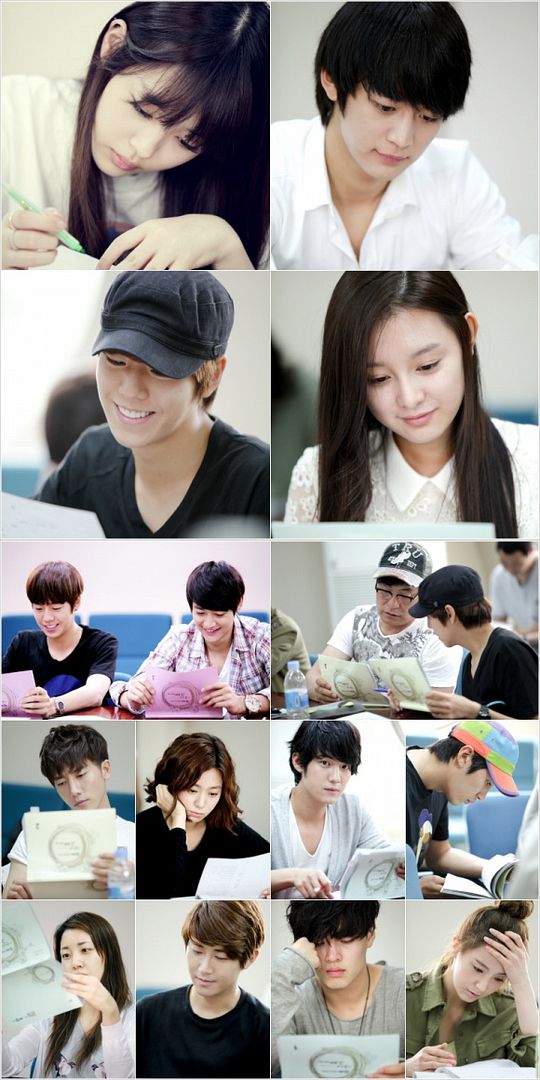 The million dollar question is (or billion dollar if we take into account inflation) – will To the Beautiful You (K-version of Hana Kimi) turn out to be a Boys Before Flowers (K-version of Hana Yori Dango) or a Playful Kiss (K-version of Itazura na Kiss)? I'm talking about domestic ratings, of course, as BoF was a surprising hit while PK turned out to be such a ratings disaster that I've rarely seen ratings so low for a prime time drama. Oddly I loved PK and loathed BoF, so clearly I'm no arbiter of ratings or taste.
Giving us a first glimpse of what's to come, SBS released official pictures of the cast of Beautiful You gathered for a script reading. I've also come across stills of the cast filming already, which show lead Sulli sporting a short crop suitable for her character to be believable as a boy attending an all-boys boarding school, plus male lead Minho shows off a nice clean cut look. In the script reading stills above, I recognize Lee Hyun Woo, Kim Ji Won, and Ki Tae Young and that's about it, so I'll leave it to the folks who follow K-pop to identify the rest of this idol-stuffed cast.
Looks like the main cast shooting the poster together. Despite this being primarily an idol-heavy vehicle, I'm glad Lee Hyun Woo is in the mix to add some thespian quota. I'm also pleased how age-appropriate all the actors are to playing high school students. Despite eventually loving Kim Hyun Joong in PK, in truth he was getting a bit long in the tooth to don the requisite high school uniform. This gang looks fresh and easy on the eyes.
A nice clear picture of lead Minho with the actor playing his drama daddy. Looking at Minho's long (LONG) legs, now I'm starting to get onboard with him playing a champion high jumper.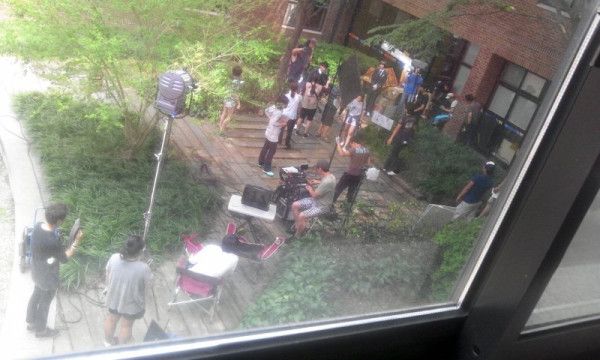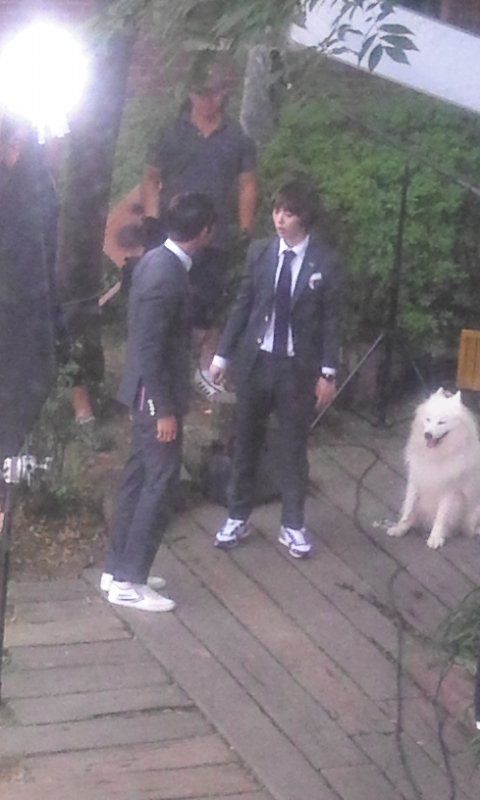 A first slightly blurry peak at Sulli wearing the boys school uniform and filming on the set standing in for the school. She's cute, but my attention is completely on the white fluffy squinty-eyed dog. WANT! To adopt, that is. He's going to steal the show, mark my words.