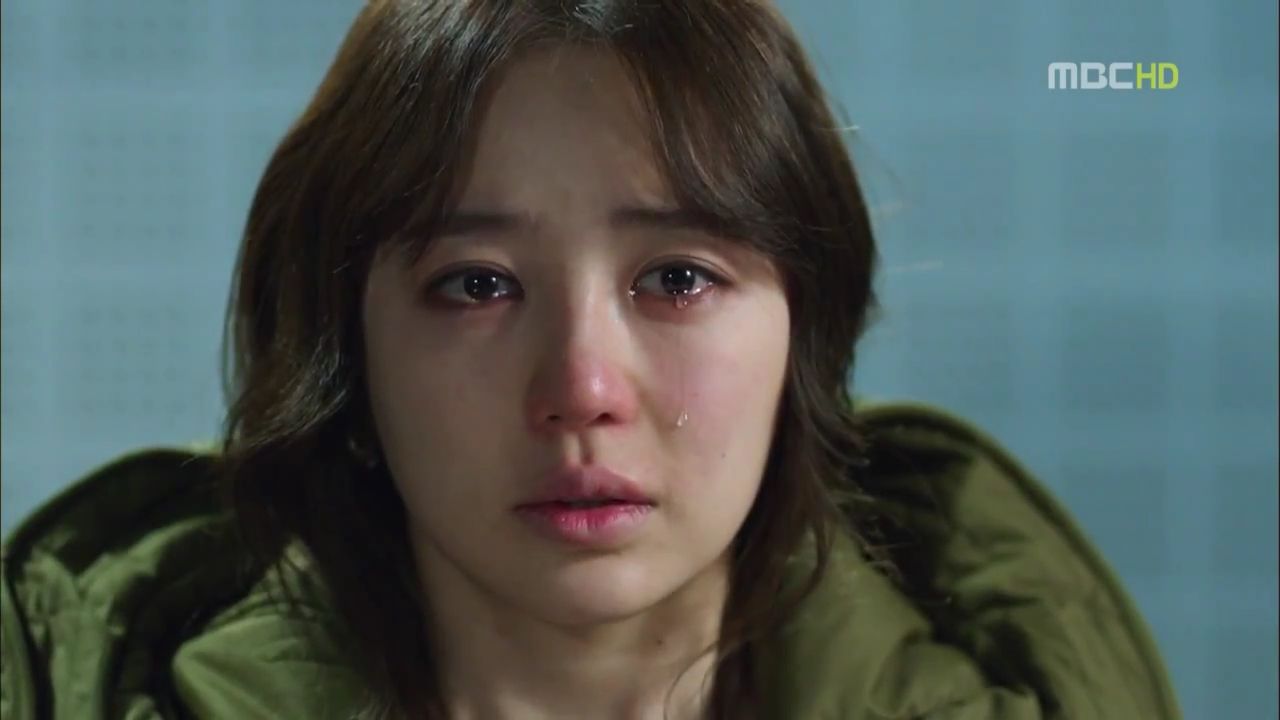 At this point, Lee Soo Yeon is the only main character I like wholeheartedly in Missing You. I love her ability to survive, even if she has chosen not to confront her past but to etch out a new future and she'll eventually have to revisit her untreated scars. I applaud her desire to take out her anger at Jung Woo in the petty little ways she had available, toying with this guilt-ridden former beau of hers who left her in her most dire time of need. I hurt for all the pain she's suffered, I'm proud of what successes and vestige of normalcy she created in the past 14 years, even if one day she'll have to reconcile the first 15 years in order to create a whole Lee Soo Yeon/Zoe hybrid that is the complete version of her. After spending four episodes with adult Hyung Joon and Jung Woo, I've decided each is one-half awesome/one-half fucktard that I want to bitch slap. I continue to love Jung Woo when he's being a funny cop, a dogged detective, a loving faux-son to Soo Yeon's mother, everything EXCEPT for when he's being unrequited loverboy Jung Woo with Soo Yeon, which is when I want to knee him in the groin and tell him to MOVE ON.
He continues with the wrist and shoulder grabbing and the whole "I'll keep waiting for you to return to me" mindboggling self-motivation (he should be happy she's alive, period – with no insistence on her "returning" to him because she's not a dog who can return to her rightful owner!). Hyung Joon is only awesome as loverboy Hyung Joon to Soo Yeon, because his love for her is all real, built on 14 years of relationship, and completely allows her to dictate the terms. But vengeful surveillance camera Hyung Joon with his secret lair is so stupid and shifty that I just want to slap him upside the head and tell him to MOVE ON. If Jung Woo can continue to be a great detective and good son and marry a nice girl, he'd be golden in my book. If Hyung Joon can give up his revenge plan and return to France with Soo Yeon, then he's also golden in my book. Alas, the drama insists on foisting stalkerish loverboy Jung Woo and revenge plotting Hyung Joon on us. What a waste.
Episode 9 recap:
Jung Woo watches the CCTV footage from the parking garage and sees Soo Yeon's face in the driver's seat. He processes this new information and then drives his car to some remote area to dust it for prints. I like that he doesn't want to go through proper police channels, but dude, that is some police 101 do-not-dos you are doing and about to do.
Back to the pretentious party, with poor Hyung Joon rocking a greasy ahjusshi frou and dressed like he's attending a wine auction, Jung Woo arrives and sees Soo Yeon sitting down and spots his estranged dad staring at her.
Hyung Joon walks in front of Soo Yeon to block her from Han Tae Joon's line of sight as she fingers the key necklace. They walk away only to stop when Soo Yeon notices Jung Woo. She stares at him rather belligerently, while he looks calmly back at her.
Jung Woo deliberately walks towards them only to keep moving to greet his father first. Daddy is not pleased to see his rebel son. Jung Woo wants to talk with Hyung Joon but his dad pipes up and says he's not feeling well in such a fancy setting as a hint he wants to talk with Hyung Joon now. Hyung Joon offers to meet with Han Tae Joon now to talk business. They walk away and Jung Woo asks not to be kept waiting for too long.
Hyung Joon is distracted and keeps looking towards the main party room. He tells Han Tae Joon that he can't stay long so to cut to the case. Hyung Joon agrees to consider withdrawing the money slowly from the bank account and says he'll talk with his boss first.
Soo Yeon is aware Jung Woo is staring at her as she walks around the room greeting guests. He mentally calls her Lee Soo Yeon. Suddenly she looks up and he's not there anymore. She then turns around and he's standing right there with his arms outstretched like he did when they were kids and he blocked the wind for her and told her not to cry. He asks cheekily if he looks good? I say it's all good except for the turtleneck.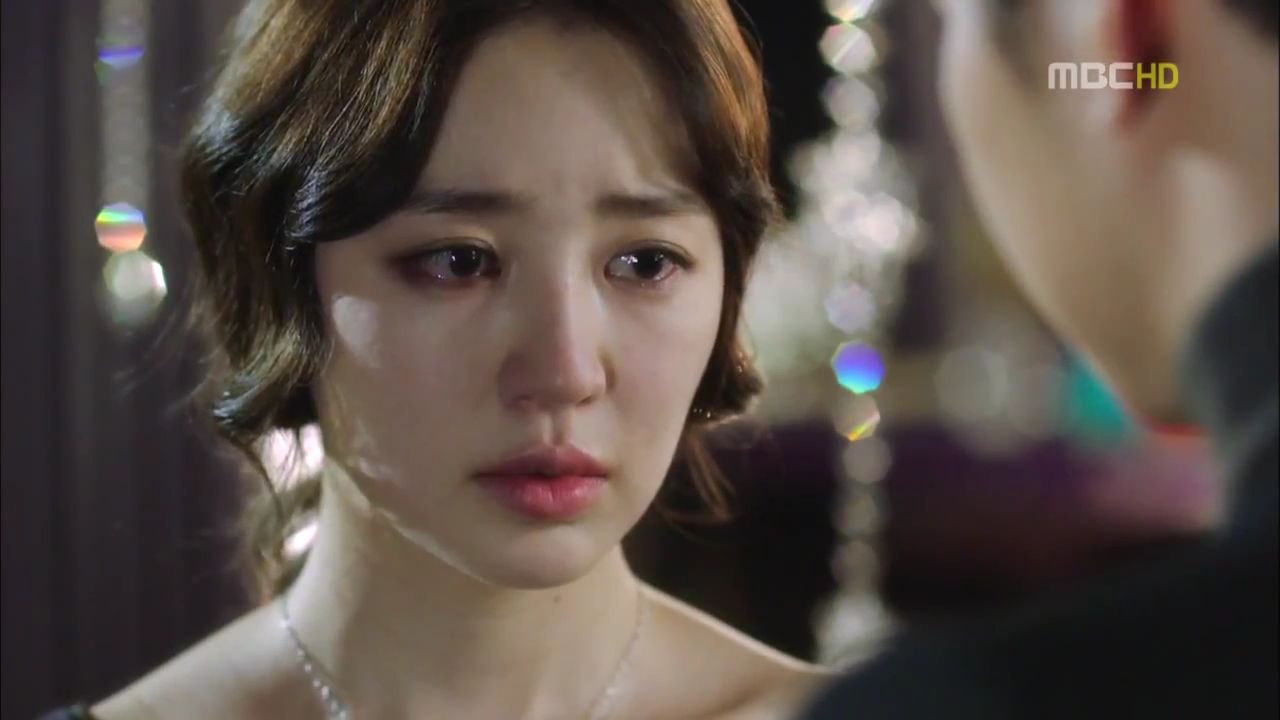 She tries to move past him but he shifts his body to block her. Soo Yeon thinks back to their happier times as kids and starts getting a little teary. Jung Woo gets a text from his colleagues at the police station saying they are coming.
Soo Yeon walks away and calls Hyung Joon, but Jung Woo grabs her phone out of her hand and tells Hyung Joon that he needs to take Soo Yeon away now and can't wait for him any longer.
Soo Yeon tries to grab her phone back but Jung Woo grabs her by the shoulders and tells her that she is now a suspect in the murder of the rapist. Her face was captured on CCTV in the parking lot of the guy's building. Soo Yeon almost loses her bearing and Jung Woo keeps her from falling down. She tells him that she didn't do it and he knows. Soo Yeon immediately calls for Hyung Joon but Jung Woo tells her that she needs to buck up now. He doesn't want to see handcuffs on her wrist or see her hurt. He begs her to believe him. Soo Yeon stares at him and then starts screaming for Hyung Joon over and over again as she breaks free of his hold on her shoulders.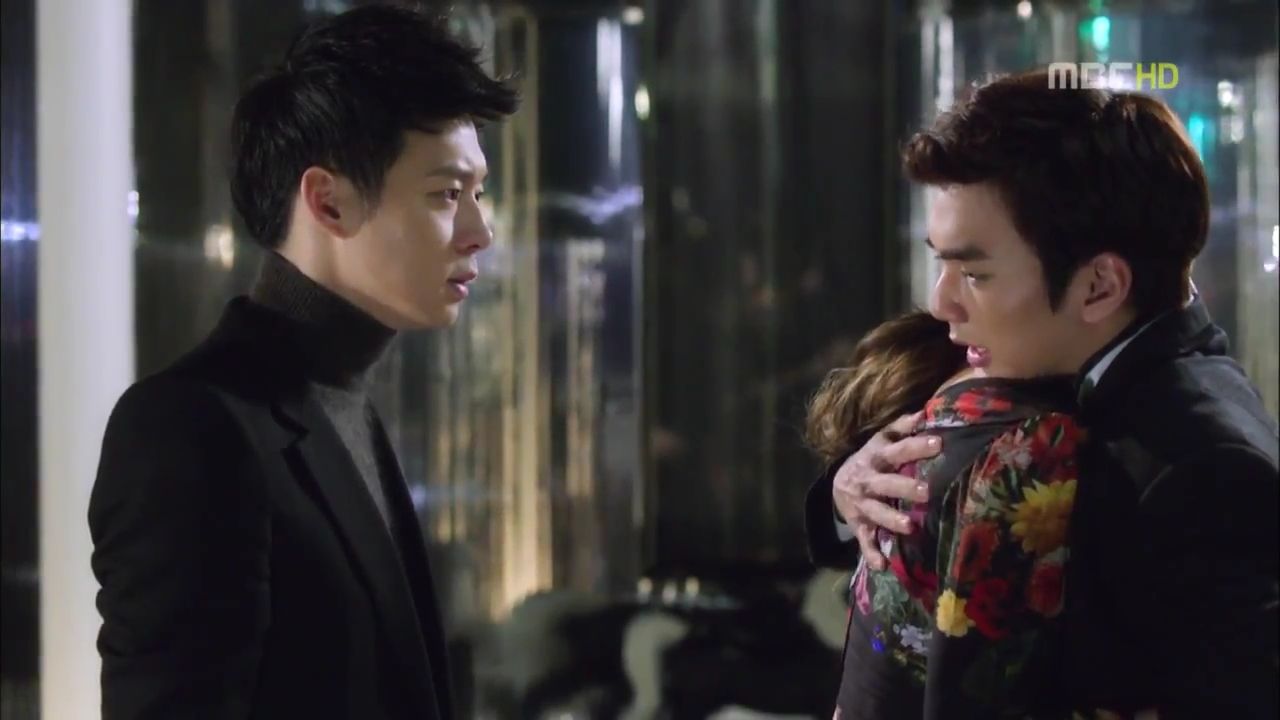 Hyung Joon arrives and hurries over and pulls Soo Yeon into his embrace and tells her that everything will be fine. Soo Yeon keeps says "it's not me, it's not me." Hyung Joon glares at Jung Woo, demanding to know that the hell he is doing? The rest of the police arrive and Jung Woo grabs Soo Yeon's other hand and informs them that he has to take Soo Yeon in for questioning in the death of the rapist.
Jung Woo doesn't allow Soo Yeon to be cuffed or taken with the rest of the police, dragging her off and promising to bring her into the station. Soo Yeon cries for Hyung Joon, who promises that he'll go get her out. Soo Yeon stares at Hyung Joon only and nods, like he's her only lifeline here. Jung Woo pulls Soo Yeon away and Hyung Joon looks down on his empty hands.
Han Tae Joon asks Secretary Nam to investigate who Zoe is. He saw her get arrested at the party as a suspect in the rapist's murder. Secretary Nam promises to keep an eye on things and Han Tae Joon warns him not to fuck up again or else the consequences will be dire. Stepmother still dreams of getting the sponsor money from Harry and winning Zoe as a designer all at once. She continues to tell Secretary Nam to make it happen. Ah Reum overhears this conversation and asks if her mother is stupid or calculating. Why would she trust a snake like Secretary Nam to do anything?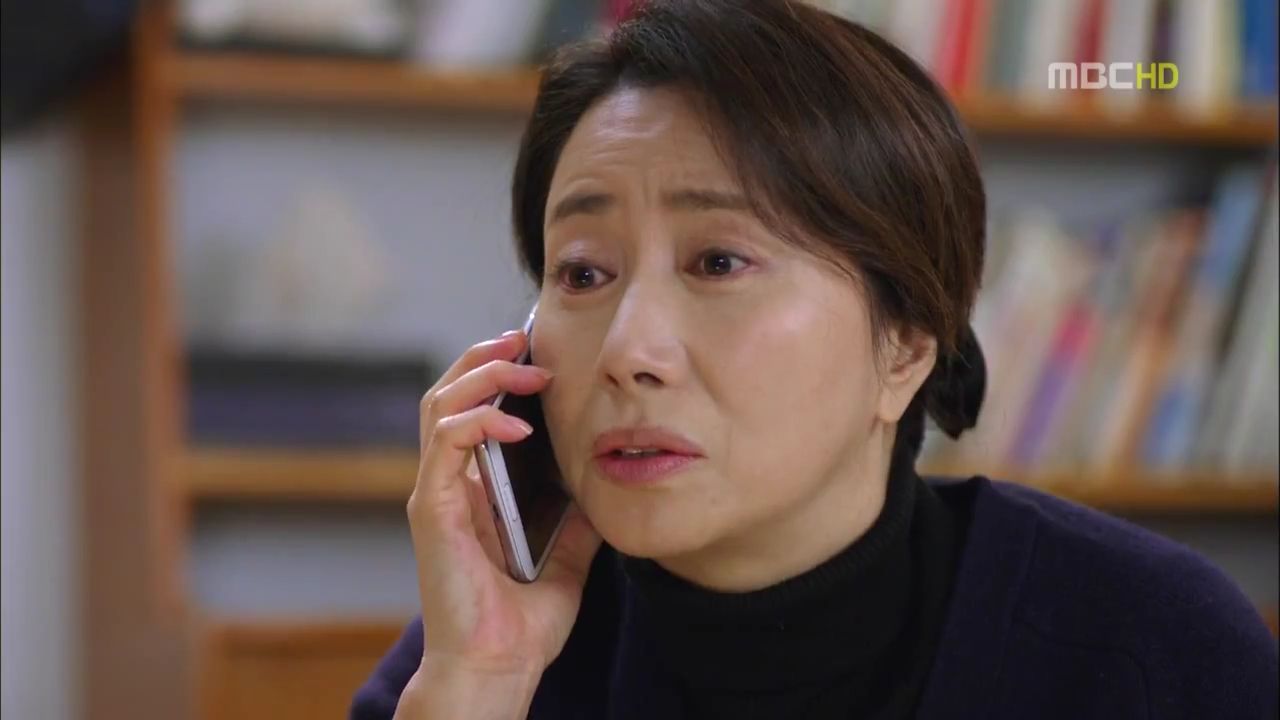 Soo Yeon's mom is cleaning and worried about Jung Woo. She asks if Eun Joo knows where he is. All calls to his cell aren't being answered. When they call the station, Jung Woo's partner says he is too busy to talk. Can someone tell me what purpose Eun Joo serves in this drama?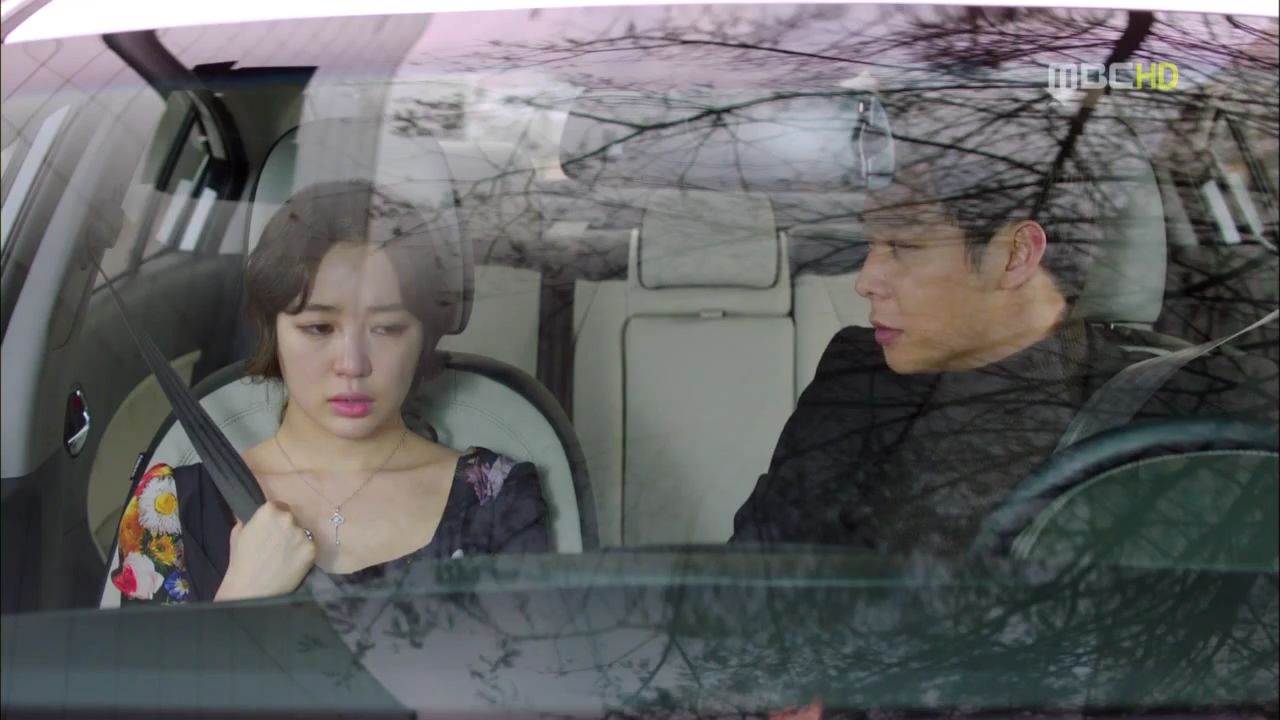 Jung Woo drives Soo Yeon to the police station. At the police station, he gets out of the car and can see her wiping away tears inside. He tells her that he placed a magic spell on the coat and it'll makle her invisible. She gets out and he puts a giant coat on her to keep her warm because she leaves it behind and initially refuses to wear it. She only consents when he reminds her that this will keep her hidden and not be seen.
The cleaning ahjumma has just finished her shift and sees Jung Woo with Soo Yeon. She agrees to help Jung Woo bring Soo Yeon into the police station without being spotted by the media. He thinks back to how he promised to keep him safe and always be by her side.
As Soo Yeon walks in with the cleaning ahjumma, they sneak past reporters waiting in the lobby. The cleaning ahjumma talks about how that rapist deserved to die and says she's always happy to help her future son-in-law Jung Woo, and warns her that Jung Woo is reserved for her daughter. She asks Soo Yeon "you didn't kill him, right?" The ahjumma says that if Jung Woo says she didn't do it, then she believes him. She tells Soo Yeon to not be so nervous, otherwise even if she's not guilty she'll look guilty. She compliments Soo Yeon on being so pretty, the first time she's seen a girl prettier than her daughter.
Soo Yeon sits before Jung Woo's partner and the captain as they ask her questions. She's frightened and her hands as shaking. Jung Woo's partner tries to lessen the intensity of the questioning. She's told that she showed up on the CCTV and they know she was in the car that hit the rapist the day he was released from prison. The captain asks if that wasn't the first time she's met the rapist dude before?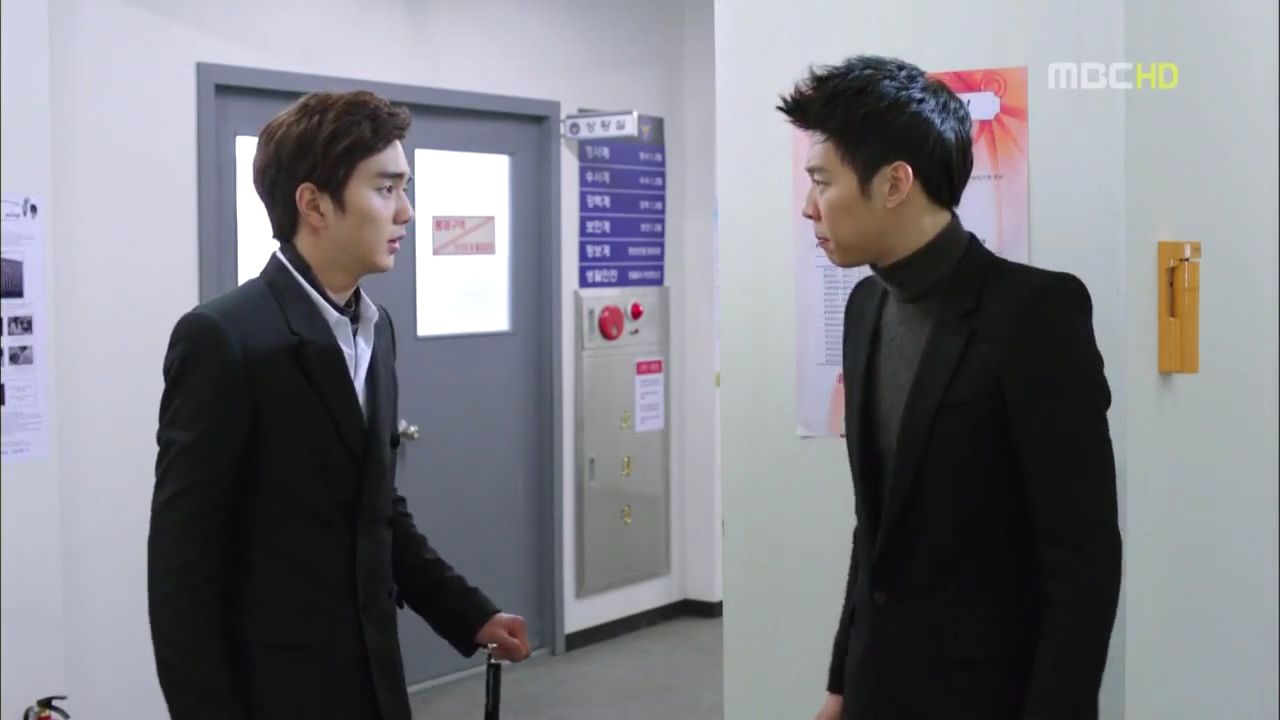 Jung Woo rushes into the police station and Hyung Joon is waiting there already. He asks what the evidence is and is told about Soo Yeon in the surveillance camera and her cellphone. Hyung Joon tries to explain again that Soo Yeon's cellphone was stolen. Jung Woo reveals that Soo Yeon's stolen cellphone disappeared from the rapist death crime scene after he died.
Jung Woo tells Hyung Joon to find a way to clear Soo Yeon. Hyung Joon says Soo Yeon has no reason to kill that man since she doesn't even know who he is. Jung Woo looks conflicted when he hears this and says yes, that is why he needs to take her home and he needs to catch the real rapist. After Jung Woo leaves, Hyung Joon looks really worried.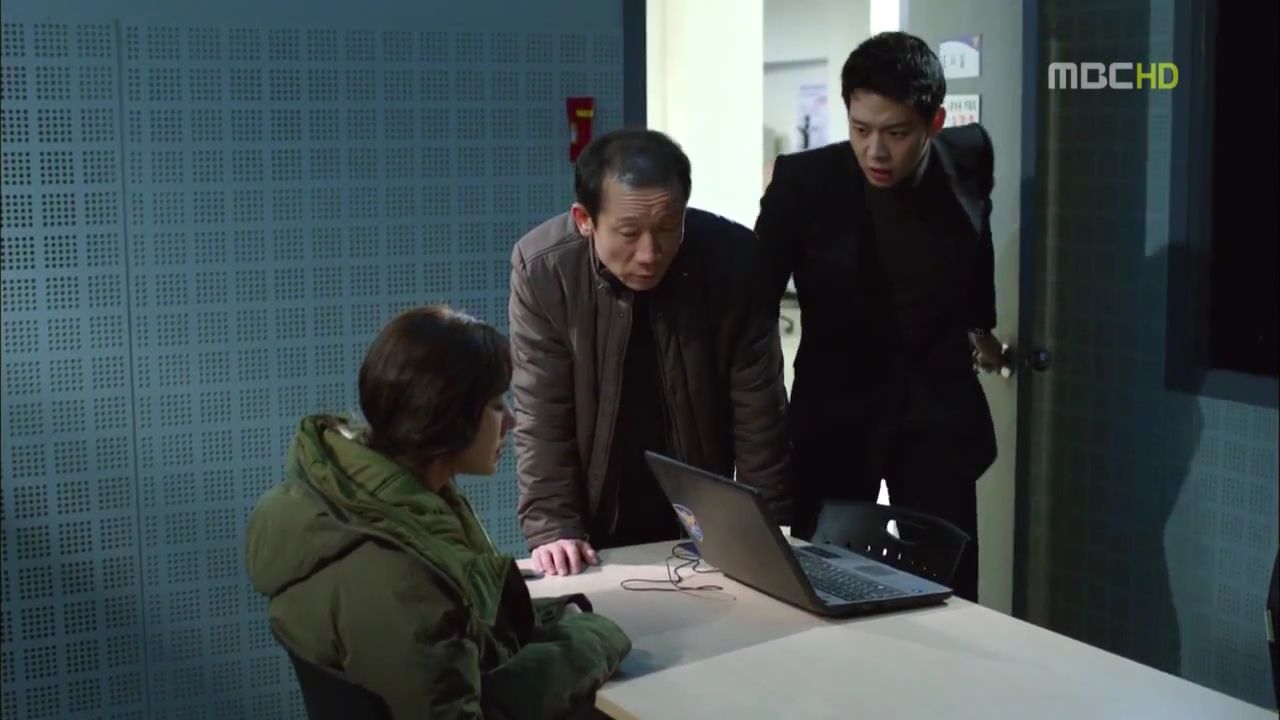 The police questioning is turning more directed and Soo Yeon remains silent, unable or unwilling to answer any questions. Soo Yeon to the call with the rapist before he died. Jung Woo walks in and declares that he will find the real killer.  Soo Yeon flashes back to the rapist coming towards her and her crying and holding a stick to protect herself, before being conked over the head and then dragged away. Soo Yeon finally talks – she asks why the police are investigating the rapist's death, didn't he deserve to die since she read in the papers that he raped and murdered a girl. Jung Woo reminds her that everything she said today is recorded.
The captain is told that the fingerprints of Zoe don't match Lee Soo Yeon's from 14 years ago. Hyung Joon sits in the police station with his head down and resting on his cane, waiting for Soo Yeon. Jung Woo sits across from Soo Yeon to finish the interrogation and have her sign some papers before releasing her. He asks if she's okay?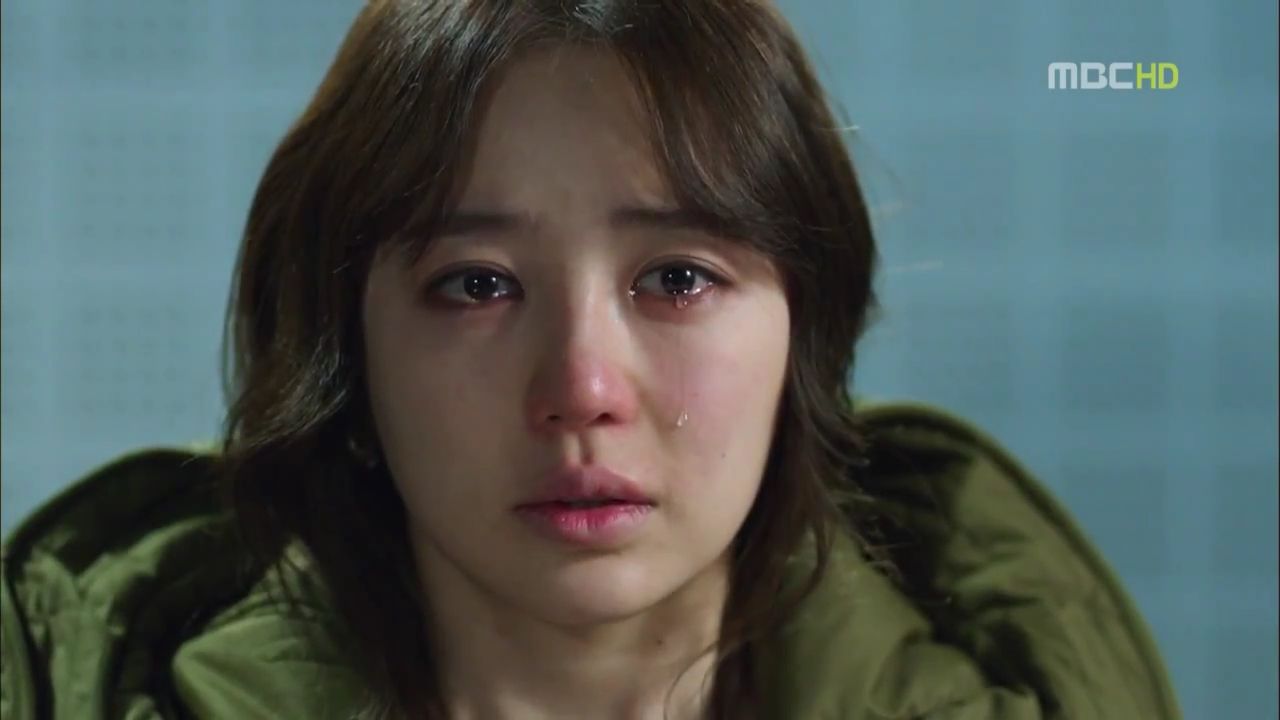 Soo Yeon says that if she were Lee Soo Yeon, then he doesn't need to investigate further. He only came to see her after the rapist died and asked if she was Lee Soo yeon. Was he testing her and therefore looking for the murderer? Because if she was a murder's daughter and a rape victim, so she killed him. Jung Woo asks how her thinking got so extreme? He says just because Lee Soo Yeon was a murderer's daughter and a rape victim doesn't mean she killed the rapist. Soo Yeon would never kill anyone. Soo Yeon says that if she were Lee Soo Yeon, the first person she would kill is Jung Woo. Jung Woo is willing to be killed by her, if only she really were Lee Soo Yeon.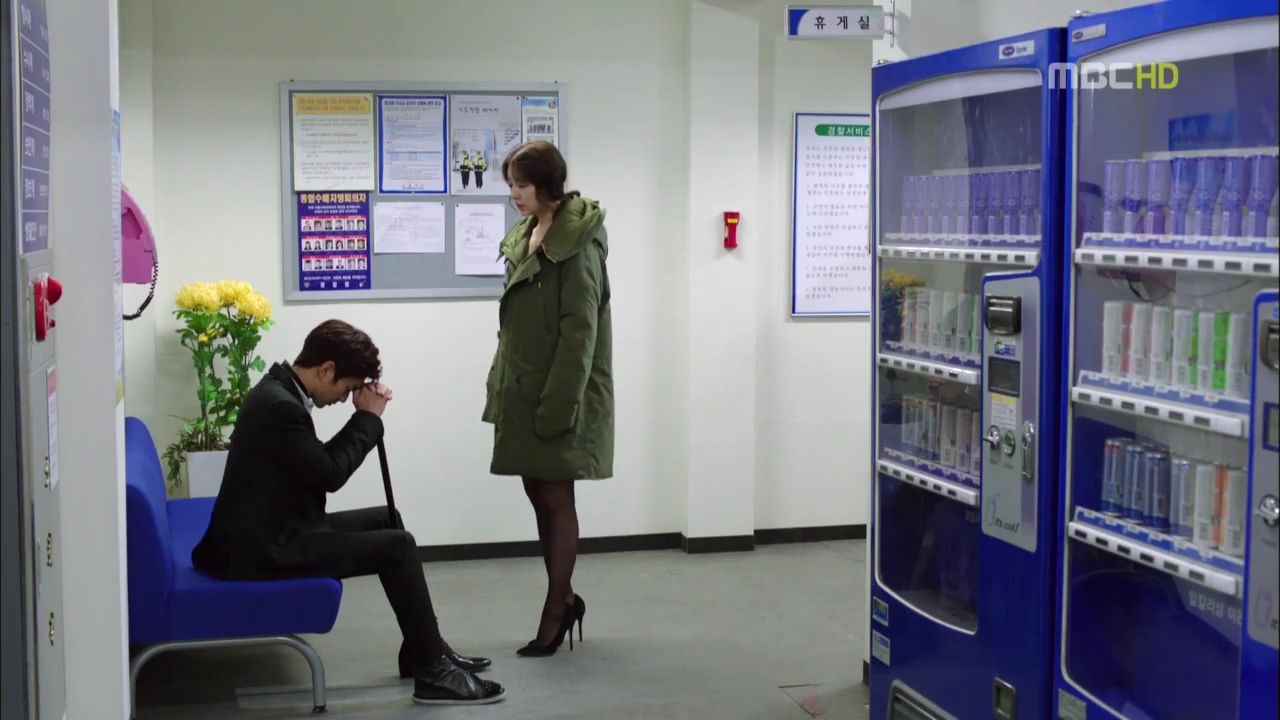 Soo Yeon is released after Hyung Joon got assistance from the French embassy to assure the police that she won't flee the country. Soo Yeon walks out to find Hyung Joon sitting there with his head down, waiting for her. She walks up to him and he raises his head to her, showing his fatigue and concern.
He smiles and offers his hand to her as he says "let's go home." She smiles and reaches out to clasp his hand and repeats "yes, let's go home."
Jung Woo walks up behind them and sees this moment and he looks really crushed as he sees Soo Yeon with eyes only for Hyung Joon and relying on him. Hyung Joon sees Jung Woo turn away and stop looking at them.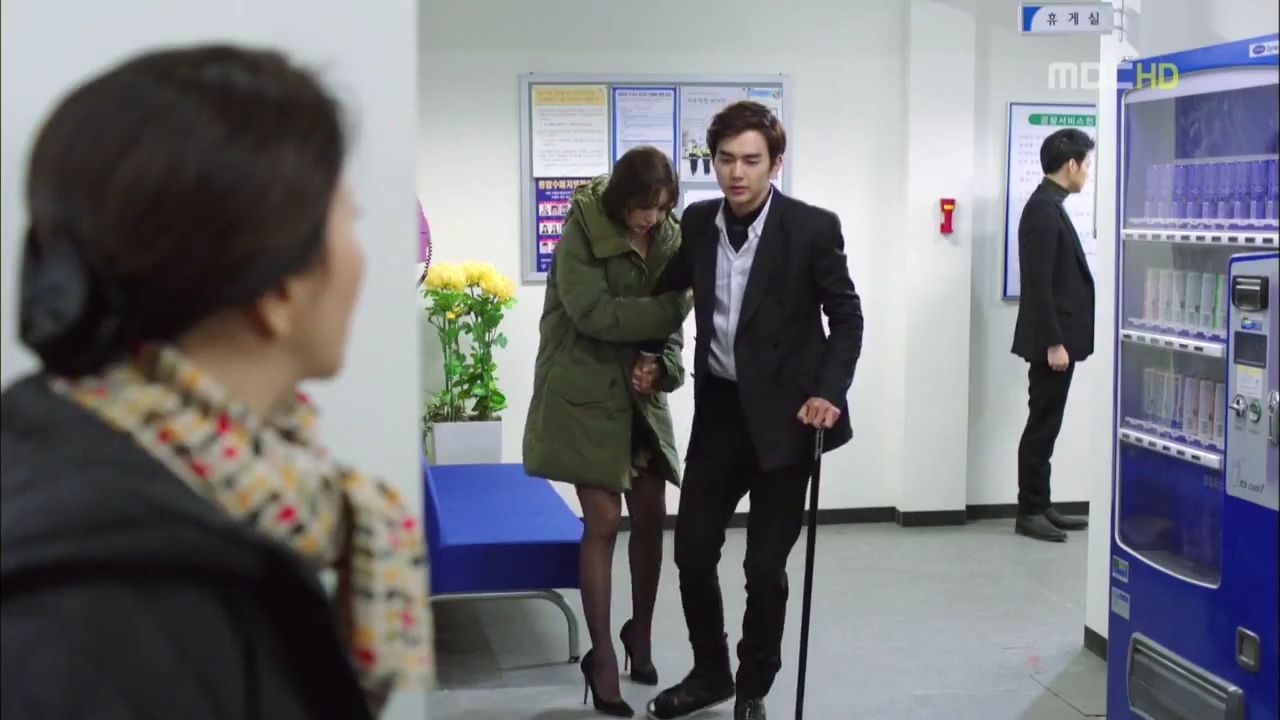 As Hyung Joon and Soo Yeon leave, they run into Soo Yeon's mom arriving with food for Jung Woo. Soo Yeon recognizes her and immediately averts her head, just like her tendency when she was a child. Hyung Joon notices Soo Yeon trying to hide her face.
As they walk past Soo Yeon's mom, Soo Yeon sneaks a peak while Soo Yeon's mom keeps staring at her and flashes back to teenage Soo Yeon's similar behavior quirks. A French lawyer arrives and asks if Zoe is alright. He assures them that he will handle things from now on.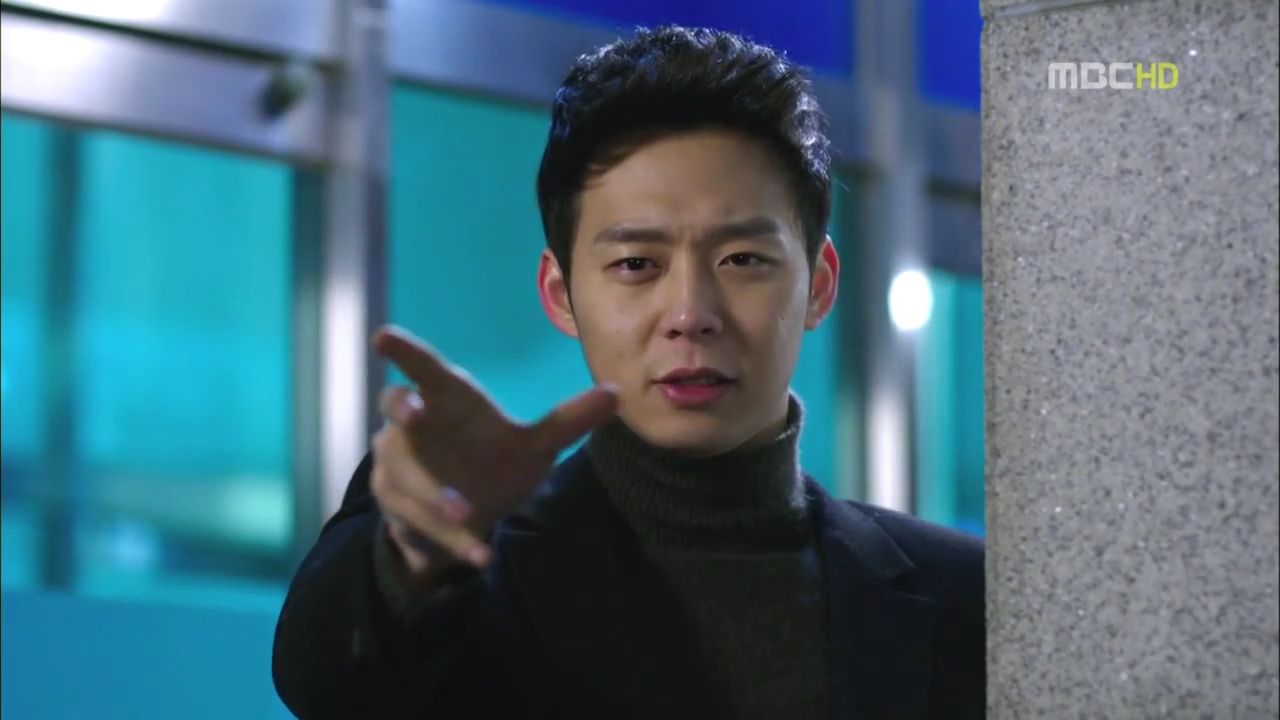 Jung Woo follows Soo Yeon and Hyung Joon as they get into their car. He hides behind a beam and smiles. He says to himself that it must be painful for her to see him (no shit, Sherlock), but he will wait for her. He does his memory-erasing move from where he is standing.
Hyung Joon and Soo Yeon return home and see that its already been searched by the police for her cellphone. Hyung Joon says it was all his fault, from the car accident to her coming to Seoul. If he put her on a plane back to France, this wouldn't have happened. Soo Yeon looks exhausted and Hyung Joon calls her by her Korean name Soo Yeon-ah and she stops and looks at him. Hyung Joon tells her to go get some rest and she tells him the same.
Soo Yeon enters her room and thinks back to what she said to Jung Woo at the police station and his response that he won't mind if she kills him as long as she's Lee Soo Yeon. She breaks down and starts sobbing into her bed. Hyung Joon stands outside her door listening to her cry, looking very sad and concerned. She covers head with the comforter to muffle her sobs.
Jung Woo sits in the police interrogation room with the fingerprint of Zoe he lifted from his car and Soo Yeon's diary. He is about to match the fingerprints when Soo Yeon's mom enters with food so he puts it away. He gets up and hugs her tightly.
Soo Yeon's mom encourages him to eat and he happily eats. He tells her through food and tears that he really misses Soo Yeon and she'll come back because he will keep waiting for her. He remembers Soo Yeon used to walk backwards so she could keep looking at his handsome face. He tells her not to worry, she'll be back because of him. Jung Woo cries and says the food is delicious. Soo Yeon's mom cries and watches him eat. Okay, this scene totally made me cry. And long for my mommy's food.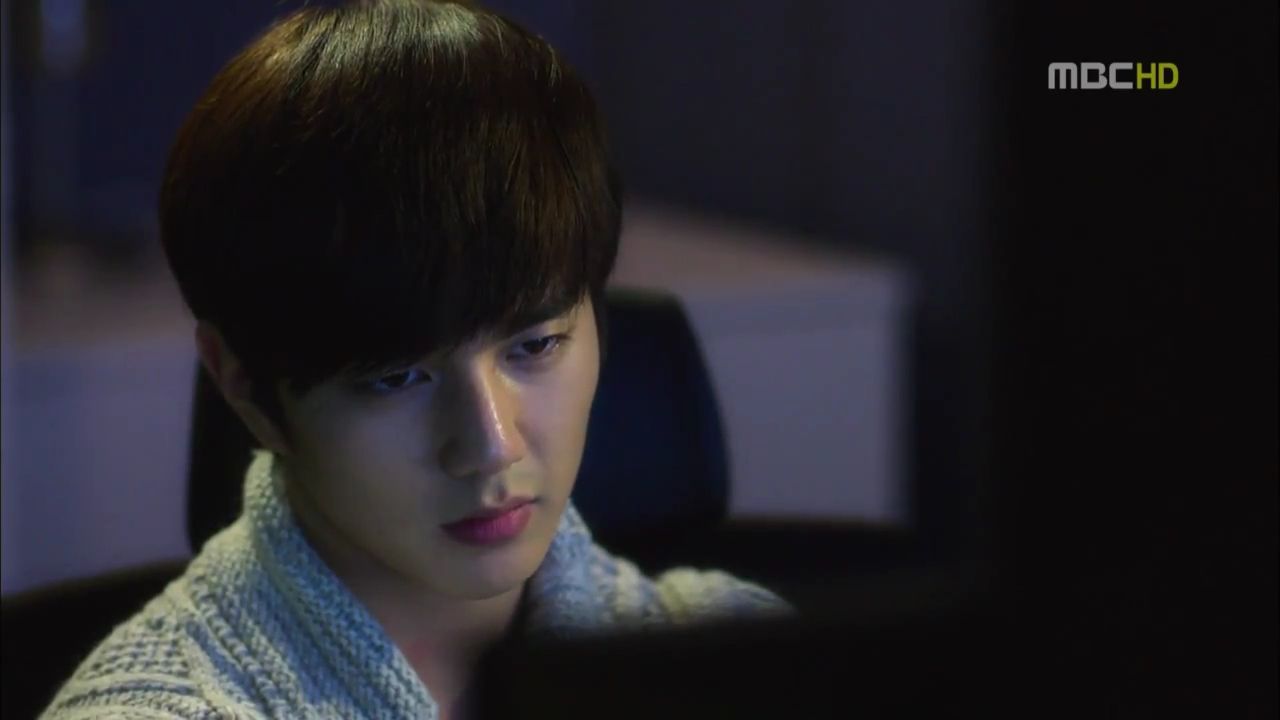 Hyung Joon is in his secret lair and IMing someone on his computer. The unknown other person is clearly a friend and asks how Soo Yeon is doing? Hyung Joon says Soo Yeon is a lot stronger than anyone thinks. She cried and is now resting. Friend says it was a good idea to switch the fingerprints in advance. Hyung Joon admits that he's close to getting pissed. The friend tells him not to get pissed, Hyung Joon is very scary when he's pissed.
Hyung Joon tells the friend to hurry up the process. Initially he wanted to starve (bankrupt) Han Tae Joon but now he's changed his mind, he wants to destroy him like a pig who gorged himself to death. He will give Han Tae Joon lots of money until he destroys himself. Friend asks if he should start giving money and Hyung Joon says yes. Hyung Joon deletes the IM conversation and then switches to watch the police officers searching his house via his hidden cameras.
Jung Woo's partner goes to Soo Yeon's mom's house to make kimchee with her. He says he wants to learn so he can be an attractive marriage prospect. Soo Yeon's mom probes about who that girl at the police station was and finds out that she's a very wealthy fashion designer.
The police continue the murder investigation and are frustrated that the killer was not captured on any surveillance or roadside cameras.
Hyung Joon and Jung Woo chat in an interrogation room, with Hyung Joon asking if Soo Yeon was here being questioned yesterday. Jung Woo asks how she is doing and is told she cried last night and didn't sleep well.
Hyung Joon asks to get along with Jung Woo, the three of them, asking if they can be friends. Jung Woo says no, what will Hyung Joon do if Jung Woo has a crush on Soo Yeon? Hyung Joon smiles and warns him that he's known to be quite frightening if he gets pissed. Does Jung Woo still think Zoe is Soo Yeon? Jung Woo says, other than her different looks, there is nothing else that is different between Zoe and Soo Yeon. If Hyung Joon finds some, let him know.
Jung Woo says that even if it's hard for Soo Yeon to come back, he knows she misses him and so he'll keep waiting for her to come back. The two men stare at each other.
Soo Yeon's mom gets the address where Soo Yeon lives from Jung Woo's partner. Soo Yeon decides to buck up and makes plans to eat out. As she drives the car out of the house, she runs into her mom outside.
Soo Yeon tries to avert her face but her mom gets right up to the car and stares at her with tears in her eyes. Soo Yeon finally raises her head and stares back looking equally distraught. Mom cries and  reaches for Soo Yeon through the window, asking if its her?
Thoughts of Mine:
Finally! Something other than the leobu-loebu staring that has ended each episode recently. I really want Soo Yeon to meet her mom. Forget Jung Woo's comparatively puny issues (which I'll discuss shortly), Soo Yeon's mom ought to be feeling a freighter's worth of guilt and pain with the loss of her only daughter. If she was a better mom, if she took better care of Soo Yeon, if only, if only. Jung Woo lost a girl he had a teenage crush on, Soo Yeon's mom lost her ONLY DAUGHTER. This should have been the focus of Soo Yeon confronting her past and taking steps to reconcile who she is now with the people she's left behind, starting first with her mother. Her mother failed at being a mother overall, but wasn't a reason for the horrific rape she endured. But Soo Yeon's desire to leave her past behind was motivated in one part because she never felt like her mother loved her or wanted her around. If Soo Yeon had a loving and supportive mother, she would have been able to return to a place of security and support to heal.
I'm not condemning Soo Yeon's mom for failures in parenting, because goodness sakes there is plenty to go around with the parents in this drama. I merely want the drama to have focused on this aspect of Soo Yeon's healing rather than all the Jung Woo antics. I can't believe how once again physically in-your-face Jung Woo was with Soo Yeon at the beginning of this episode. At this point, if the writer wants to write Jung Woo like a borderline grabby ass, who am I to ask that he be written with less distasteful tendencies to express himself with physical and unwanted gestures of "caring". I finally pinpointed what bothers me so much on the narrative structure with MY – this drama has chosen to make Han Jung Woo the POV character when really it needed to be Lee Soo Yeon. From the beginning, this drama started with Jung Woo in America, his return to Korea, his moving into the neighborhood, and so forth. Even after the rape, the drama spent one episode dealing with Jung Woo's pain at leaving Soo Yeon behind, as opposed to showing us what happened to Soo Yeon after she suffered being raped and run over with a car.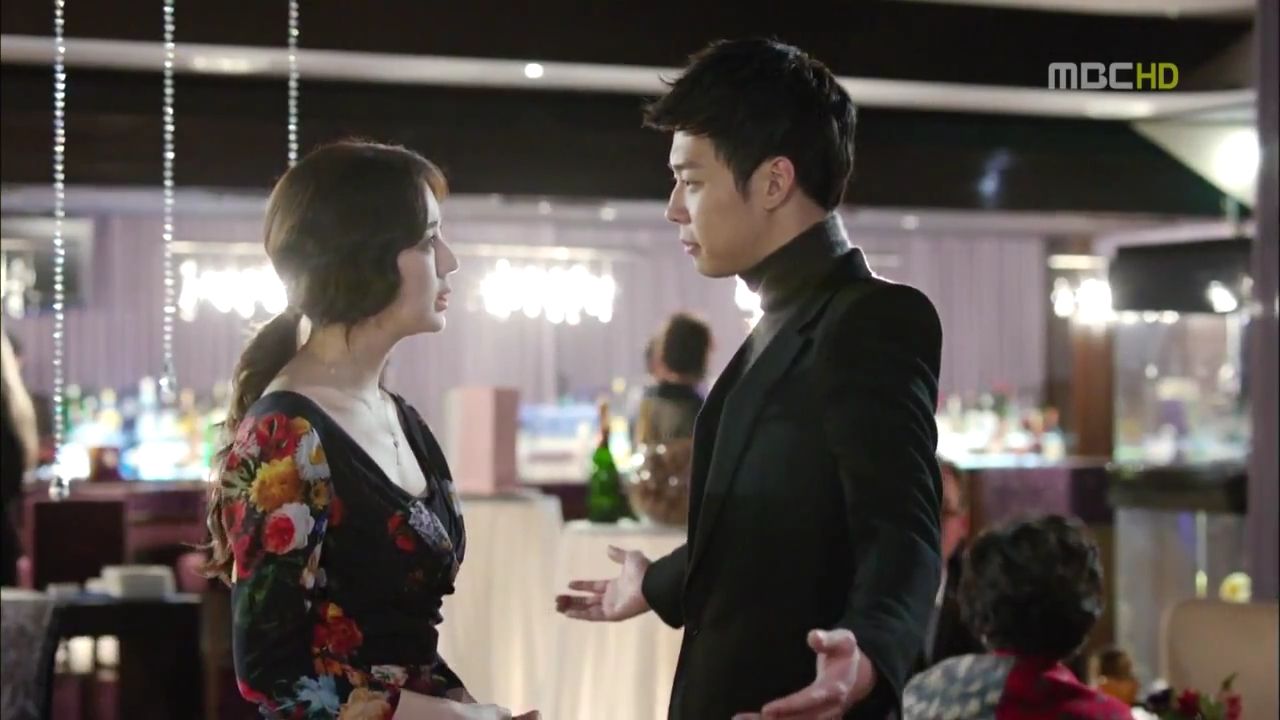 It's like a drama with two individuals injured in the same accident, and choosing to show the story from the POV of the one who broke an arm as opposed to the one who is a quadriplegic. And from that POV, we hear about the poor broken armed person talking about how hard it is to write and eat, when the giant pink elephant in the room is that there is another person who can't move a single appendage below the neck. It's called context, and it's not that I don't understand Jung Woo's pain, but there is just no comparison to Soo Yeon's pain and suffering from the very same traumatic incident. He witnessed a rape, she fucking got raped (and run over by a car). I don't want to hear Jung Woo whining about how sorry he is, how bad he feels, how he's waiting for her to come back to him. I want to hear her story – why she's so angry, how she managed the pain in the last 14 years.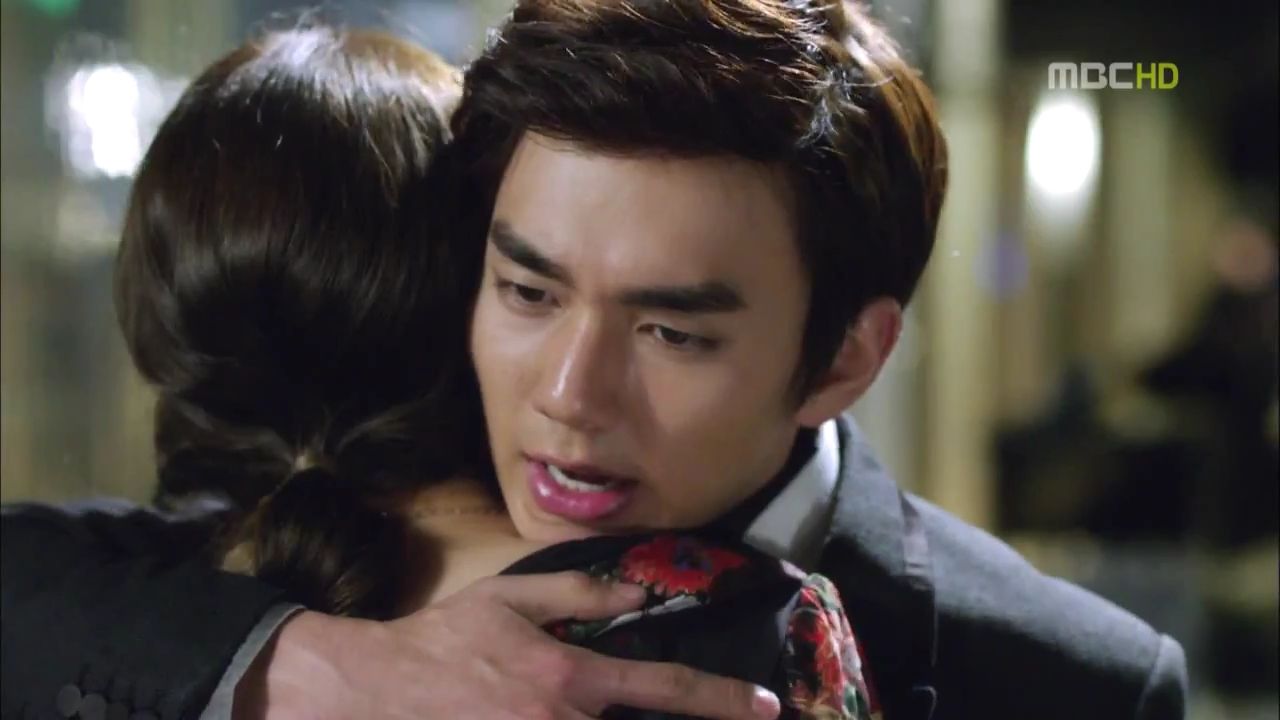 That's why Hyung Joon annoys me less than Jung Woo, because we're not subjected to teeming heaps of his so-called man pain, though compared to Jung Woo he suffered way more tangible trauma as well. He got bitten by evil hounds and was locked up in a room with an untreated infected leg injury to the point that he's a cripple now and needs to use a cane. His mother got killed by his older evil half-brother. I'm just happy the drama doesn't waste time with Hyung Joon sitting in a car or a room just moping, though showing us his secret lair and revenge plot does freak me out mostly because I know he'll lose Soo Yeon that much faster if he goes through with it. Though Jung Woo also was totally inappropriate when he declared that he liked Soo Yeon to Hyung Joon's face. Hello? Just because she was your former teenage girlfriend doesn't mean you can toss decency out the window and just announce you want to steal someone's girlfriend to them. If I were Hyung Joon I would have punched Jung Woo out already. The three leads here are so screwed up no amount of therapy can fully heal them, so the most I can hope for is that they create a semblance of a happy and normal life. I am so supportive of Soo Yeon and Hyung Joon because, for all intents and purposes, they did so that for the last 14 years in France. But too many people are still hurting because of their disappearance, so now they have no choice but to confront this past head on.
Watch here to watch Missing You.